Where the alpine traditions meet the Italian lifestyle – that's South Tyrol. The very North of Italy isn't only a place with a perfect balance between natural wonders and cultural highlights, it also has a personal relevance for us. Raffael's grandfather is from South Tyrol. And yet there's a lot of places we haven't seen yet. Here's what we did during 5 summer days in South Tyrol!
Welcome to South Tyrol – a wonderland for nature lovers!
Our 5 day itinerary in South Tyrol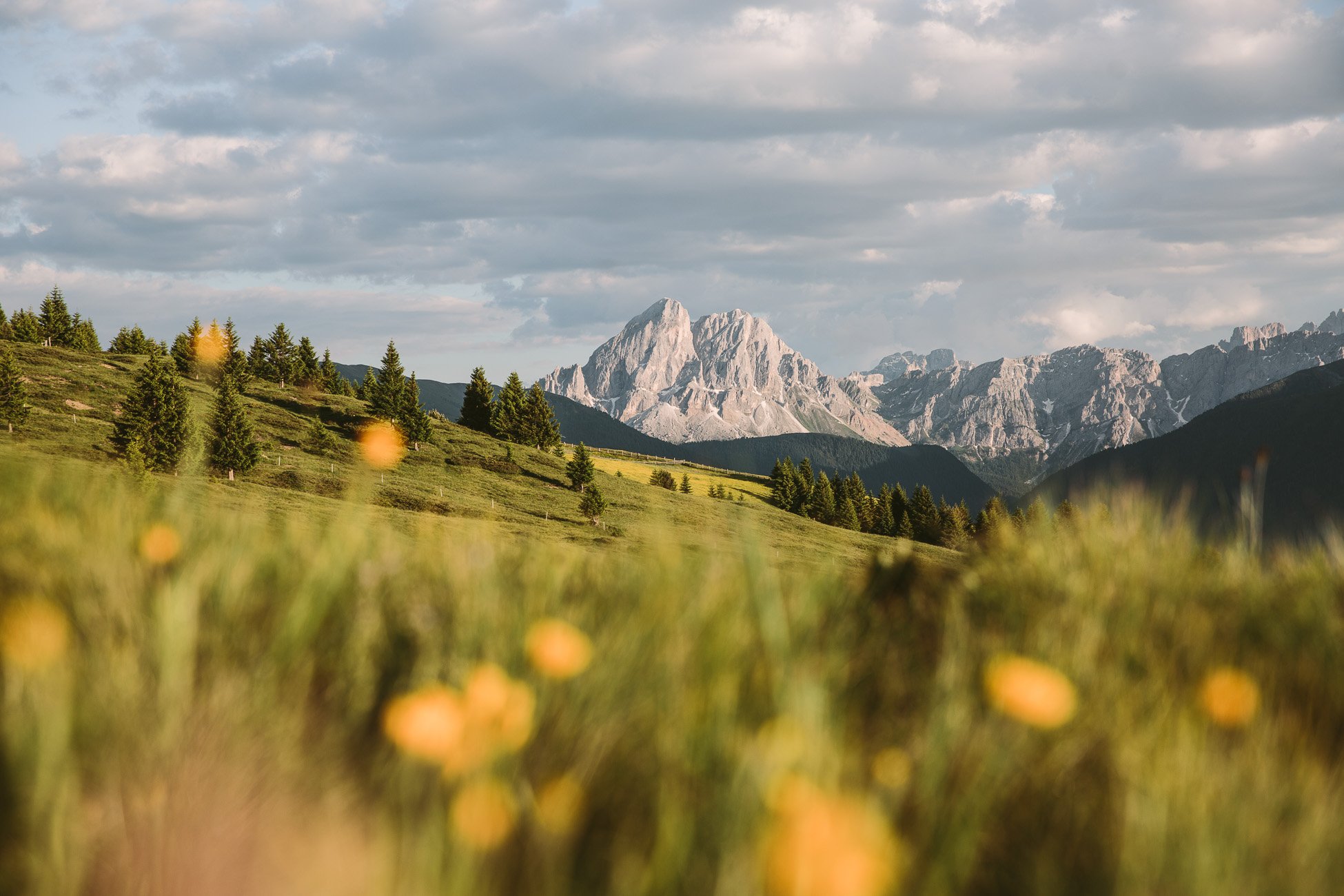 From the mountains to the villages – here are our tips for a 5 day discovery of the region.
From rough edges to soft meadows
South Tyrol's landscapes are dominated by the UNESCO World Heritage of the Dolomites. The rocky outcrops made the region famous, but there's much more to discover. Did you know that South Tyrol also is home to the Europe's largest mountain plateau with the "Alpe di Siusi"? And that there are approx. 5.000 hectare (50km2) of vineyards lining the valley's flanks? In one day you can climb on Dolomite rock and then walk alongside a palm-lined street through Meran. That's South Tyrol!
From the Dolomites to the mediterranean city of Meran – South Tyrol is very diverse.
Day 1: From Vienna to Meran
The good news: Getting to South Tyrol is easier than it might seem at first! We took a train from Vienna to Innsbruck (4,25 hours) and then connected to another train to Bolzano (2 hours). Time on the train always passes quickly, so we arrived in Bolzano in the early afternoon. Our first duty of the day: Eating original South Tyrolean delicacies at "Wirtshaus Vögele", a typical restaurant right in the pedestrian zone of Bolzano.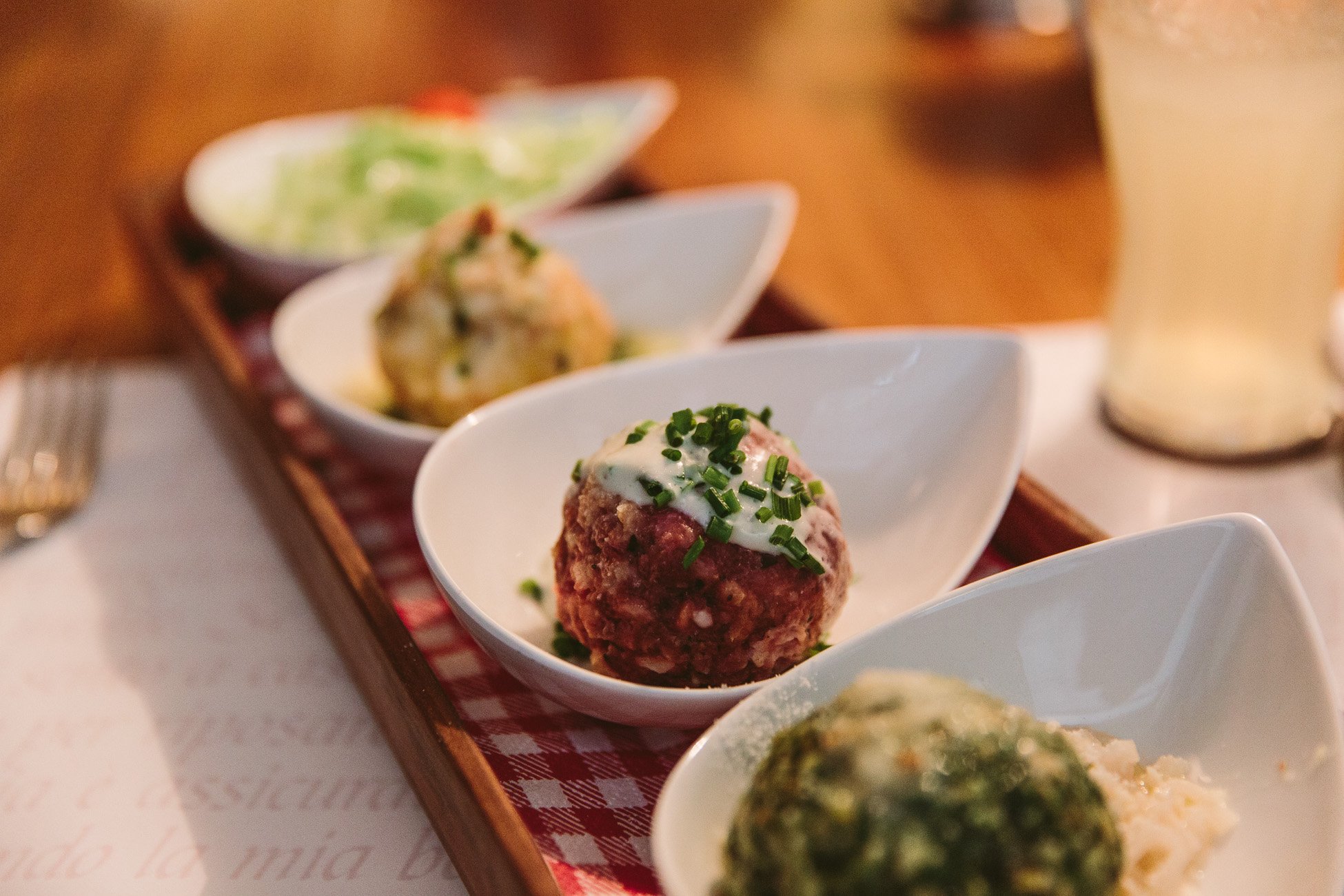 Obviously we had to order "Knödel" (dumplings), one of the traditional alpine dishes.
Check-in at San Luis Retreat & Hotel in Avelengo
We then picked up our rental car at "BZ rent" to drive on to Meran (1 hour drive). Here we explored the city a little bit and then checked into the "San Luis Retreat & Hotel" in Avelengo, which turned out to be the most amazing lodge ever! Imagine a small pond surrounded by wooden huts – some with terraces right on the water, others built on piles in the woods.  Make sure to check out our review of the lodge, our favourite hotel of all of 2018!
The San Luis Retreat & Hotel was our favourite hotel of all of 2018 – a truly amazing lodge!
Day 2: Lodge life & a stroll through Meran
Luckily there was enough time at San Luis to start the day with a jump in the (heated) pool and breakfast, which is served directly to the private lodge. Honestly, checking out from this place kind of broke our heart a little bit after one night – but we swore to return (maybe in winter, when it's all covered in snow and the pond freezes, so people can go iceskating on it)…
The San Luis Retreat will definitely see us again!
A stroll through Meran
But we had other highlights awaiting us! Our first program item was a discovery of the cute town Meran. The well-known spa town isn't only a place for the generation 70+! There's a really cool Monocle Shop with a well-curated selection of local and international products – so this is where you should shop for souvenirs!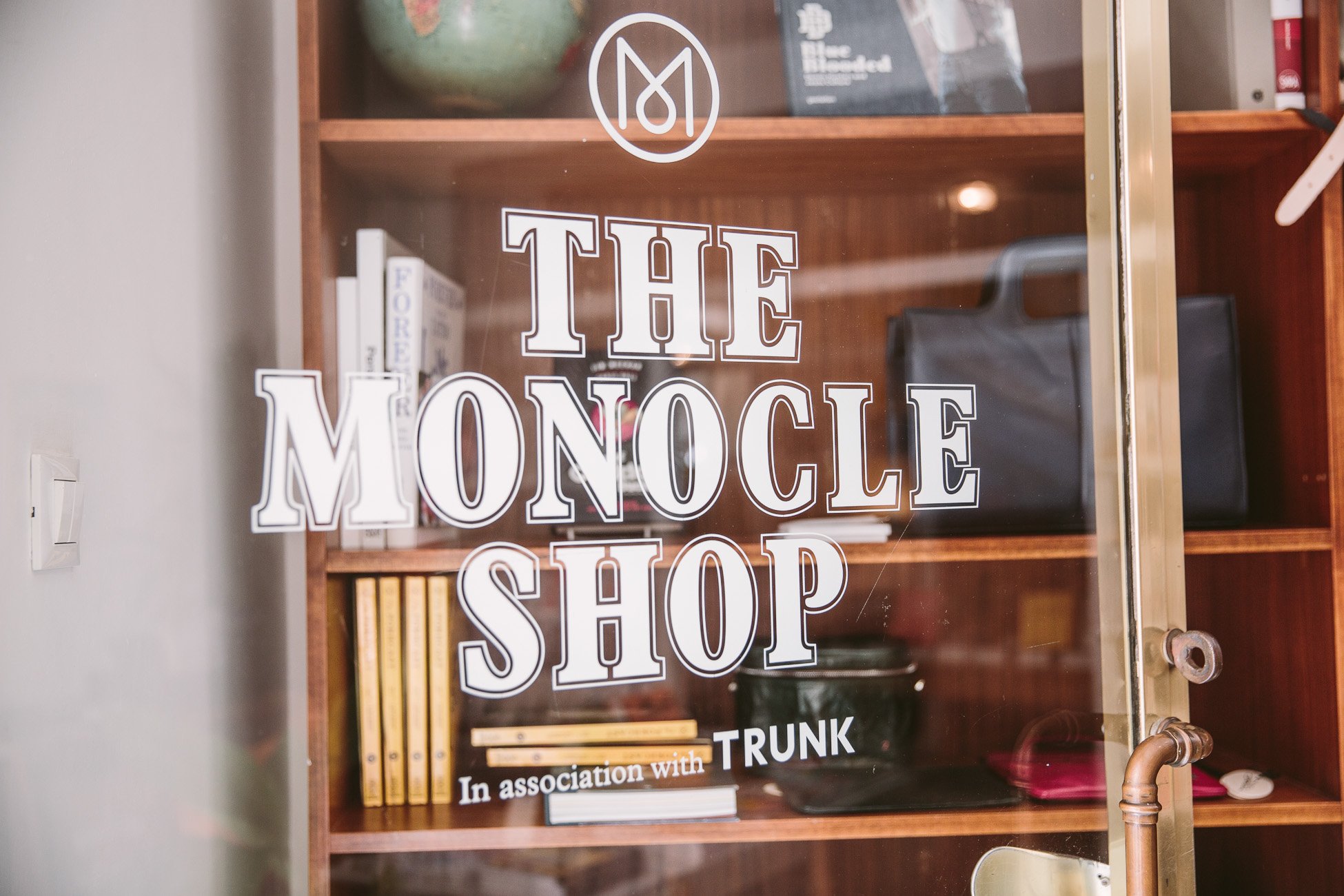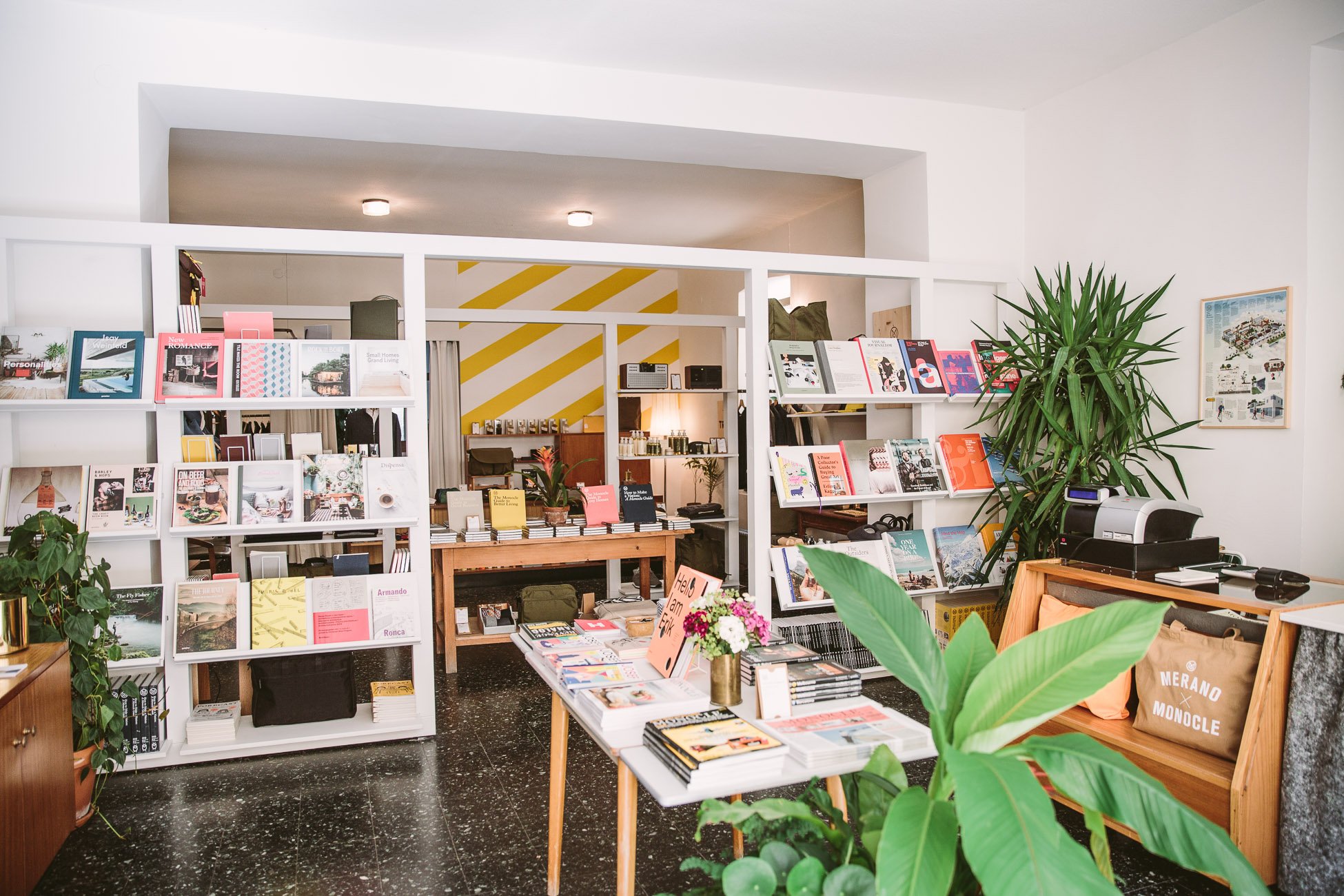 The Monocle Shop brought some new hip flair to Meran.
And with the Ottmangut there's also a hotel for lovers of boutique hotel design and culinary delights!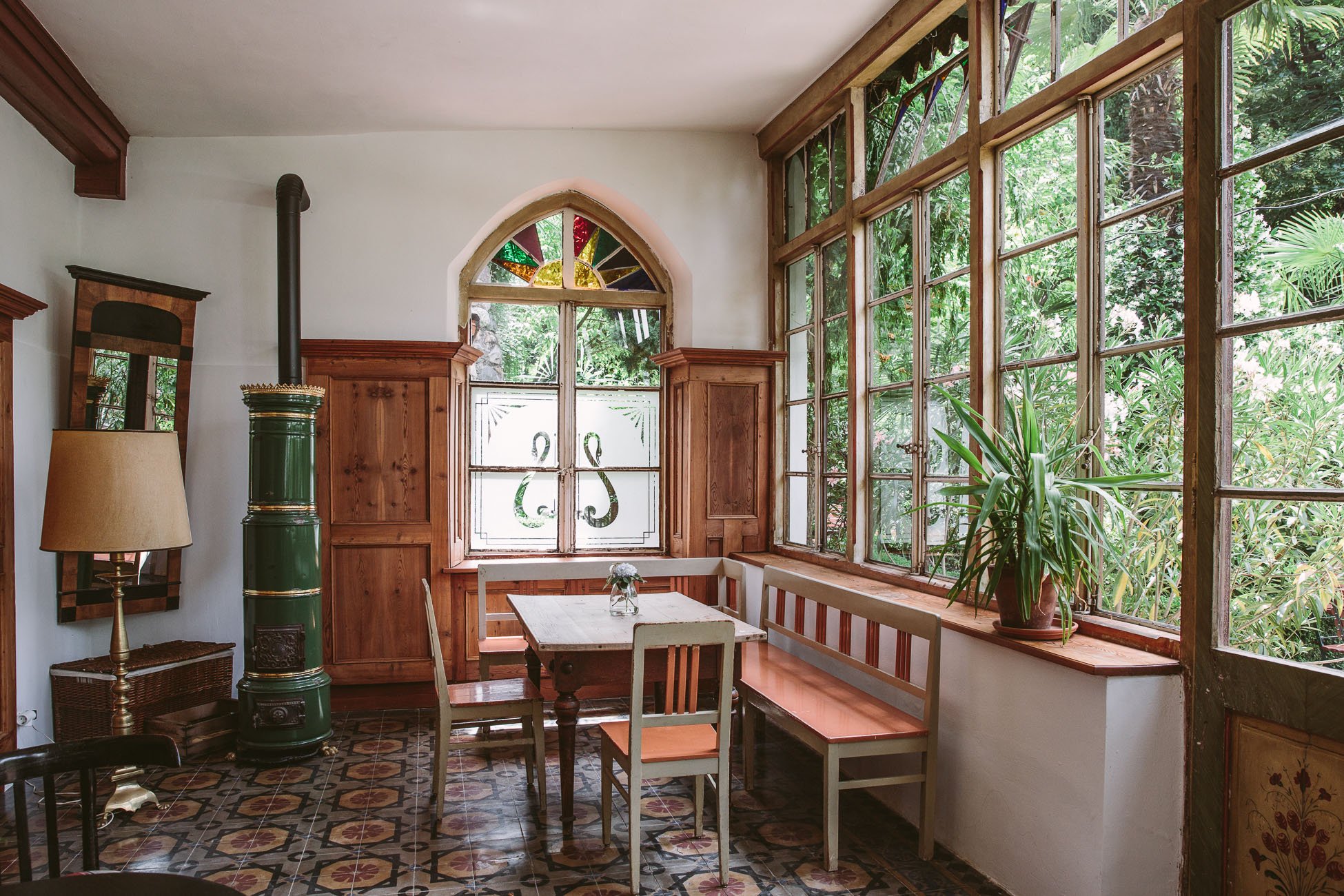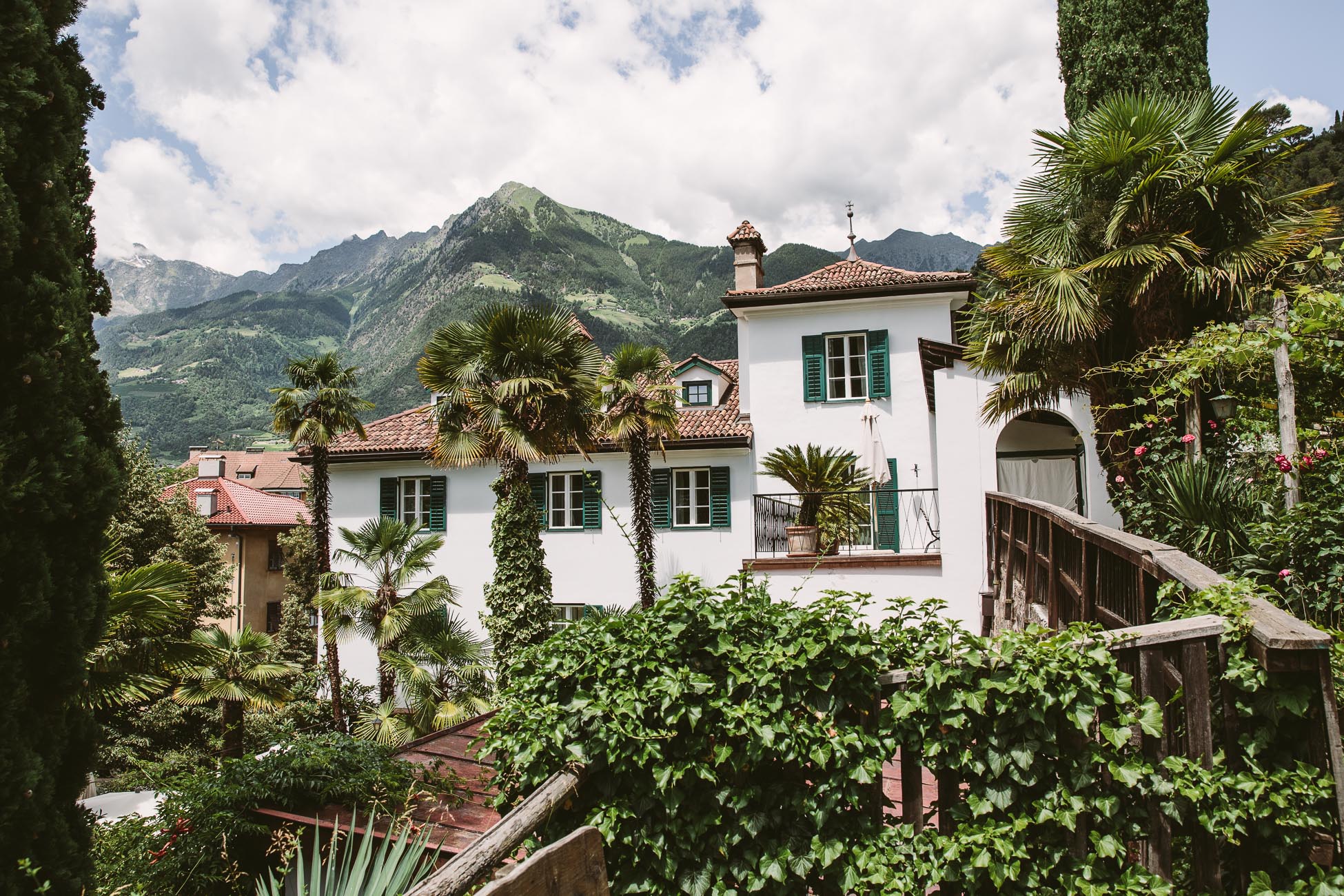 The Ottmangut is a blend of old & new and situated right in the city center of Meran.
Meran is defined by a mix of mediterranean and alpine influences – and the palm tree clad gardens with mountain views are the best example for this ecclectic combination.
From the Tappeinerweg you can get views of Meran from above – plus the mountains in the background.
From the mediterranean to the mountains
Speaking of mountains: From Meran we finally headed up into the UNESCO world heritage of the Dolomites. No South Tyrol visit is complete without a hike through the Dolomites and a great starting point for these excursions is located in Tiers.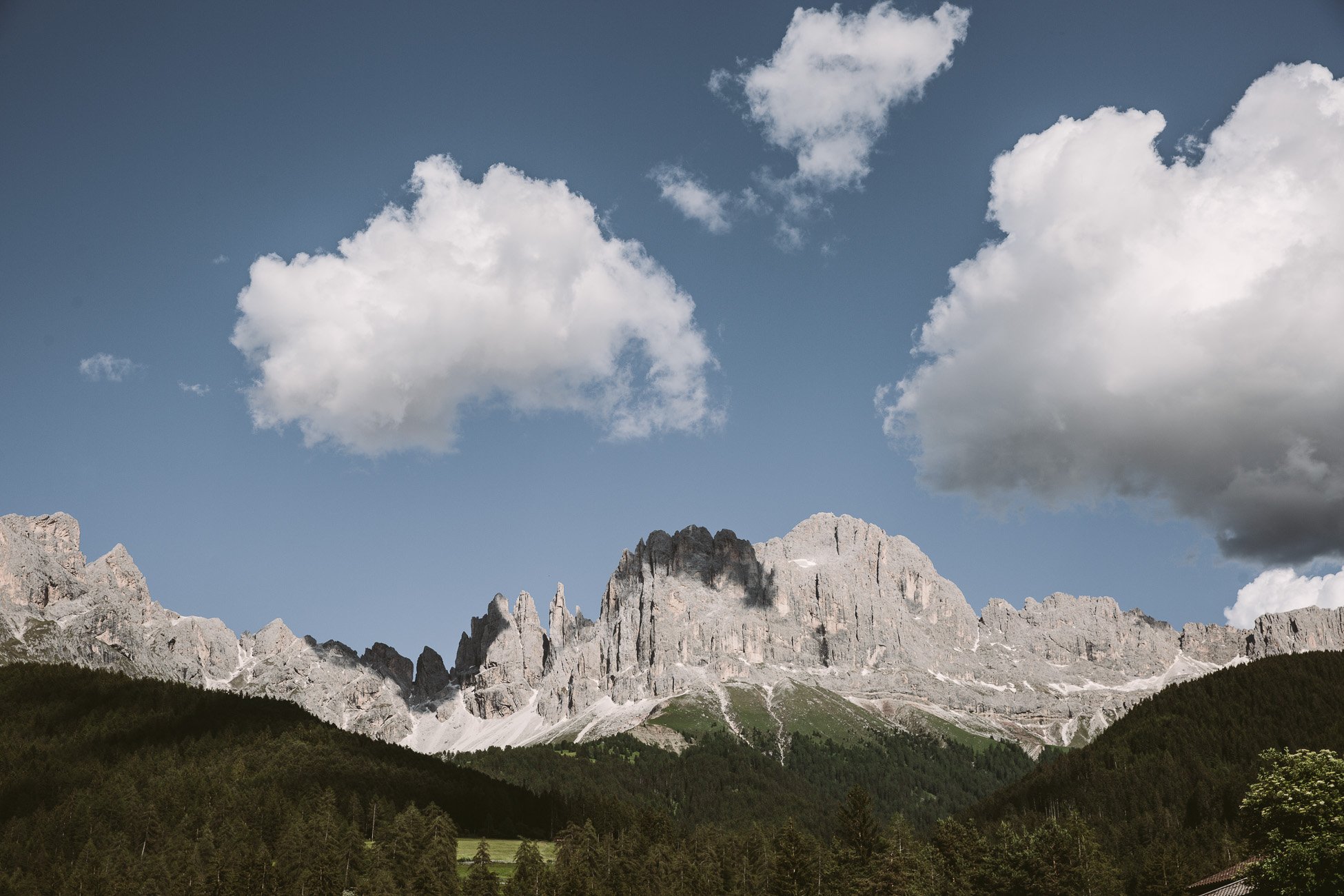 The first glimpse of the Dolomites is truly impressive!
Check-in at the Cyprianerhof Dolomit Resort
The small village of Tiers lies nestled in-between the "Schlers" and "Rosengarten" area of the Dolomites – which are both part of the core protection zone of the UNESCO. In this sleepy town the Hotel Cyprianerhof Dolomit Resort is the center of hiking tourism, but  also boasts with a very well-equipped spa area.
The location of the Hotel Cyprianerhof Dolomit Resort couldn't be better!
Day 3: Lago di Carezza & the Pyramids of Ritten
Yes, you read this right – there even are pyramids in South Tyrol 😉 But first things first! After a wonderful night's sleep among the Dolomites we decided to drive to the nearby "Lago di Carezza". It's one of the most famous lakes in all of South Tyrol, and for a good reason.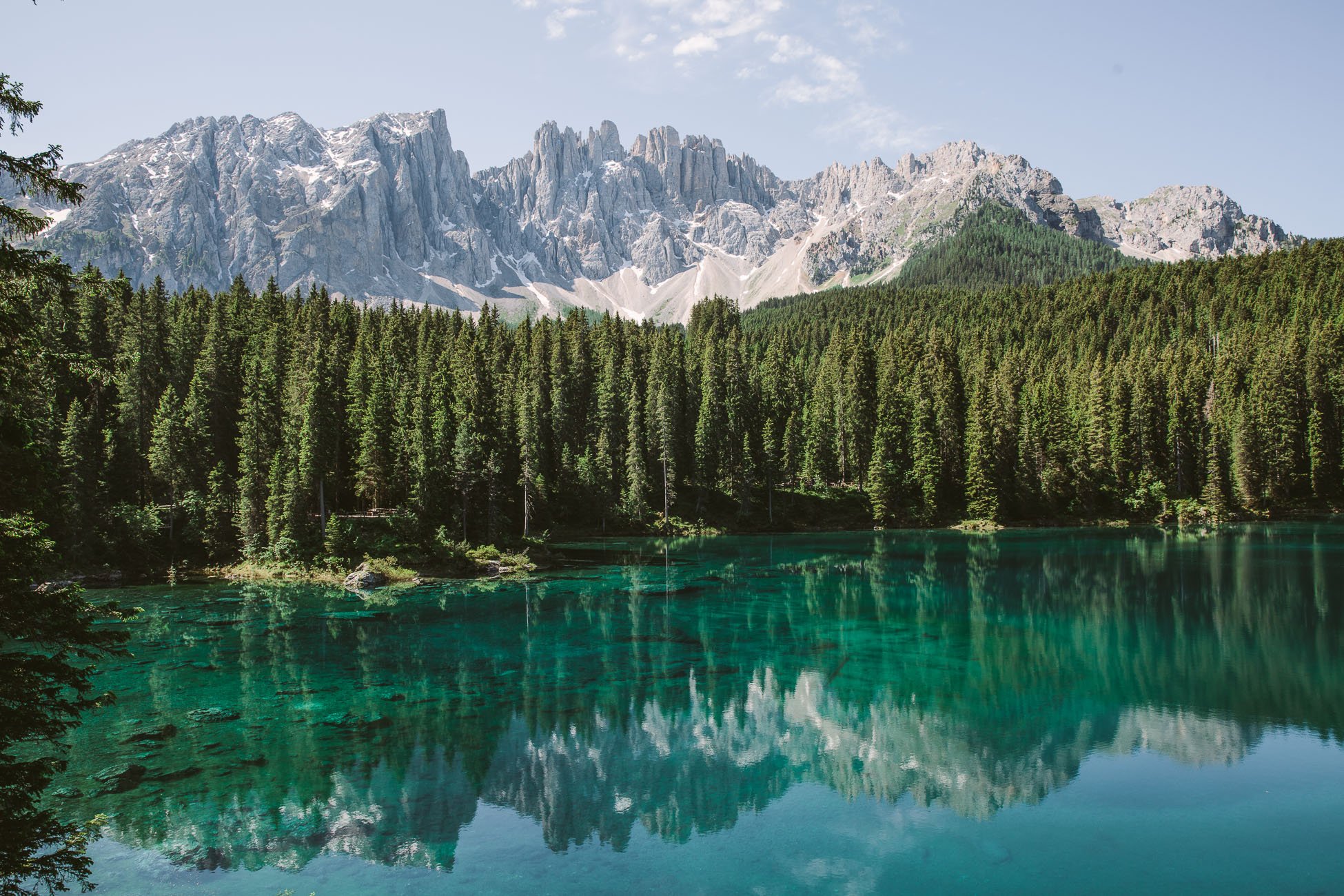 The famous Lago di Carezza at around 9am.
No painter could've painted an alpine lake any bit more beautiful than this masterwork. But here comes the downside – it is located right next to the street and therefore super easy to reach, which makes it incredibly crowded during the day. Yet the turquoise and emerald green color of the water make up for this by tenfolds. We hear it's even more crowded in the afternoon and for the (very famous) sunset, but we had to move on for our next destination: The pyramids!
We were underwhelmed by the pyramids in Ritten to be honest…
We had seen photos of the earth pyramids of Ritten before on Instagram and were kind of excited to experience those in reality. Turns out this is a classic case of Instagram vs. Reality. In reality there's a touristy trail alongside a sleepy town with quite distant views of the earth pyramids. There's no (legal and/or safe) way to get close to the imposing earth towers.
Our verdict: Skip this, unless you are a true fan of geological phenomenons and don't mind having to look through a telescope to get a closer look.
Sunset at Ranui church
After these small excursions the final stop of the day brought us to another Instagram-famous spot – the Ranui church in Villnöss. There probably isn't a more scenically located chapel in all of South Tyrol (or even Italy), but again: This is one of those places that people go to just to get "the photo".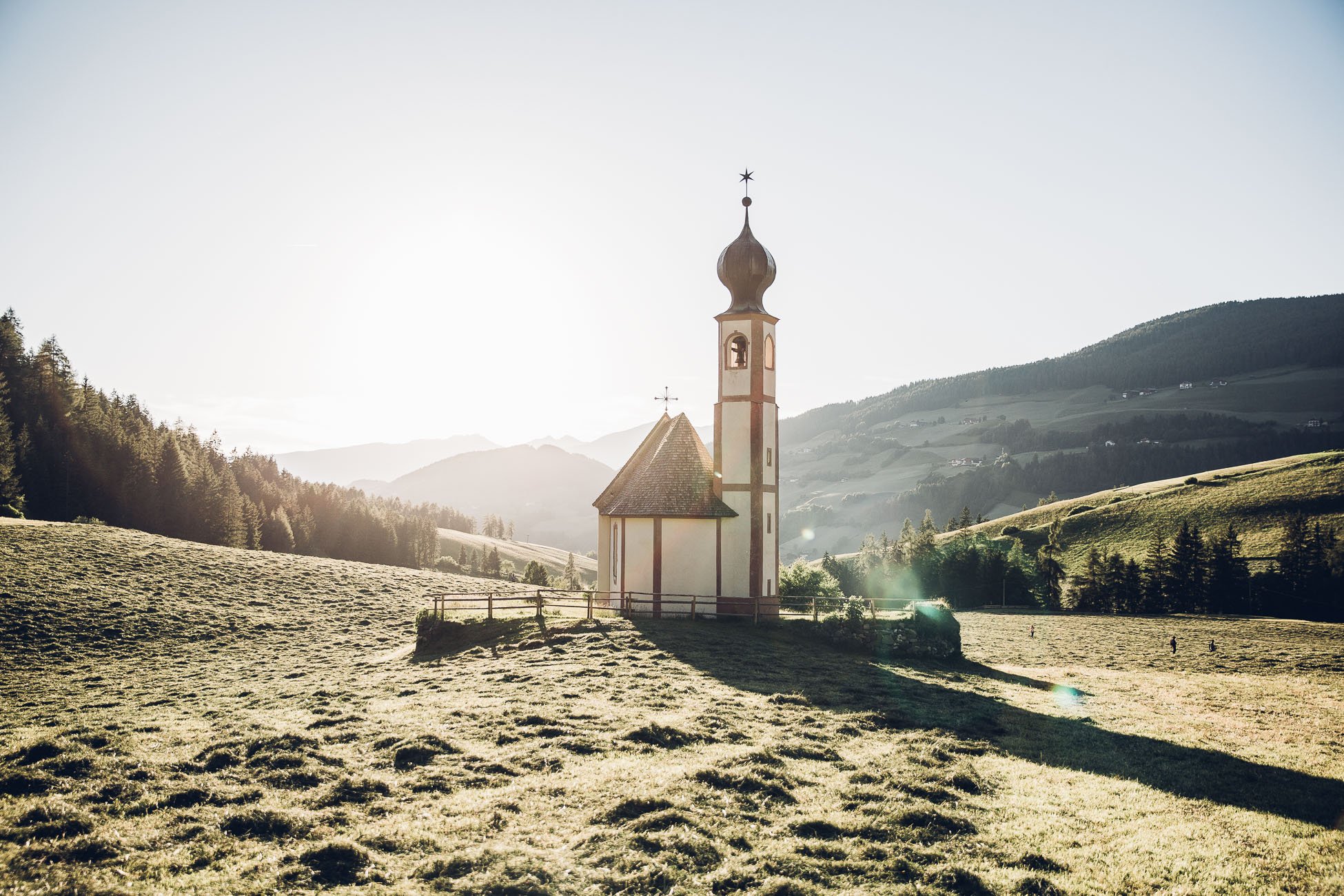 The Ranui church is located scenically among the mountains of South Tyrol.
We are beginning to doubt the sanity of travellers some days – this being no exception. Yes, we also loved the views of the church and took photos there, but it doesn't involve an experience. You drive up into a small mountain village, which is overrun by people just for this one location. You take your photo and then you leave again. I guess we're lacking a bit of an experience, that would make a (uniquely beautiful) place like this also filled with something more than just a view…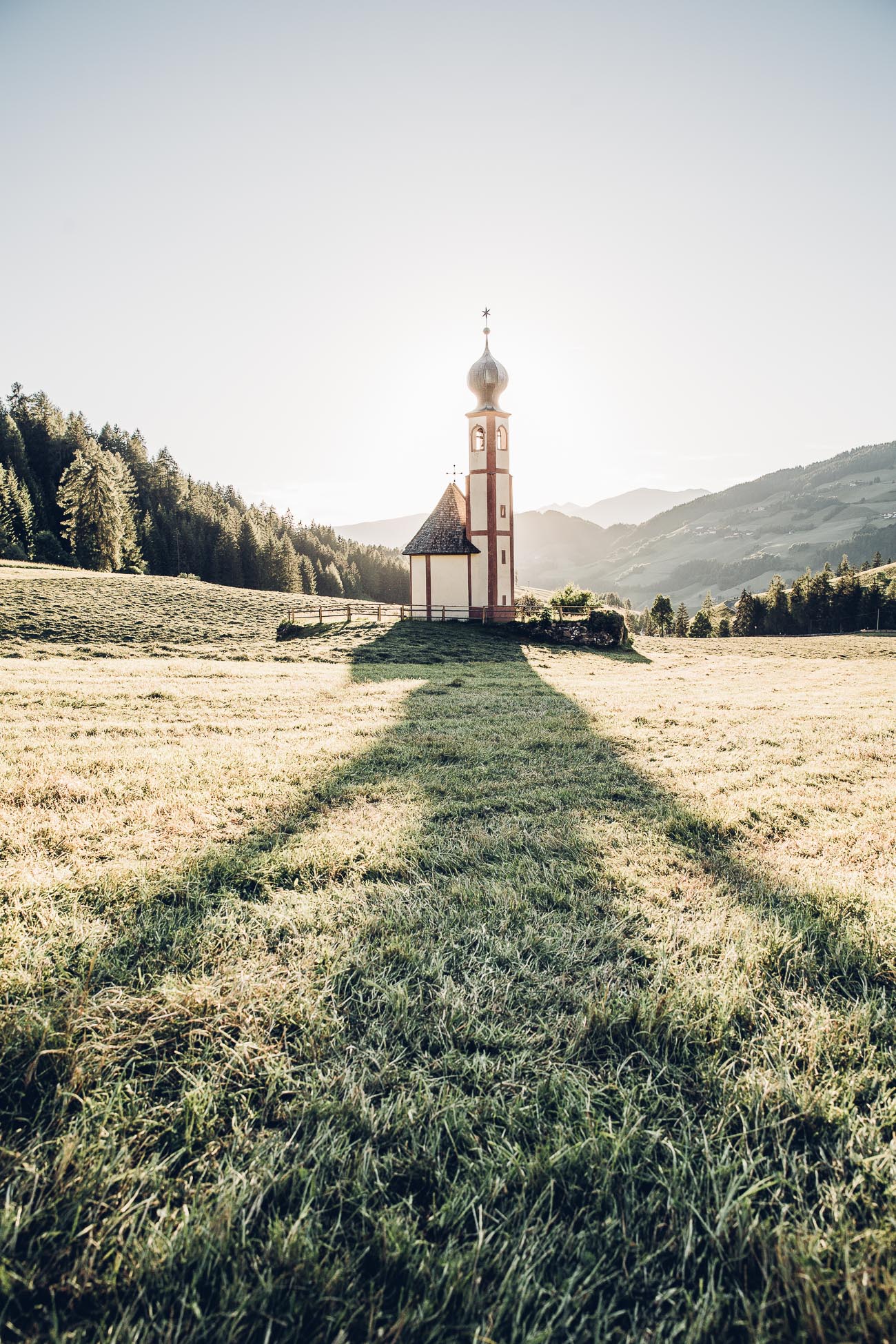 Check-in at Seehof Nature Retreat
After all the impressions of that day we checked in at the newly renovated "Seehof Nature Retreat" in Natz. Here we simply enjoyed our wonderful suite with views of the swimming pond and surrounding apple fields. We just needed time to sort all the memories (well and eat a pretty epic 5-course gala dinner 😉 ).
The renovation of the hotel has been done with a lot of attention to details – we especially loved the huge windows!
Day 4: Lago di Braies & a boat ride
Another day, another sunrise mission! This could be the motto of all our trips. Although we really would've craved the breakfast at Seehof Nature Retreat, we instead checked out at 4am to drive to Lago di Braies for sunrise.
The Lago di Braies is never really empty – even before sunrise there's photographers waiting patiently for the light here.
Now you have to know, that this lake is world-renown and famous – which is a nice way to say it's quite "well-visited". There's even a new traffic concept to regulate the stream of visitors. After around 10am you cannot get to the lake by car anymore, but need to take the shuttle bus from one of the parking lots.
Arriving early is key at Lago di Braies, to enjoy a bit of calm.
As we arrived early enough (5am), so we could park our car right next to the lake, but were still not there by ourselves. There were at least 10 other photographers there already. Now we don't want to keep you from visiting this place as it is really beautiful, but it's always good to have realistic expectations.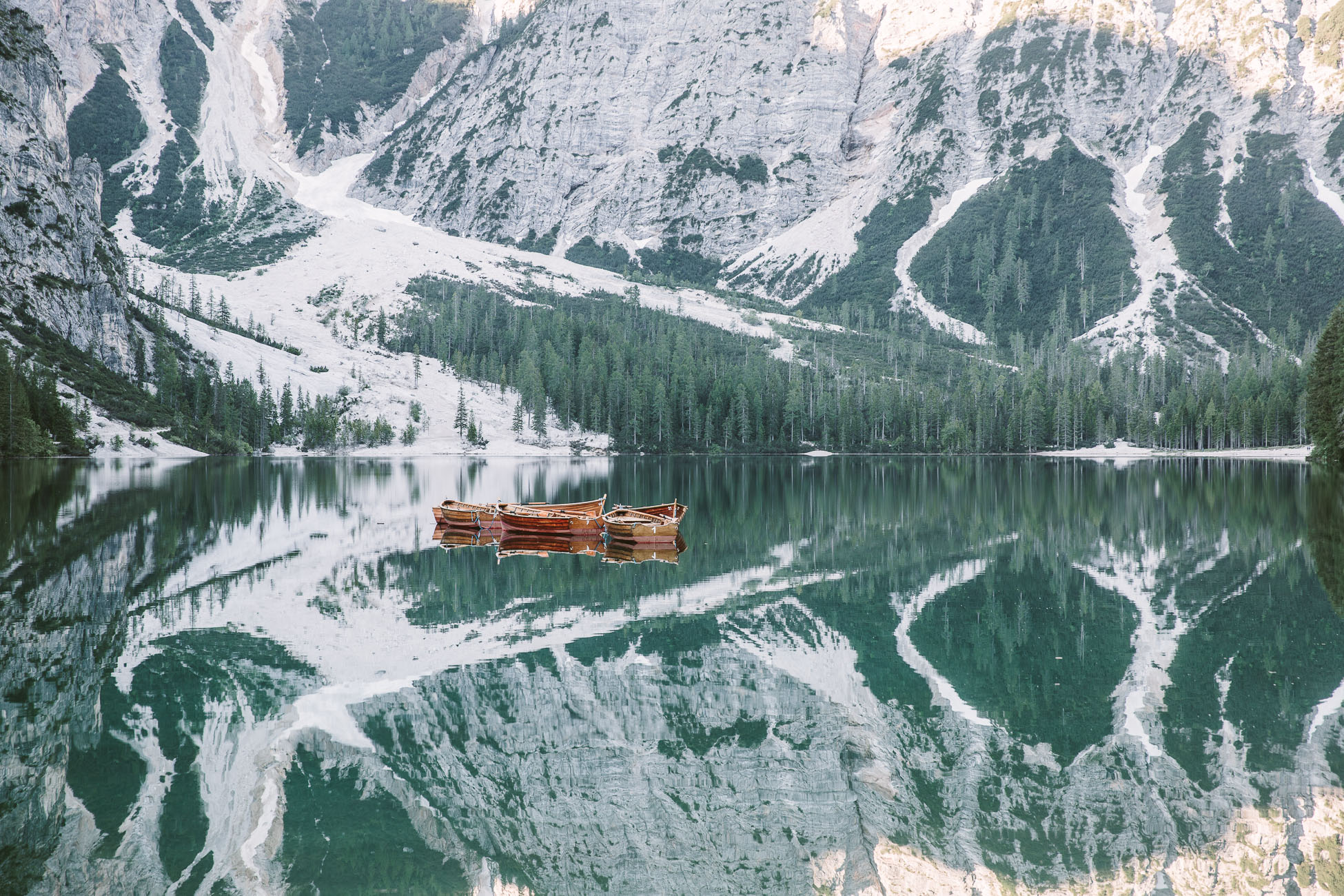 You have to wait for the right moment to get the perfect reflections – it's usually ideal a bit after sunrise.
We were lucky enough to get a special permit to rent a boat 30 minutes before the opening hours of the small boat shop. This way we were alone at the lake. Just half an hour later all the boats were gone and the lake started filling up. But just take a look at the photos and decide for yourself – we think it's worth overlooking the crowds for these views!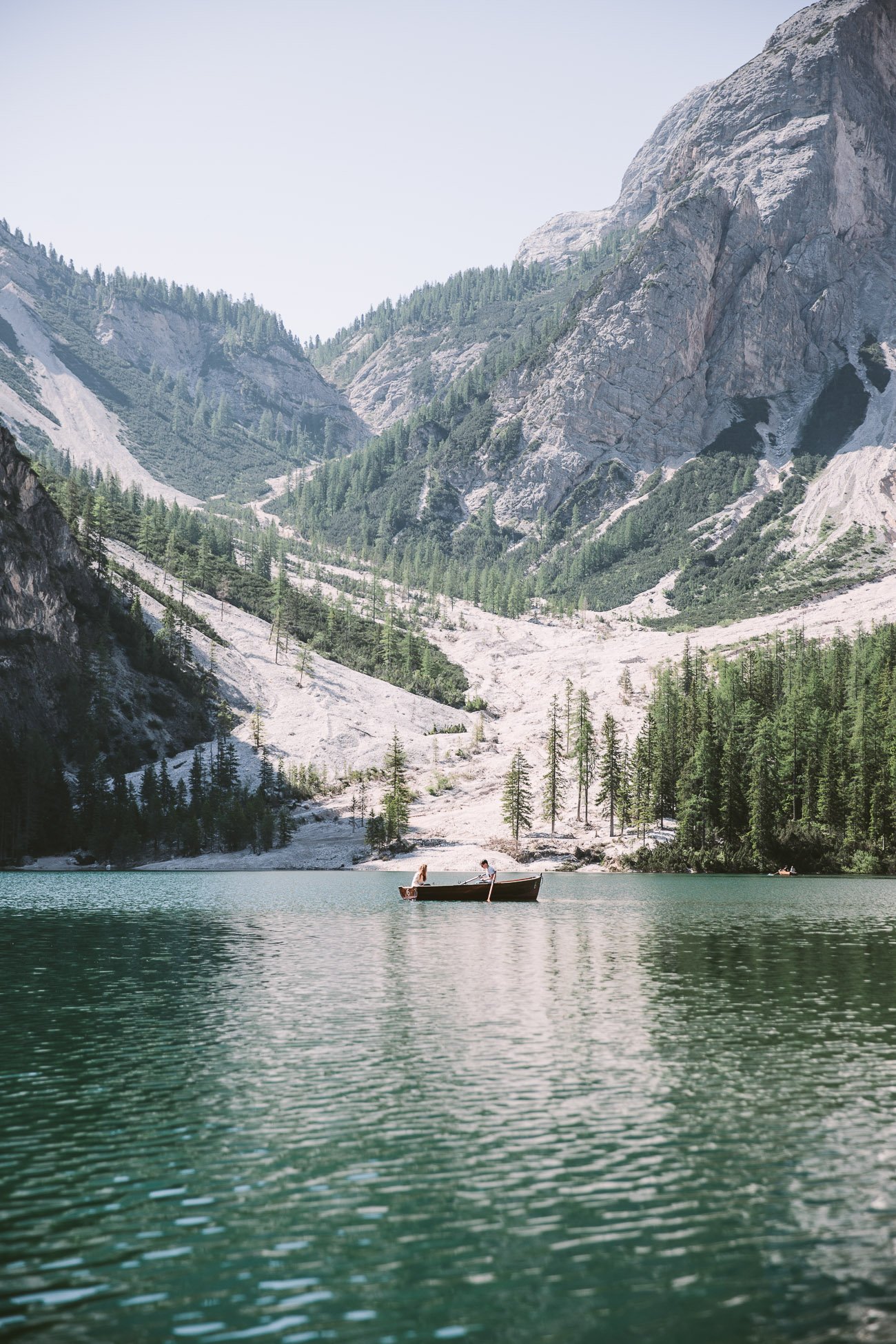 From the lake up to the mountain museum at Corones
After eating our breakfast to go in the car our next stop should bring us up to the so called "Corones". This is one of the most important mountain areas when it comes to skiing tourism in winter, but it also has a good argument going for it in summer: The Mesner mountain museum Corones.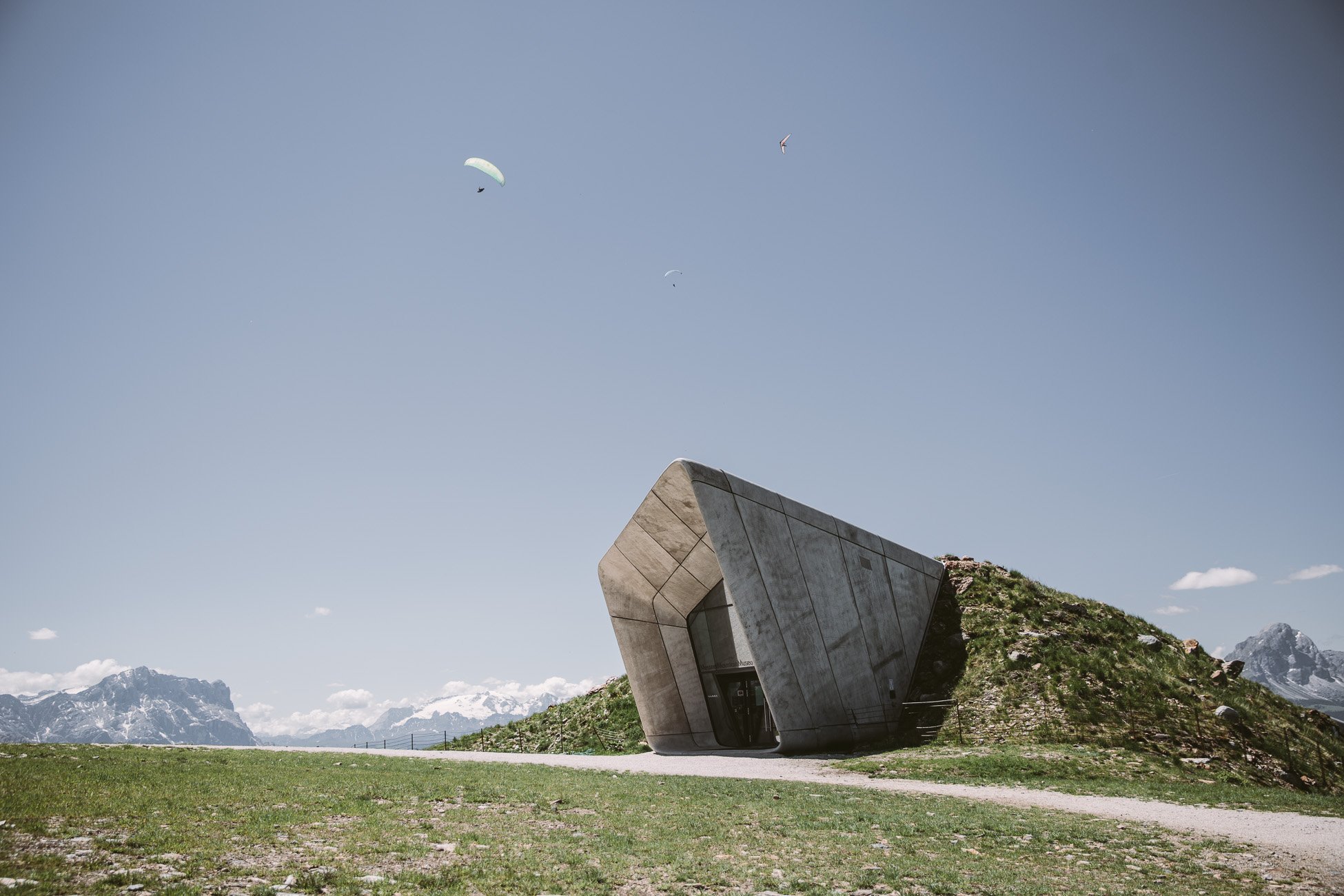 The museum is built halfway into the mountain and was designed by Zaha Hadid.
This museum is dedicated to alpinism and designed by the late Zaha Hadid. If you are interested in either mountaineering pioneers and/or architecture, this is a must-visit. While the mountain top of Corones itself is not really beautiful (think a couple of top stations of gondolas, restaurants and other service buildings) – the museum is the one building, that really blends into the mountain, while still constrasting the nature with harsh concrete at the same time. It was always Hadid's talent to build something oustanding, that still feels organic in a way.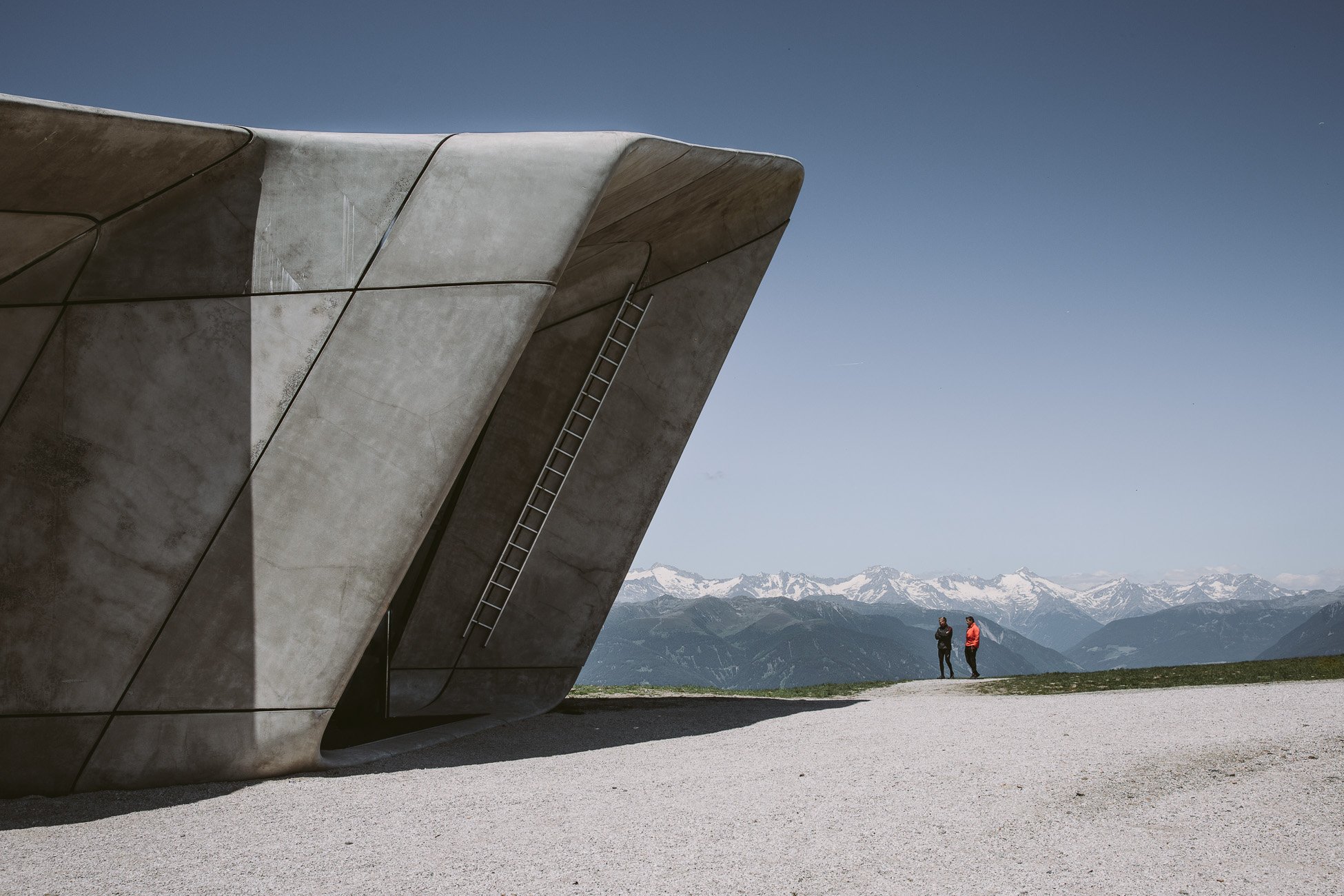 Now that we had seen it all, it was time for us to finally escape the well worn-out tourism tracks for a last escape to the South Tyrolean mountains. We went up to the so called "Rodeneckeralm", which greeted us with something more than just shallow beauty. This is were we found something truthful, that touched us deeper than just a beautiful photo.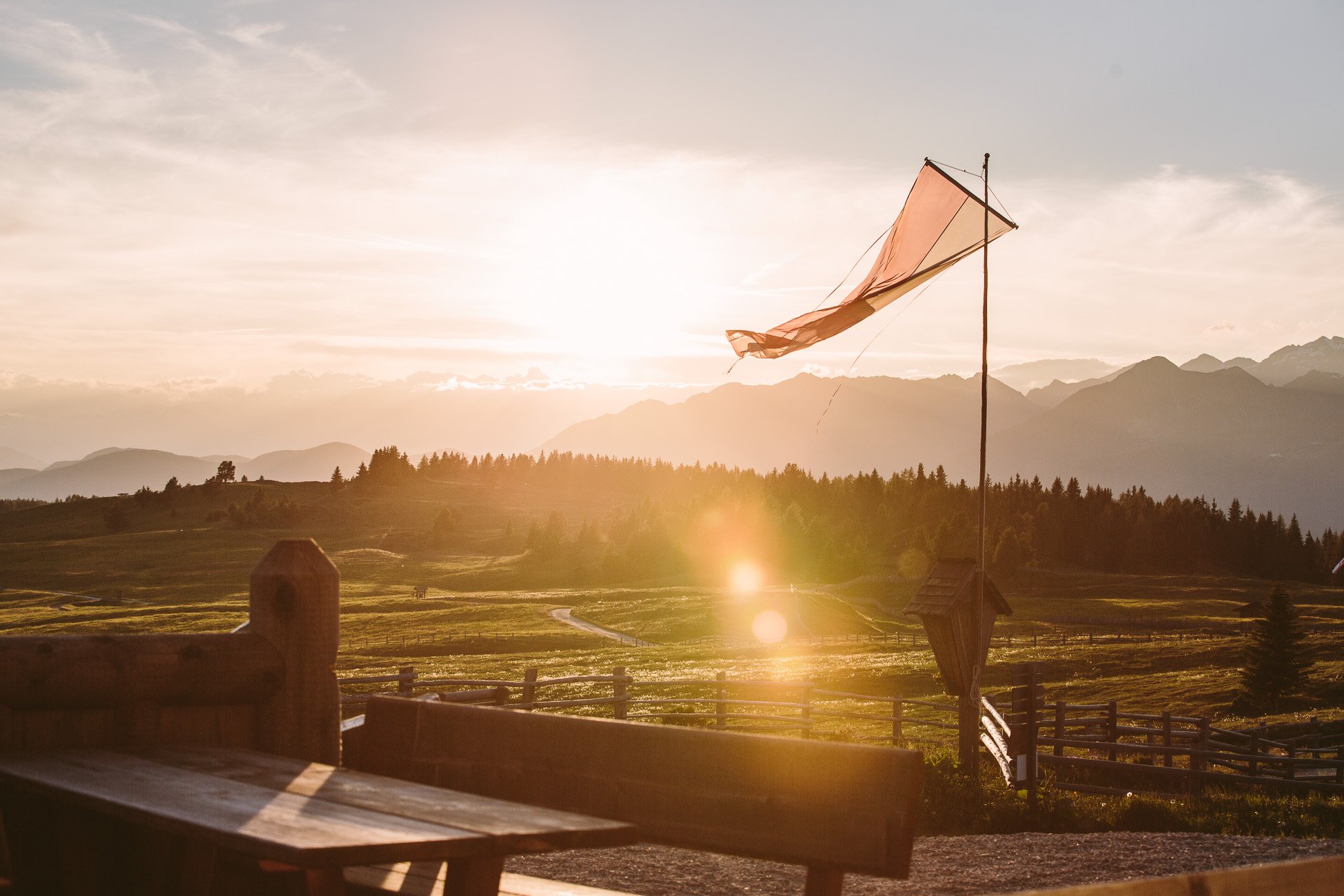 This is where we found our paradise in South Tyrol: The Rodeneckeralm.
Day 5: Rodeneck and our discovery of the "real" South Tyrol
Sometimes it's necessary to leave the pre-conceptions behind and forget everything you saw on Instagram to really get a glimpse of the essence of a place.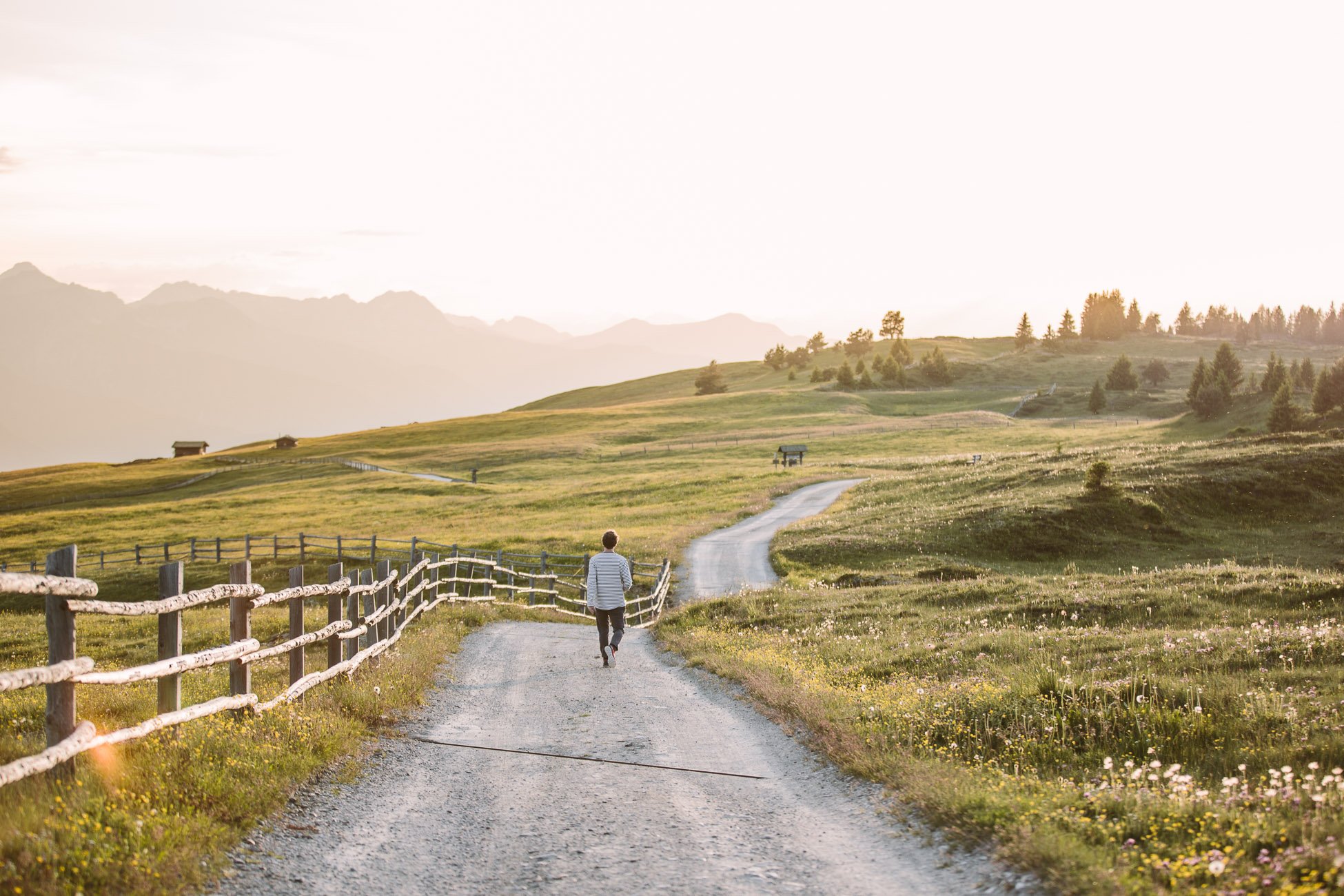 These paths lead to a less "Instagramed" place in South Tyrol.
When we were picked up by the owner of the newly remodelled "Starkenfeldhütte", we immediately felt a connection. We spent the next hour or so talking about everything – from their small cheese workshop to politics and sociological changes in the world.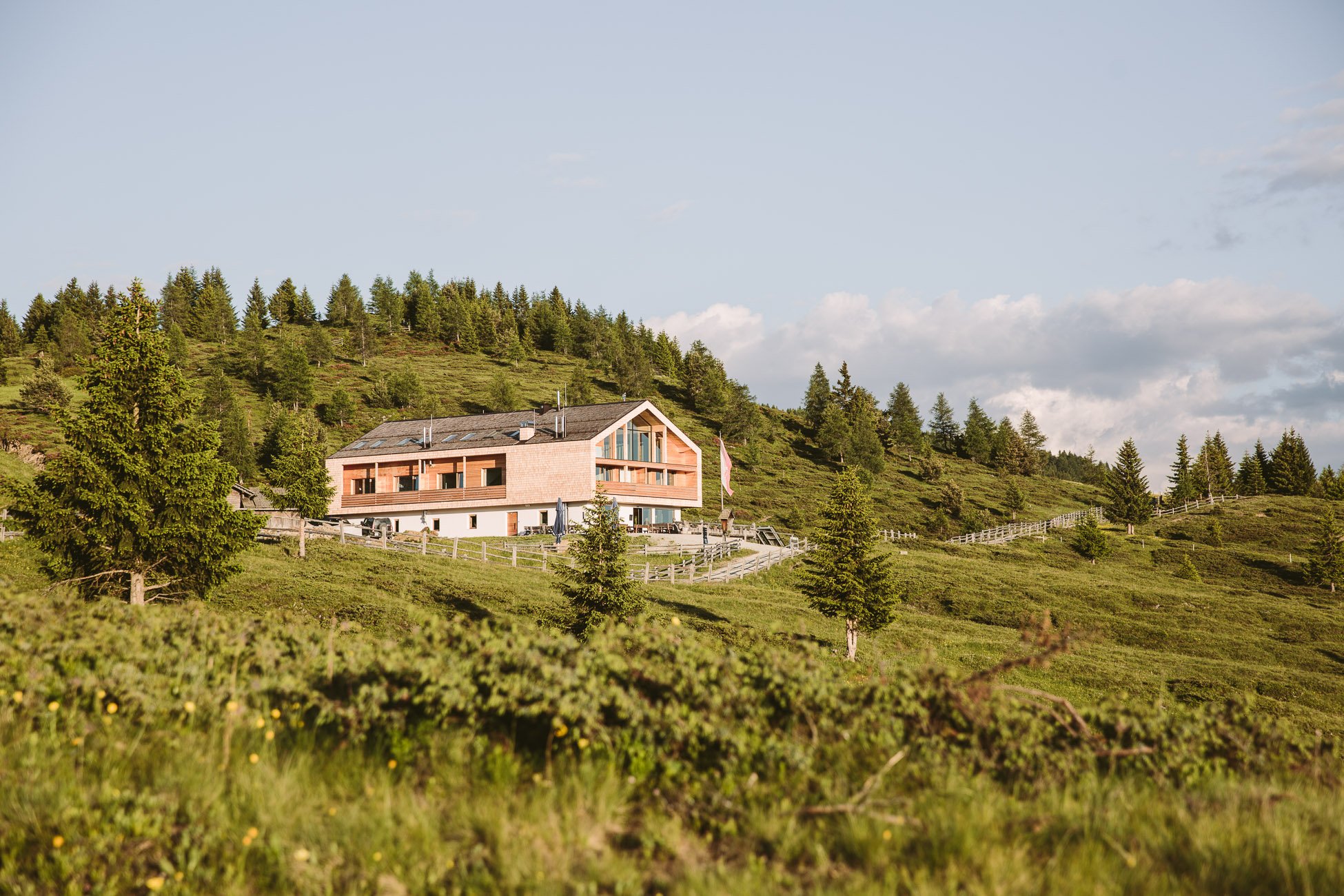 The Starkenfeldhütte has been remodelled with a lot of attention to detail and using only local materials and techniques.
Here we finally felt connected to South Tyrol. And of all places on an alp directly on top of the hometown of Raffael's grandpa – this couldn't be just a coincidence.
The hut itself has been in family hands for generations. After a fire had burnt down it's roof a couple of years ago the new generation had two options: Either just fix the roof and leave it as it was or start fresh. And with a twist of genius they opted for the latter, which now gives us a place, that is something else.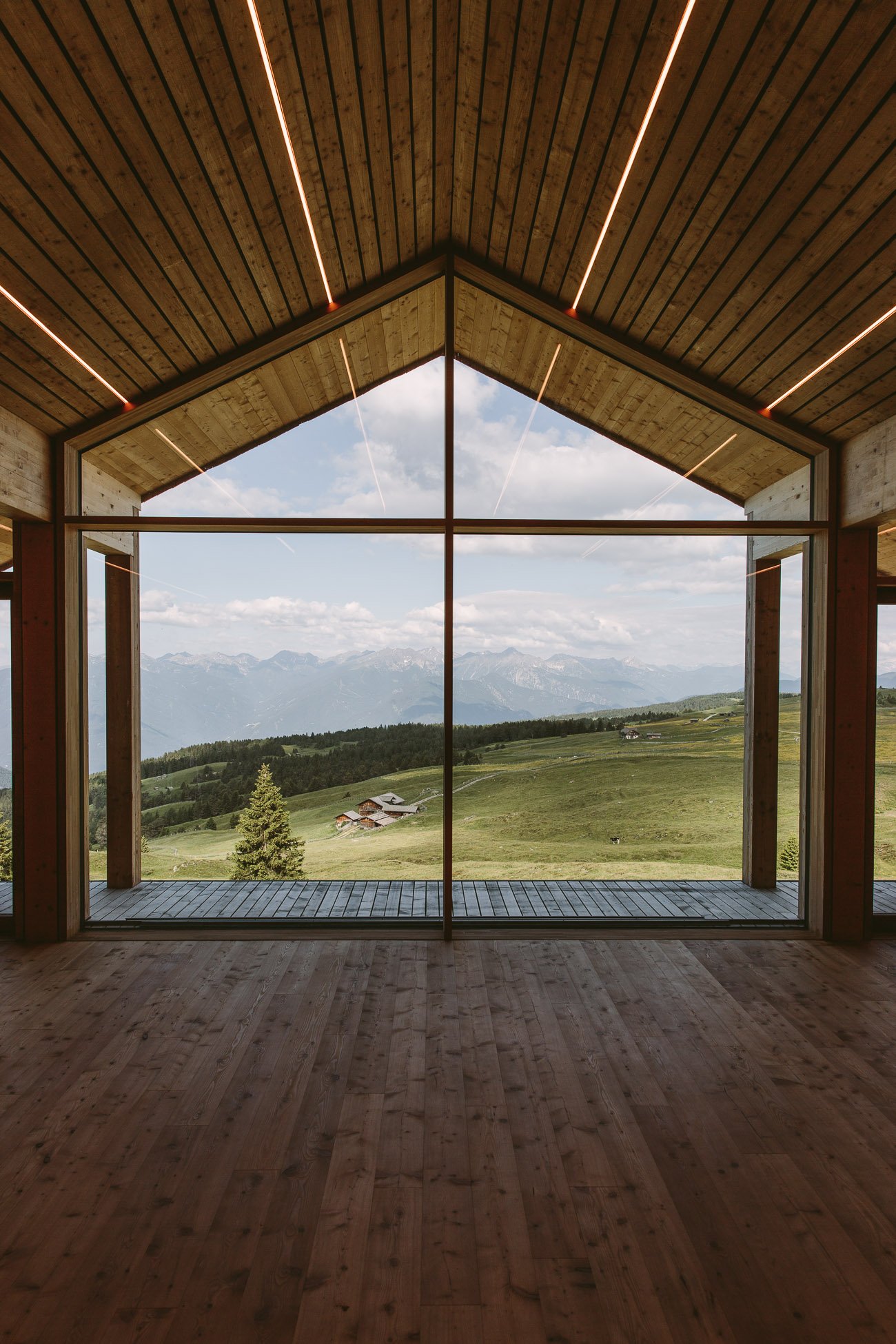 The perfect blend of old and new at Starkenfeldhütte.
We're not speaking of luxury here, but of the truest and yet modern form of a reduced mountain escape: A minimalist all-wooden cabin, built with a lot of attention to even the smallest of details and paying respect to the original structure of the hut.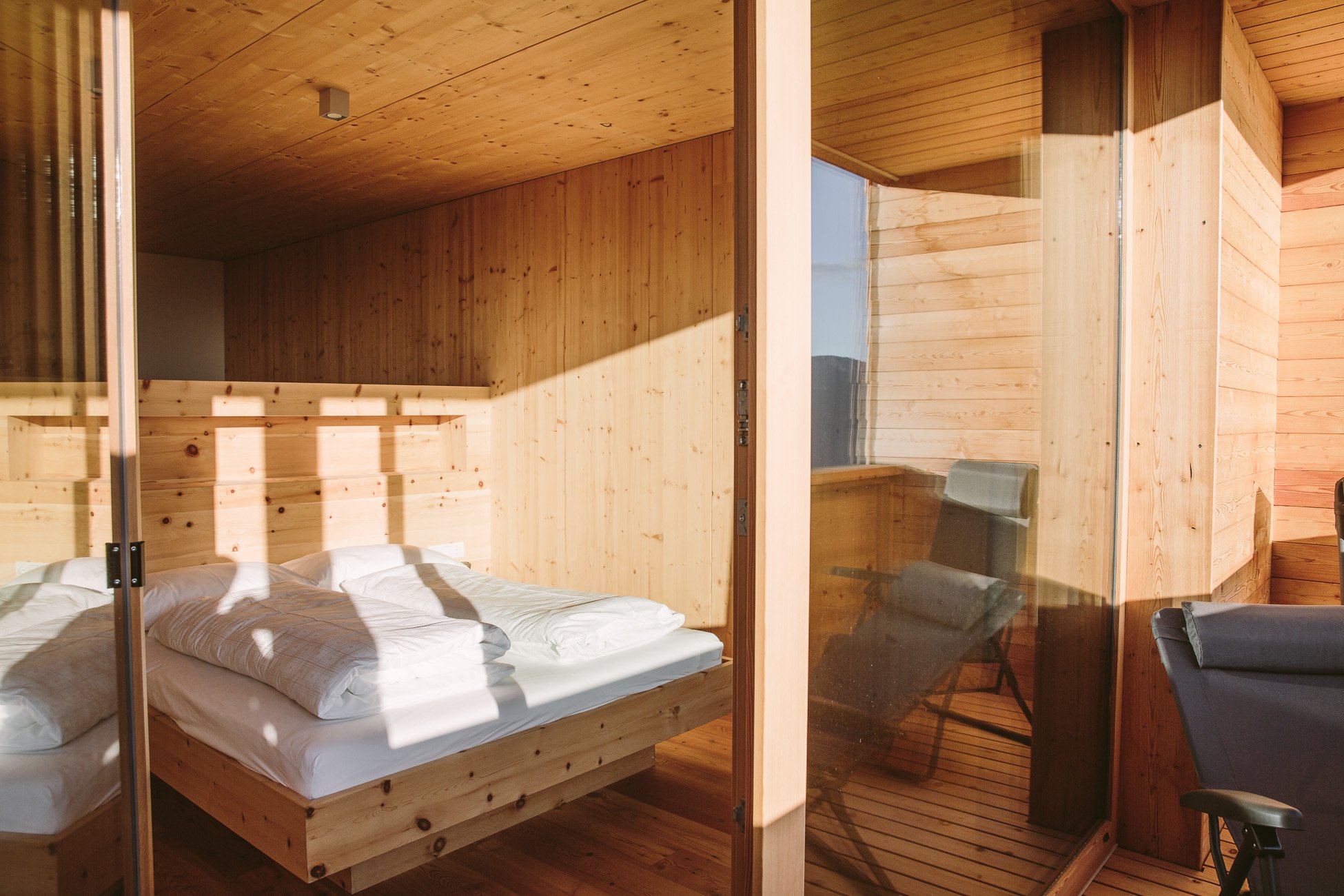 When we slept in our all Swiss stone pine room with no cell-phone reception we finally forgot some of our city stress. We wandered the alp in the sunset and again at sunrise the next day. It was not an "epic" adventure or about finding Instagram-worthy motifs, but just a feeling of belonging.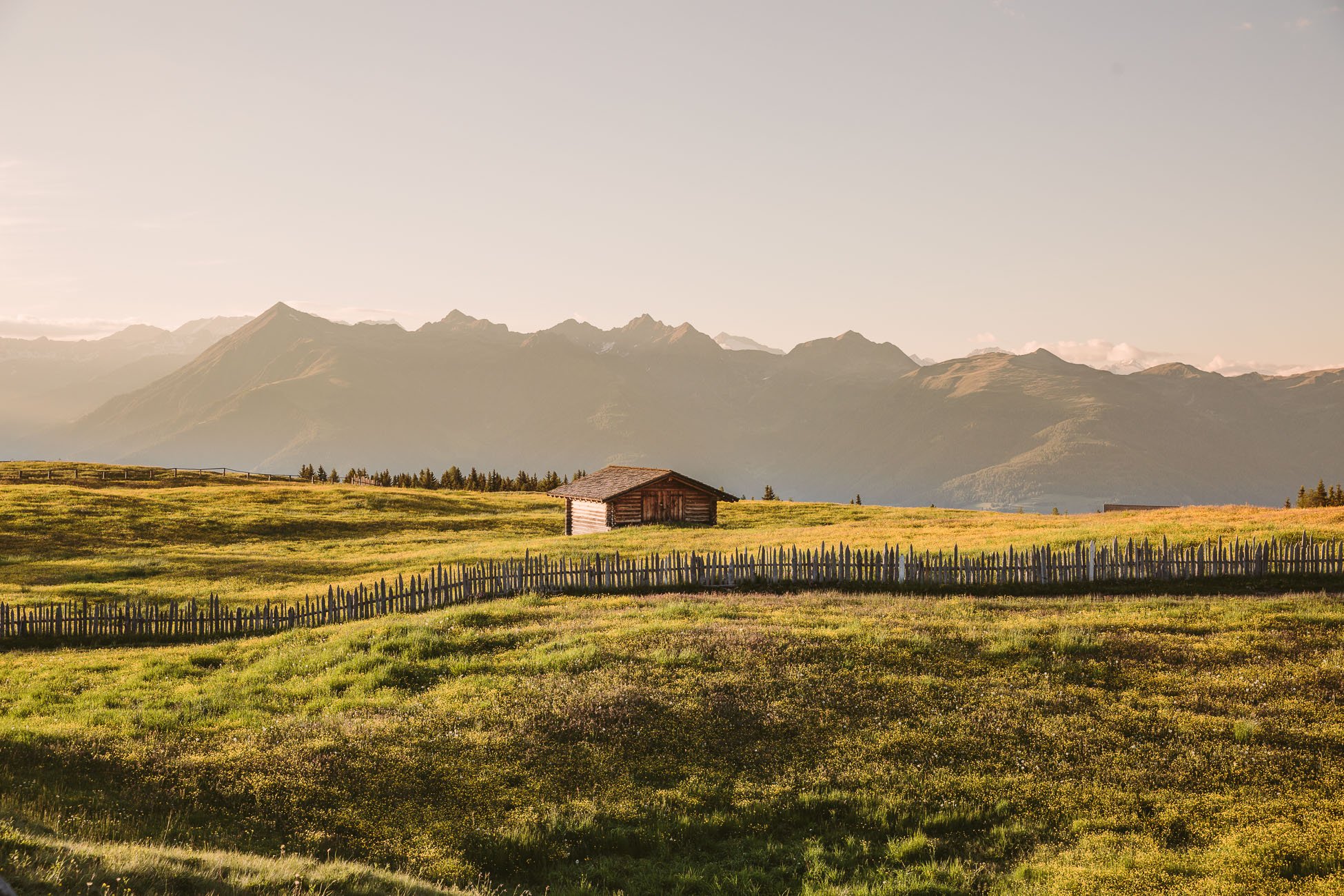 And this is what it is all about in the end, finding a place, that feels like you! And South Tyrol has these kinds of places, sometimes open in the plain, sometimes a little bit hidden. It's worth to go searching for those.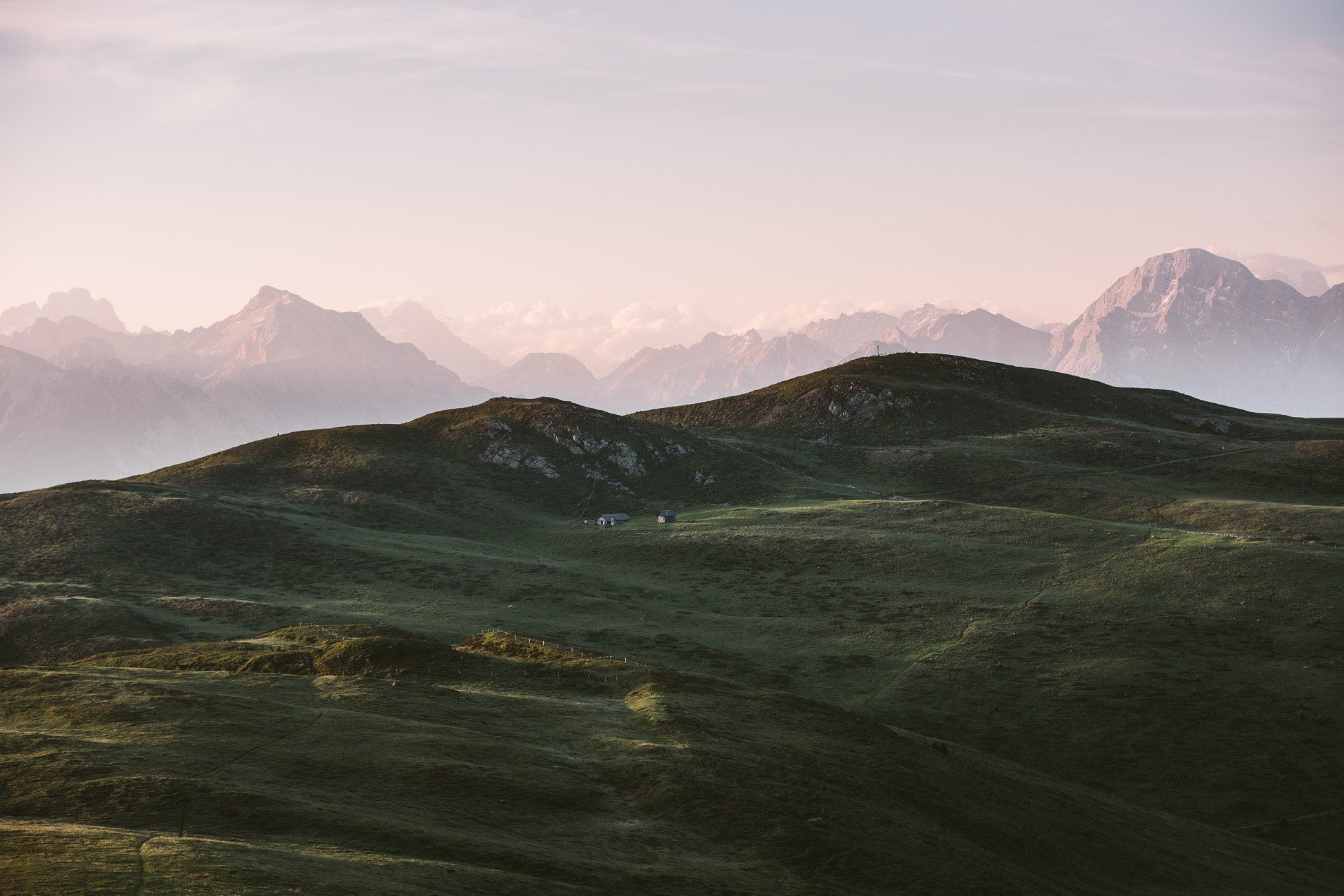 If you liked this blogpost you will also enjoy this:
Disclaimer: This is not a sponsored post, but we were invited to discover South Tyrol by the official tourism board in 2018. We were not required to post anything from this trip. The views in this blogpost are our own.