(Update, October 2022). Tulum is first and foremost a beach holiday destination and not exactly a place for an active vacation. So if you want to enjoy a lazy & relaxed Tulum beach trip, you're absolutely fine to simply stay at your hotel at the beach, lounge in the sand and maybe go out only to have a fancy dinner in one of the incredible restaurants in the evening.
But: If you want to spice up your vacation with some extra adventures, here's 5 things you can't miss when you visit Tulum.
5 things to put on your To Do list for Tulum
Snorkel with turtles
Explore a Cenote and swim in it
Visit the Mayan ruins and learn about their culture
Feed pelicans with the locals
Stay at the beach during a thunderstorm and watch a rainbow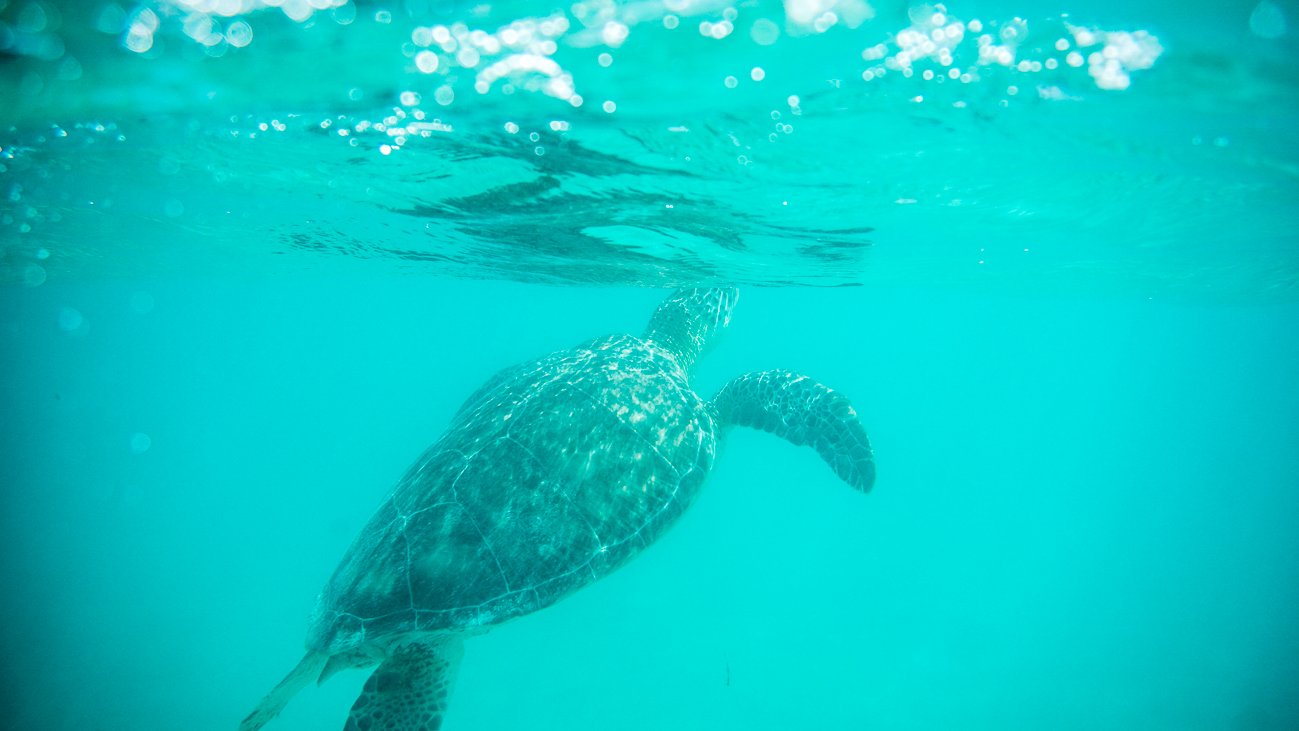 1. Snorkel with turtles in Akumal
Akumal is located 20 minutes north from Tulum (by car) and well known for it's turtle snorkelling. Here's what you have to know about it:
Since our visit in 2017 things have changed and snorkelling unattended isn't allowed anymore. Nowadays you have to pay an entrance fee and take part in a guided tour.
You can rent snorkel gear at the Akumal Dive Center.
Bring a driver's license or something to leave at the diving center as pledge.
The beach in Akumal is crowded and there's certain parts of the beach that are reserved for hotel guests. So this is not a beach to hang around and chill. Go there to snorkel with the turtles and then leave again 😉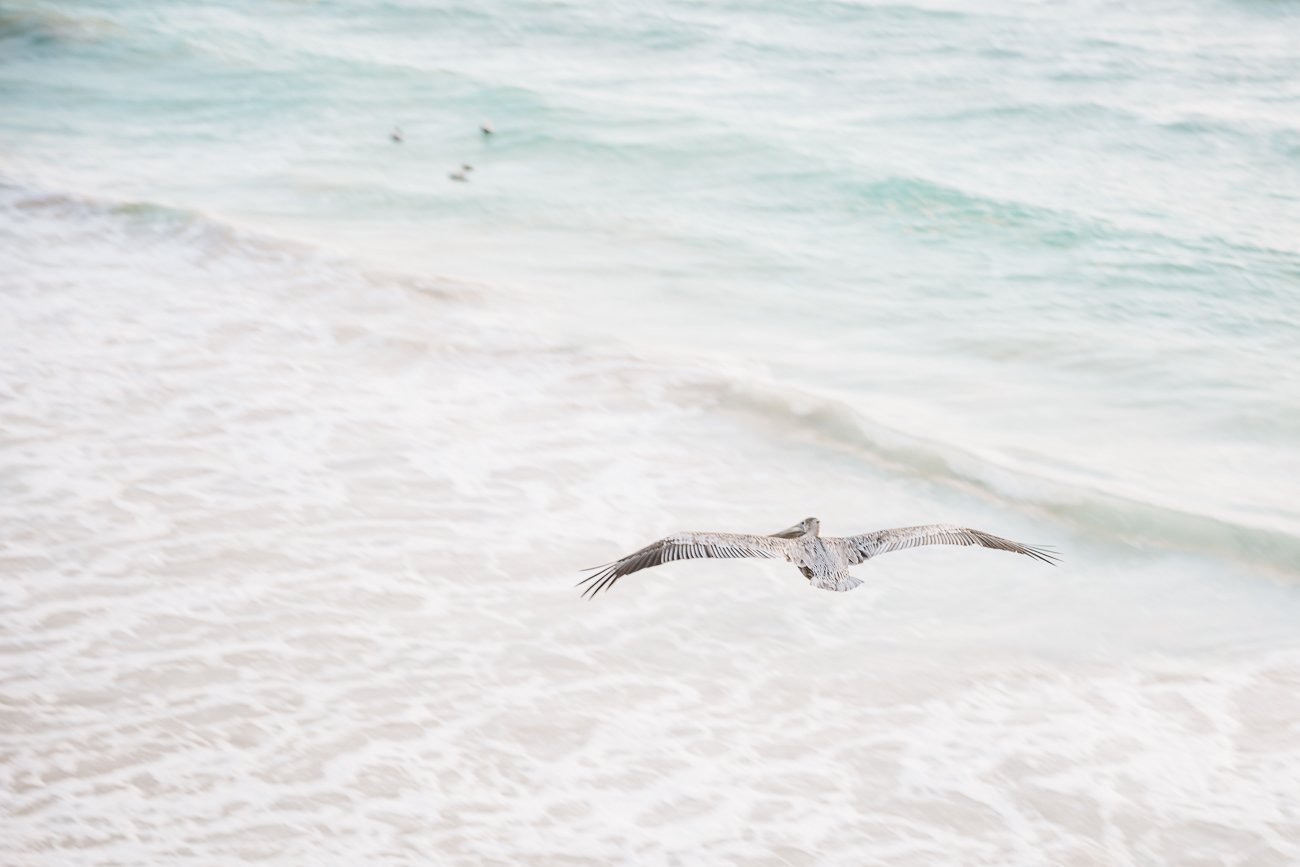 The turtles usually prefer the area where sea grass grows on the ground (you'll easily spot it with your diving goggles on). The turtles feed on the sea grass, so there you'll find them.
Do not touch the turtles or get too close to them!
Respect that this is their natural habitat and try not to interrupt their feeding time. They are used to having spectators by now, but can easily be intimidated by you getting too close.
If you watch a turtle feed for 5-10 minutes it will have to come up to breathe at some point. You can go up with the turtle, stick your head out of the water together and breathe together. It looks like a snake's head coming out of the water and is a truly magical moment.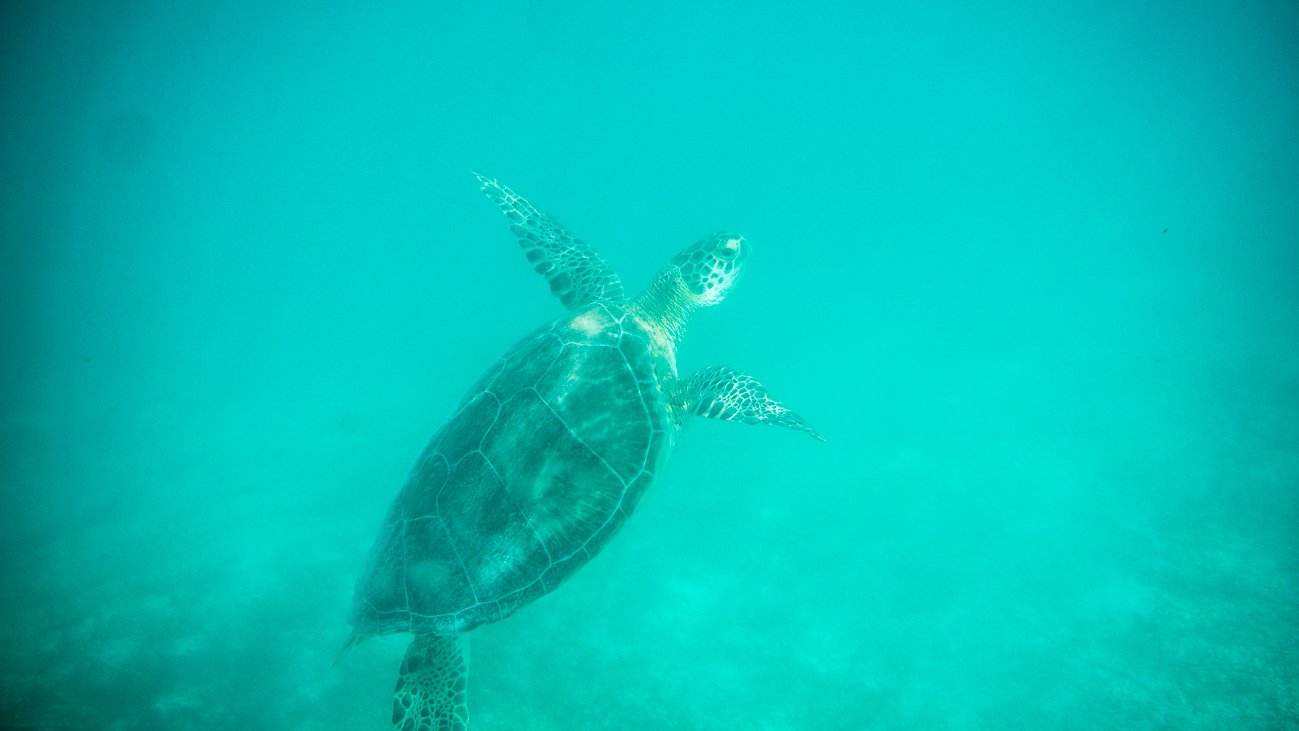 2. Explore a Cenote and swim in it
Mexico is the land of Cenotes! These caves are the hidden secret of the Maya's fresh water supply. They feature underground rivers and lakes with the clearest water.
There's hundreds and thousands of Cenotes all over Yucatán, but around the Mayan Riviera we had a hard time finding a smaller and less visited one. Instead we opted for Aktun Chen, which is rather touristy (unfortunately).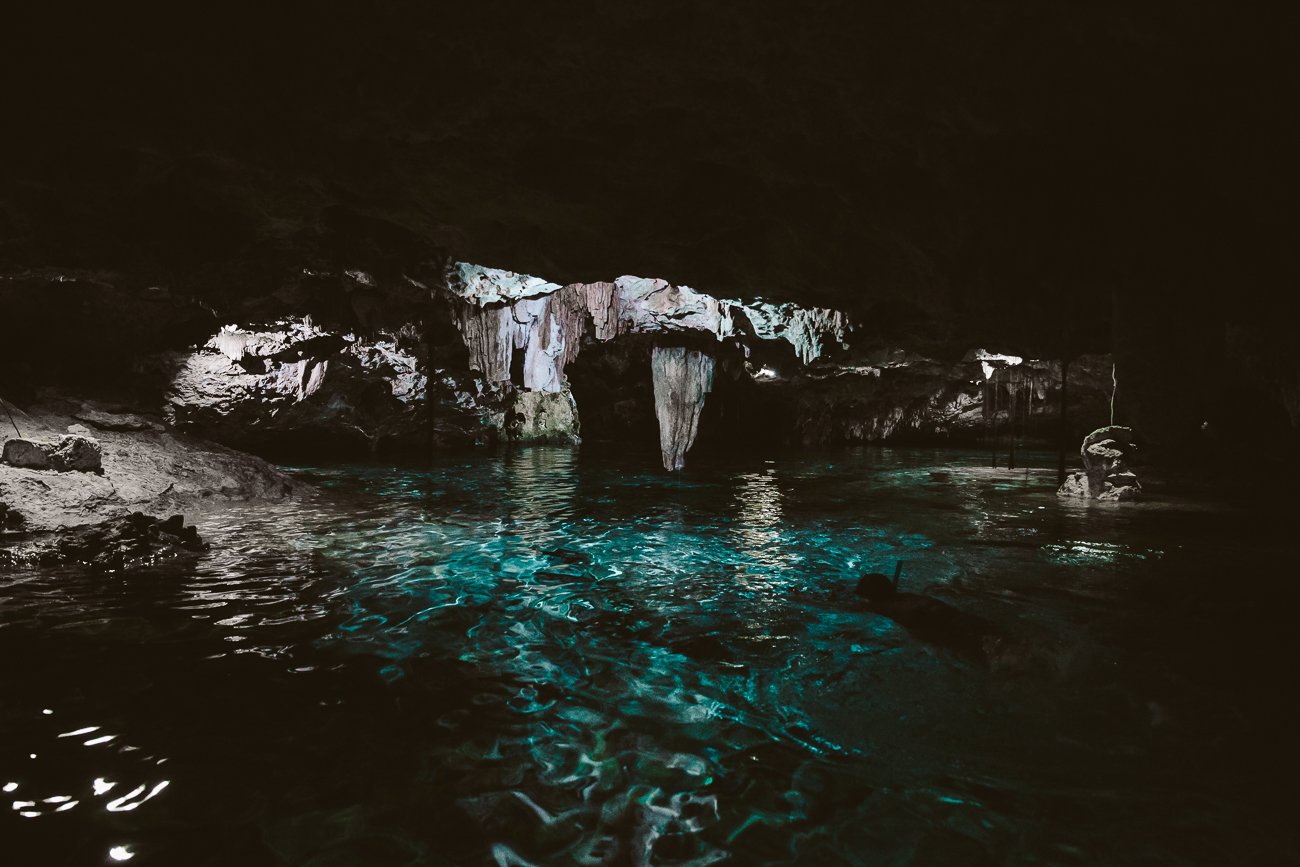 Aktun Chen Cenote
As we went late in the afternoon we were amongst the last visitors at Aktun Chen. We arrived at 4:30pm and the Cenote closes at 5:30pm.
Pro tip:
Don't come any later than 1 hour before closing time, as they won't let you in anymore. We already had discussions 1 hour prior to closing!
We paid 33 dollars entrance fee.
Then we got transported from the reception area to the Cenote with a minivan.
Upon arrival at the Cenote we got our snorkel gear and could leave our stuff at a locker.
A guide brought us to the cave and explained the process of our visit. Then another guide picked us up to snorkel through the Cenote and discover the local fish species, the stalagmites and stalactites.
Although we were the last guests, that were allowed to enter, there were still at least 20 other people taking selfies, screaming around and swimming in the Cenote from the previous group.
All in all it felt like a very touristy visit and we wouldn't really recommend this, unless you don't have time to visit another Cenote.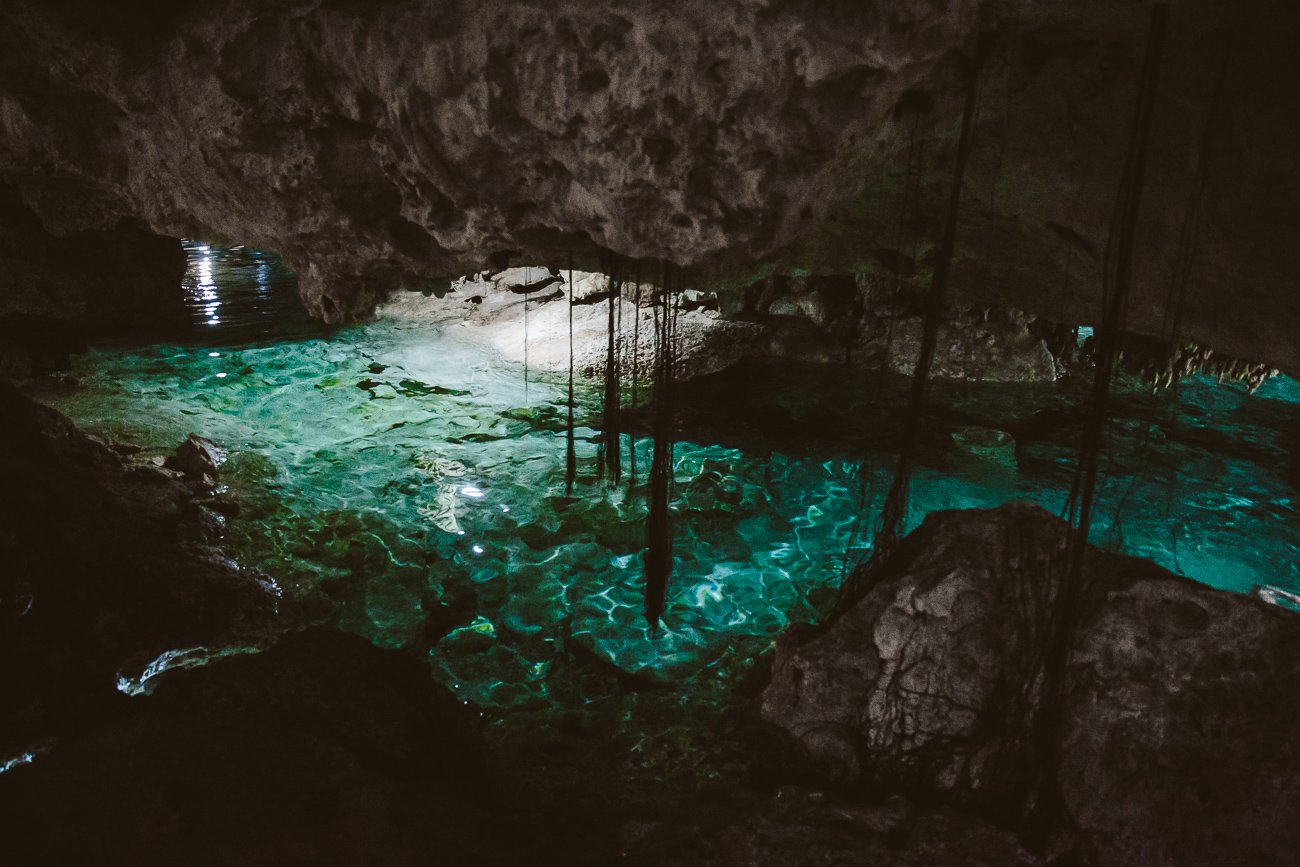 If you do want to research a bit more, try to start from this tripadvisor thread, that might be helpful. We hope you can find a less touristy Cenote in the Tulum area, as this is really a great experience!
P.S.: We actually found the best Cenote south of Mérida (see our blogpost featuring Cenote Kankirixche). There you only pay a few Pesos and can just swim and discover it by yourself! But if you're only visiting Tulum this might be too far of a drive (3,5 hours).
3. Visit the Mayan ruins and learn about their culture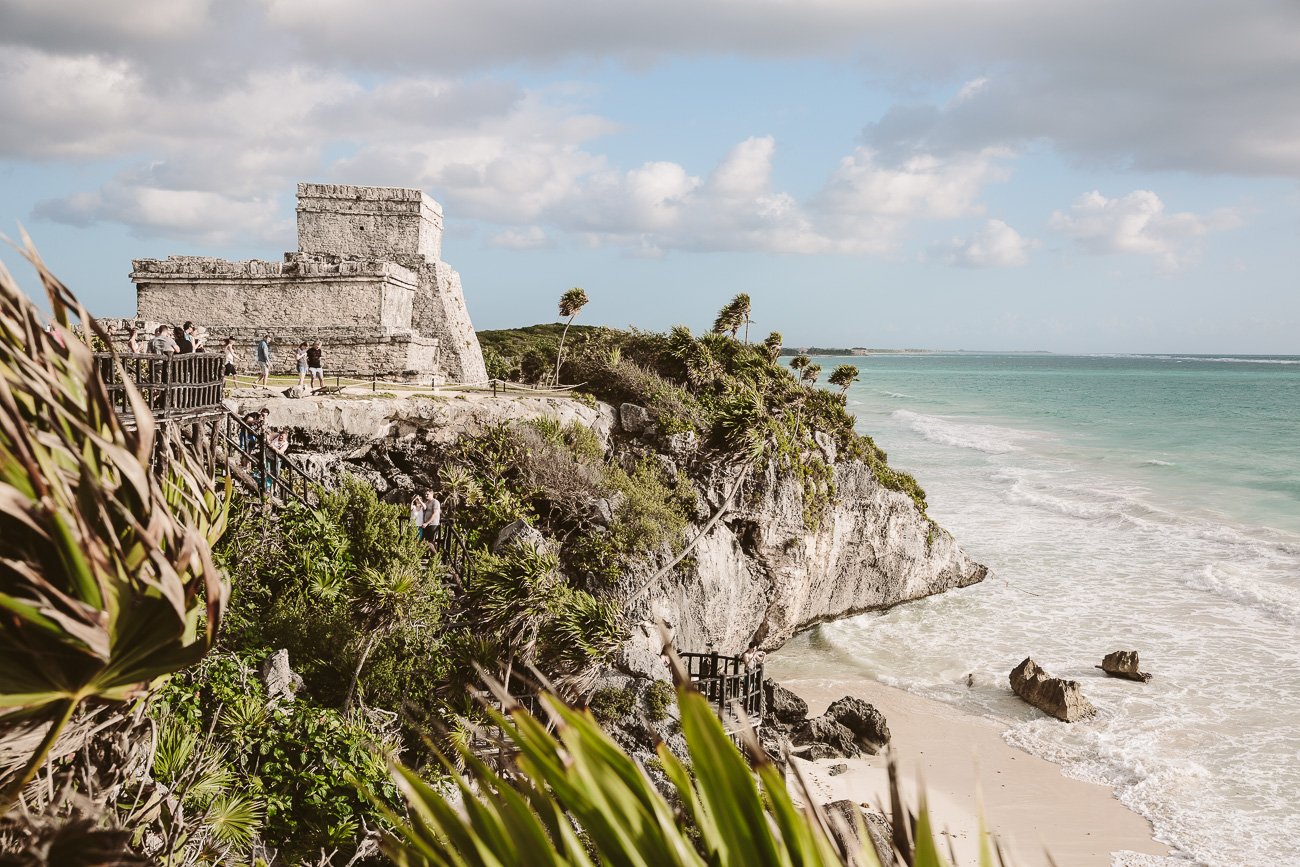 When visiting Tulum the Mayan ruins are a must do!
What makes the Tulum ruins special is their location facing the water. Most of the Mayan ruins are located in the jungle, but this used to be the Mayans door to the world. A seaport from which they traded their goods (it's said to be mostly obsidian, turquoise and jade).
This city is believed to have been one of the last built and inhabited by the Mayans. After the Spanish began settling in Mexico, Tulum was abandoned by the Mayans – probably after Spanish diseases began spreading among the population.
The city was inhabited by around 1.000 to 1.500 people and you can still see many of the structures. There's whole houses standing, believed to be of priests or other important people – as they had stone walls.
Pro tip:
Go first thing in the morning (it opens at 8am) to beat the crowds. There's some groups who are allowed early entrance, so even if you're the first individual visitor, you won't be completely alone!
The entrance costs about 3,50 dollars (70 pesos).
You won't get a guide and there aren't a lot of signs with infos around the site. So bring a guidebook or inform yourself before your visit.
The beach is not open everyday – it depends on the weather, wind and currents. Although we visited on a calm and sunny day, the currents were strong and the beach was closed for visitors. But do bring your swimming gear, just in case 😉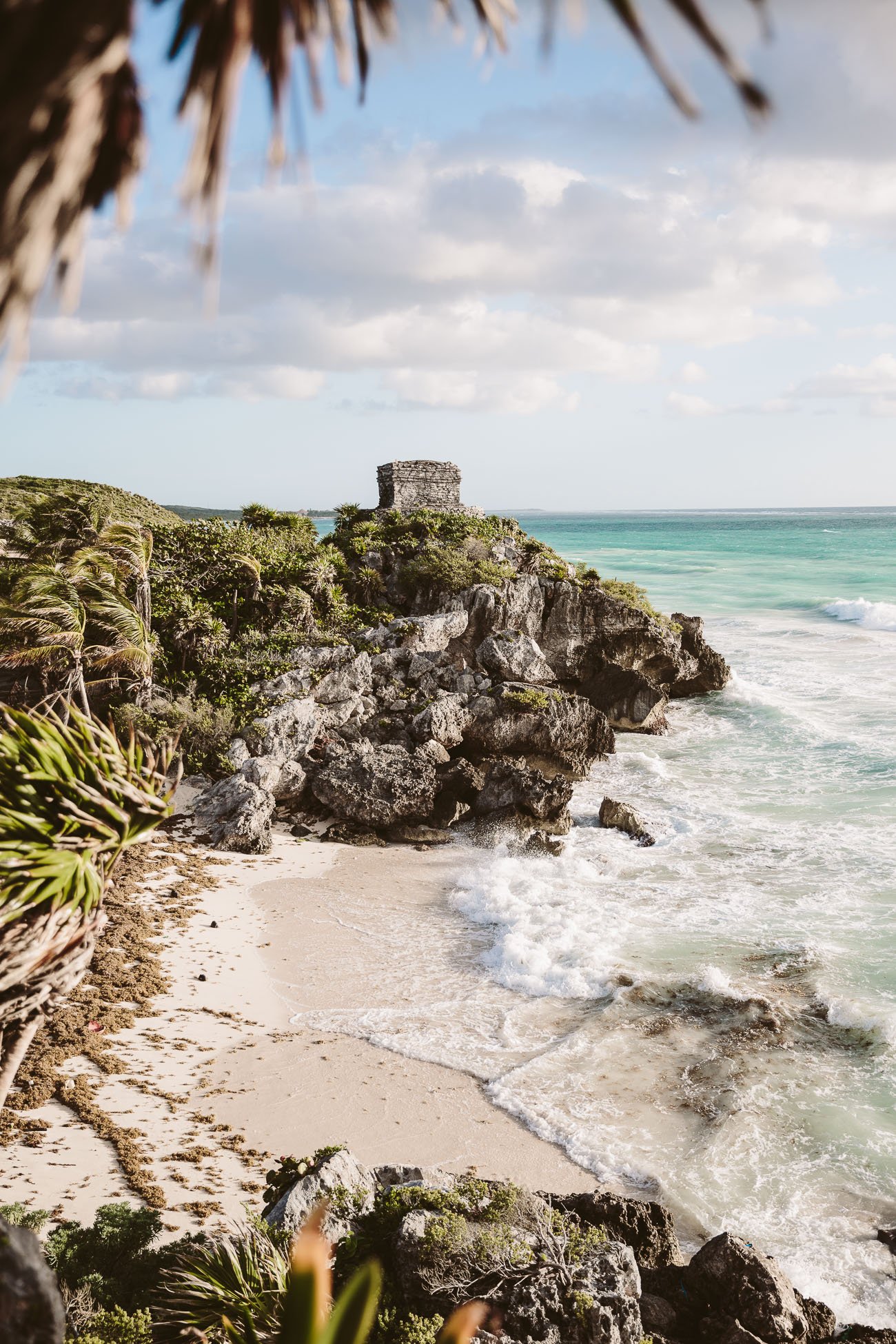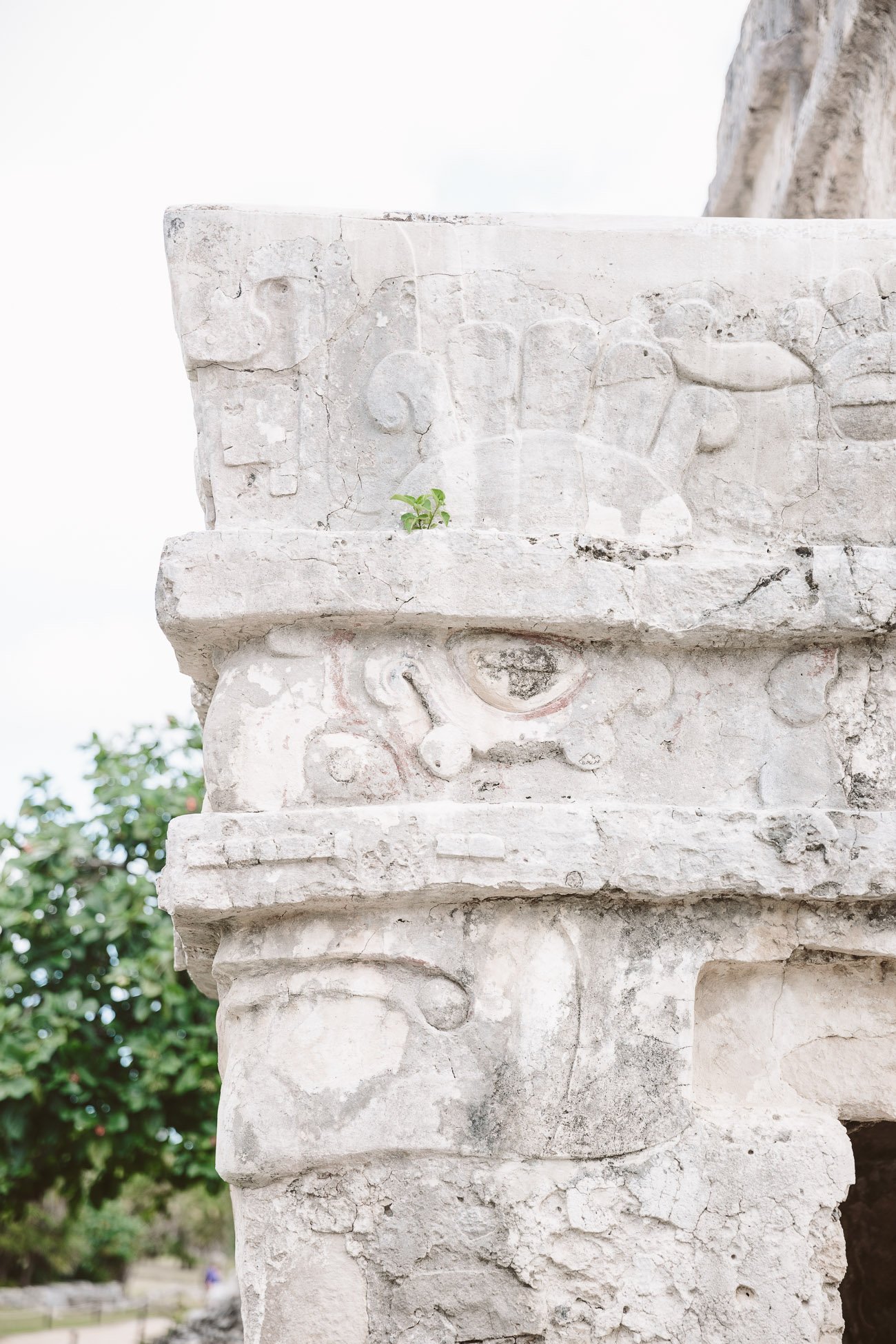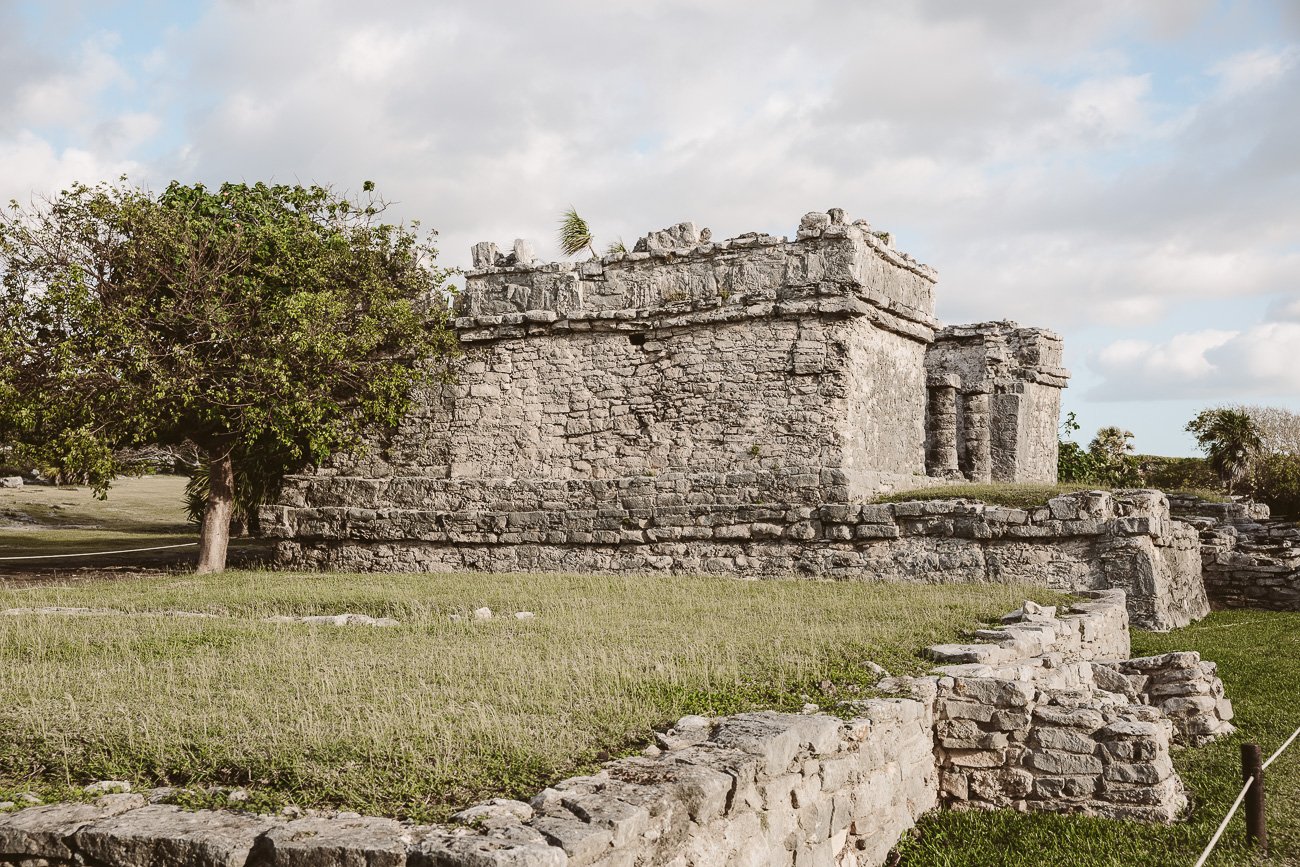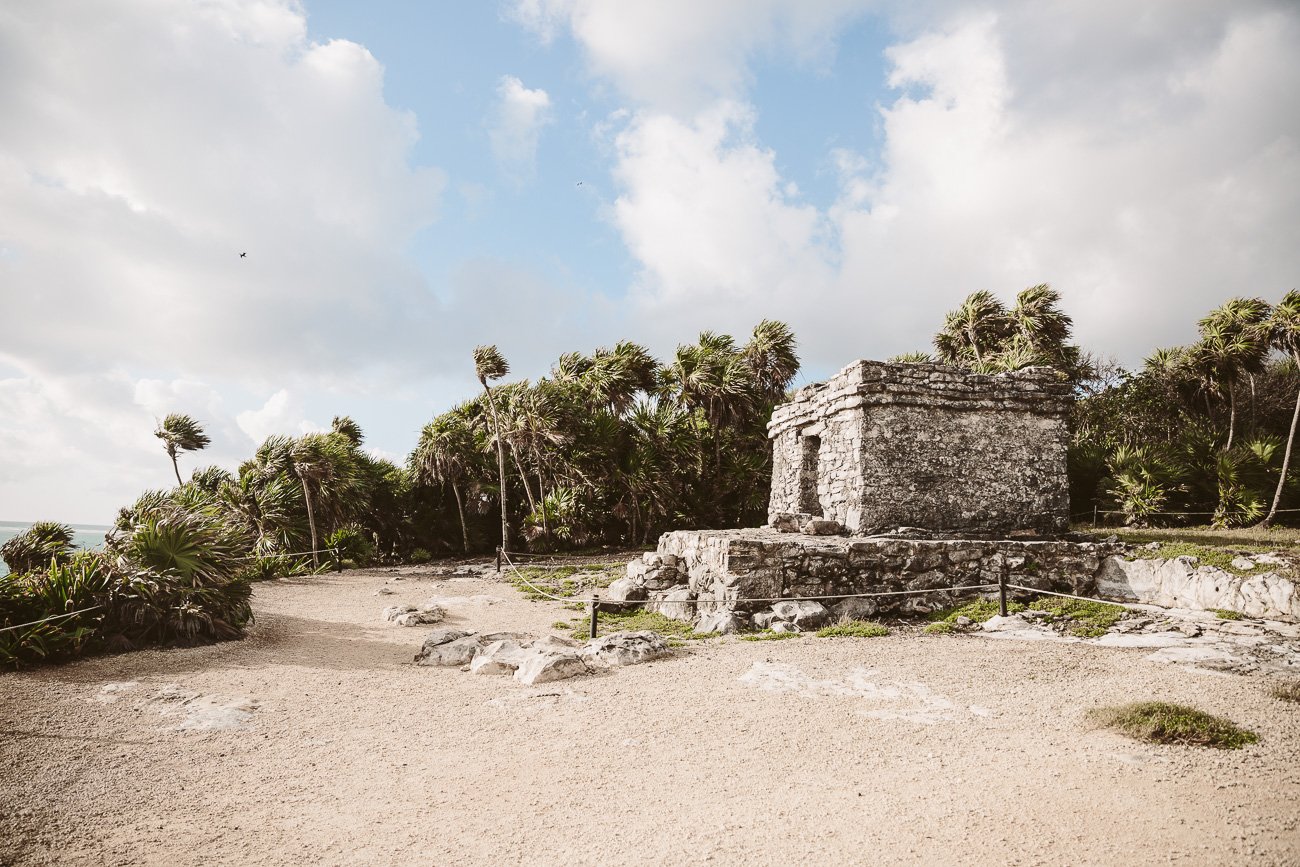 4. Feed pelicans with the locals
Unfortunately it seems this isn't possible anymore in 2022. The stretch of beach that was formerly publicly accessible and used by locals has been closed. Back in 2017 the local fishermen used to bring their leftover bait and served it to the pelicans – close to pelican house in the South of Tulum. And the pelicans had learned about this and usually gathered there in dozens.
We're sorry to say that this isn't accessible anymore, but that's what comes with change. And one thing is for sure – Tulum is changing in rapid pace all the time.
5. Stay at the beach during a thunderstorm and watch a rainbow
Ok, this is a lucky one – but even in winter (January) the weather won't be perfect all the time! In summer it's more common to have thunderstorms rolling in from the Gulf of Mexico, but even in winter it rarely stays clear and sunny all day long.
So don't go running back to your room with all the tourists, but stay at the beach and find a nice spot. You'll be practically alone and if you're lucky you'll even see a rainbow!
This beach is right in front of the "La Zebra" in Tulum

Everyone fled the scene (and it wasn't even raining)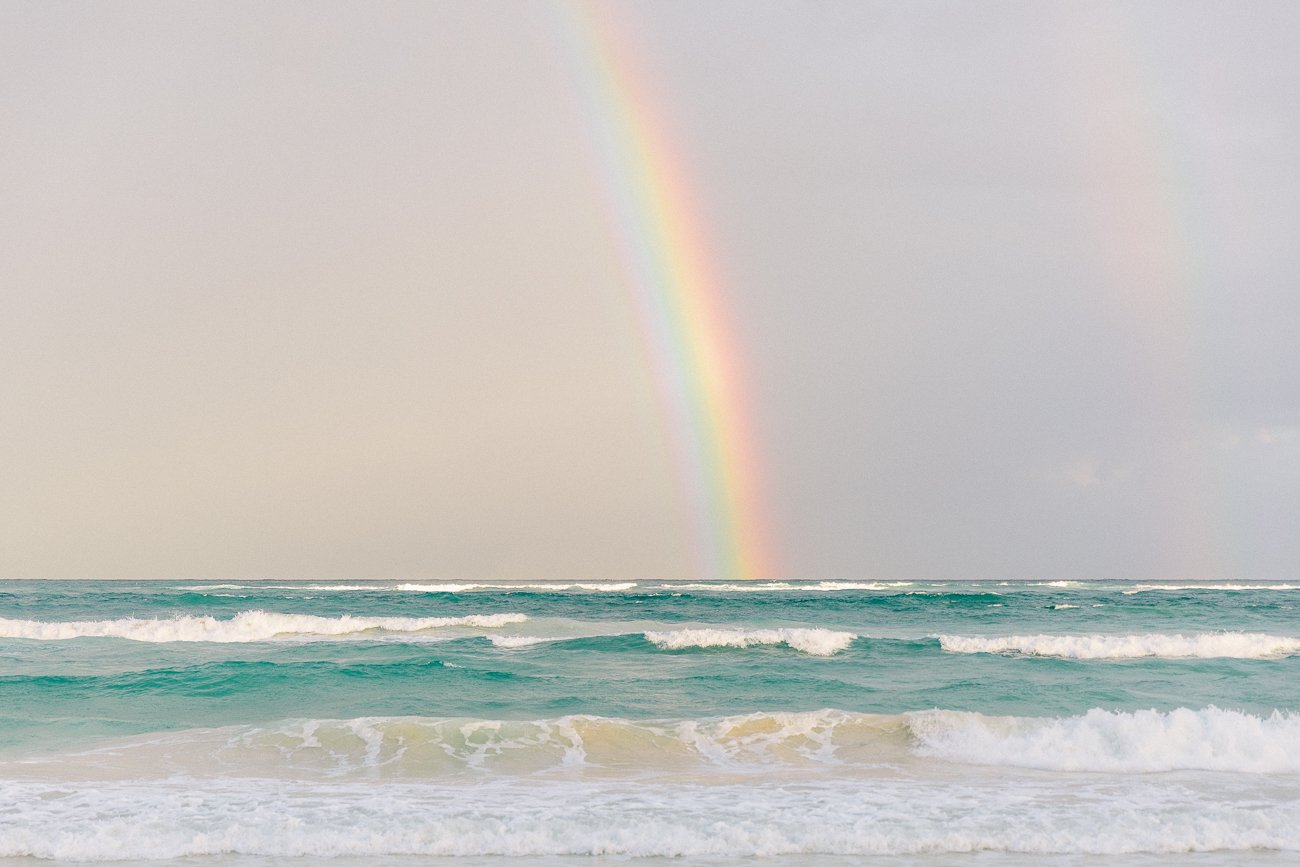 These were our 5 To Do's when in Tulum.
Before you get to do these we also want to give you a few basic infos about Tulum (how to get around, where to eat, etc.)
How to travel around Tulum
Rent a car (instead of a bike)
This brings us to our most important tip: Don't make the mistake to go to Tulum without a car. (Unless of course you only want to stay in your hotel and eat hotel food all day long). The stretch of beach alongside the hotel zone is longer then you might think! And this is where all the shops and restaurants are.
We saw a lot of people riding their bikes to get to Tulum Pueblo (the city) from the hotel zone at the beach by bike and it didn't look like fun. Why? A) the streets are a "holey" mess and B) the heat makes this rather uncomfortable (even in winter).
Your own car will save you a lot of money (and waiting time) for taxis in Tulum. We overheard one of our hotel guests complaining after he had waited for a taxi more than 20 minutes to go to dinner. You also can't really do the turtle snorkelling in Akumal, the Cenote visit or get to Sian Kaan without a car… (unless you want to book a tour, which means you'll be stuck in a group).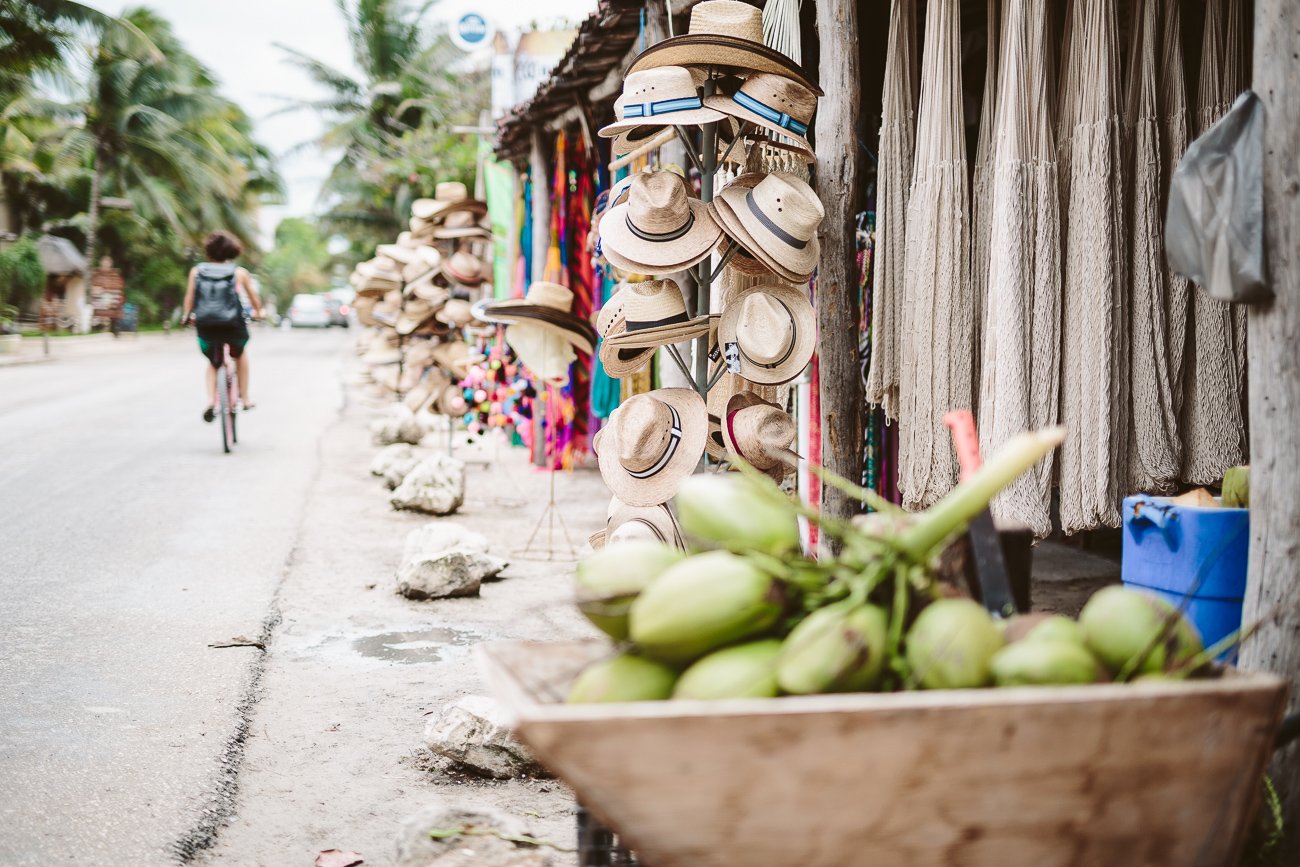 This street isn't really made for bikes (it's narrow, has a lot of traffic and holes – and goes for miles and miles!).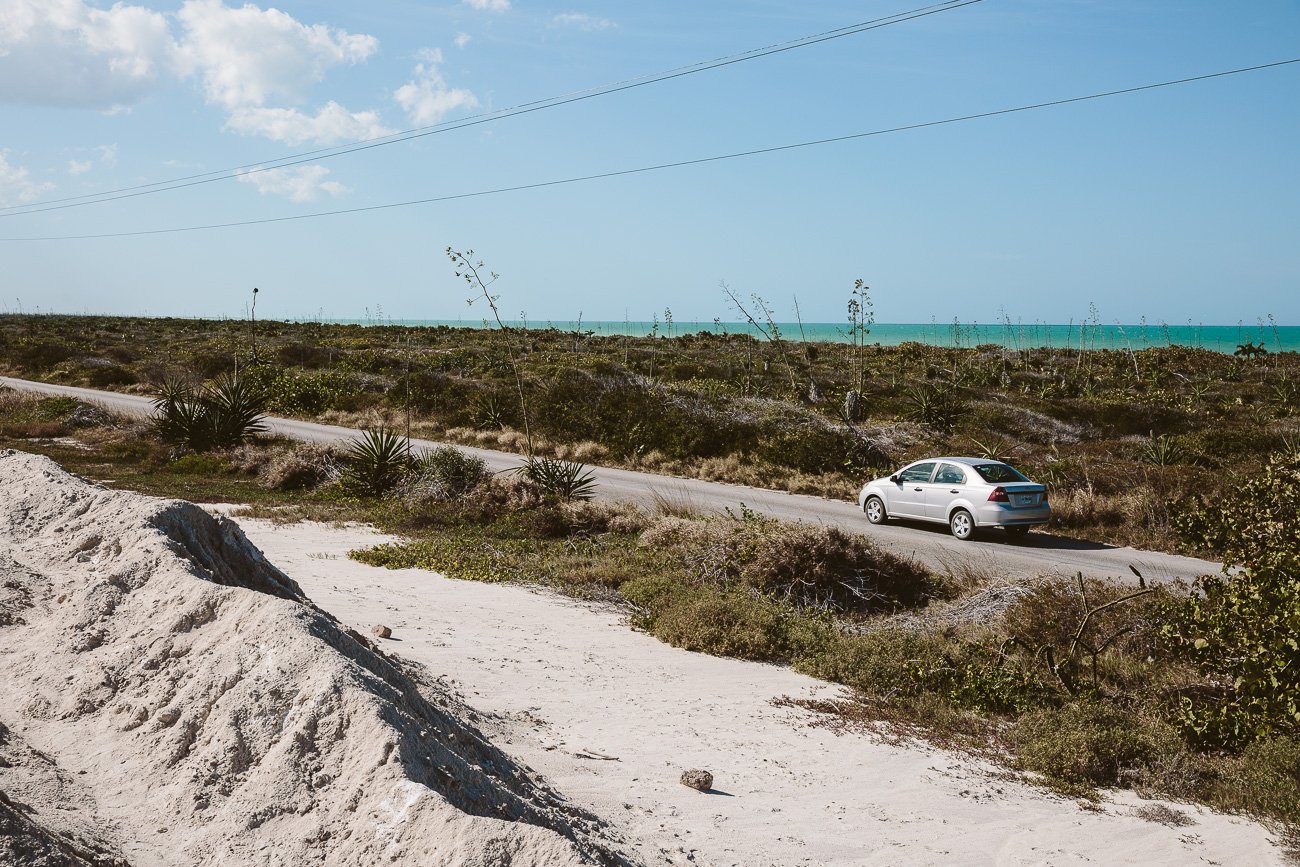 Our rental car in Mexico – we did a whole road trip around the Yucatán peninsula with it!
Pro tip:
Renting a car from Cancún airport is really cheap (we paid just 150 dollars for 8 days) – if you book it online in advance! And make sure that you have a fully comprehensive insurance upon booking. Otherwise you'll have to pay the insurance at the local rental shop which is way more expensive.
Restaurant tips for Tulum
Veggie Dinner at Restaurare:
Most definitely eat a vegetarian dinner at "Restaurare" (Carretera Tulum Boca-Paila Km 6, Ejido Jose Maria Pino Suarez, 77780 Tulum) and order the Coconut Ceviche – it's divine!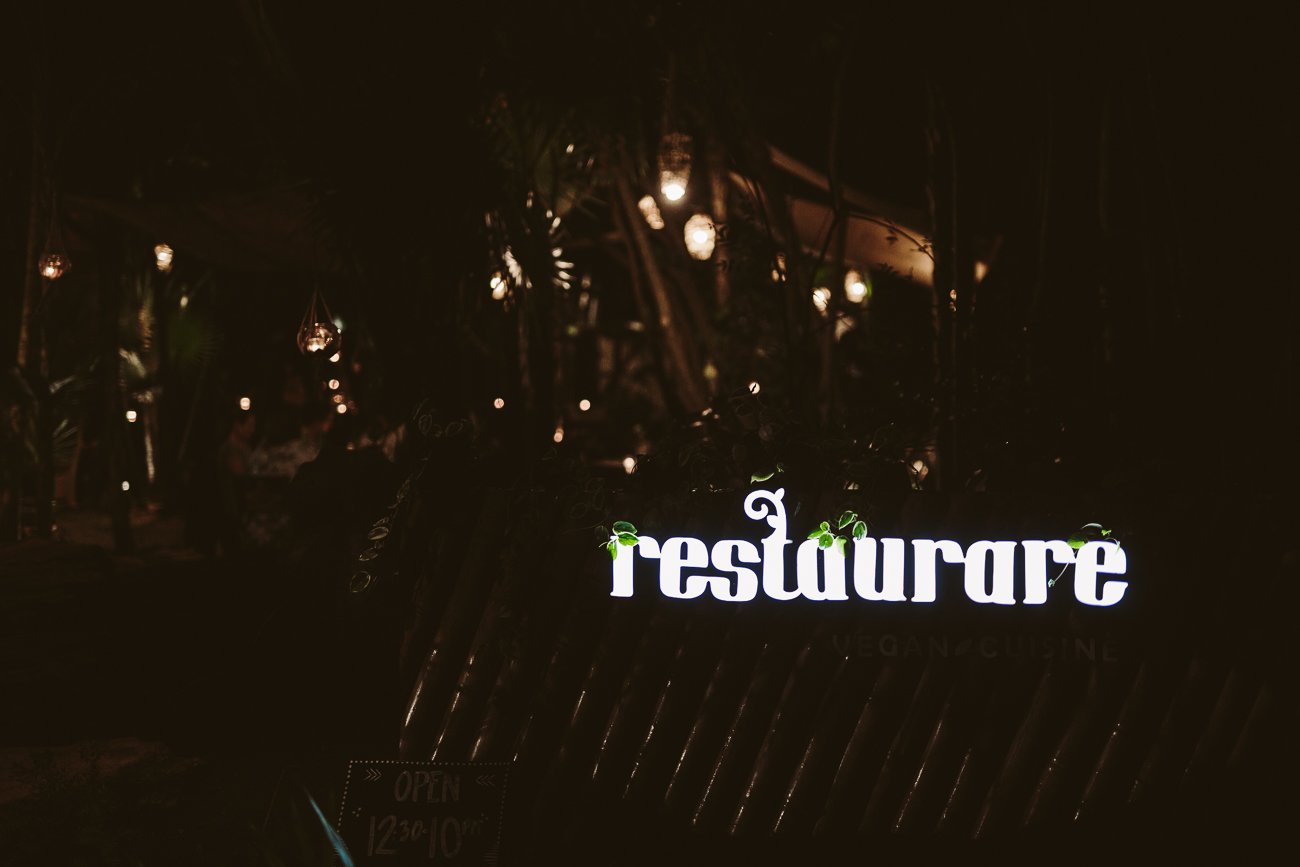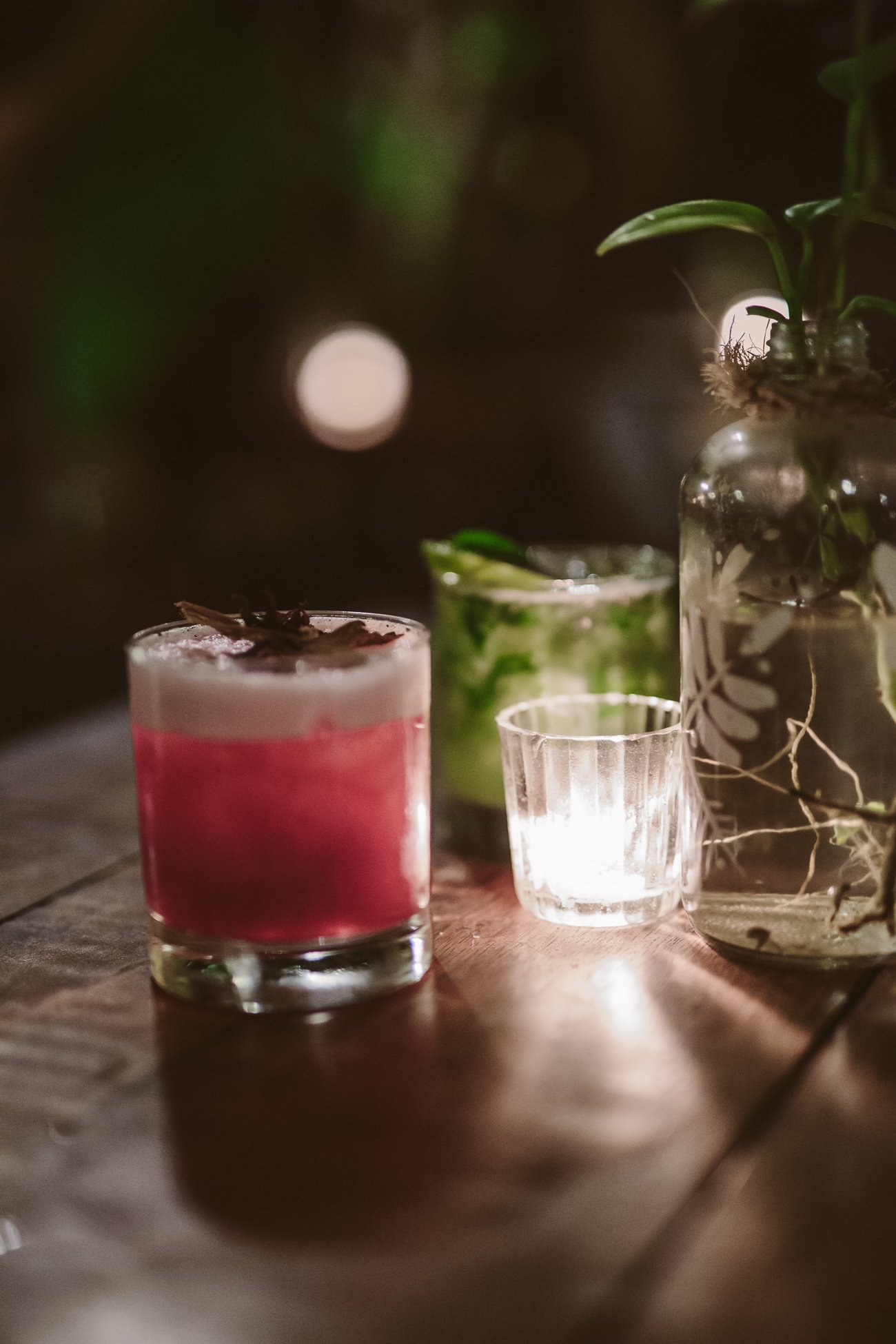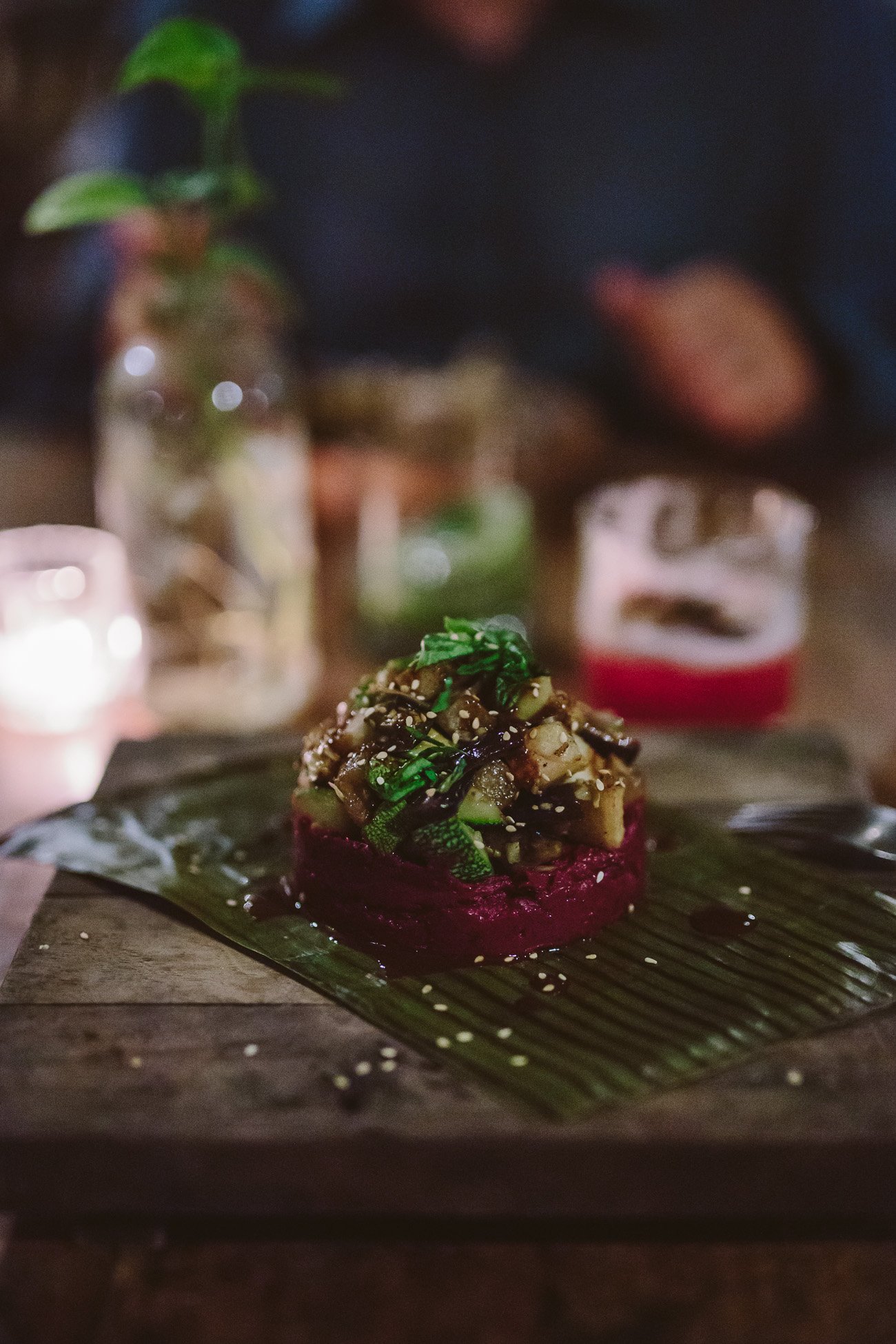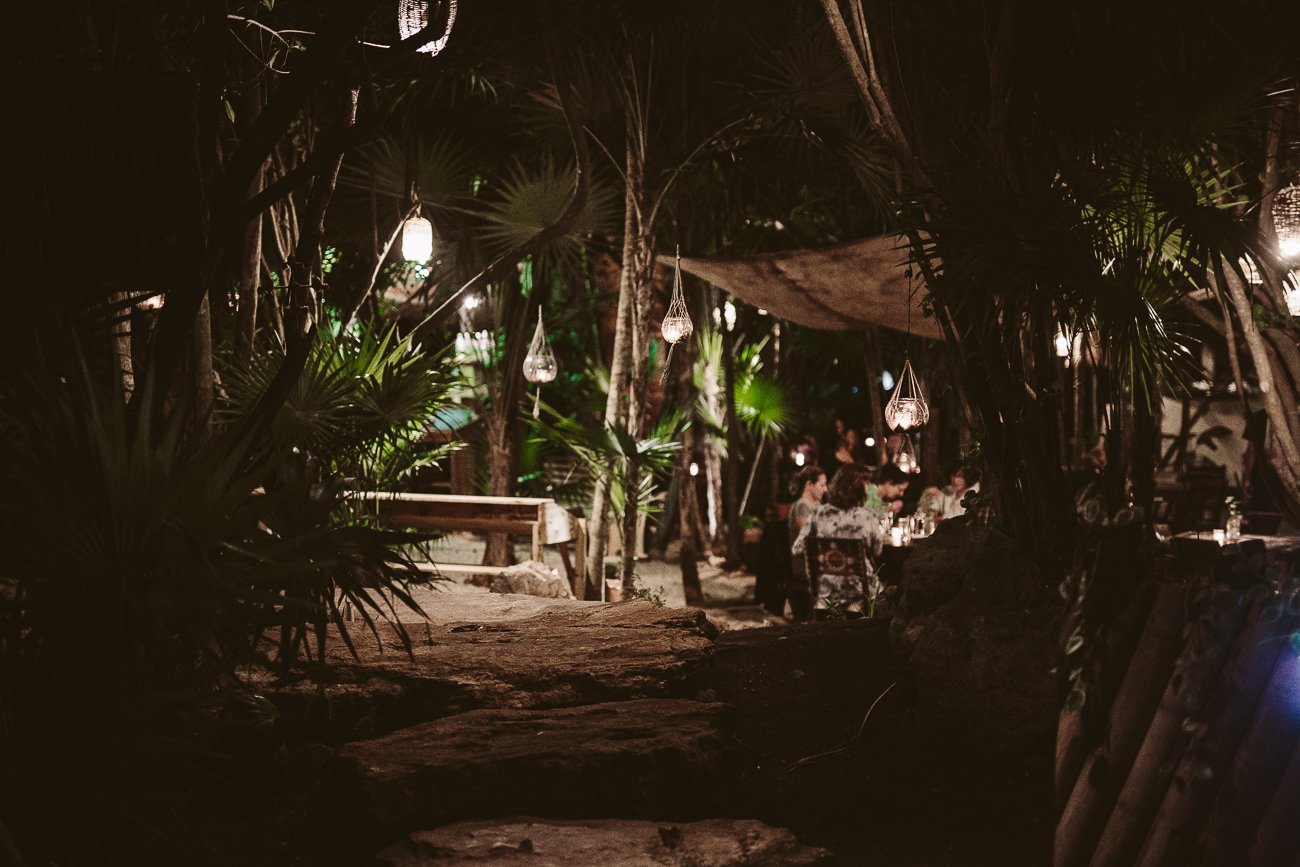 Brunch at Tunich
Sleep in & Eat brunch at "Tunich" (we recommend the Blueberry Pancakes and the Eggs Benedict without bacon). They serve breakfast all day, fresh squeezed juices (and even have wifi) 😉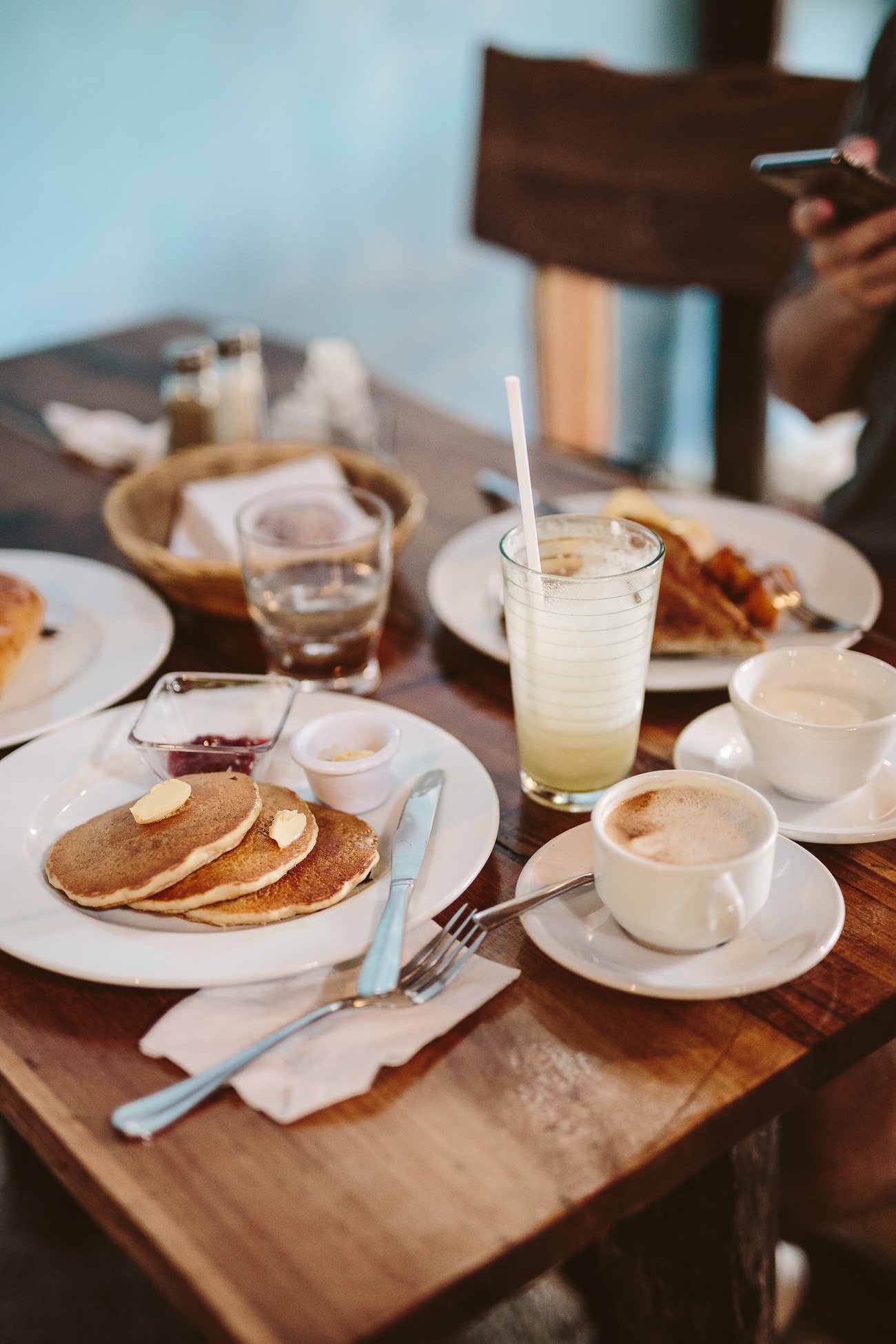 Fancy vegan 5 course dinner at Kin Toh:
Lounge in the giant hammocks and have a vegan dinner at "Kin Toh", the fine dining restaurant of the Azulik Resort. (Check our blogpost about the Azulik hotel as well – it's one of the most beautiful hotels we have ever stayed in). We recommend to climb up to one of the look out spots in the restaurant, that look like bird's nests. They are located in the floor above the restaurant level and you can watch the stars over a glass of wine.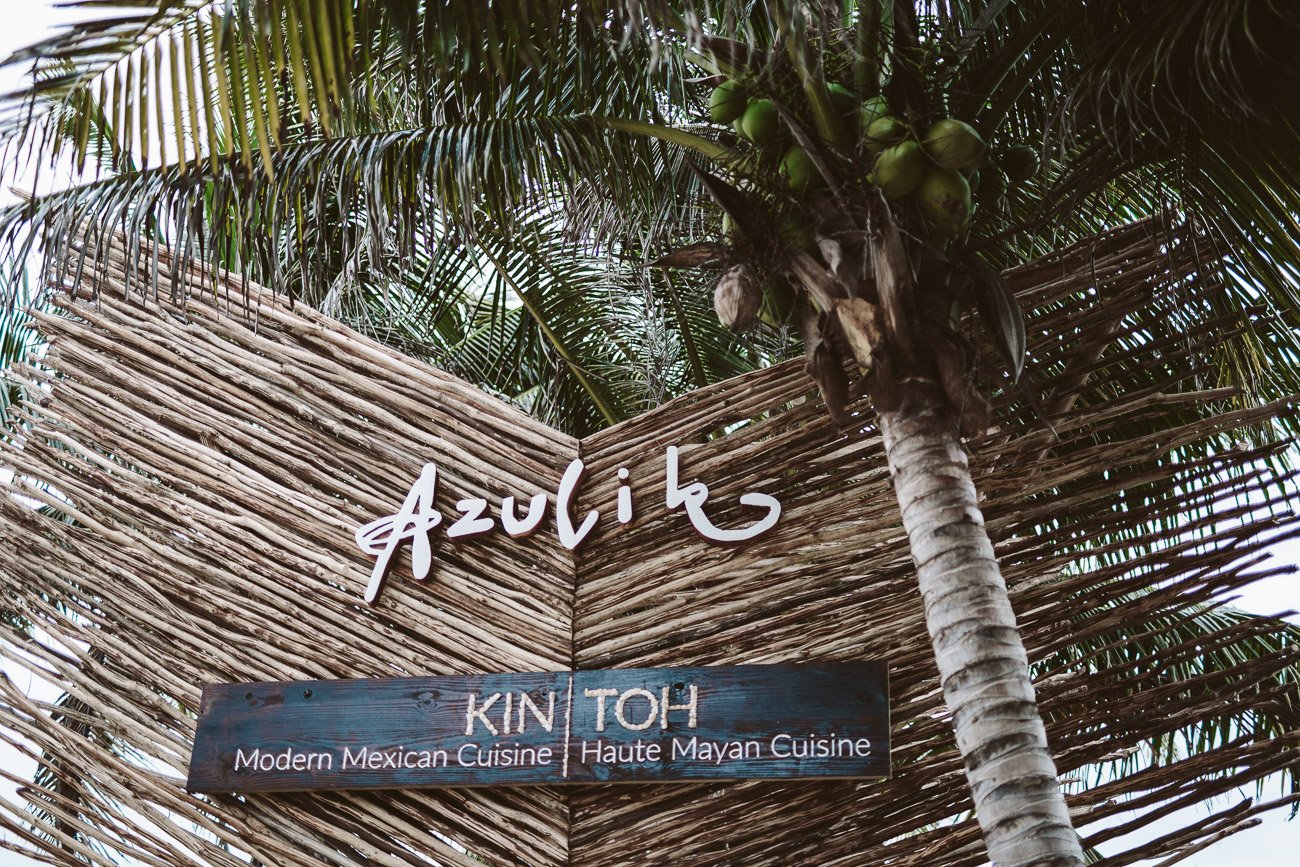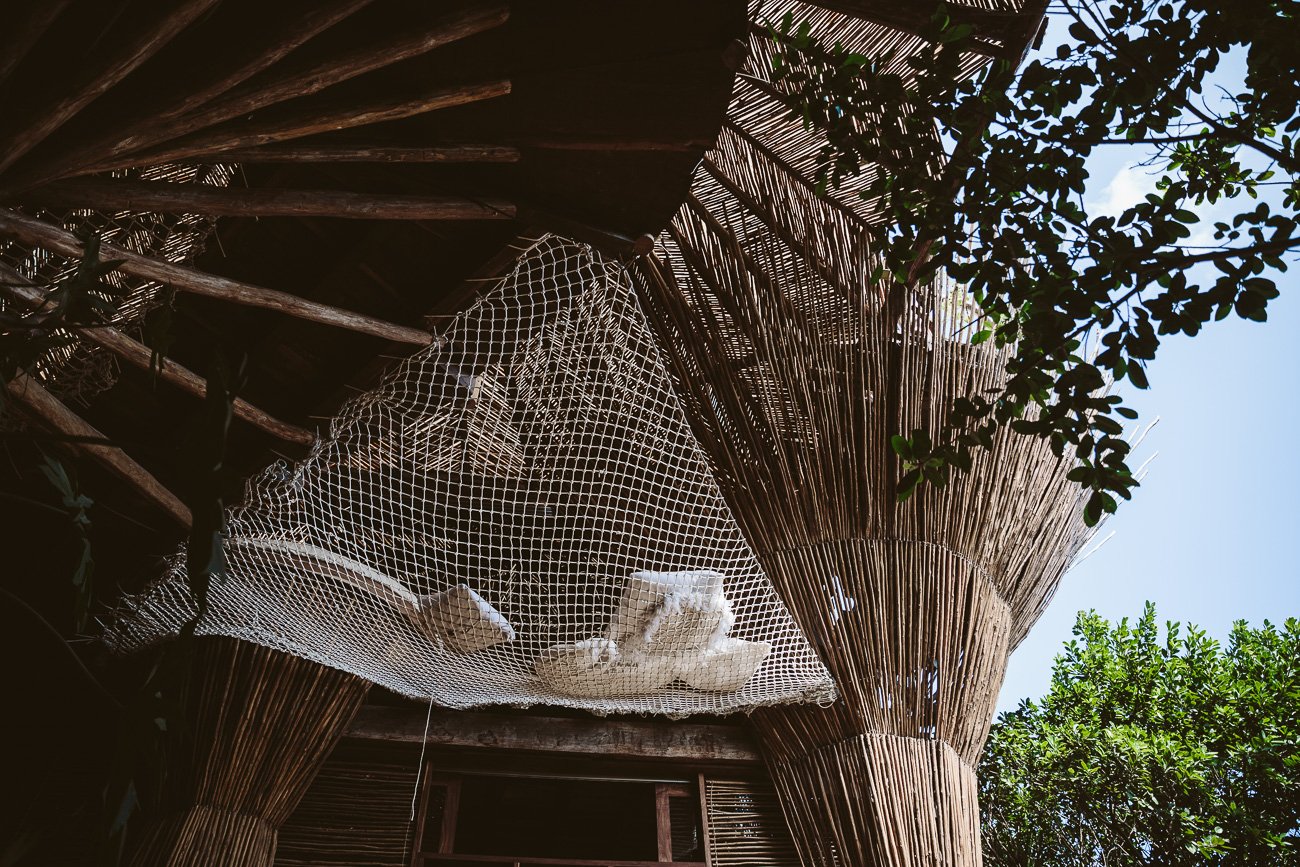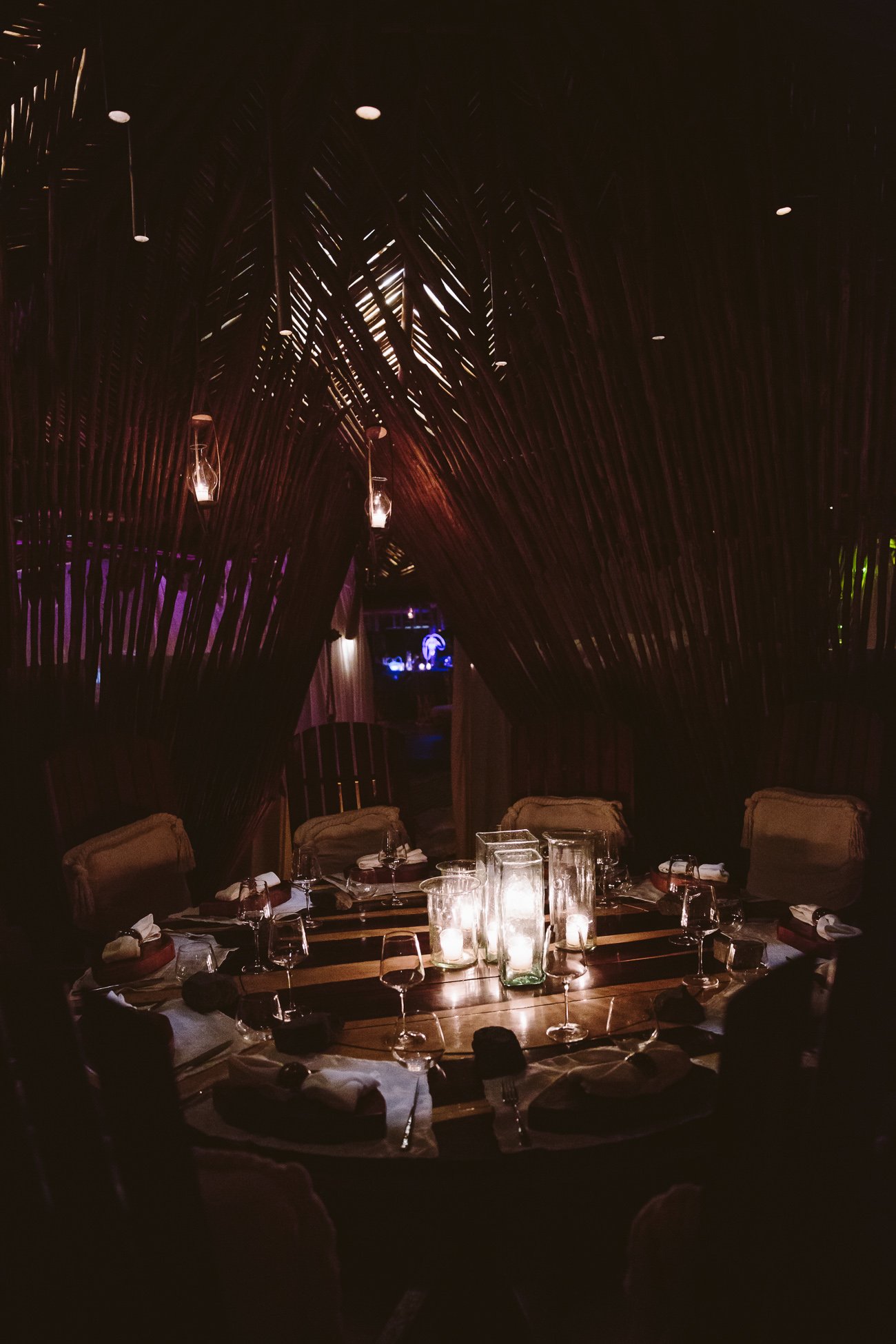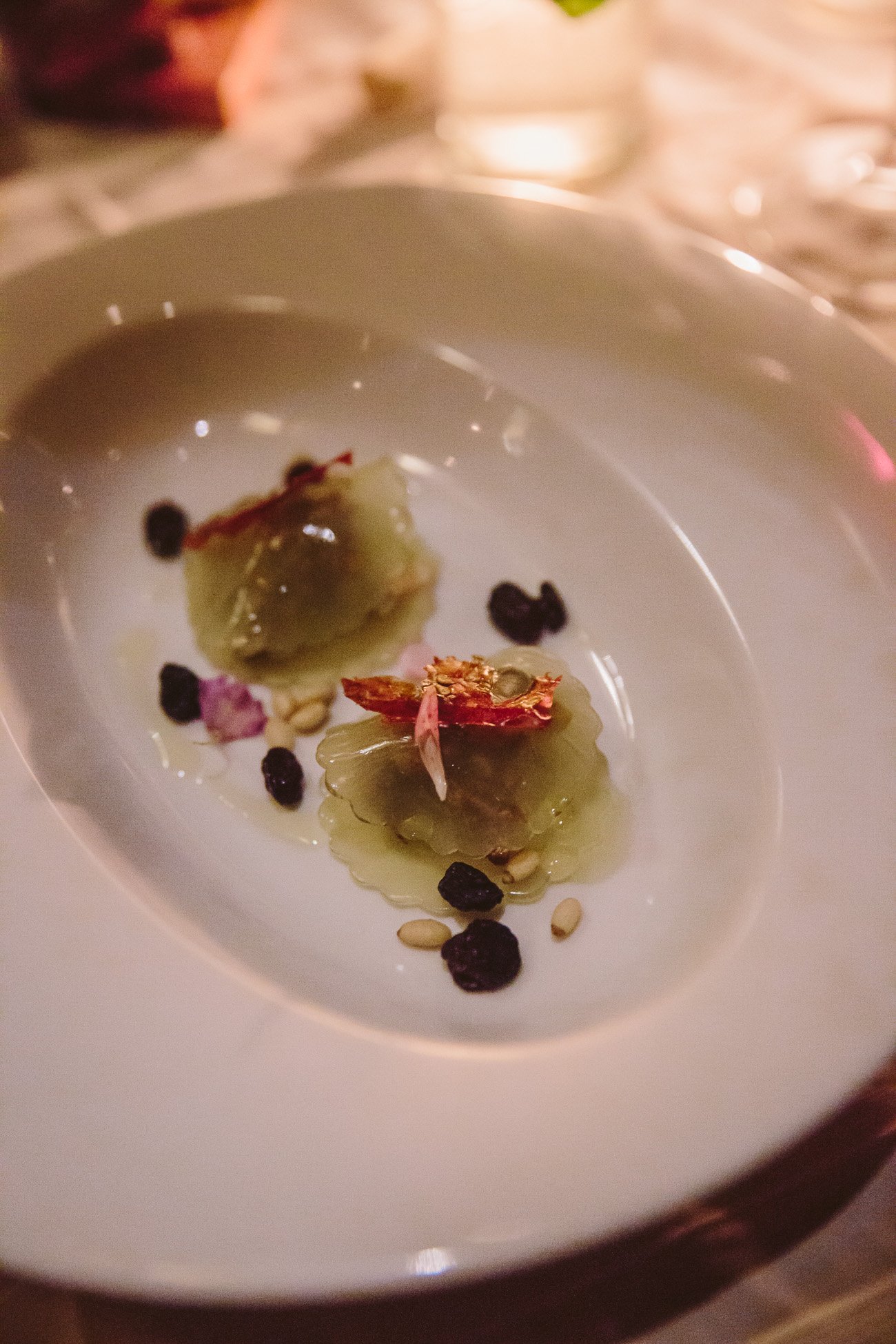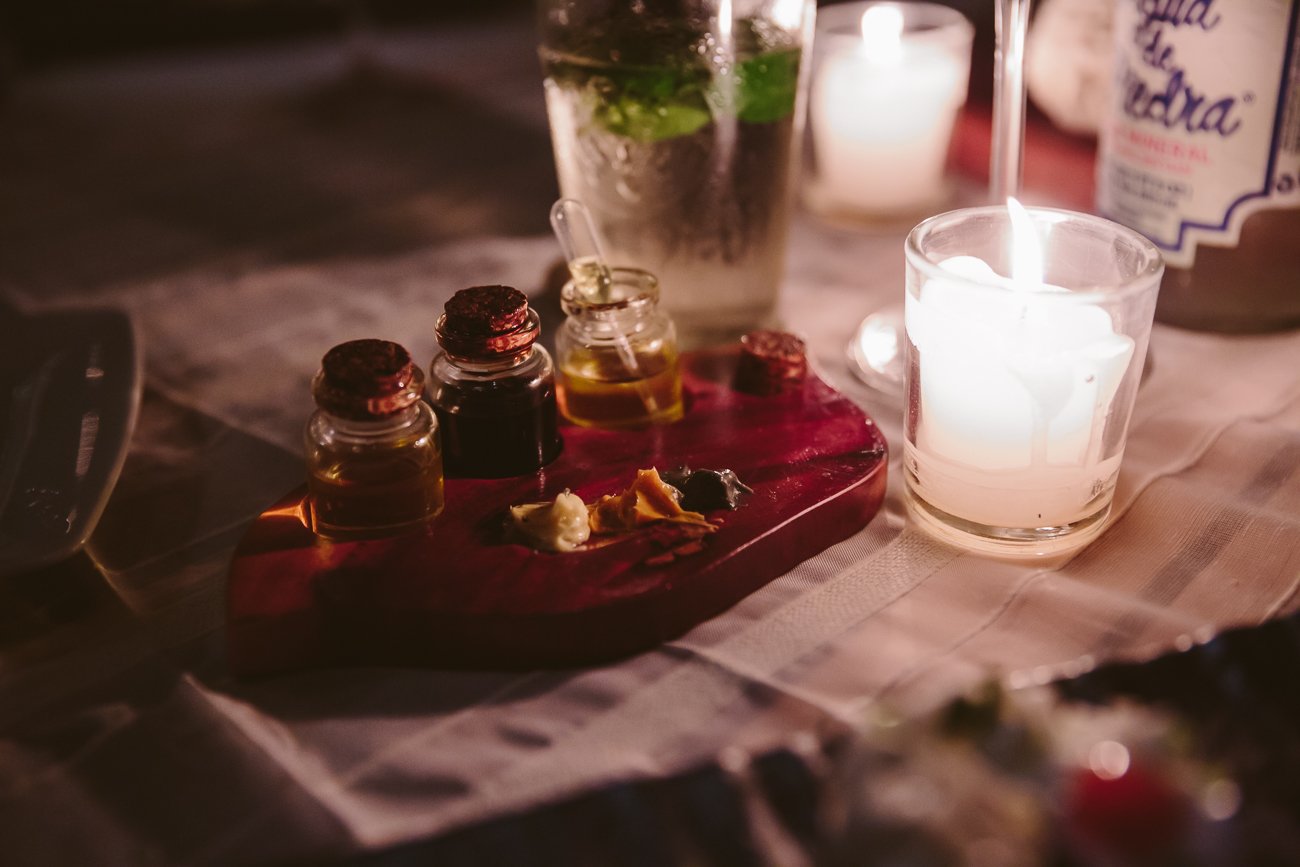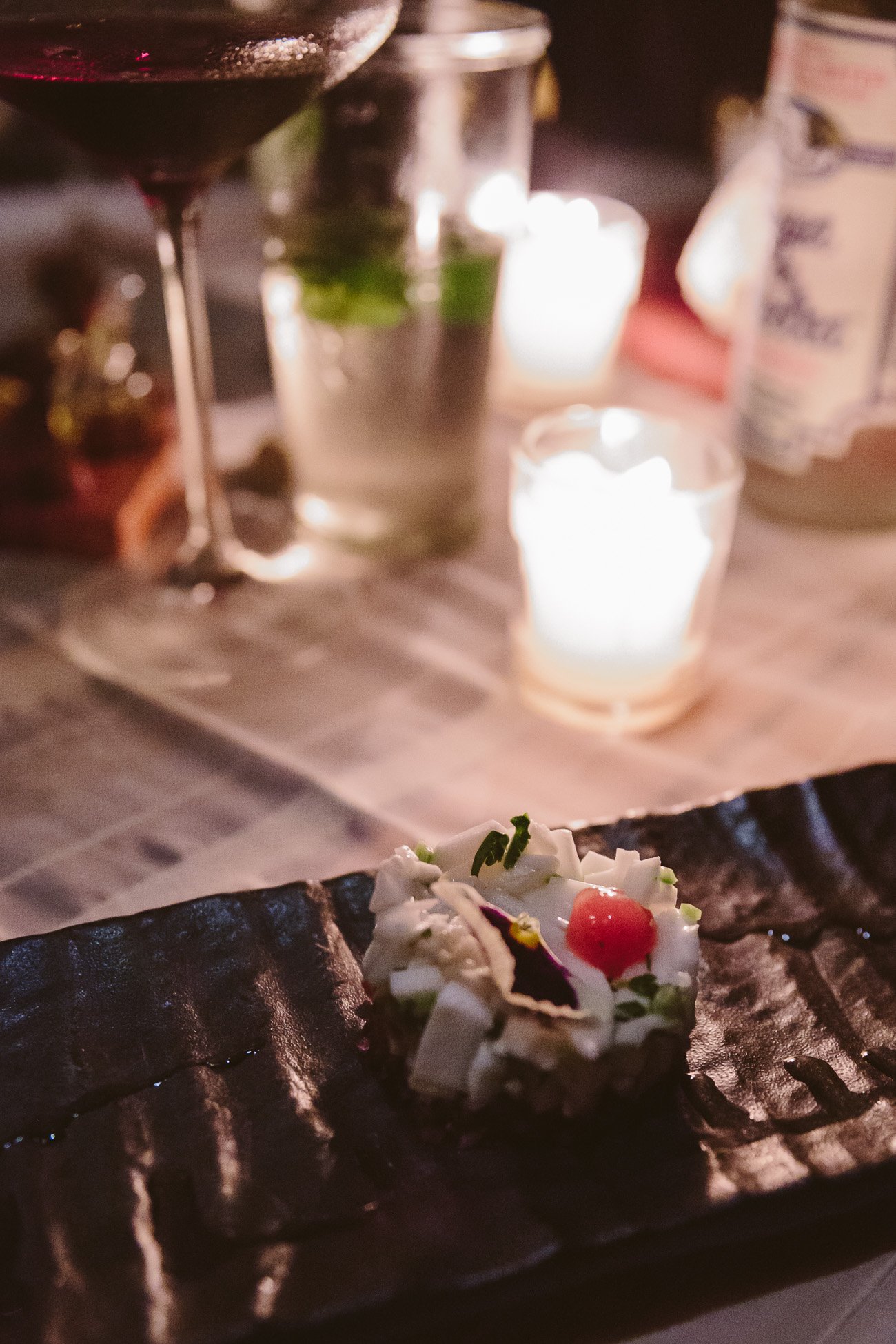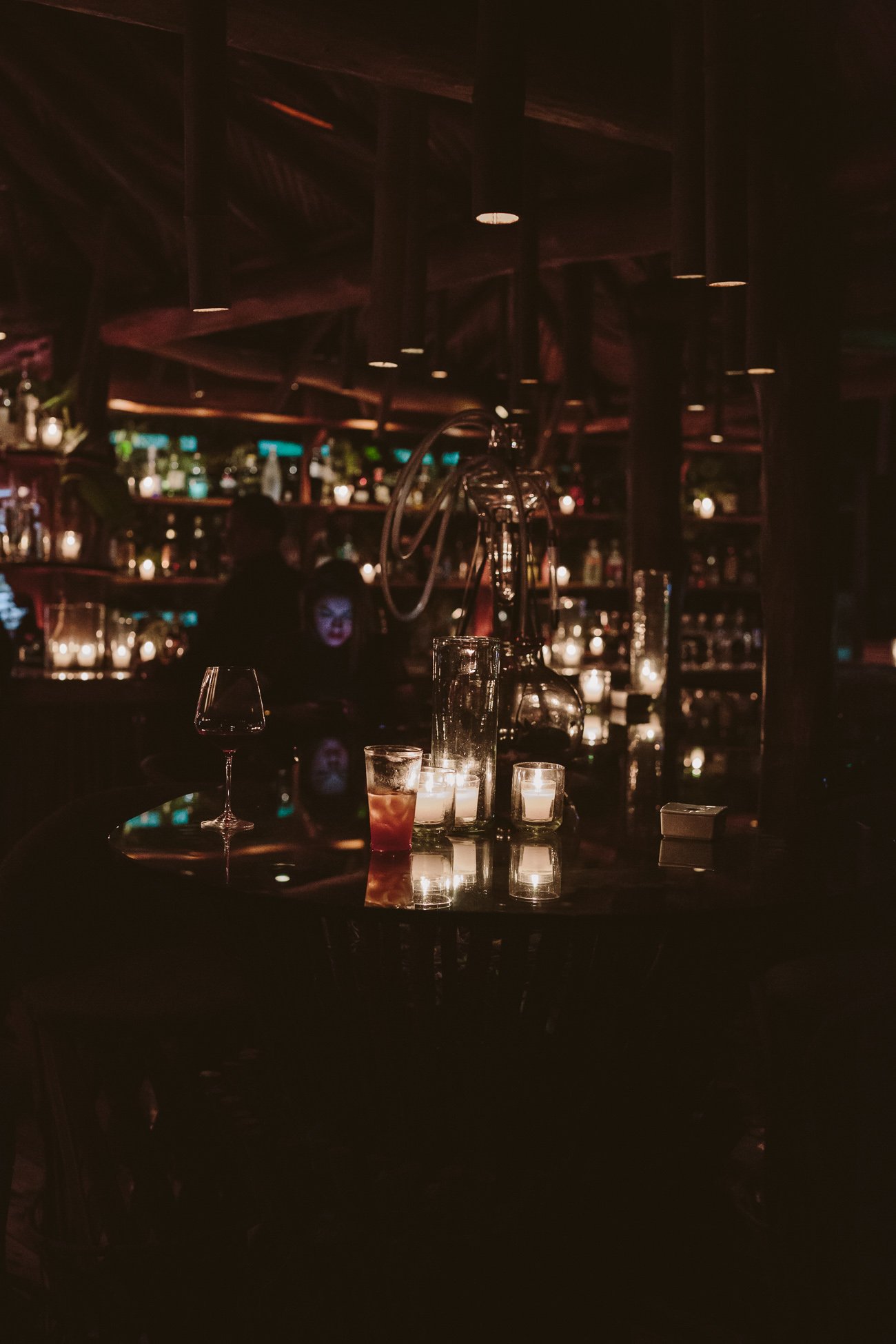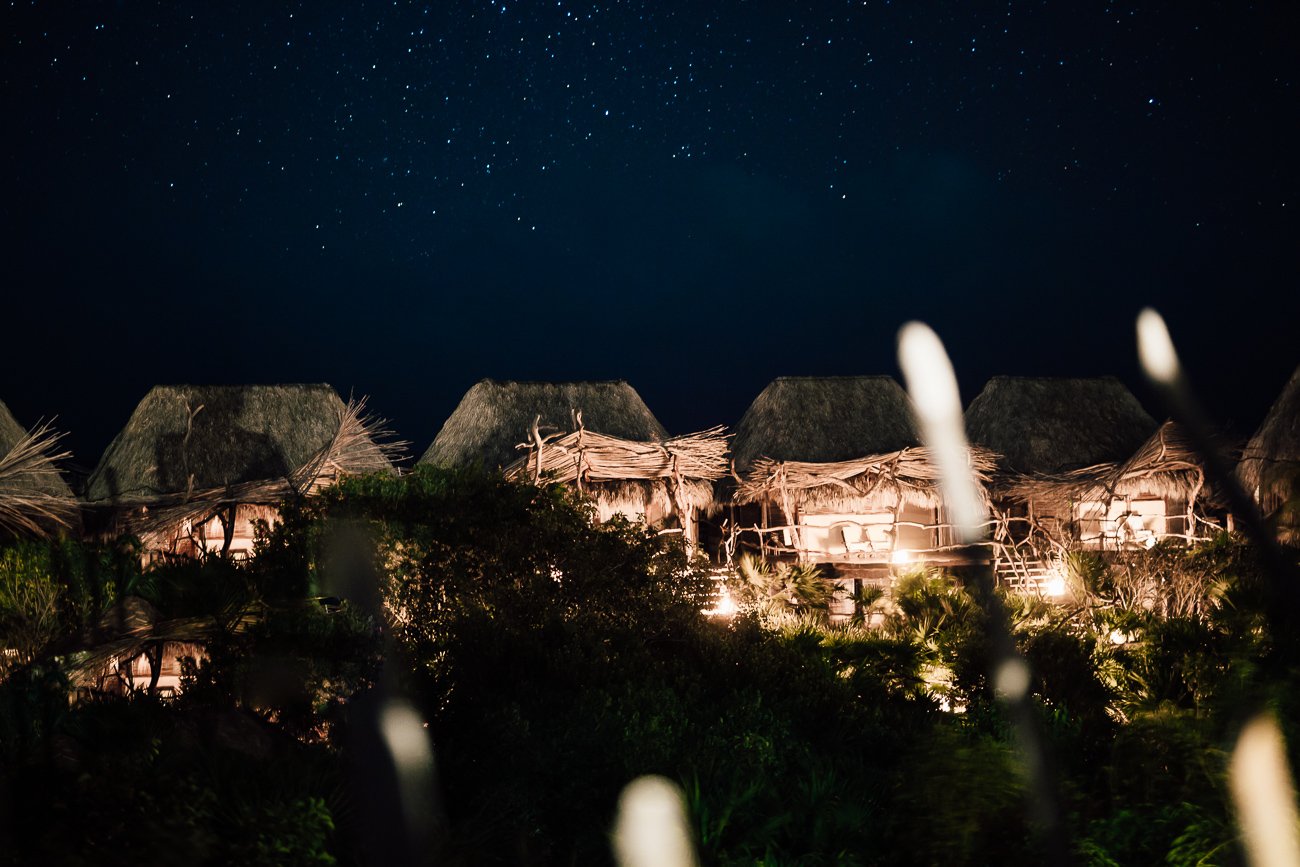 What we didn't manage to squeeze in, but could be worth a trip if you stay in Tulum longer: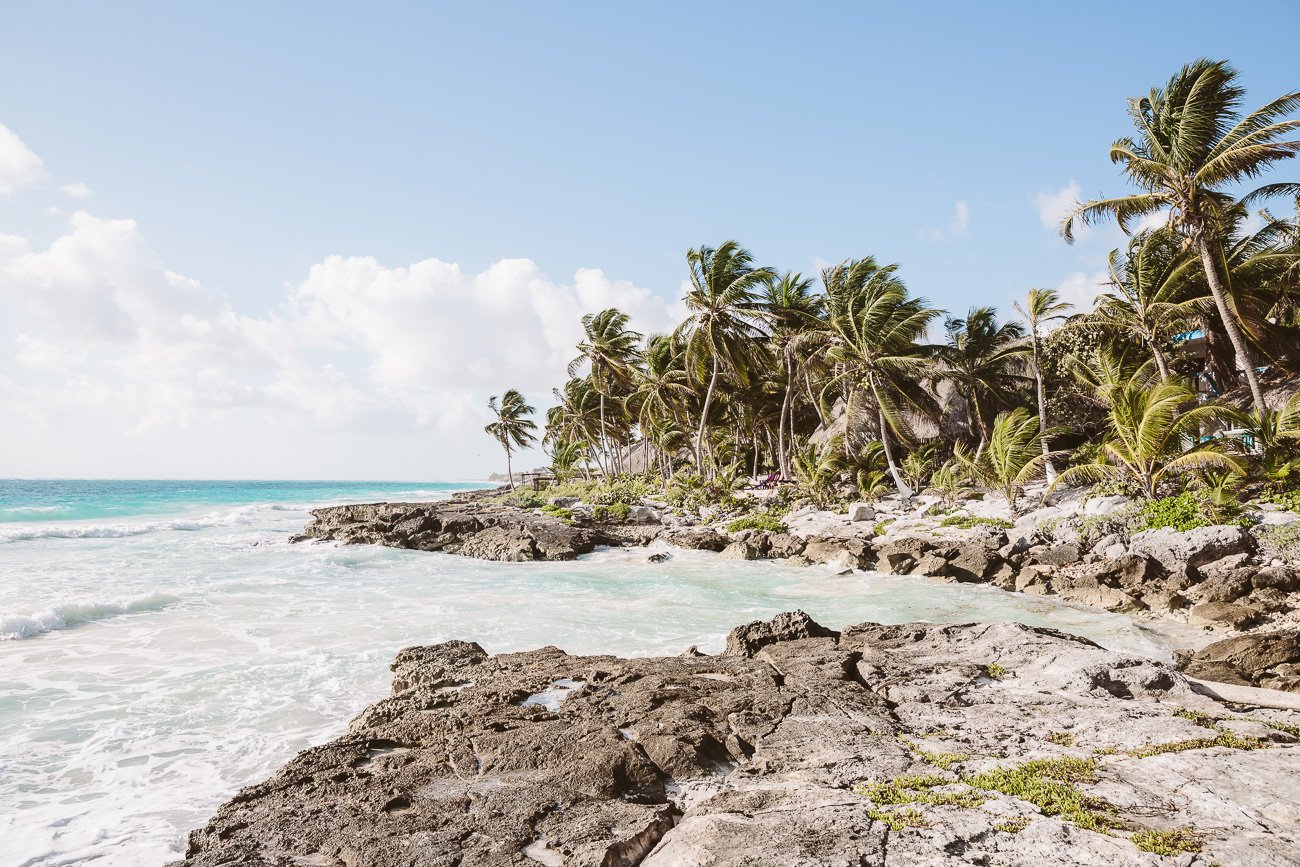 We found this hidden beach on the way to the Tulum ruins.
So make sure to stop your car once in a while alongside the road (where possible – we hear it's getting more challenging to find parking spots in Tulum).
We hope you enjoyed this short list of To Do's for a visit of Tulum.
If you're searching for a hotel, make sure to check our blogpost about the most romantic hotel we've ever stayed in!