(Last Update: August 2023). With the influx of tourism to Yucatán things are changing in rapid speed everywhere. Tulum is now gentrified and beach resorts charge hefty sums for a stay. And since a few years travellers mourn the loss of "their" untouched island paradise Holbox.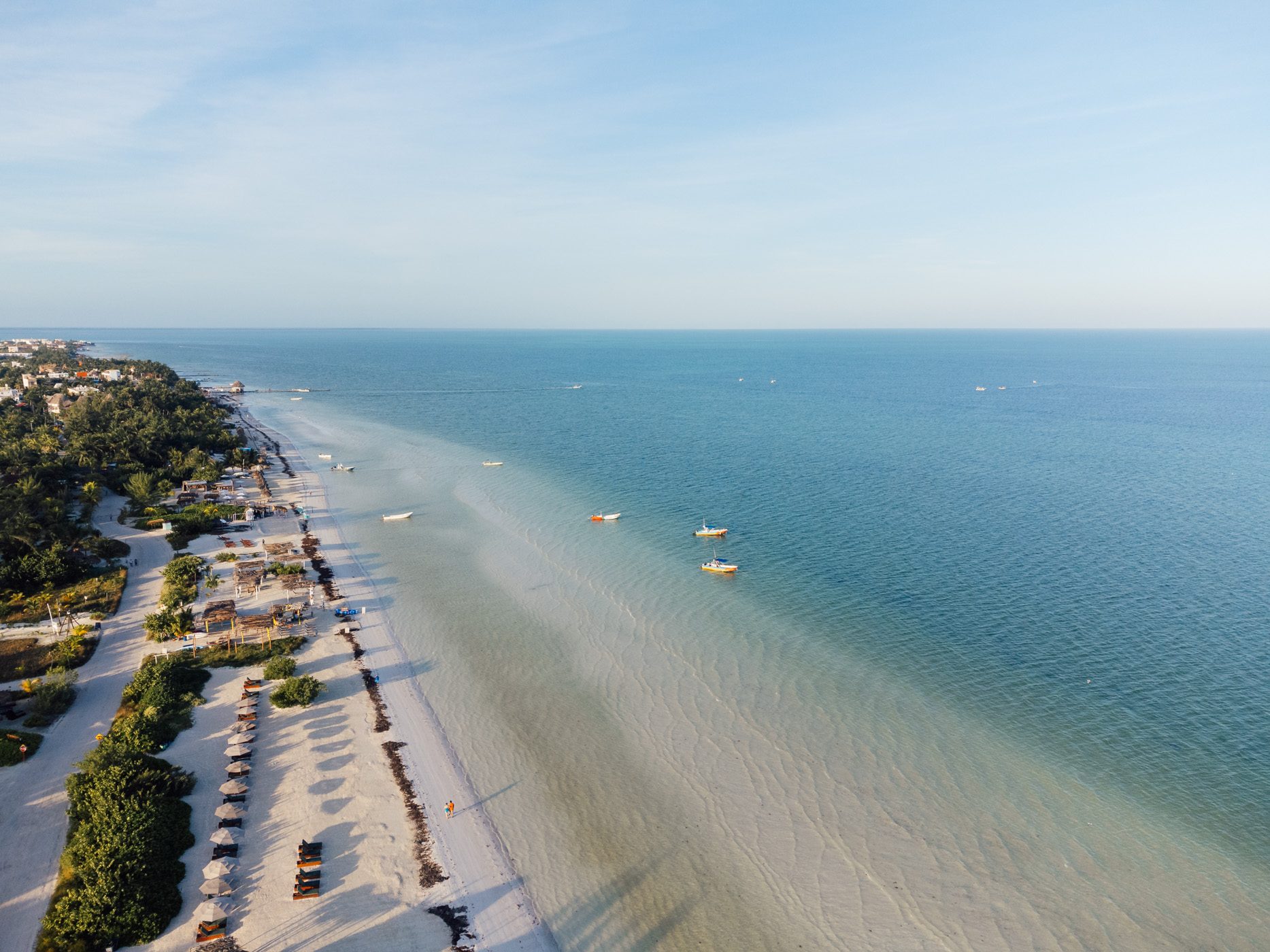 When we visited Holbox island at the Northern tip of the Yucatán peninsula in December 2021 the unforgiving pace of change was tangible. Construction site lined up next to construction site, new hotels and B&Bs were popping up and the ferries were filled not just with backpackers, but with tourists with proper suitcases, families, elderly couples–it's not only for the adventurous travellers anymore.
So yes, the vibe of Holbox is definitely changing quickly, but that's not just for the worse. Personally we enjoy some touristic infrastructure – such as plant-based eateries, comfortable hotel rooms and transportation services. Yet, you shouldn't expect a pristine island paradise (although much of Holbox is part of a protected eco system and remains untouched).
Holbox is trending and while you walk around town you have to let go of romanticised ideas of Robinson Crusoe style holidays here.
Why we believe Holbox is still worth a trip
Having said all of the before–we believe Holbox is still worth a visit. You just should know what you're getting into:
Tourism infrastructure is booming.
With that comes increased traffic (we'll get into that later), permanent construction and also party crowds at the beach.
On the positive side this means better tourism services – from massages to boat rides, golf cart and bicycle rentals and lots of restaurants to choose from.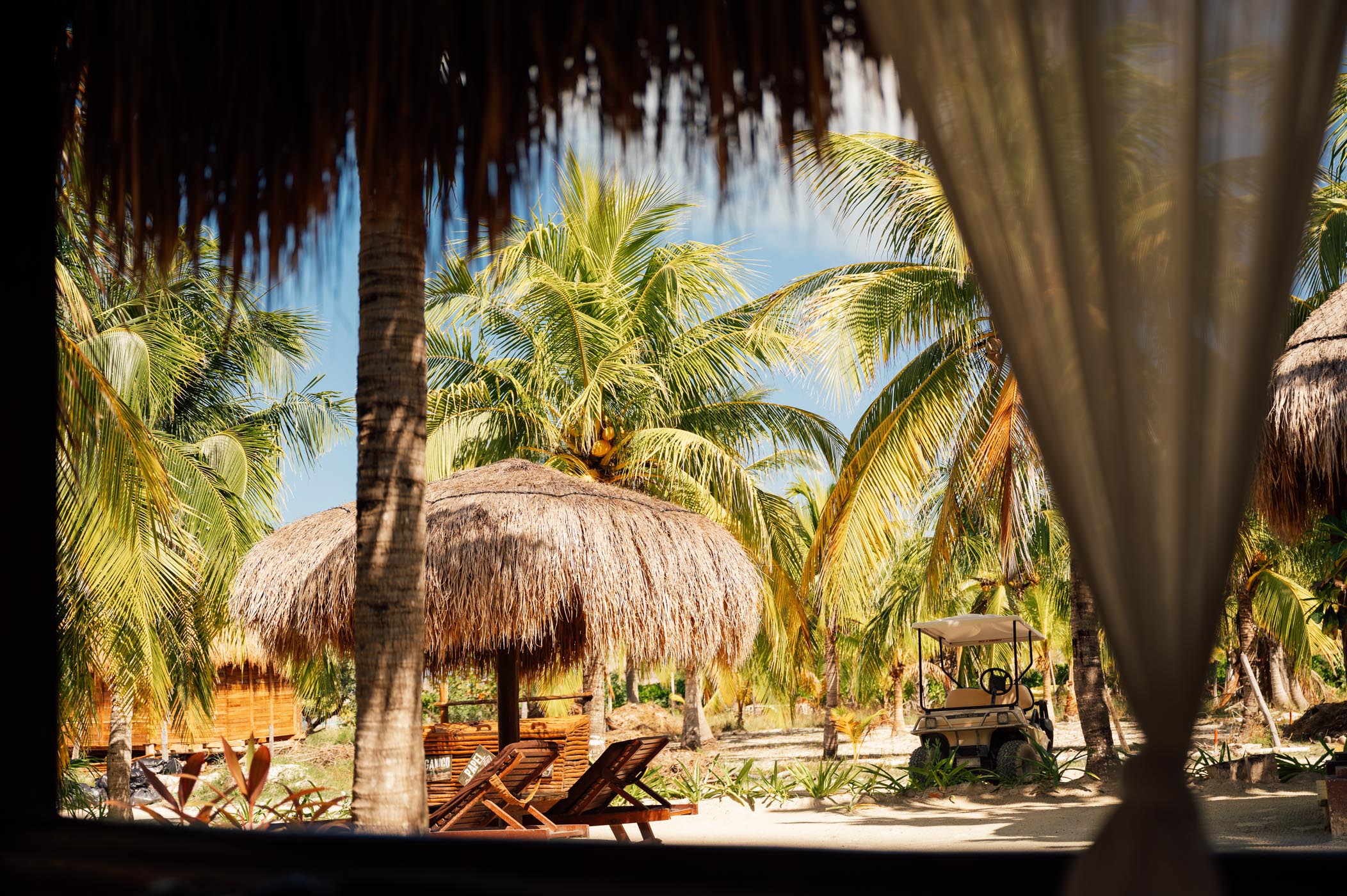 Personally we thoroughly enjoyed our days on the island and here are some reasons why.
5 reasons why it's still worth to visit Isla Holbox
Unless you're looking for an untouched island paradise without any other visitors here are 5 reasons why you can still visit Holbox, even if you won't get the feeling of an adventurous explorer anymore:
Improved hotel infrastructure: New boutique hotels are opening up with modern amenities and interesting niche concepts.
Great plant based restaurants: Holbox is expanding it's already vast offering for vegans & vegetarians.
Diverse activities: More tourists also means more tourism operators that offer things like the famous Three island boat tour, golf cart rentals, bike rentals, yoga classes and much more.
Epic Sunsets: Those don't change – maybe you'll have to share the views with more people on the famous pier.
Local flair: Murals, Marquesitas & Markets. There's still enough authentic Holbox flair to be experience.
Hotel infrastructure on Holbox
We stayed in a relatively simple accommodation called "Villas Paraiso del Mar", which we wouldn't recommend 100%. While the location at the Eastern edge of Holbox village is favourable–as it's a bit away from the party segment of the beach–the hotel services are very basic. Especially the breakfast wasn't convincing and we moved on to having breakfast elsewhere.
Next time we had planned to book a stay at Casa Las Tortugas (Av. Damero, Centro, 77310 Isla Holbox, Q.R., Mexico), but it unfortunately was unfortunately destroyed in a fire in December 2022. See a few images below from when it was still standing – we hope they are going to be able to rebuild it and make it as beautiful as it used to be. The good news: The restaurant and beach bar are already re-opened by now!
In 2022 a new boutique hotel joined the Holbox and opened its doors towards the western tip of the island. It's called Nômade Holbox and would be our top choice now as it looks like it has a nice down-to-earth vibe and interesting experiences and architecture on offer. This might also be a nice option as it's a bit further away from the hustle and bustle of the town.
View this post on Instagram
Restaurant tips (for vegetarians & vegans) on Holbox
When it comes to the dining (and breakfast/brunch/lunch) the options are really good on Holbox, also if you're vegetarian like us. We especially enjoyed the Ceviche de soya, Fajitas and Quesadillas with Chickpeas Pastor and Hibiscus flower tinga at vegan restaurant "Arte Sano" (Calle Gerónimo de Aguilar s/n, Centro, 77531 Holbox, Q.R., Mexico). So much so, that we went here twice.
If you're into street food, make sure to get Marquesitas – the famous Mexican crepes at one of the street stalls. If you're adventurous try a filling made out of a mix of cheese and Nutella, a local favourite.
Activities on Holbox island: boat tours, golf cart and bicycle rentals
Honestly, nobody will blame you if you want to spend all day at the beach during your time on Holbox. But if your feet get itchy after a while like ours here's a few things you can do:
1. Book a boat tour to the "3 Islas" (Isla Pajaros, Yalahao, Isla Pasion)
We recommend to book a private boat tour, so you can do the tour on your own pace. This way we had a lot of time on the bird island "Isla Pajaros" and could wait around to really spot the local wildlife, but then make it short on Isla Pasion (which is a bit touristy and the sandbank feels more like a "selfie hotspot" then anything else) and ending the trip with a dip at the Cenote Yalahao – which we had completely to ourselves.
2. Rent a golf cart for a trip to the Western tip of Holbox
The western tip of the island is quite far away from where most of the hotels are located, so renting a golf cart is advised to get here. We also saw tourists riding their bikes here, but in the mid-day heat this seemed almost unbearable, but at least very uncomfortable (judging from their dripping sweat and red faces).
Just be smarter than us and don't listen to the locals when they tell you that most puddles aren't so deep and you can drive through. We actually drowned our golf cart in one of those deeper puddles and had to wait for 30 minutes until the motor was dry enough to ride again.
Well and then one of us cut their foot on a broken glass, that was buried in the sand on the beach… so that day wasn't a full success – but we'd still recommend this activity and hope you'll get luckier 😉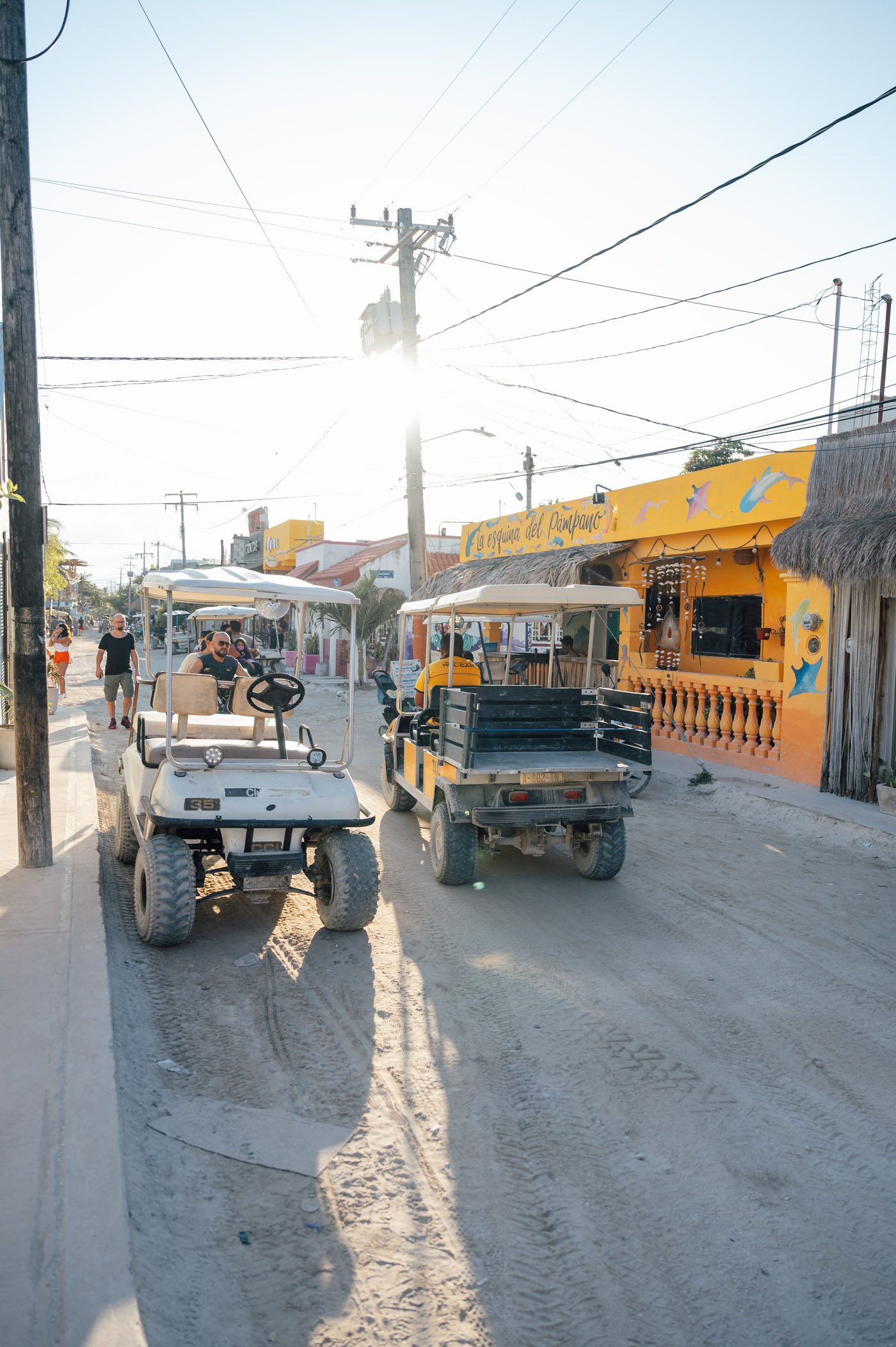 3. Rent bicycles and explore the island
Renting bikes is a must on Holbox. Yet, during our visit in December it was incredibly hot and humid and so we didn't manage to go all the way to the East of the island, like we had planned. But even in the village of Holbox there's lots to see and you'll get around quickly on bikes.
Tipp: Make sure to stop at Kuxtal organic & sustainable supermarket (Av. Pedro Joaquín Coldwell, 77310 Holbox, Q.R., Mexico) for fresh juices and other delicacies and check out the local street art.
4. Sunsets on the pier: A Holbox must do
You haven't really been on Holbox if you haven't seen the sunset from the pier. You can't really miss this place as everyone is assembling here for the spectacle. The local kids swim around the pier and you can grab a fresh coconut (or a beer) and just sit and watch in awe as the sun sets in the Gulf of Mexico.
This and the still very relaxed vibe of the island are enough reasons we believe it's still worth a trip in 2023!
Practical tips for a visit of Holbox
How to get to Holbox
We left our rental cart in Chiquilá at one of the countless parking lots (ours was located West of the pier, very close to where the ferries leave). If you have a lot of luggage you can book one of the local carts or even a bike shuttle to get to the ferry. At the pier there's two different ferry companies sharing the rides between Chiquilá and Holbox – both are virtually the same – so just choose the one that leaves next and book your tickets on either the left or the right side of the pier.
How to get around on Holbox
Holbox is officially car-free, but we've seen places with less cars. It seems there's quite a few exceptions – not just for emergency vehicles, but also to transport construction materials, etc. Yet, most of the traffic is still golf carts. But they are motorised – so there's nothing like quiet streets or beaches here.
Golf carts transport you from the pier to your hotel with your luggage and also everyone else and their grandmother use either golf carts or bikes. The roads are sandy and bumpy paths and not in the best condition – especially after it rained. So drive with caution (oh and yes, there's also many stray dogs in the streets – so be careful!).
What to avoid on Holbox
Avoid expecting an untouched island paradise or setting your expectations too high. The vibe is still relaxed enough to really get into the island vibe, but with the added benefit that you'll get to sleep in a king-size bed with proper AC for a comfortable night's rest 😉
Have you been to Holbox? What are your thoughts? Let us know in the comments.
More tips for Yucatán
Holbox is probably just one of your stops on your trip through Yucatán. Make sure to also check out these posts for more tips:
Pin and save this post for later: