In times of heightened stress and anxiety levels a mountain escape can come as a natural remedy. Especially when it's paired with mindfulness experiences and practices.
We recently spent 3 days in Osttirol on a mindful mountain retreat – doing barefoot hikes, glacier meditations and kneippism (which is a form of hydrotherapy involving glacial water). Osttirol is the perfect destination for such an experience, as it offers some of the most untouched parts of the alps! Let us show you what a mindful mountain retreat in Osttirol looks & feels like.
The background – from COVID-19 and other sources of stress
Many people experienced the last months of lockdown, pandemic threats and news alerts with elevated levels of stress and anxiety. Not knowing what the future holds and how things develop puts a huge amount of pressure on our minds and bodies, and therefore a mountain timeout comes at the right time this moment.
As you already know I'm not the most avid (or fit) hiker on planet Earth, so for me hiking has to be comfortable and relaxed 😉 Therefore a mindful hiking experience sounded like it was right up my alley and I loved getting away from the city to Osttirol with all it's remote valleys and untouched mountains.
The Innergschlöss is one of the most beautiful parts of Osttirol!
Location: Innergschlöss – or the most beautiful valley head of the alps
As you might know from my previous stories the region of Osttirol holds a special place in my heart. We've been here multiple times already and it always convinces with it's untouched character, authenticity and remoteness. Yes, it's a 5 hours drive away from Vienna, but that's so worth it to get away from the hustle and bustle of the city (and other mountain regions in Austria).
In the force fields of these untouched surroundings of Osttirol we went on a meditation and mindful hiking experience.
One of the key ingredients of Osttirol's mountains is water – there's an abundance of it everywhere!
For our mindful mountain getaway we visited the area of "Innergschlöss", which is also often called the most beautiful valley end in Austria! We stayed in the so called "Venedigerhaus", which is located at the final point of the valley – from there on you can only move by foot. There are no lifts or gondolas here and also no bars or clubs.
A silent evening at Innergschlöss – when the moon rises everything becomes calm.
It's a collection of a few very original wooden huts, that still belong mostly to local farmers, who spend their summers up here in the fresh air and tend to their animals (or rent some of the huts to tourists). The huts itself don't have showers or warm water, but the "Venedigerhaus" where we stayed has those amenities. So we got the best of both worlds – the remote location, but with some of the comforts we are looking for after a day in the mountains 😉
We stayed at the Venedigerhaus – a traditional Austrian mountain guesthouse, but with comforts like hot showers and half board 😉
Mindful mountain experiences
But the more important thing is what we did during our days in this remote valley! Most visitors come to "Innergschlöss" for hiking or even to summit Austria's fifth-highest mountain called "Großvenediger". But for us the program looked a little more relaxed.
We did go hiking, but it was always combined with mindfulness exercises such as meditation, barefoot walking and glacial kneipping (which is basically wading through ice-cold glacial rivers barefoot to increase blood flow and circulation).
This was the perfect form of letting go of those tensions, that had built up over the last few months.
This is the path into the Innergschlöss – we walked along the river, but guests can also take the shuttle until the Venedigerhaus.
1.) Mindful hiking
With mindful hiking you can experience nature a bit differently than during a regular hike. Our mountain guide Irmgard showed us the small details, made us aware, reminded us to walk in a constant rhythm aligned to our breath and stopped us at times to sit down at a special place and just get in sync with nature.
During our mindful hiking experience, our guide Irmgard taught us to pay attention to the little things.
2.) Barefoot walking in the magical forest
I've never gone hiking barefoot before, but now have a new appreciation for the cooling qualities of damp earth and mud and patches of grass. Whenever I tell people we did barefoot hiking they ask me if it didn't hurt? Well, it depends on the ground! 😉
We did this excercise in a place that Irmgard called the "magical forest", where she said she feels like dwarfs could jump around the corner at any time. We didn't see dwarfs, but what jumped out of the bushes, was nothing short of amazing – a group of ermine babies! Never had she (or we) seen these animals in the wild before!
The ground of these woods was soft and cool – yet you still carefully take each step to not step on any stones or ants – making you even more aware of your walking practice.
I fell in love with barefoot hiking and decided to hike all the way back to the parking lot barefoot on the last day!

3.) Meditation exercises on the whale boulders
Meditation in nature is a powerful practice. We hiked up to the tips of a glacier, that is surrounded by unique stone formations and meditated on what our guide Irmgard calls "whale boulders". Those are some huge stone formations that indeed looked like gigantic whales in some places.
These stones where the perfect place to sit down and move the direction inwards for a few moments of meditation.
4.) Kneipping in glacial rivers
To start our hike and finish it off we always went wading through the cool water of the glacial rivers that float everywhere through the valley at Innergschlöss.
After a full day in hiking boots, there is no better feeling than this!
Our mountain guide Irmgard showed us how to correctly use the healing powers of the water to support our circulation and blood flow – stepping in only with warm feet and always with the right foot first (as it's located the furthest away from our heart).
The refreshing water of this glacial river served as a form of hydrotherapy called "Kneippism".
5.) Exploring an ice cave
One of the things we least expected in the Innergschlöss was an ice cave! Our guide Irmgard directed us to this hidden spot. It was an especially warm day, so the moment we stepped into the ice cave came as the best relief. We watched the water drops and listened to the sound of the melting snow and ice. This cave is only here until the end of summer, so you have to come at the right time to experience it!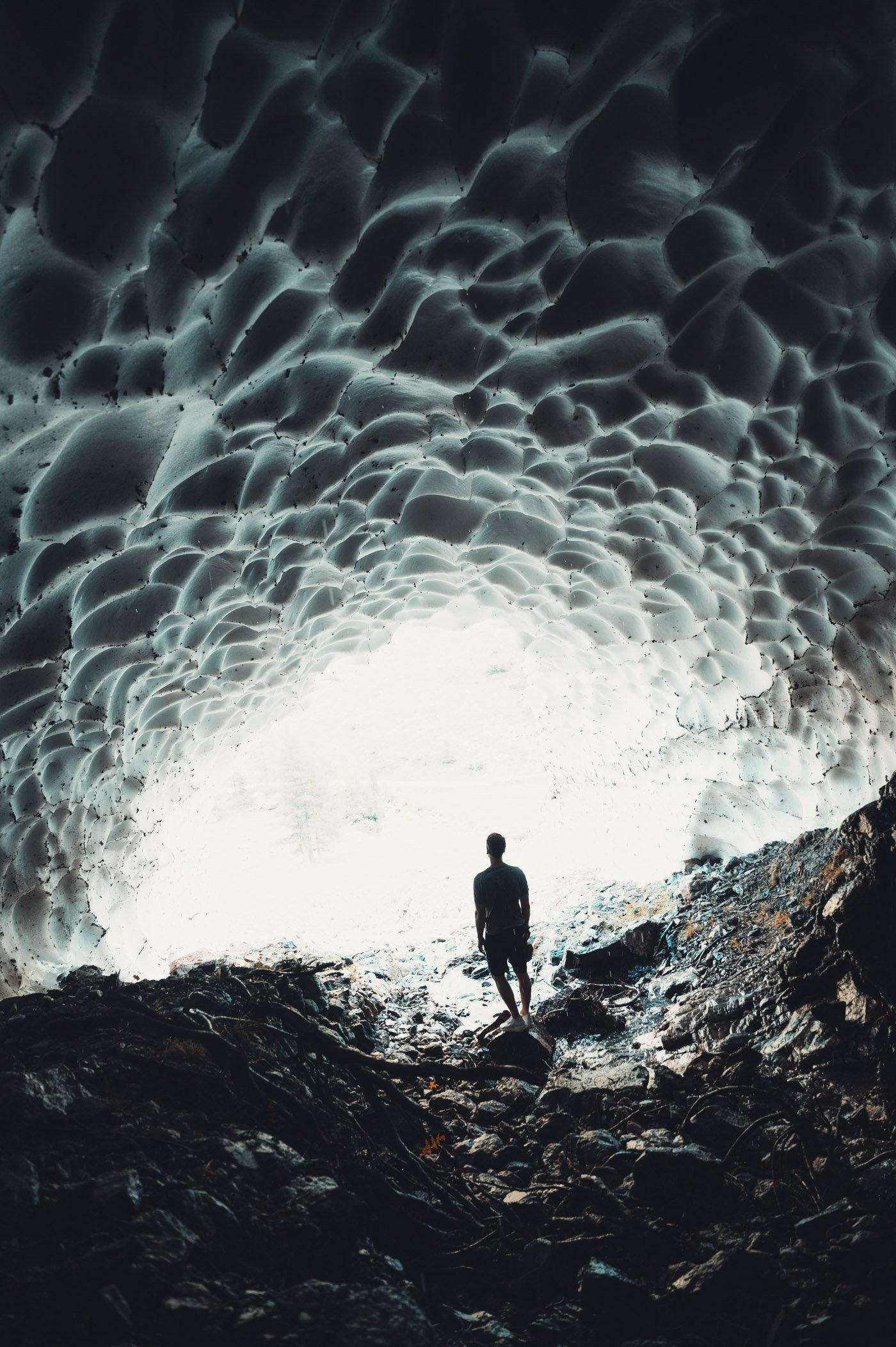 This ice cave came as a much welcomed cool-off on a hot summer day!
6.) Treading in dew at sunrise
On the last day of our mindful mountain retreat we got up early for a sunrise walk along the glacial river. In the mountains it always cools off nicely at night – creating a thick layer of dew all over the ground.
Treading barefoot in dewy grass is an incredible awareness practice and a perfect wake-up call for the day!
Sometimes the smallest activities can have the most impact – dew treading definitely counts as one of those!
Completely refreshed we then went back to "Venedigerhaus" to have our final breakfast of the 3 days – a wonderful end to the trip!
If you ever crave a city escape you might want to consider a mindful mountain retreat in Osttirol. We can highly recommend the region of "Innergschlöss", not only for it's unspoiled beauty, but also because there's no cellphone reception there. 3 days without internet = pure bliss these days!
If you found this blogpost helpful please feel free to save & share it on Pinterest:
Disclaimer: This is a sponsored post in collaboration with Osttirol Tourism Board. The views in this blogpost are our own.