It's one of those grey and gloomy summer days in Europe and we find ourselves sweating away in steam rooms in a town with a spa tradition that dates back to Roman times. This is how our tale of Baden-Baden begins, a picturesque and elegant town in Germany's South-West, only a stone's throw away from the French border and recent addition to UNESCO's World Heritage list as one of the "Great Spa Towns of Europe".
From Roman times to nowadays
In 2021 Baden-Baden received this title alongside other world-renown spa towns, but Baden-Baden has a few specialties. One being that the thermal water, that comes up from deep in the ground is not only incredibly mineral rich, but also hotter than elsewhere. So as opposed to having to heat it up, it first has to bee cooled down to be used as healing water. The thermal water quality is what makes Baden-Baden sought-after globally and has led to famous musicians and artists frequenting the town for centuries. But what about today?
When we stroll through the lush parks and narrow cobblestone streets we feel transported back to those times immediately. The splendour and glamour of those days is still tangible in the 21st century. Yet the town has invested a lot – not only in infrastructure, but also in a contemporary tourism offering.
Caught between grand hotels and modern art museums, you'll find yourself sleeping like royalty while booking spa treatments on your smartphone.
What to do in Baden-Baden
We spent 3 days in Baden-Baden, which gave us a first taste of the destination and allowed for enough time to discover some of the most important sights and experiences, that are on offer. The spa town is relatively small with a population of only around 55,000 people, but the area is quite large with extensive forests. In fact over 60% of the town are covered in forest, making Baden-Baden one of the towns with the largest communal forests in all of Germany.
So if you're up for a hike or casual walk through the forest, you'll be served in Baden-Baden as well. But there's much more to see and do, so let us give you a short overview of the activities you can plan in Baden-Baden.
Top 8 things to do in Baden-Baden
1.) A very retro spa day at Friedrichsbad
This unique spa is a must do when in Baden-Baden. The roman-irish spa takes you along a journey of 17 stations – from dry hot saunas to humid steam rooms. The whole parcours is designed in a way to take your body to different temperature levels with plenty of resting periods in between, so the thermal water can best unfold it's therapeutic effects.
The visit of Friedrichsbad takes 3 hours and leaves you completely relaxed and recharged. (Note: You'll be naked the whole time, the spa provides towels and there's lockers to store your clothes.)
2.) Dine & Play at the Casino
After a day of relaxation and spa time we spent an evening dining at the "The Grill" restaurant of the casino, which unfortunately only offers a limited selection of vegetarian dishes. The pasta and vegetarian sushi were good, but we feel meat & fish eaters are better served here. The experience of course is unparalleled – as you'll be taken to the poker and roulette tables straight from the dinner table and can try your luck in the architectural gem that is the casino.
Tipp: If you'd like to get a better glimpse of the splendid interiors and learn how much it cost to restore the 100 year old silk tapestry we recommend joining one of the casino tours during the day (and outside of playing hours). It's only then that you're allowed to take photos as well 😉
Also good to know: The casino has a rich history, hosting the likes of Dostoyevski and Marlene Dietrich, and used to serve as cultural hub with matinées and concerts back in the days. Today this era is still tangible in the epochal rooms.
3.) Old town & spa garden exploration: From the drinking hall to the mammoth trees
From the casino you can directly access the exuberant spa gardens with the famous" Trinkhalle" (pump room, where guests used to stroll for hours while being served water by the so called "fountain girls"). Drinking cures were part of the spa program back in the days traditionally, but have been replaced by spa bathing cures nowadays. The Trinkhalle still exists and is a beautiful architectural example of the cure architecture.
In the upper part of the spa garden there are some of the oldest mammoth trees in Germany – some of them aged around 150 years. After this casual stroll you can cross one of the many bridges across the Oos river to access the old town of Baden-Baden. The disparage between French inspired balcony-clad villas and half-timbered houses making it a charming area to discover.
Tipp: Check out the area behind "Stiftskirche", where you can sometimes see expositions of contemporary art from the "Gesellschaft der Freunde junger Kunst". During our visit in summer 2022 there were installations on display as part of the "scultura" program from 18 contemporary artists.
4.) Lichtentaler Allee and flower gardens
One of the central elements of Baden-Baden is the Lichtentaler Allee. This over 3 kilometre long alley defines the inner city of Baden-Baden and offers recreational space as well as a collection of beautiful little bridges, flower gardens and pavilions. The Bénazet pavilion is dedicated to the famous tenants of the casino, the very family that brought Baden-Baden back from it's beauty sleep and made it a hub for artists and the high society back in the 1800s. The Bénazets invested in the parks, supported the creation of the famous horse race track as well as the theatre in town.
Tipp: When we visited Baden-Baden at the end of August the dahlias were in full bloom, but in other seasons we recommend a visit of the famous rose garden!
5.) A World Heritage stroll through the villa quarter & to Paradies Cascade
Speaking of city strolls the city of Baden-Baden has compiled six different World Heritage walks – from the mansions of the imperial era to the thermal springs. We followed a part of world heritage walk 6, that takes you all the way through the hills of Baden-Baden with it's magnificent turn of the century villas to the famous Paradies cascades.
Pro tip: Come at sunset for the best views of the cascades in golden light! (We didn't have the chance to do that, as we went somewhere else for sunset…)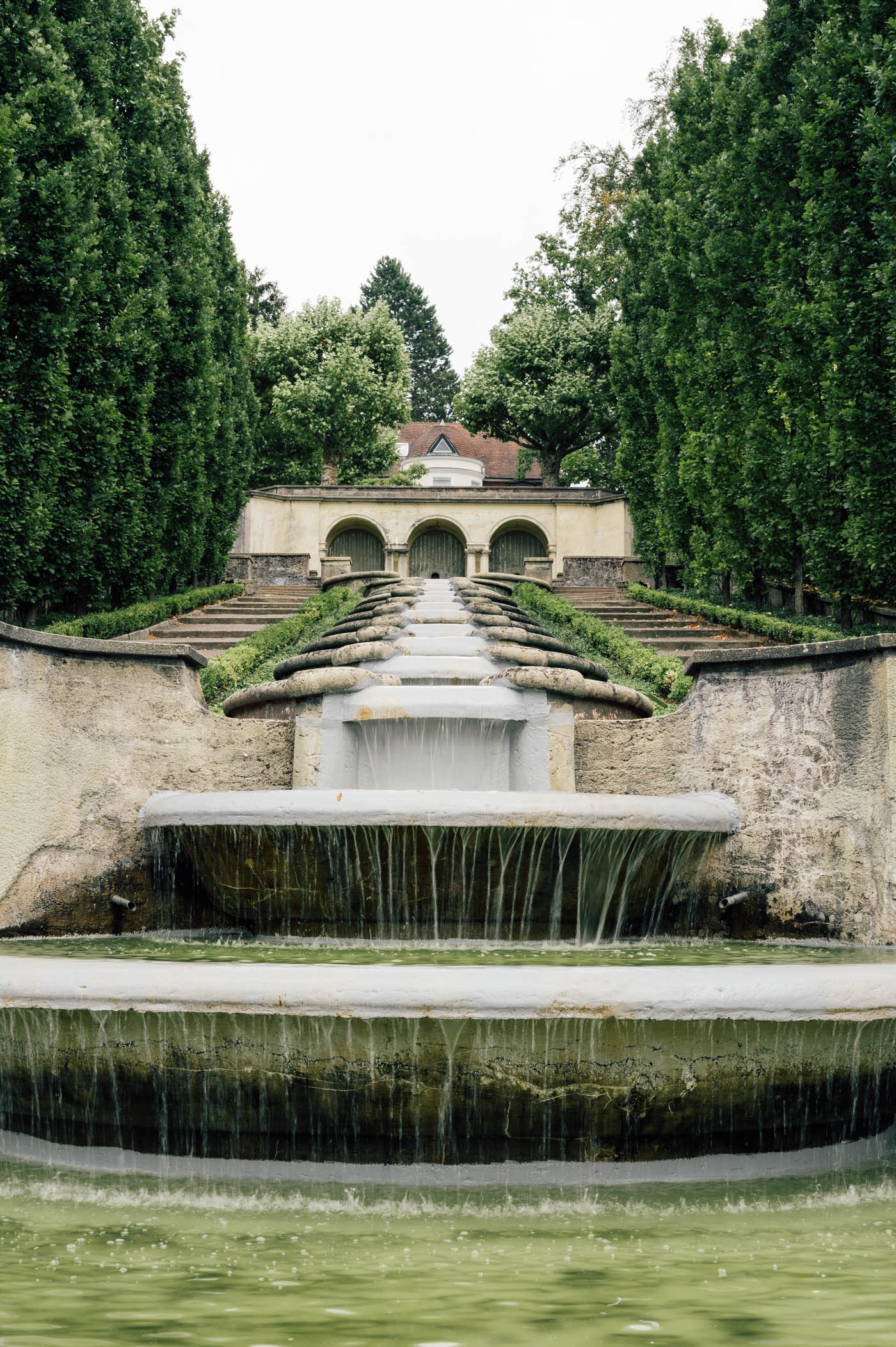 6.) Up up to the local mountain "Merkur" and it's lookout tower
This is where we decided to spend our one semi-golden sunset during our time in Baden-Baden. As stated above we had a bit of gloomy weather during our time in the spa town, but one afternoon looked promising enough for us to take the iconic Merkur funicular railway up to Baden-Baden's landmark mountain called "Merkur". The ride itself is an adventure and upon arrival at the top you can enjoy rustic Black Forest delicacies and cakes at the "Merkurstüble" restaurant.
Our tip: Take the elevator up the Merkur tower for the best views. The elevator is free of charge and open well after sunset (until 10pm when we visited in August 2022), so it's perfect for a sunset view of Baden-Baden and the adjacent Black Forest.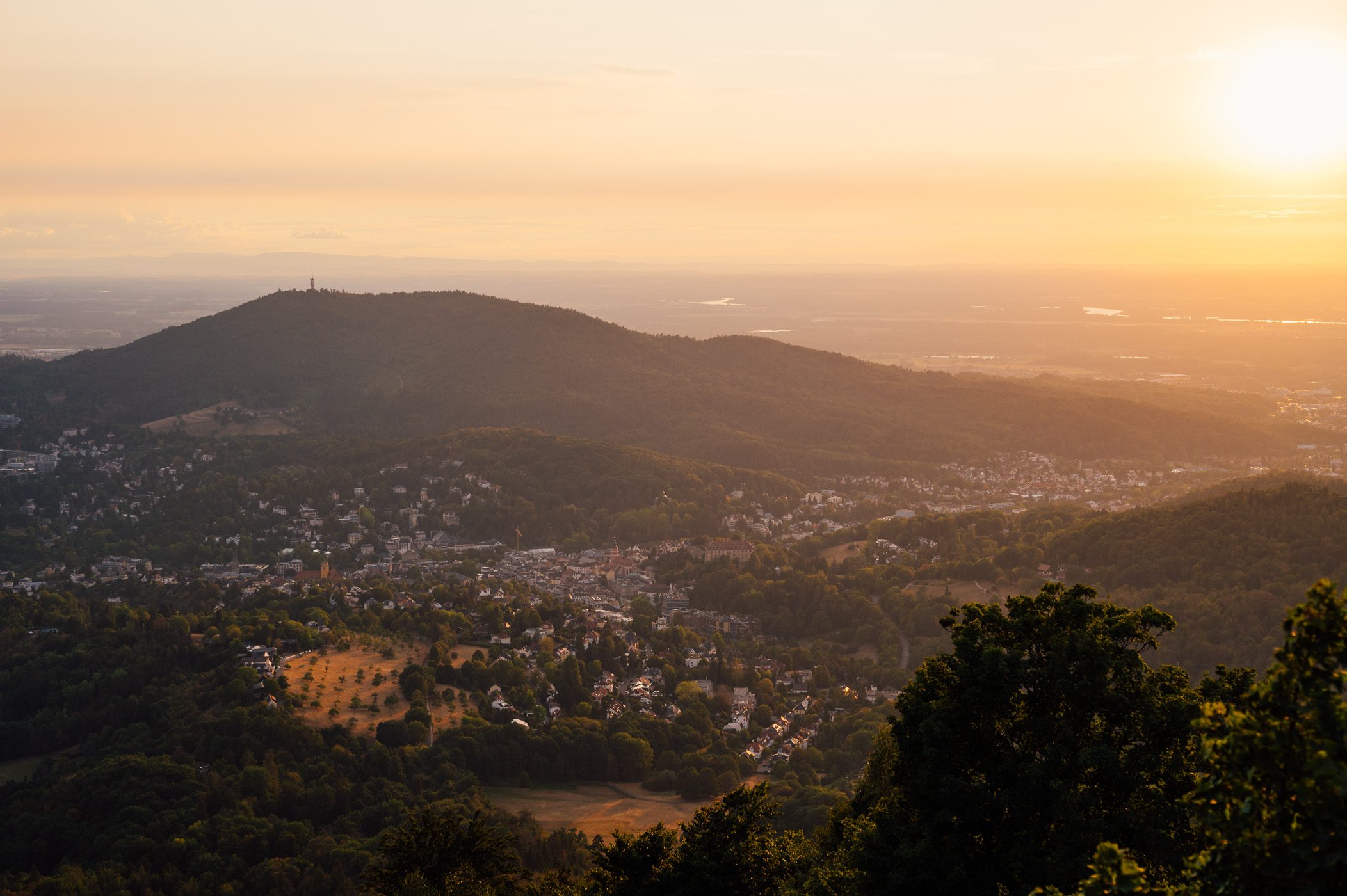 7.) Black Forest excursion & Mummelsee
Speaking of the Black Forest, a visit of Baden-Baden wouldn't be complete without a visit of one of Germany's most famous forests. We decided to try our luck for a sunrise mission early at 6am at "Mummelsee", a tiny lake closeby. There's many fairytales and mysterious stories around this lake, including one of a nix that comes from deep in the lake and seduces with her enticing songs.
When we arrived at the lake it was completely covered in fog, so we couldn't even see the other side of the shoreline, although the lake is relatively small. The walk around the lake only takes about 10-15 minutes – alongside beautiful boardwalks. In this mysterious fog we could easily imagine how locals came up with the spooky tales and stories surrounding Mummelsee.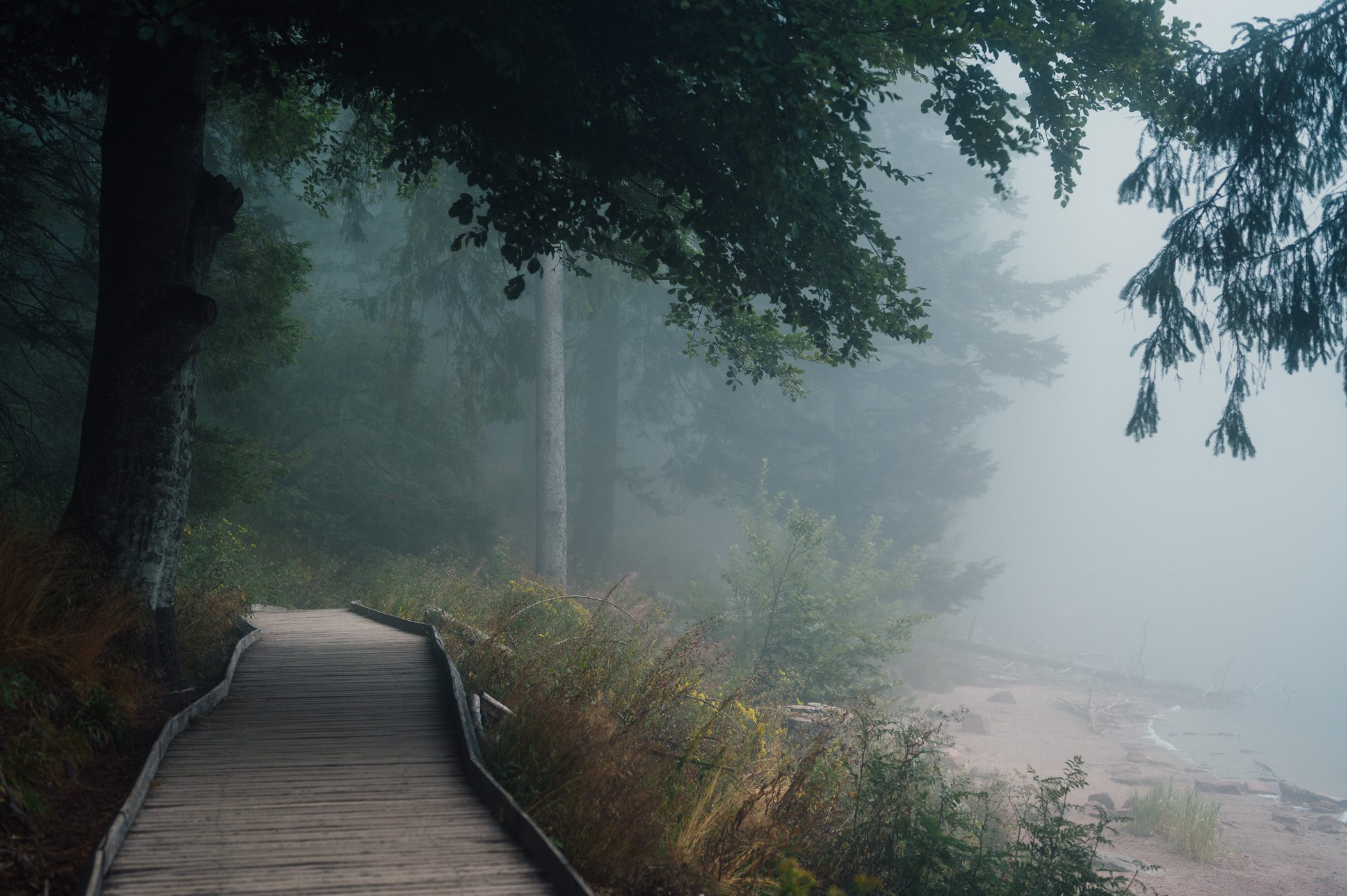 8.) Shopping at Kurhaus Kolonnaden
Back in town we decided to shake off the spooky atmosphere of the morning and go for a stroll alongside the "Kurhaus Kolonnaden", a collection of shops ranging from fashion to chocolate. This was our last morning in town and we of course had to buy a few delicacies from "Confiserie Rumpelmayer", make sure to buy the chocolate chestnuts when they're in season!
Where to stay in Baden-Baden
There's plenty of hotels to choose from in Baden-Baden – due to it's rich spa tourism history, that's why we would also recommend to stay in one of the historical hotels of the town. We tested two different hotels, that both compelled with their historical background and old world charm and appeal.
Brenners Park-Hotel & Spa
Brenners Park-Hotel & Spa is probably the epitome of "Grand Hotellerie" and comes with 150 years of tradition and with all the amenities, that guests probably also asked for back in those days – from a private park to an exuberant spa in it's own villa as well as a private health clinic. There's a large indoor pool as well as  a boutique, a kids club, a signature restaurant, winter garden, brasserie, and so much more. With 100 individual rooms it's quite a statement – making all these services possible in the first place.
We especially loved the à la carte breakfast (that beats a buffet every day for us!) on their beautiful terrace and their lunch in the winter garden. Although we only stayed here for one night, we thoroughly enjoyed the outstanding services and incredibly spacious rooms. The spa treatments are on a very high level as well (definitely one of the best manicures we ever experienced).
Our tipp: Try out their deluxe picnic! This was on top of our to do list, their famous deluxe picnic in the Black Forest (all on board of a vintage VW bus called "Oskar"), but the weather didn't allow it unfortunately, so it's still on our list for the next visit.
Hotel 

Belle Époque
The other two nights we stayed in a Junior suite at the boutique hotel "Belle Époque" (just steps away from Lichtentaler Allee and also super centrally located). If you're looking for a more private (and also more affordable) option, this charming boutique hotel is the right choice.
With only 20 rooms it's much smaller and intimate, but of course also offers less services. So there's no pool or spa (even if photos on Google suggest otherwise – don't be fooled, those photos show a public thermal bath in the town, not the hotel). Guests here enjoy breakfast on their beautiful terrace in a tiny, but very idyllic park or afternoon tea in the salon.
We loved the atmosphere here, but the services lacked in some departments, so it's more of a place to sleep then a destination in and by itself, as opposed to Brenners Park-Hotel & Spa.
Baden-Baden in a nutshell
After three days our experience of Baden-Baden can be summarised as such: Rarely you'll find a town, where you can relax in style like here. It's elegant and sometimes maybe even a bit decadent, yet you'll never feel judged or like you have to show off, but can just relax in your own pace. It's slow living at it's best and the slogan "The good, good life" really fits like a glove.
We arrived in our small VW rental car and didn't feel out of place – even in between all the Ferraris and Maseratis here 😉 Everyone goes about their own life and delves into the historical splendour of the spa town. So if you're looking for a place to thoroughly take care of your well-being, while feeling connected to the glorious time of the Belle Époque with it's peace and cultural and economical grandeur, Baden-Baden is the perfect choice.
Interested in a trip to Baden-Baden? Pin this post for later:
Disclaimer: This is a sponsored post as part of our press trip in collaboration with Baden-Baden Tourism Board. The views in this blogpost are our own.