There's some places in the world, that cast an indescribable spell on you and always draw you back to them – over and over again. For us lake Weissensee is such a place. We've been there many times already and it never ceases to weave us into it's net of serenity and quietude.
And so we returned again, at the brink of autumn, finally visiting one of Austria's pioneering hotels when it comes to sustainability, the Biohotel Gralhof!
Serenity. That's the first word that comes to mind when arriving at this pristine turquoise-tinted lake in Austria's southernmost state Carinthia. It's a particularly moody autumn day, when we make our entrance at the lakeshore. We see small wooden boats with solo fishermen on them dotting the almost mirror-lake surface of the water. The first orange-coloured trees are visible engulfed in lingering clouds and you can hear only the slight bickering of a duck that's hiding somewhere in the reeds.
Arriving at Biohotel Gralhof
We grab our duffel bags and make our way through an old school wooden fenced gate and suddenly there is this incredibly modern glass cube, that hugs the facade of the century old farmhouse. This gives away much of the philosophy of Biohotel Gralhof, which is rooted in a long family tradition (the farm house itself is over 520 years old), but where the owners don't shy away from change, but not for the sake of change, but always rooted in their surroundings and the commitment to sustainable travel, which is a specialty of the whole region.
The region: Lake Weissensee and it's unique philosophy
If you've travelled Austria extensively you will know that lakes are somewhat of the treasures of our alpine landlocked country. Yet, we haven't always taken care of them in a way to preserve their natural beauty. Many lakes in Austria have undergone extensive development, with privatised lakeshore properties and limited public access. Yet, Lake Weissensee is one of the most prolific exceptions.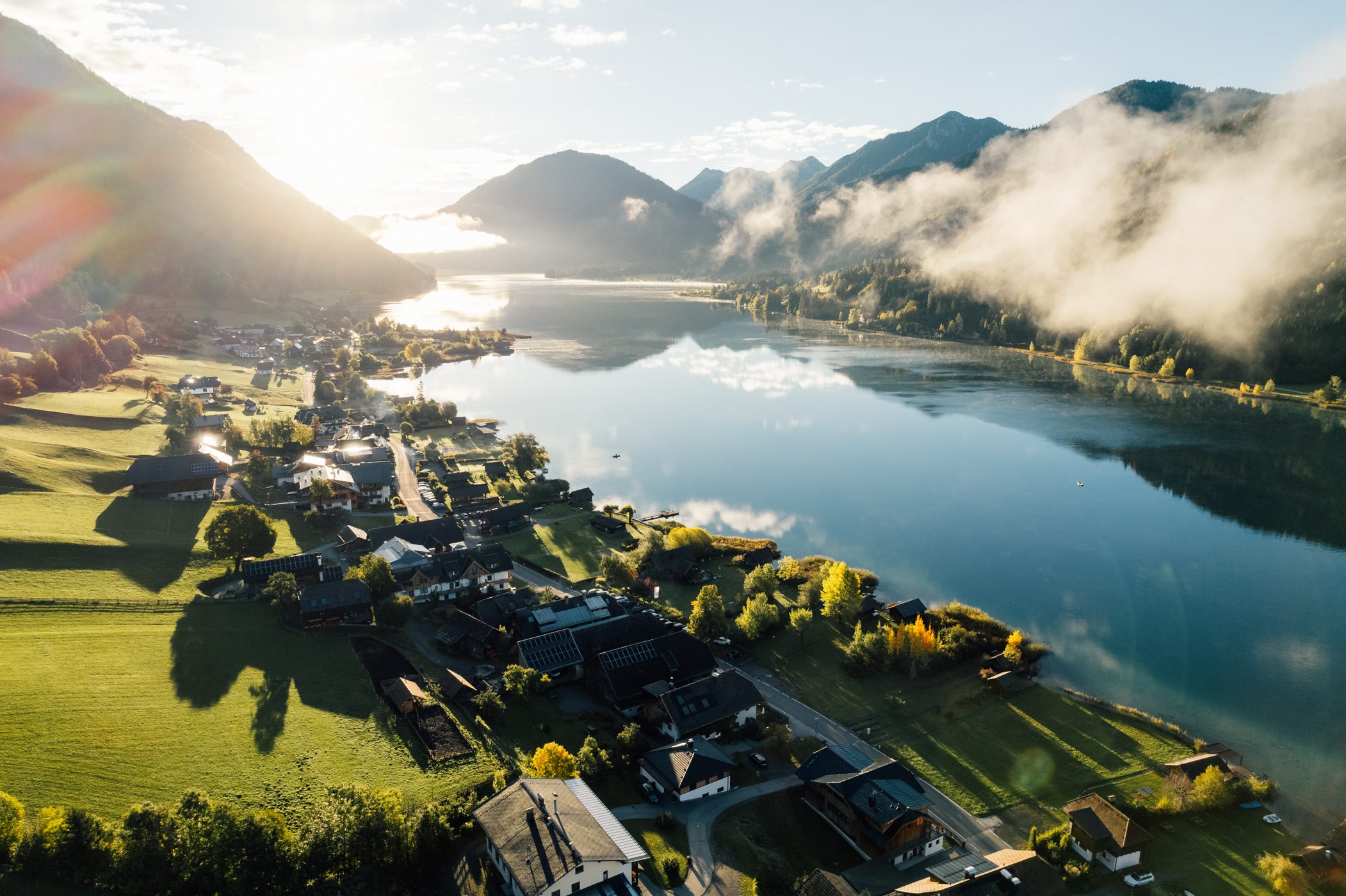 There's no connecting road between the Western and Eastern tip of the lake for one. If you want to get from A to B you either have to walk or take a boat. Even bicycles are limited to a certain extent and once you reach the restaurant at Ronacherfels you have to leave your two wheels behind and start your hike.
The same goes for hotels. There's strict construction guidelines and nothing can be built directly at the lakeshore, the only structures that are allowed are either old boathouses or transformed boat houses, that are now lakeside spas or saunas. At Biohotel Gralhof there's two of those – a small boat shack, that's there for two beautiful old wooden rowing boats and some stand up paddle boards, as well as a larger boat house, that now houses a sauna and relaxation area and is perfect for cozy autumn days.
Taking out the hotel's own rowing boats
Speaking of boat houses. Whenever we visit lake Weissensee we make it our daily sunrise exercise to take a boat out. In the early morning hours there's a stillness and quietude on the lake that is worth immersing yourself in. The rowing boats at Biohotel Gralhof can be rented for free, although "renting" is a strong word. You basically just unhook them and take them out whenever you please – it does feel like a family visit after all.
We could essentially fill this whole post with photos from our mornings on the lake, as this is when the scenery is at it's most magical. The lake surface is completely still and reflects the morning light – the only people you'll see are the occasional fishermen and some skinny-dipping guests who don't fear the 12 degree C fresh water in October (don't worry, in summer the water temperature goes up to 25 degrees C, hence it's dubbed the Caribbean of the alps).
"Ice" bathing is a recommended autumn activity at lake Weissensee.
If you take out the boats you can cross the lake to the Southern shore to visit Gralhof's own cow herd or spin a wider circle and go all the way East towards Ronacherfels. The further you go East the more shallow water you'll encounter which makes for the lake's famous turquoise color.
Back at Biohotel Gralhof for breakfast
After this casual morning exercise it's time to freshen up and head for breakfast, which is served à la carte to minimise food waste, another cornerstone of the philosophy of the hotel. The options are exuberant though and we personally prefer a freshly prepared breakfast dish over a buffet a hundred times.
There's six different breakfast combos to choose from as your base (my personal favourite is #5 with homemade brioche and an organic chocolate nut spread, local yogurt and fresh fruit salad), to which you add one egg dish (think the most exquisite eggs Florentine with fresh chard from their own garden instead of spinach). And then you can add a warm sweet dish as well, we tried the pancakes, the french toast and the rice pudding and all of them were exquisite.
This breakfast sets the tone for the kitchen at Biohotel Gralhof, which is one of the core elements of their philosophy.
Slow food travel with Clara Aue's special touch
Lake Weissensee is part of the Slow Food Travel region Alpe Adria, and as such local producers and artisanal handcrafts are being protected and fostered. Guests can visit cheese workshops and learn to make the traditional Carinthian Pasta and most of the hotels source products regionally.
But it's not just the origin of the products, it's also the kitchen philosophy that comes into play. At Biohotel Gralhof you choose what you'll have for dinner already in the morning. This allows the kitchen to prepare only the dishes that will be eaten, another way to reduce food waste to a minimum.
What is still left over is fed to the hotel's own pigs, as the farm is also up and running. And it's not just a show farm for guests to feel good and pet a pig, but a proper agricultural enterprise, which is part of the integrated approach of the family business. When the hotel closes for their season break the family starts their annual harvest, producing their own apple juice for example. They also own a significant piece of forest, which they tend to – byproducts are used to heat the hotel, making it 100% carbon neutral by their own efforts of reforestation. They don't need to buy carbon certificates, but can compensate theirselves.
But back to the kitchen: Since 2021 Clara Aue has taken the reigns in the kitchen and has since garnered the attention of Gault&Millau, awarding her with the Newcomer of the year 2022 laudations. And rightfully so! Each evening she serves a 5-course dinner menu, that entails Austrian classics with a strong focus on handcrafted production. The best example of her cuisine for us was her clear vegetable broth. If you read this on a menu you might be disappointed, as it's such a staple of basic Austrian cooking. But not Clara's soup. It's a bowl full of hours of dedication and love to the craft of extracting flavours from vegetables with great care and patience. We savoured every drop of it!
As vegetarians (and newly added one of us has to eat gluten free as well), she definitely didn't have an easy task pleasing us, but there wasn't one dish, that felt like an afterthought. In fact she bakes all kinds of fresh bread every day and every Thursday is a full vegetarian day for all the hotel guests – so her vegetarian cooking is up to par with her nose-to-tail approach when it comes to using meat.
Why to choose Biohotel Gralhof?
The arguments for us are the incredibly familiar atmosphere, where you'll see the hosts kids run around the hotel and eat dinner next to the reception while chit-chatting with the kitchen staff. There's only 16 rooms, so it's a boutique-sized hotel that also feels intimate and calm.
If you don't mind the small size of the rooms (which by the way also adds to the sustainability and 100% carbon neutral offering – as it keeps the footprint quite low) you'll find a gem of a hotel here, run by pioneers of sustainability and a kitchen team led by a female chef, that will make you turn up hungry as soon as the clock says 6:30pm.
Book your stay at Biohotel Gralhof here.
Interested in a trip to Lake Weissensee, but not right now? Pin this post for later:
Disclaimer: This is a sponsored post as part of a collaboration with Biohotel Gralhof. The views in this blogpost are our own.