The era of the DSLR camera is fading. While I was clinging to my huge and bulky camera the world has been turning quickly in the last years. And now almost all of the important camera manufacturers have released their versions of the new era of photography – the mirrorless cameras. Together with Nikon I've been able to test the newest addition to the mirrorless market, the full frame Nikon Z 6. And here's my verdict!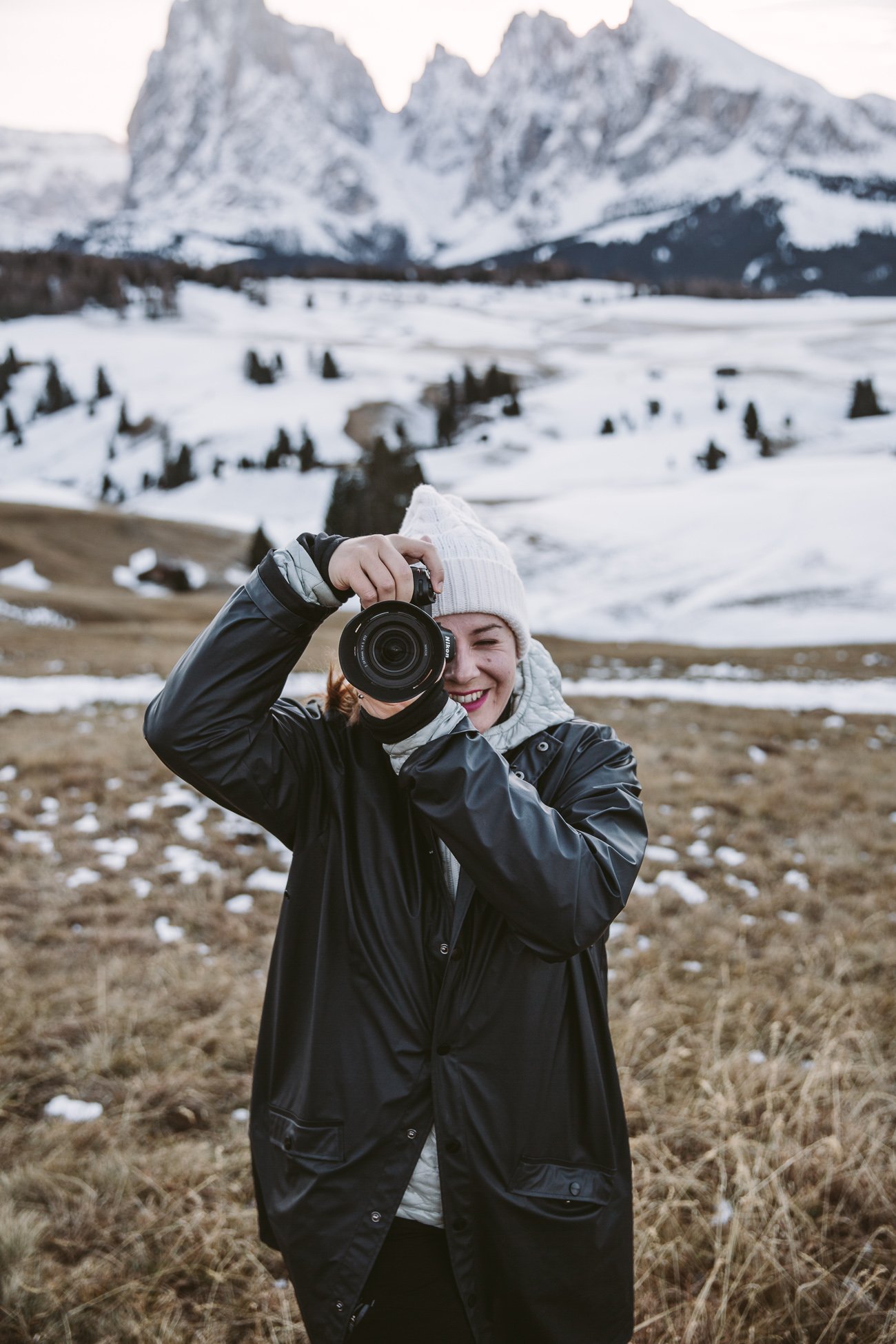 Me and the Nikon Z 6 in South Tyrol's "Alpe di Siusi".
Lighter weight & other advantages
So as you know I'm not a super technical photographer, but go with the flow and my relationship with my camera is kind of symbiotic. She does what I do and we kind of work in harmony together. That might sound a bit overly romantic, but I cannot come up with a better explanation. Even after years of using the same camera I had never even touched the technical manual once.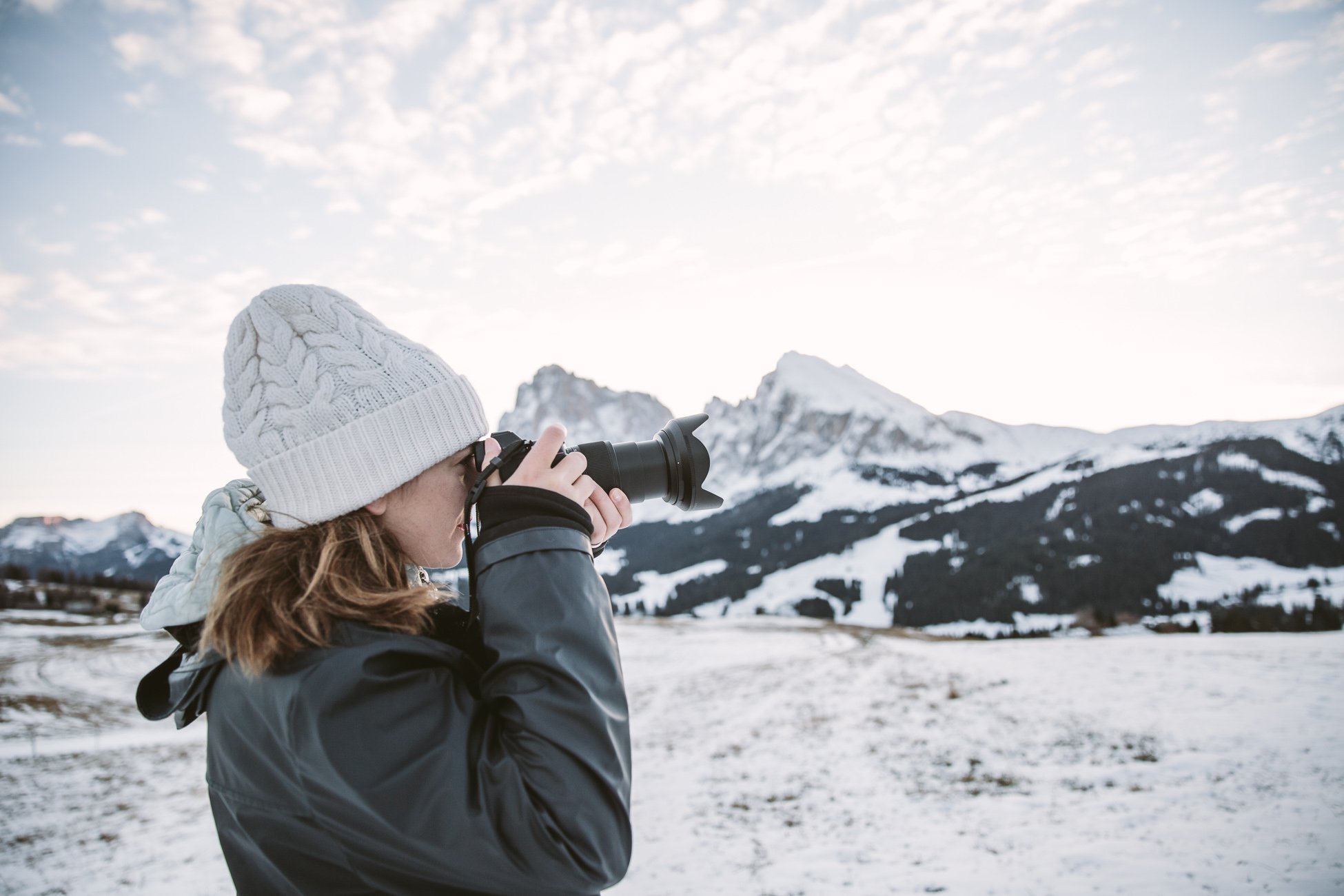 I just can't cope with technicalities. My camera has to make my vision work, without too much of a hazzle.
Therefore I frankly often had my fair share of problems with photos not being in focus or over- and underexposed. While the focus can't be repaired in post production, the exposure can (to a certain degree) be corrected – at least in RAW photos. Until now I had to do that on some occasions.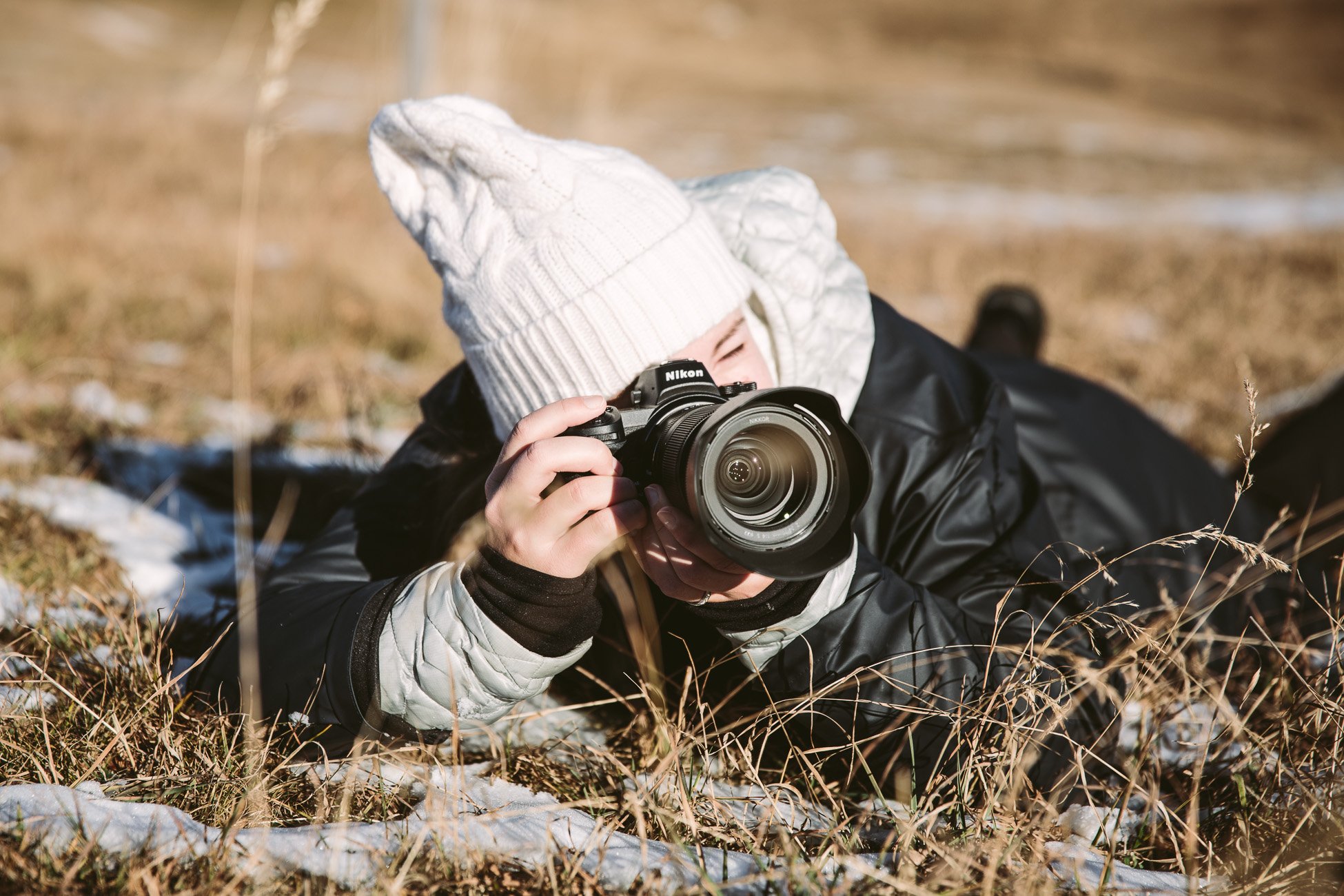 I do love to take photos, but I don't love the technical aspect of photography as much.
And here comes one of the biggest advantages of mirrorless cameras: With the new digital viewfinder of the Nikon Z 6 overexposing or underexposing my photos won't happen again as I can immediately see the exposure settings right away while shooting.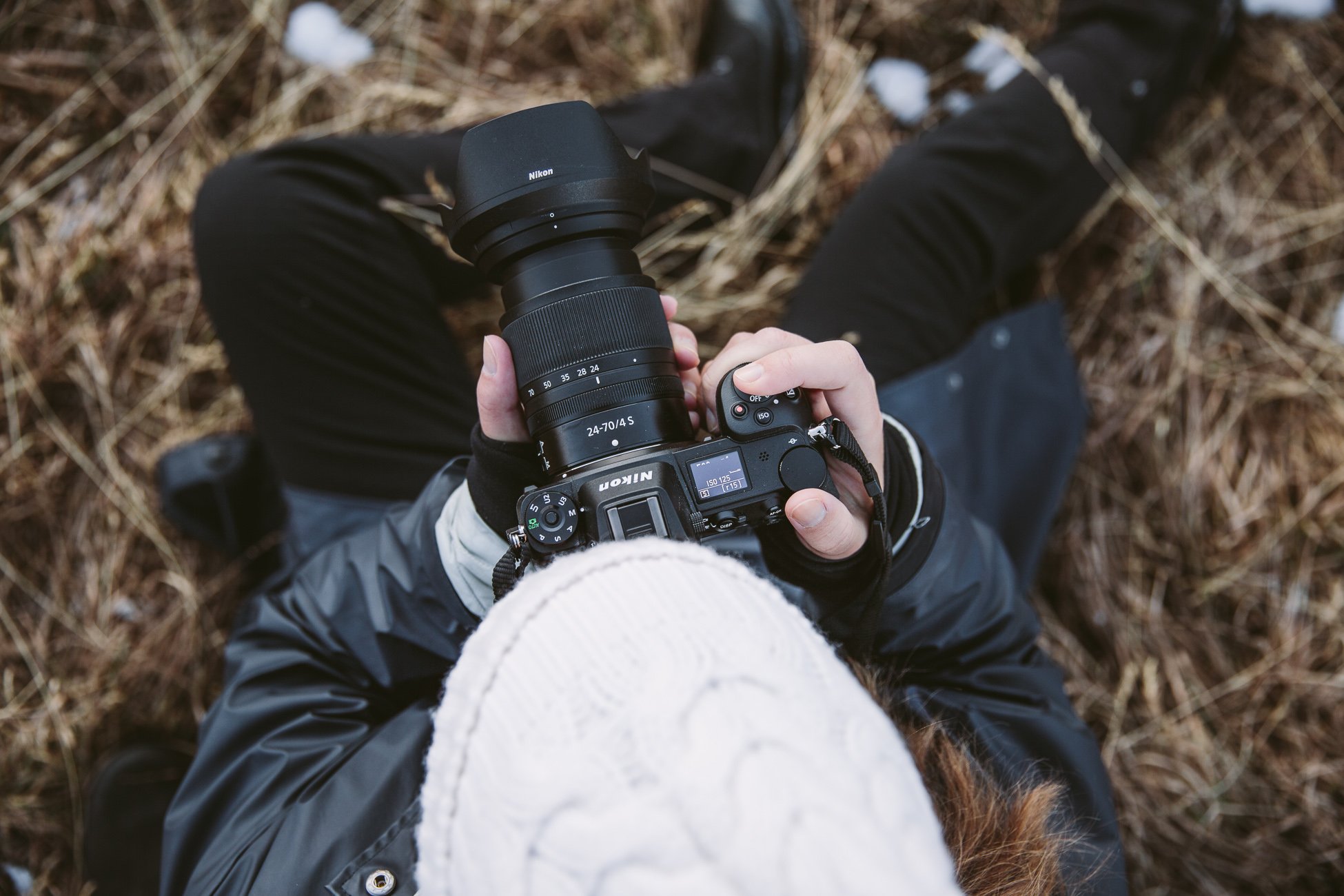 I don't need to check the photo settings after the shot anymore, but see the results directly in the viewfinder.
That being said I did always struggle with the weight of my full frame DSLR. After the first travel project with my DSLR I got myself a cross-body strap to even out the weight on my shoulders – that helped tremendously. But the lighter weight of mirrorless cameras has always been a huge drawing point and advantage!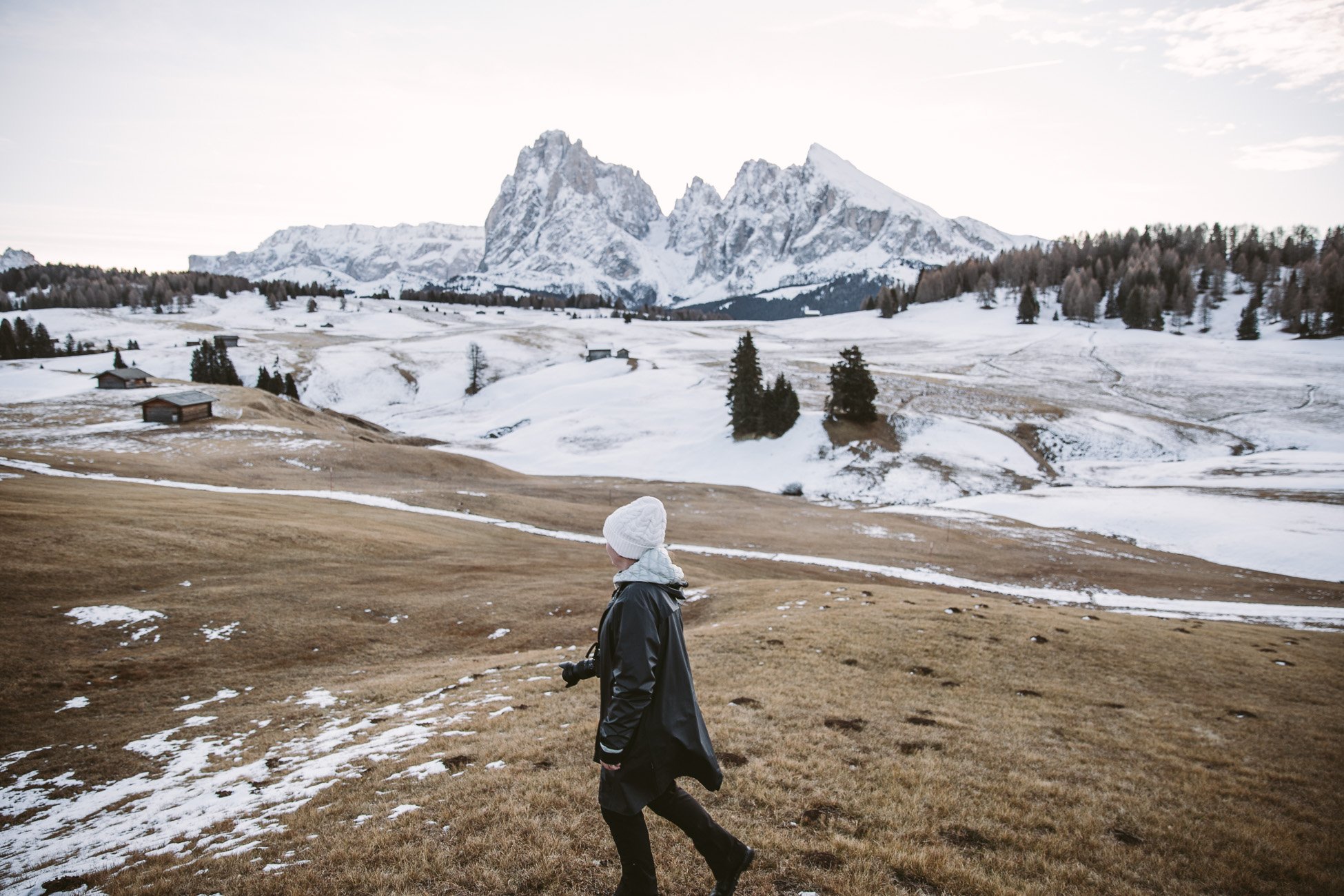 Carrying around less weight is a big advantage… especially if you ask my back!
Pros & Cons
With every new camera there are pros and cons. Here's my (very personal) list of what I liked and didn't like about the new Nikon Z 6:
Pros
Lighter weight: This is the major advantage of any mirrorless system camera – and oh boy, I felt the difference. In the beginning I carried both my cameras, so I could test them against each other in the same light conditions. But very fast (like, after 2 or 3 days) my DSLR stayed at home… my back and shoulders couldn't have thanked me more!
Digital viewfinder deluxe: Many photographers have been complaining about the image quality in digital viewfinders with other mirrorless cameras. The Z 6 excels in that category. The viewfinder is excellent – you won't really feel that you're looking into a screen vs. the reality.
Super fast XQD memory card: When you google facts about the Z 6 you'll find a couple of complaints about the new memory cards, that have been used. Mostly the photographers complain about the price of the new XQD cards, although comparable SD cards have similar prices – the speed is just incredible with those cards, which saves an awful lot of time after a long day of shooting when it comes to storing the files!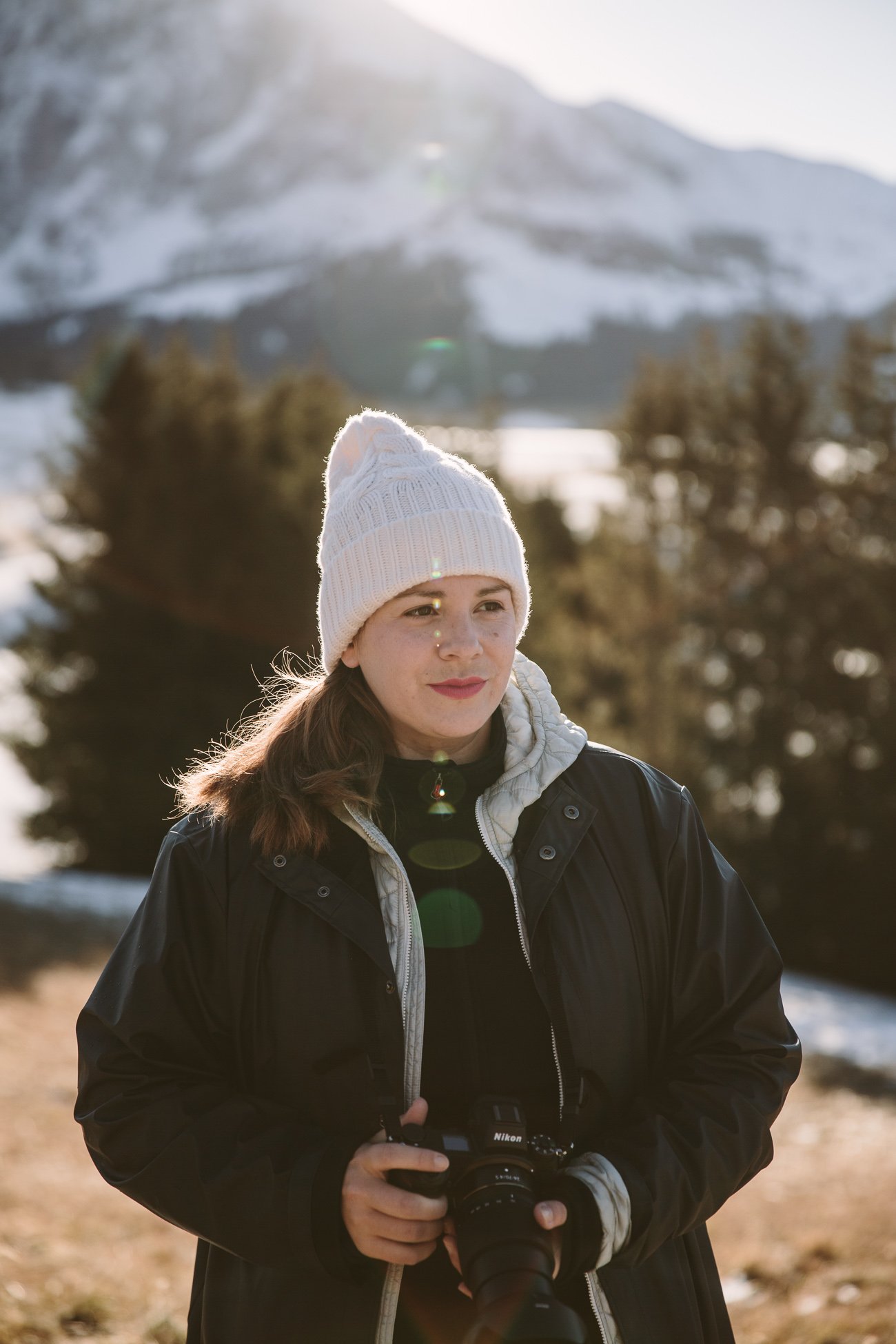 Cons
NEF format: My version of Lightroom doesn't support the native RAW format of the camera (yet), therefore I had to convert them from the standard .NEF format to a .DNG format with a separate converter app (which is for free). This will be solved soon and is a common problem with new cameras on the market.
Switching from Canon to Nikon: This actually has two disadvantages. First and foremost all my "old" lenses don't fit the Z 6. For people who switch from Nikon DSLRs to the Z6 that's no problem, as the Nikon adapter works perfectly (and no, there's no quality loss when using an adapter to fit the DSLR lenses). But that doesn't help me with my Canon lens setup… unfortunately. So it might be time for me to start a new collection 🙂
Zoom direction: Secondly Nikon and Canon are like left- and right-hand traffic – the zoom just works the other way around (clockwise instead of counter clockwise) and that's a big brain twister right there 🙂 I might need some time to simply adjust to this…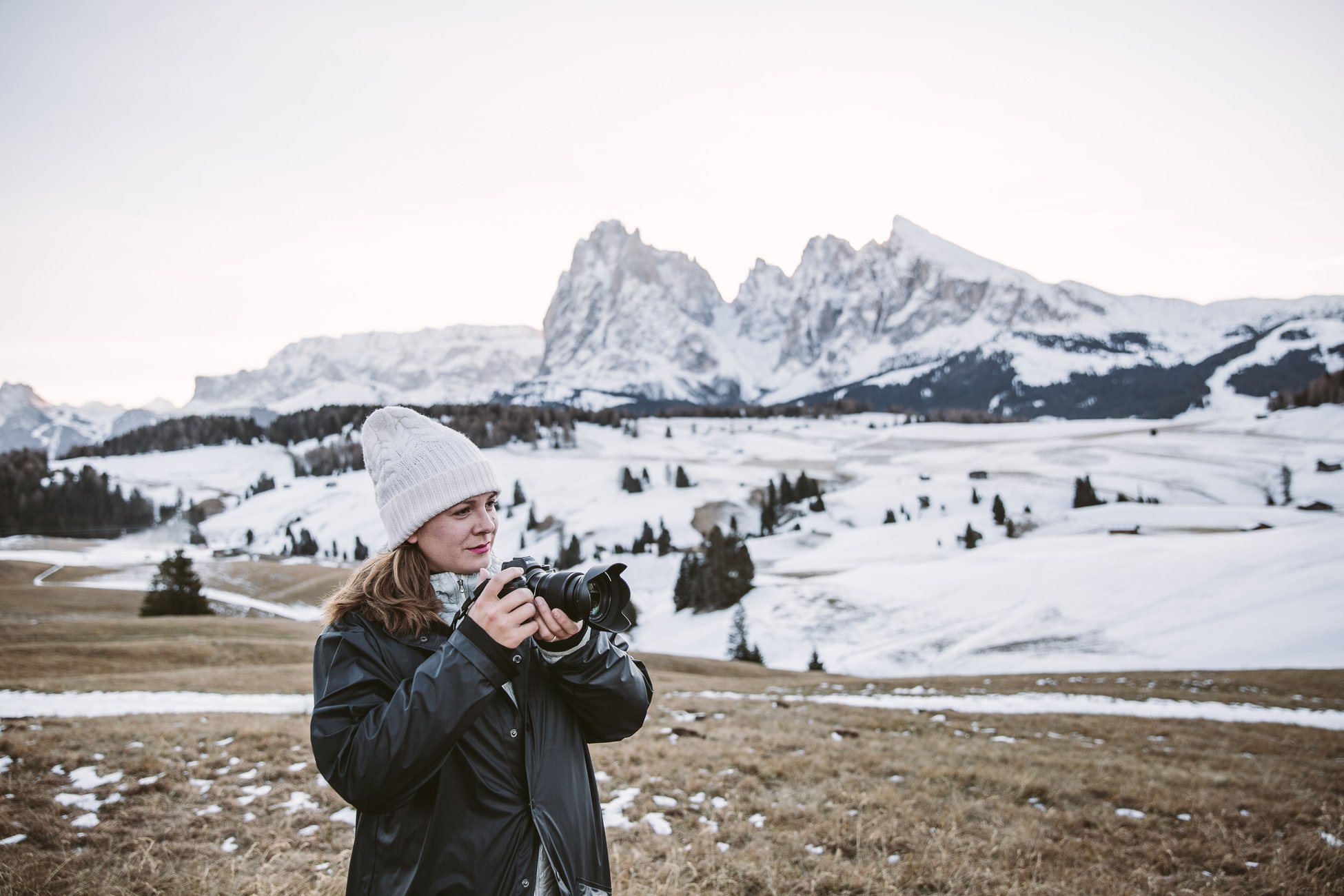 I might need some getting used to the zoom direction, but fell in love with the system overall!
So you see this list is a very personal selection of pros and cons and I'm sure everyone feels differently about their camera vs. other cameras they test – as I said, it's a very personal relationship 🙂 In the end it's very much a matter of taste and convenience and getting used to a system!
The new era: Time for some photo examples
Enough with the details, I guess it's time to show you some results! Nothing speaks louder than a photo, right? So here are some of the photos I took with the Nikon Z 6 on that morning at the Alpe di Siusi in South Tyrol.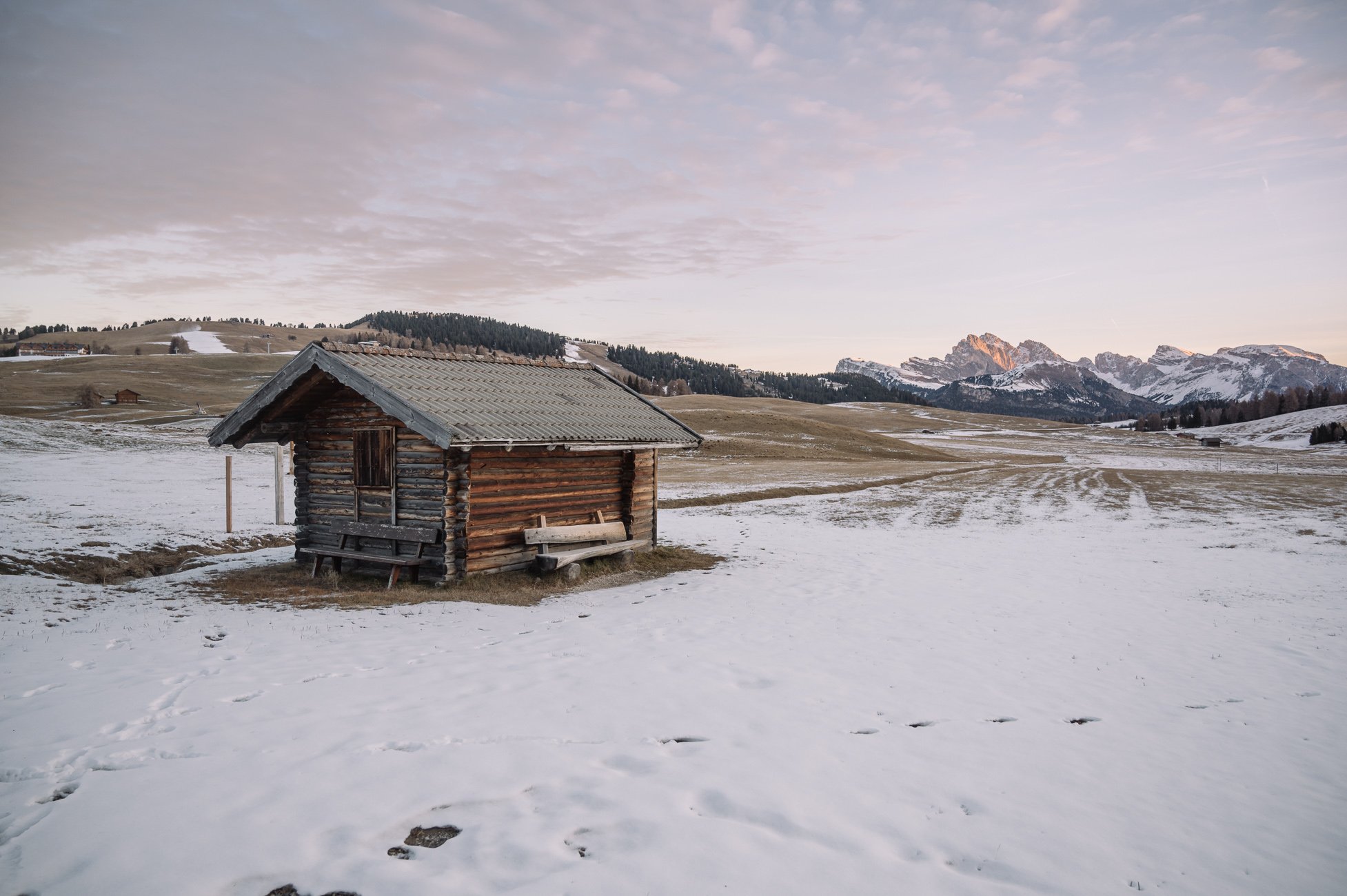 Settings: 24mm, F4, 1/160, ISO 200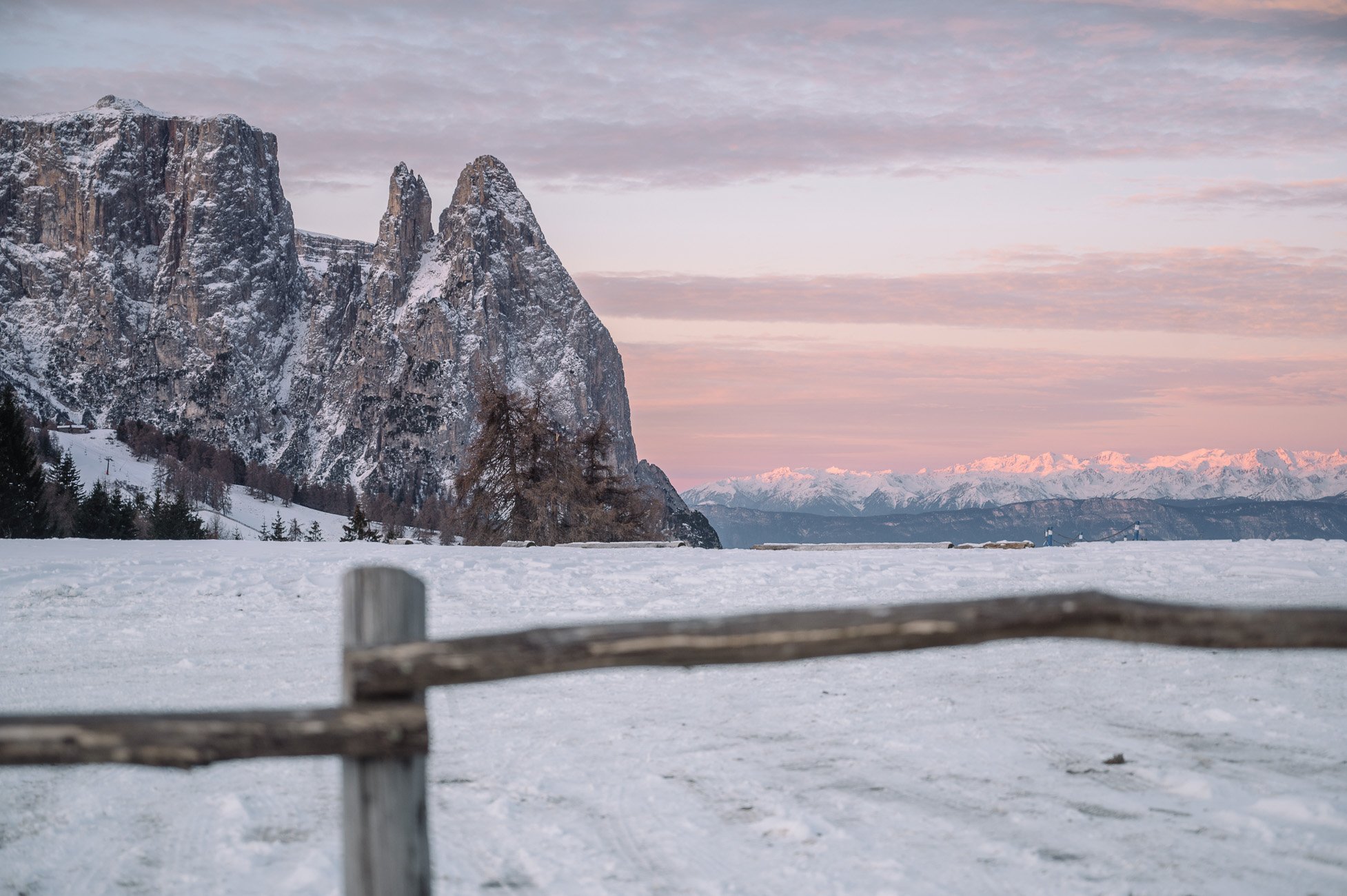 Settings: 58mm, F4, 1/125, ISO 320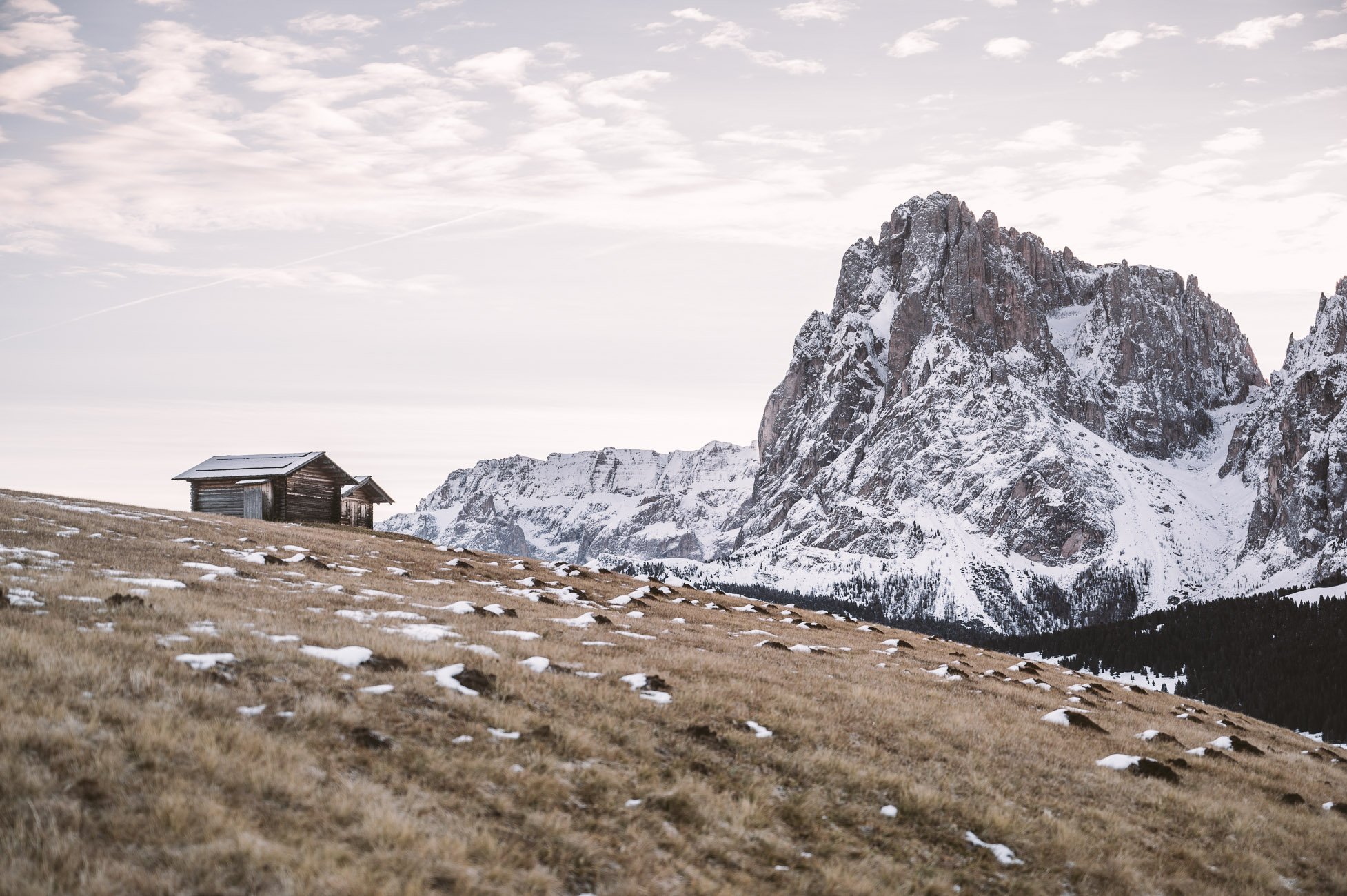 Settings: 56mm, F4, 1/250, ISO 125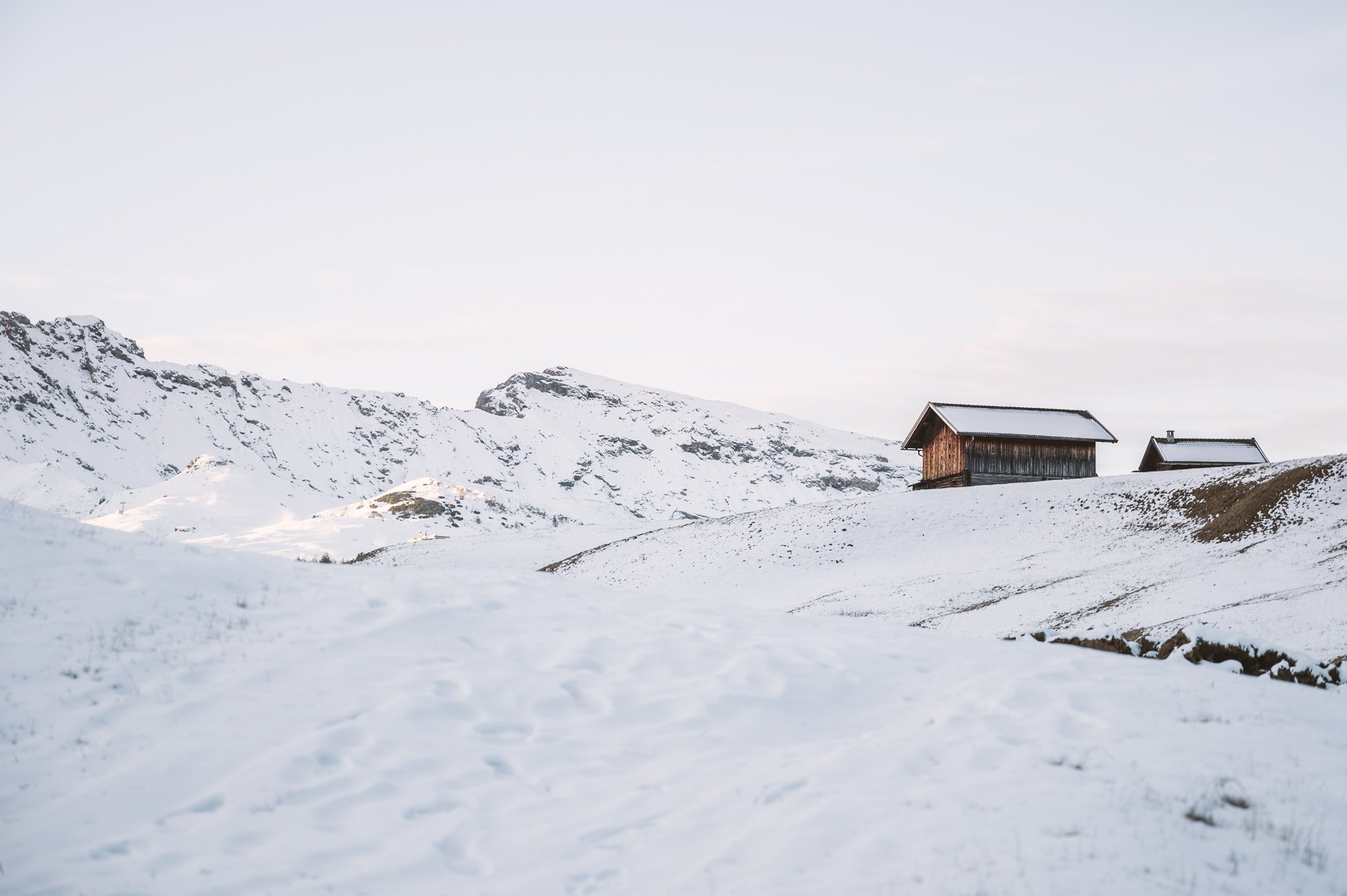 Settings: 70mm, F4, 1/320, ISO 125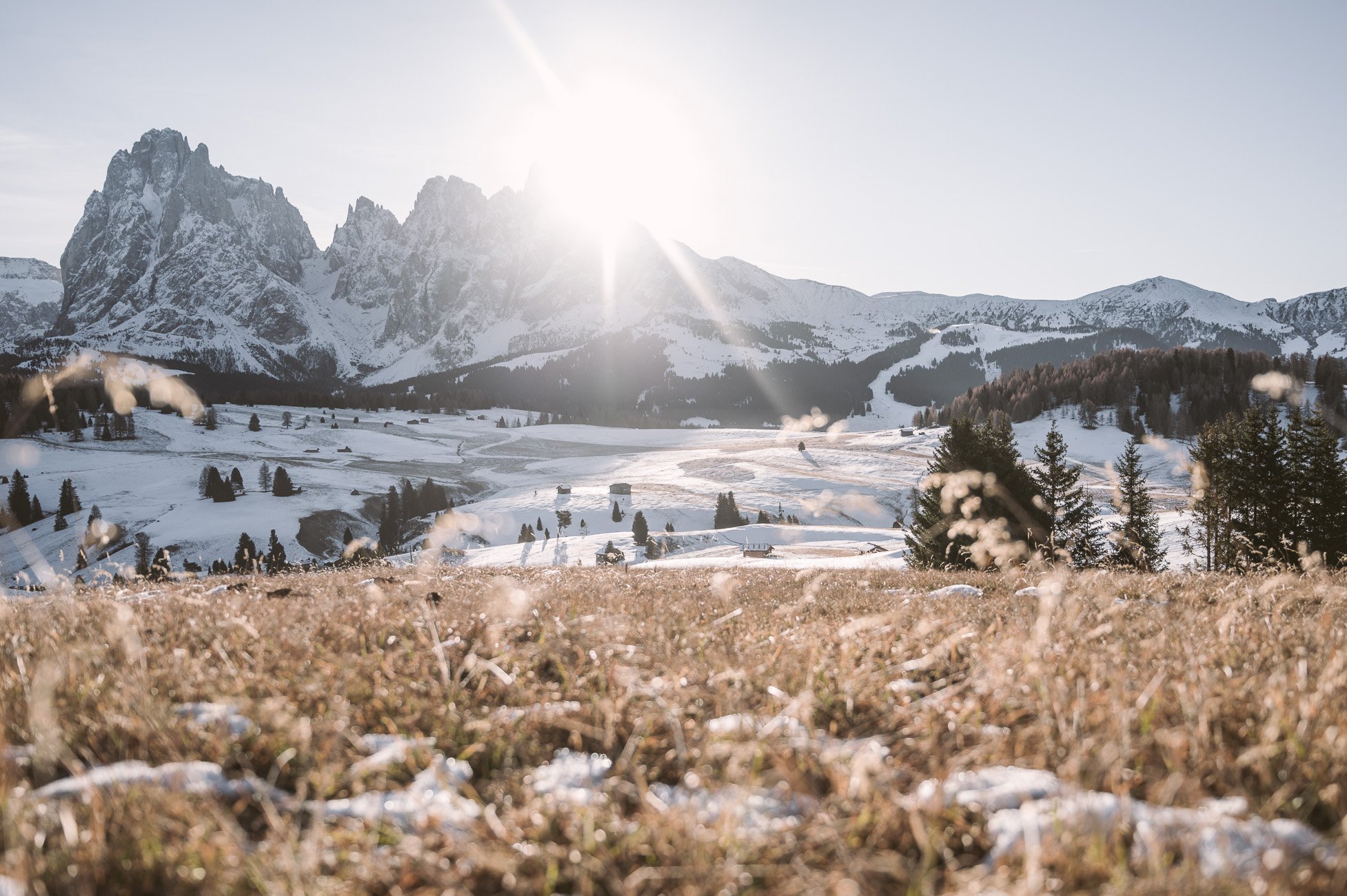 Settings: 33,5mm, F4, 1/640, ISO 100
Settings: 37mm, F5, 1/250, ISO 125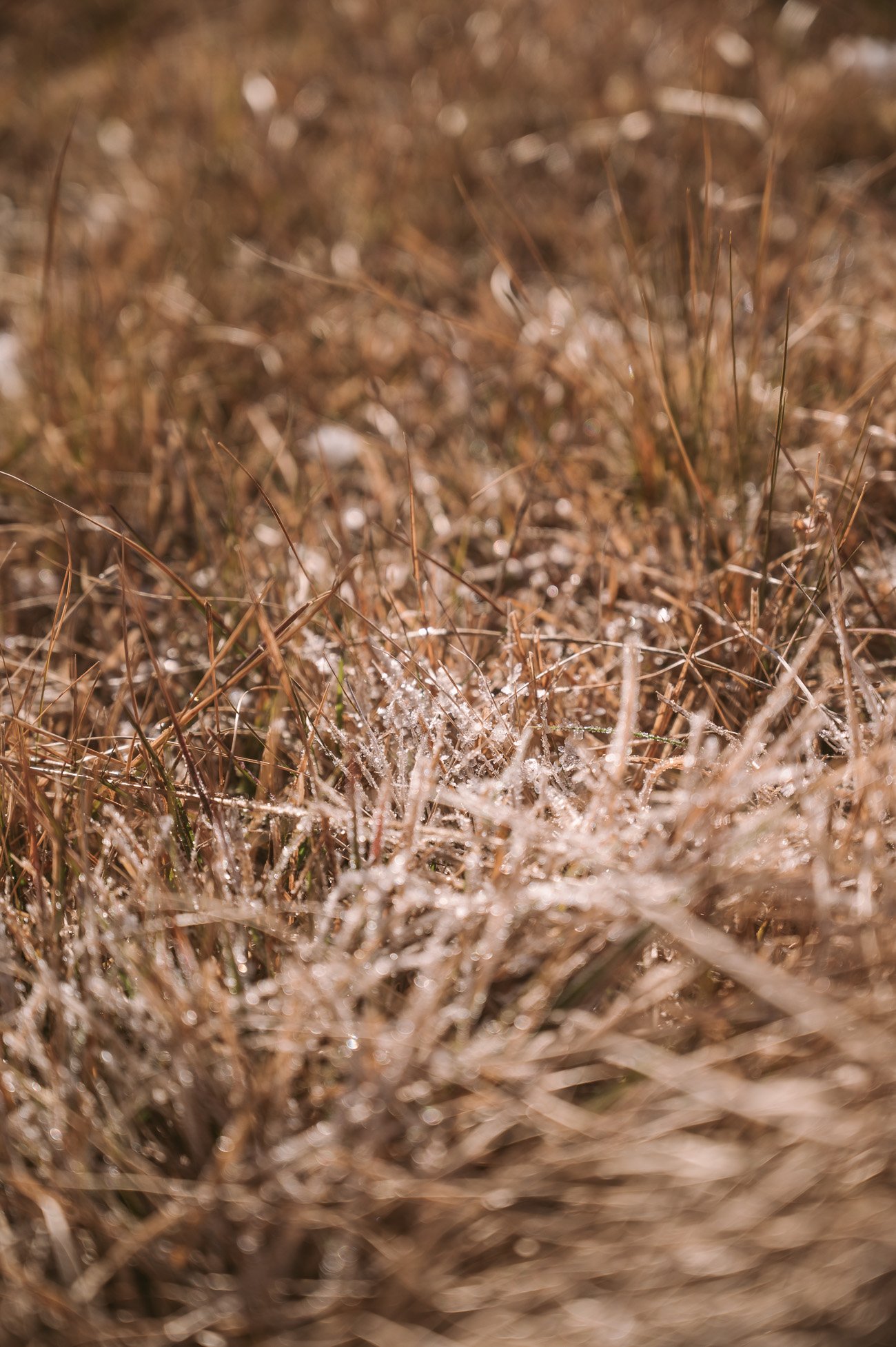 Settings: 70mm, F4, 1/640, ISO 100
On that morning I exclusively shot with the native Nikkor Z 24-70mm lens and absolutely loved the versatility. The 24-70 is always my go to lens for travel photography as it covers the most important angles, that I usually like to shoot – from quite wide to a bit of zoom.
I think the results speak for itself! The lens is lightweight (it weighs around half of my DSLR lens with the same focal length) and the results are crystal clear. The only disadvantage is that the lowest f-stop is 4 and I'm used to shooting with a 2.8 – that little extra light and blur was missing a bit for me, but you can always use one of the Nikkor DSLR lenses instead.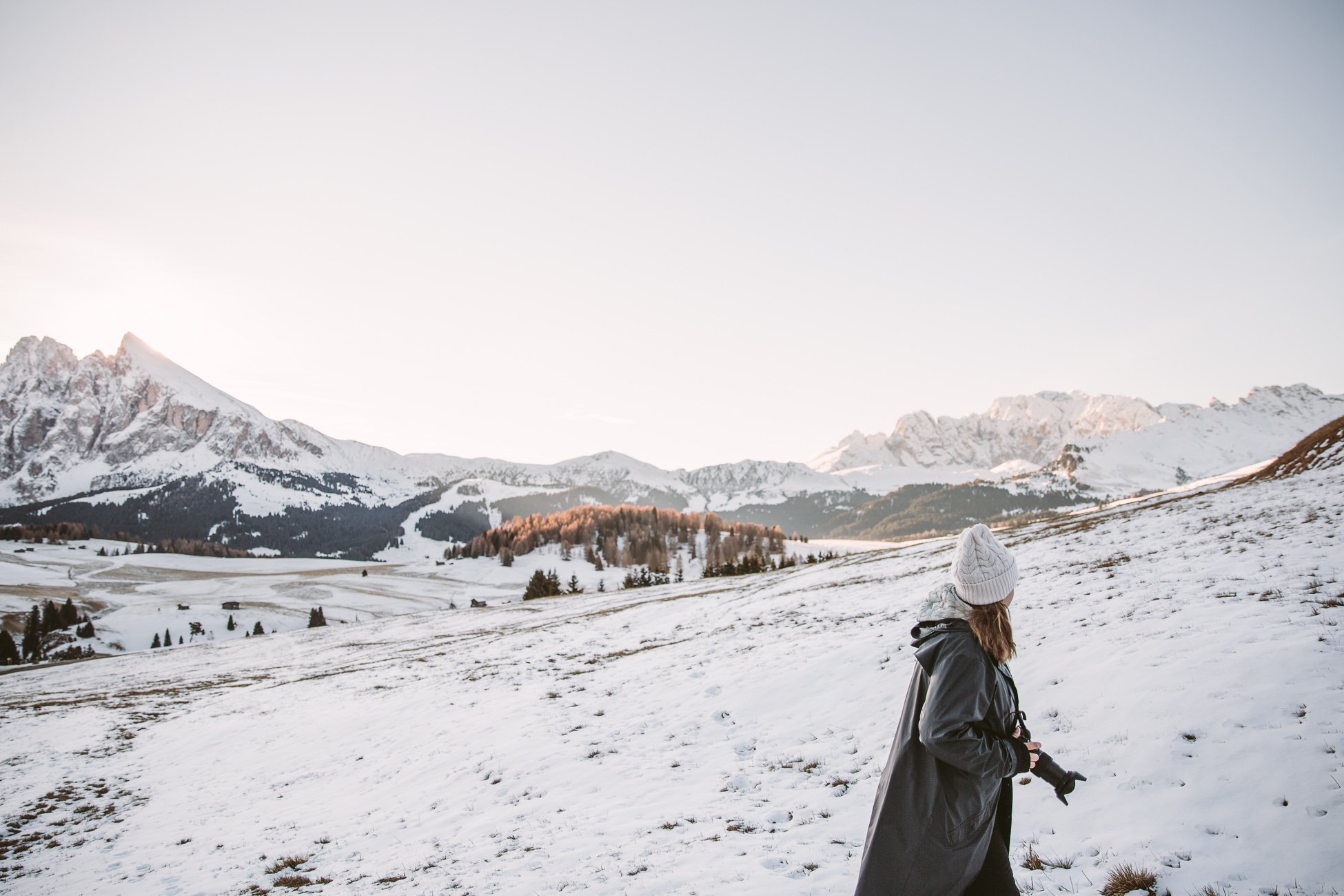 Usually I travel with a backpack with some additional lenses (like a wide-angle and a telephoto),
but decided to stick to the standard 24-70mm lens for this shoot!
My mirrorless setup
If you check my Instagram account you'll notice a couple more South Tyrol photos, which I also shot with the Nikon Z 6! Some of these photos were taken with a wide angle (14-24mm) and a tele lens (70-200mm).
View this post on Instagram
So my camera bag during this trip consisted of the standard Z 6 setup with the "kit lens" (although that's a pretty fantastic lens for a kit!):
Nikkor Z 24-70mm f/4 S
Nikkor Adapter Z to F Mount
Additionally to the native Z 6 lens I also carried these extra lenses with me for some extra versatility:
If you are already a Nikon owner you can simply use your existing F mount lenses with the Z mount and the adapter. There is no quality loss with the use of this adapter.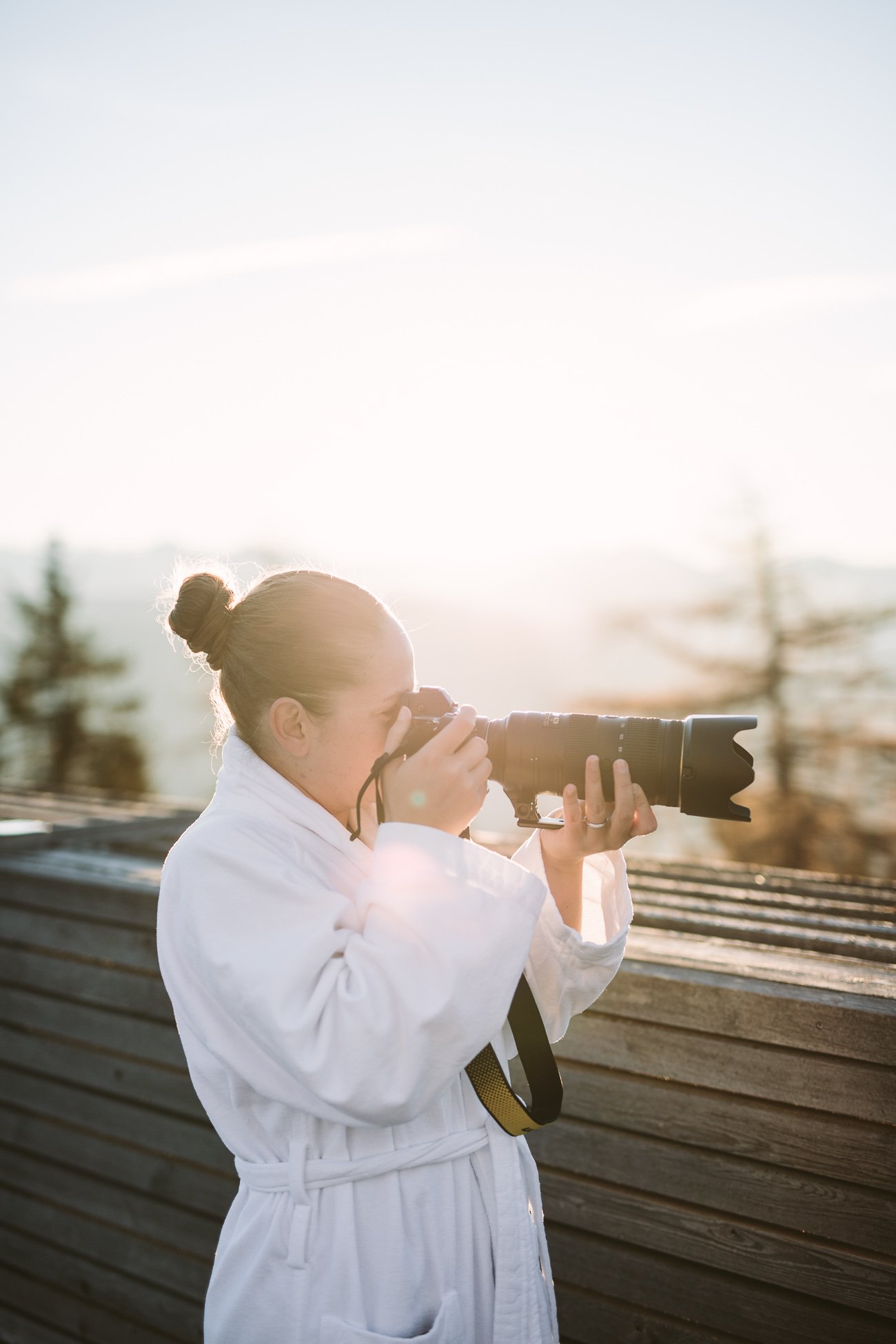 Yes, I was actually shooting in a robe… 🙂
This is me at sunrise with the 70-200mm lens!
For the technical nerds
A few facts for the technically more advanced photographers: The Nikon Z 6 is a full frame mirrorless camera with 24,5 megapixels and can shoot from ISO 100 to 51200! It's super fast (with up to 12 pics per second) and also shoots 4k video. Soon we'll publish a short video of our trip to South Tyrol where we also shot some material with the Nikon Z 6.
I especially loved the option to switch between FX and DX (full frame and APS-C equivalent). This way we could shoot some scenes with crop factor without having to switch lenses for longer focal distances – this comes quite handy!
As opposed to my DSLR the Nikon Z 6 also comes with built-in WIFI and a really good and intuitive app (SnapBridge) to connect the camera with the smartphone. This way I could use my phone as a controller and could even push JPEGs directly from the camera to the phone while shooting (for some behind the scenes Insta Stories ;-)).
Should you switch to mirrorless?
In the end it's totally up to you! When it comes to quality there's no difference between DSLRs and mirrorless cameras anymore. So it all comes down to taste and habituation. Getting used to shooting with a mirrorless camera might need some time, but the reward is also big! I would recommend to do it like me and test a mirrorless camera first and see how you like it and if it's the right system for you – I can honestly say I'm hooked!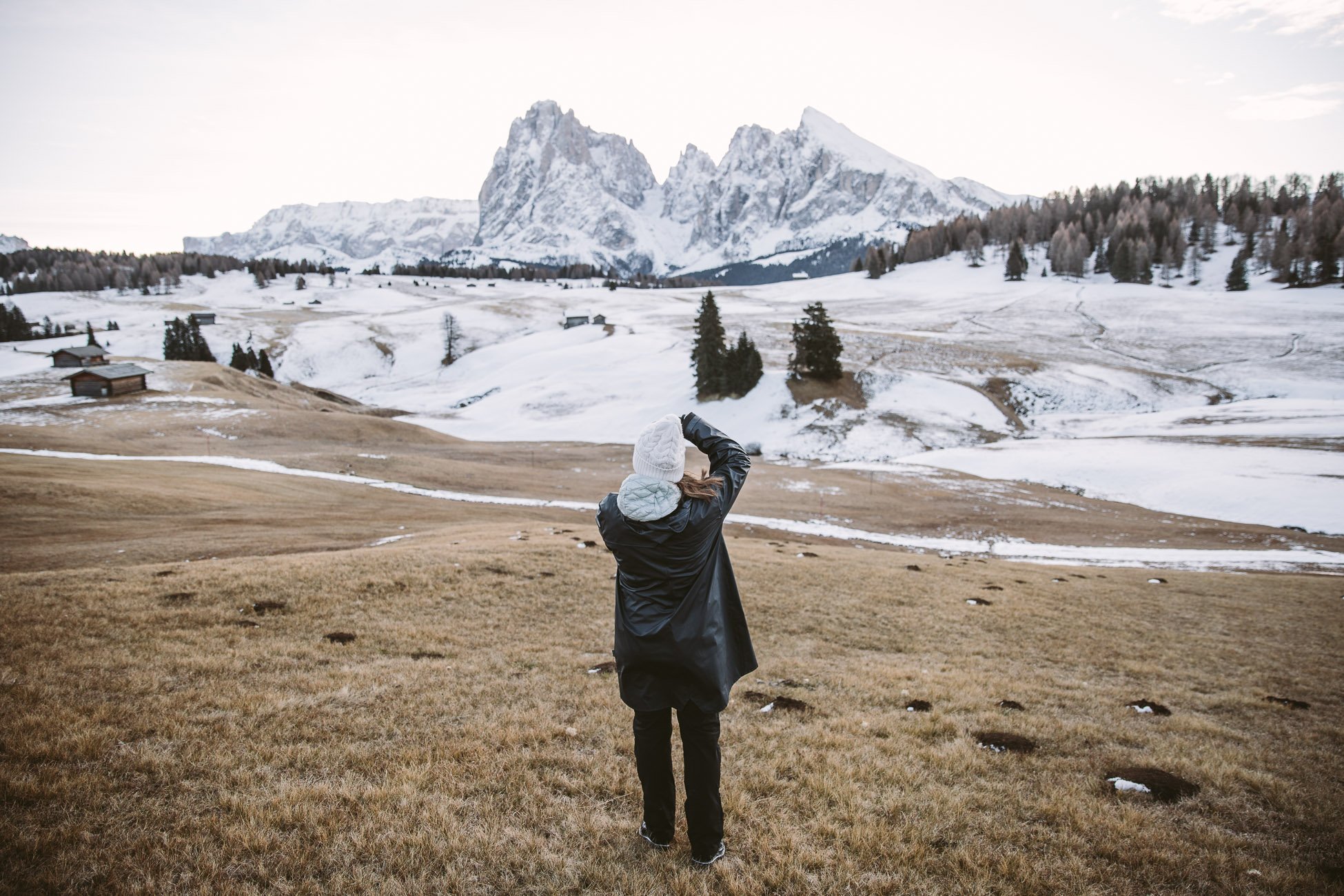 The new me – without the heavy weight on my shoulder!
Disclaimer: This is a sponsored post. Nikon provided the camera as a sample to test for 2 weeks & paid for this post, but the views in this blogpost are mine.