As you might know we're really into special hotels – we love to find gems, that have something special – be it the architecture, design, food or personal service. In the small town of Lana in South Tyrol we discovered the newly opened "1477 Reichhalter Eat & Sleep", which now has a special place in our hearts. Let's show you why!
The colours white, grey and mint green – plus some wooden accents – make for a harmonious design.
Heart & Soul
The small bed & breakfast in the city centre of Lana is reduced in it's design, but intimate and cozy in it's appeal. Here's where locals and visitors meet up. The reception desk is at the centre of the small downstairs eatery, where Lana's residents come in for lunch or aperitif, an afternoon coffee and cake – it's like a small meeting point. It kind of reminds us of the reception area of a hostel, very personal and approachable – yet here it comes with a bit more of taste and distinction 😉
The wooden double wing doors open to the restaurant and reception area.
Our room at 1477 Reichhalter
The room design is very Berlin-esque (if we might say that about a place in South Tyrol). The old wooden floor creaks under your feet and the heaters warm the room up a little like in an alpine hut, where it's cozy and warm and you want to just sit around a table and play card games all night long. There's not a lot going on, but it's still not sterile or cold – every item is picked out carefully and you can sense this attention to detail.
Our room: The attention to detail is tangible.
No exaggeration: Best à la carte breakfast ever
Here's the point where we might sound, like we've been paid by the lovely people at 1477 Reichhalter Eat & Sleep (but, we have not!), but the à la carte breakfast here is amongst the best we ever had. At least as far as we can remember. We ordered the Reichhalter breakfast, which is a selection of freshly baked bread, cheese, cake, homemade chocolate spread, homemade jams, fresh orange juice and a hot drink (the coffee is also really good – we're in Italy after all).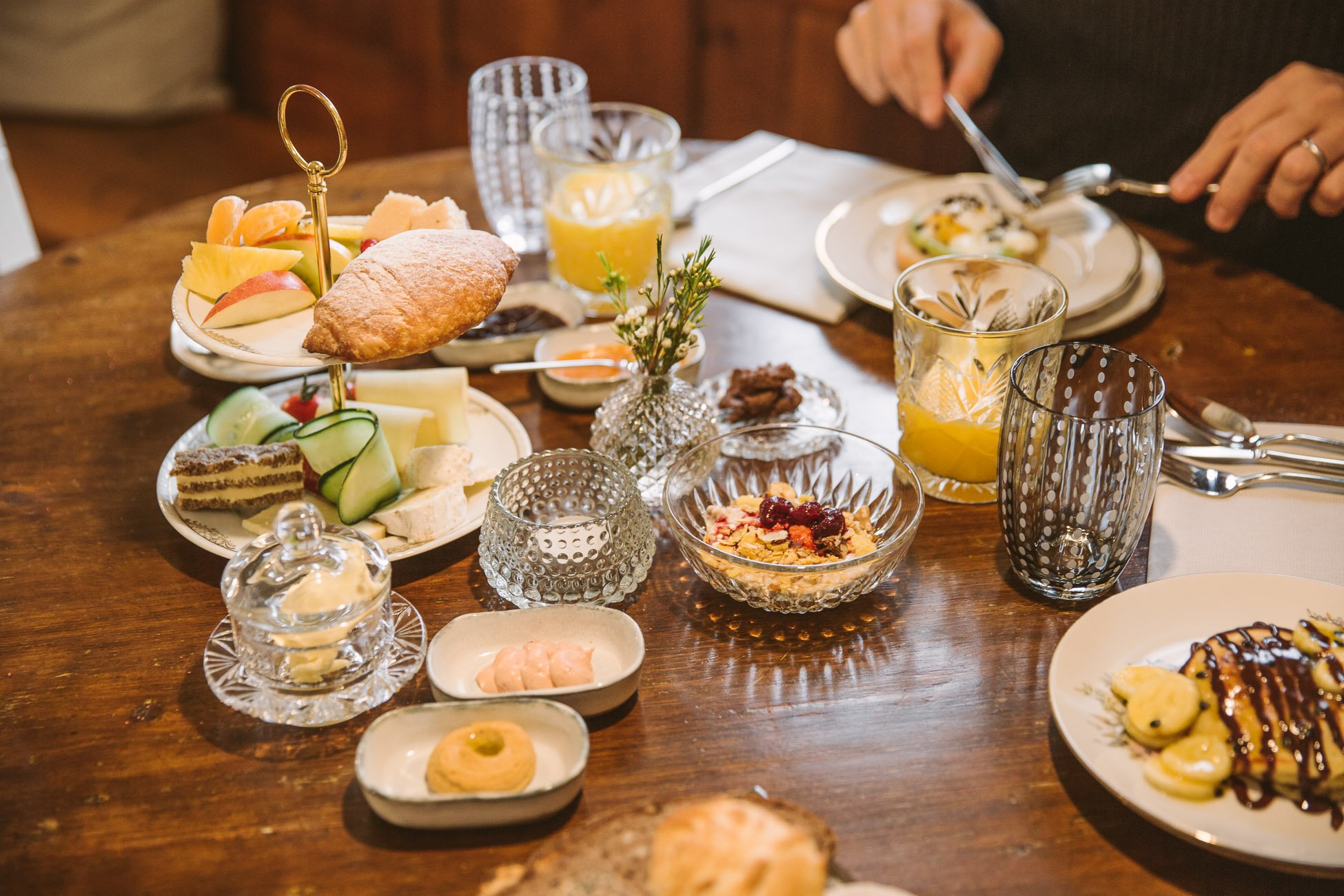 Homemade & regional delicacies for breakfast.
To round it up we complete the breakfast with two hot dishes – an avocado bread with poached egg and pancakes with banana, passion fruit and chocolate. Let's just say we almost inhaled all of it, because it was just delicious!
Hotel breakfasts don't get more lovingly served than this!
Dinner options
As the 1477 Reichhalter Eat & Sleep's concept is a bed & breakfast, they don't offer half board. You can walk a couple of minutes to the hotel "Schwarzschmied" (which belongs to the same owners) and eat a 5 course dinner there. We did that one evening, but were not impressed by the food (the quality was good, but we just think Asian spring rolls as a main dish aren't really the "right" food to eat in South Tyrol 😉 ).
Yet there's a restaurant in the ground floor of 1477 Reichhalter which we absolutely loved and would recommend 100%. Make sure to make reservations if you want to have dinner here, as it is packed with locals and visitors alike in the evening. We shared our table with another family and only got a time slot of about 2 hours to eat before another group came, that's how popular this place is 🙂 So maybe it's even better to reserve a table a little ahead of time and not like us for the same night! But the food is absolutely worth it.
Homemade ravioli with local cheese and kale, plum & almond tartelette.
The perfect traveller type for 1477 Reichhalter
This hotel is best for active people, who want to be out and about all day and come back to a cozy retreat at night. It's the perfect hotel for visitors with a keen eye for design (and photography! The photos on the wall were exceptional), for Berlin fans and monocle readers. If you want to feel connected to the locals and the destination, this is the right hotel for you – it feels like it's a true reflection of the old & new Lana, the traditions and the contemporary movements.
It's not the right hotel for wellness tourists as it doesn't offer a spa (well, technically you could use the one at Schwarzschmied, but who wants to walk home from the spa outside for 10 minutes?). If you prefer a spa hotel, we can recommend the vigilius mountain resort in Lana, but it's less connected to all the activities in the region. We loved the combination – 2 nights in the spa retreat in the mountain and then 2 nights in the "city" centre from where we discovered the region!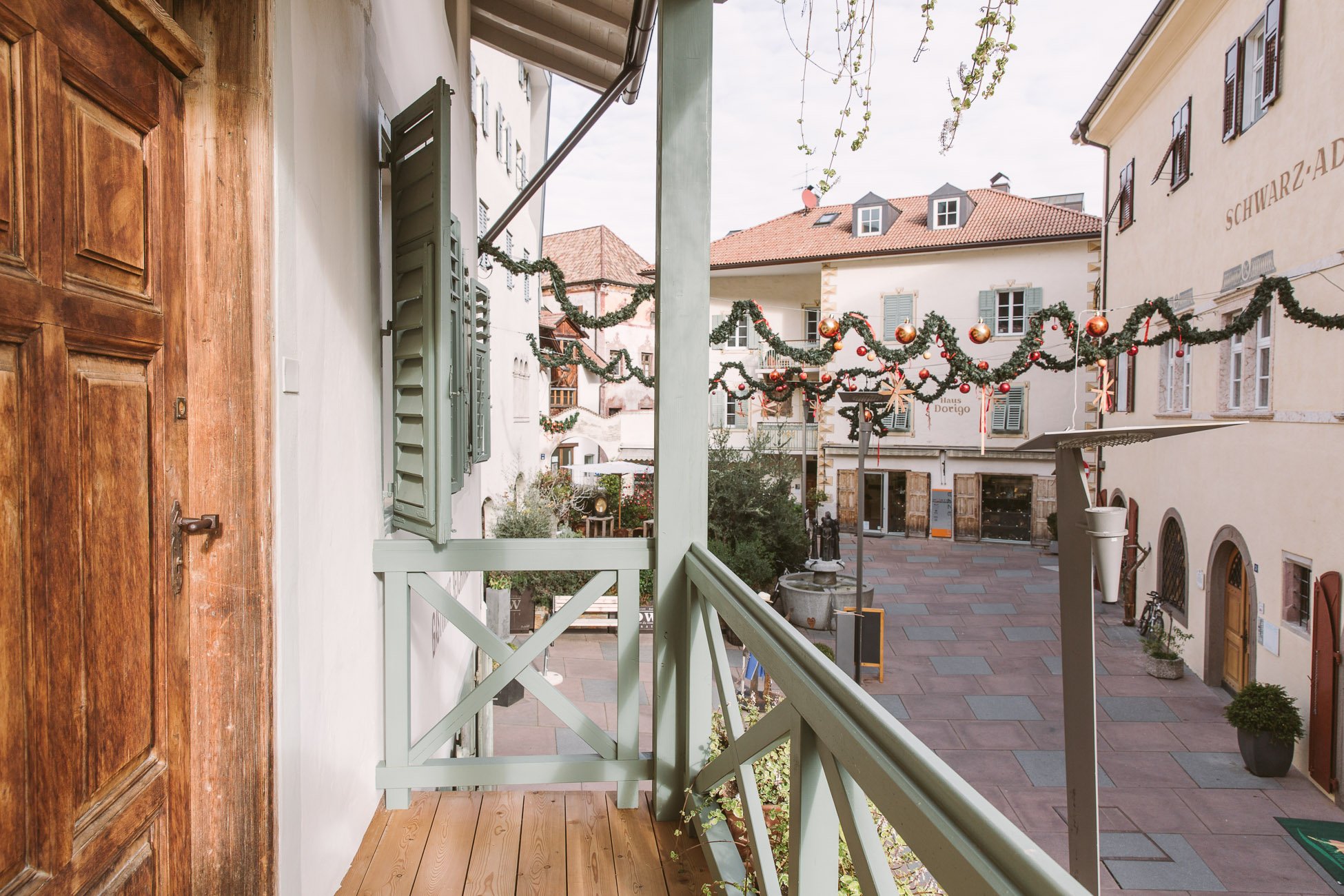 Disclaimer: We were invited to the region by the Official Tourism Board of Lana. The views in this report are our own.