(Last update: September 2020). Venice can easily be called the city with no secrets. It's one of the most visited cities in the world. It's small and easy to discover. It doesn't need any advertising anymore. But Venice still hasn't lost it's magic. Especially in the winter there's the chance to discover a quiet side of Venice.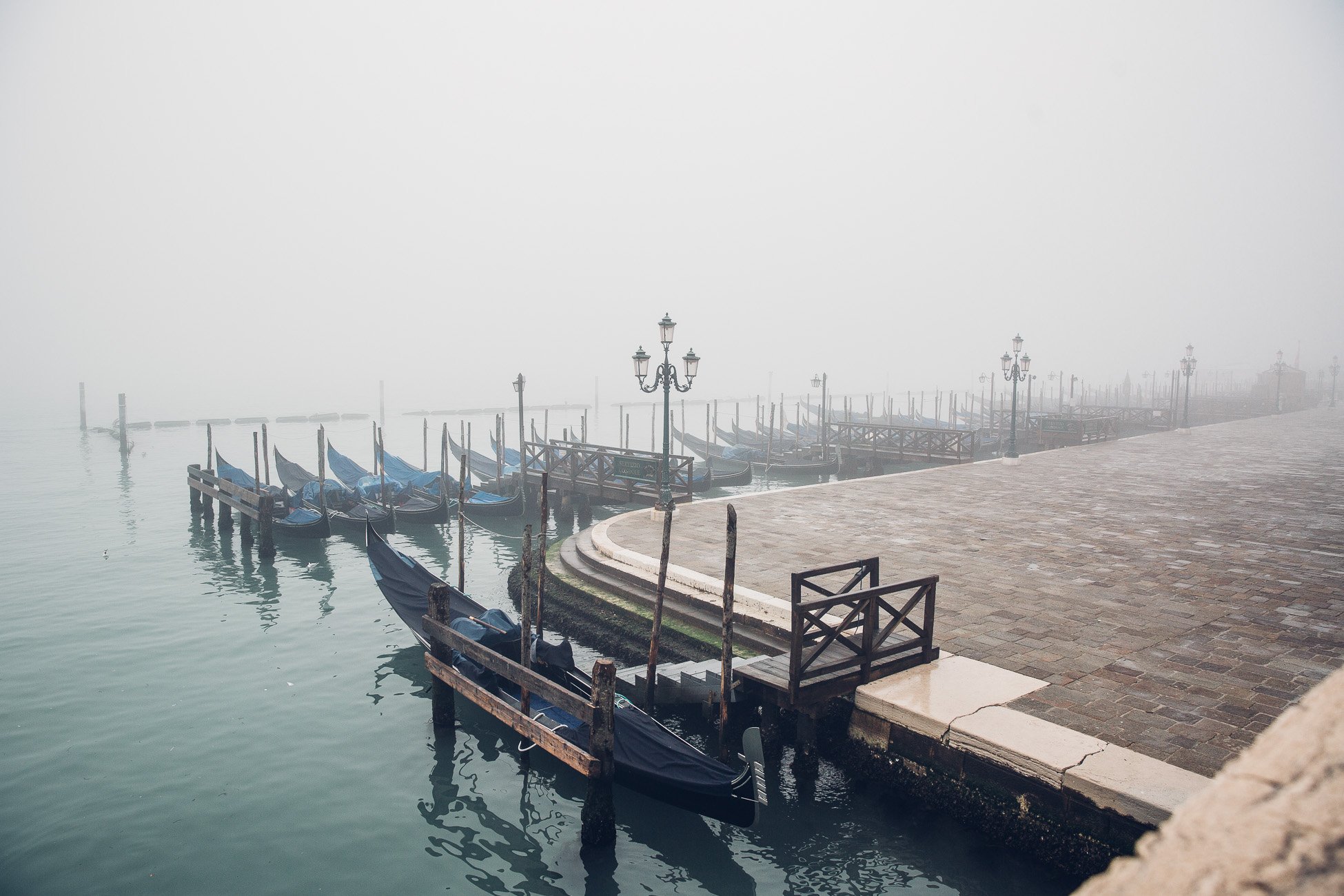 When the fog covers Venice it creates moments of silence.
But there are a few conditions: You have to visit after Carneval in February (which is obviously the opposite of quiet). And if possible during the week instead of a weekend. And when the weather isn't perfect. Well, and if you get up early enough in the morning. Then and only then you might even find yourself at the famous Piazza San Marco or the Bridge of Sighs all by yourself. Well and a global pandemic also helps 😉 Venice might never be as calm as it's now!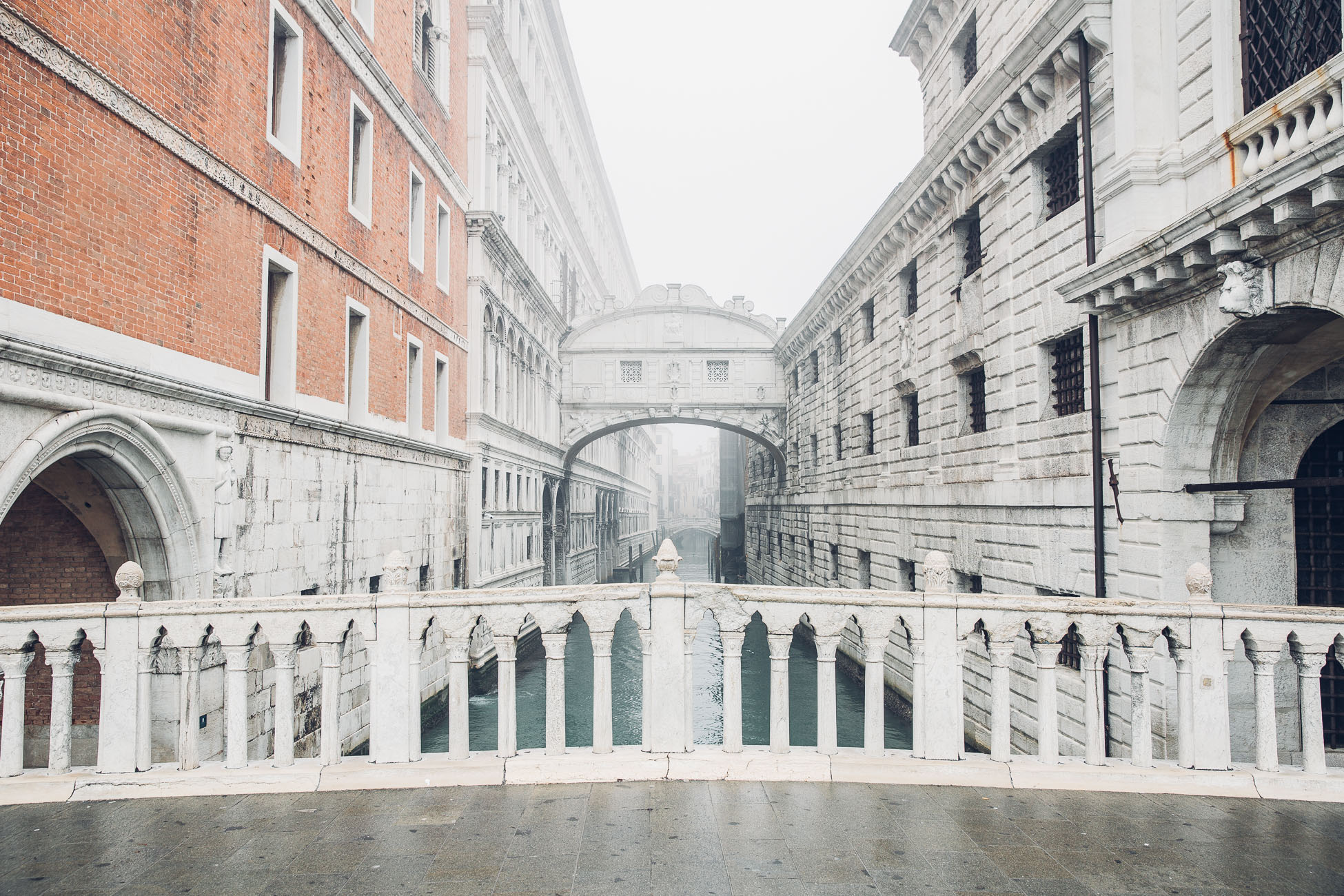 The bridge of sighs is usually filled with heaps of visitors.
The only off-season in Venice
We decided to visit Venice for the first time after more than 15 years in the very beginning of March. The last time we had visited was in summer and it kind of killed our mood for another visit for a long time. Summers in Venice can seem glorious, but they are also overshadowed by mass tourism. Hotel and restaurant prices skyrocket in the summer and the Vaporettos (Venice's famous water taxis) are overcrowded. In 2020 things look a bit different of course. Therefore it's worth considering a visit this fall or winter for a chance to discover Venice like it used to be decades ago!
When the fog rolls in Venice seems covered in sound absorbers, it's quiet and mystical.
Therefore we opted for a different season this time around: Early March was our preferred time for a new discovery of Venice. Why? Carneval had already passed and the outlook of Venice in moody fog didn't stop us. In fact: We had really hoped for fog! And we were well served.
The mystery of Venice can be found
When a city has lost all of it's secrets – fog can be a good way to create and bring back some of it's mystery. In the end Venice is a city, that desperatly needs a bit of mystery back to be enjoyed (and understood) fully.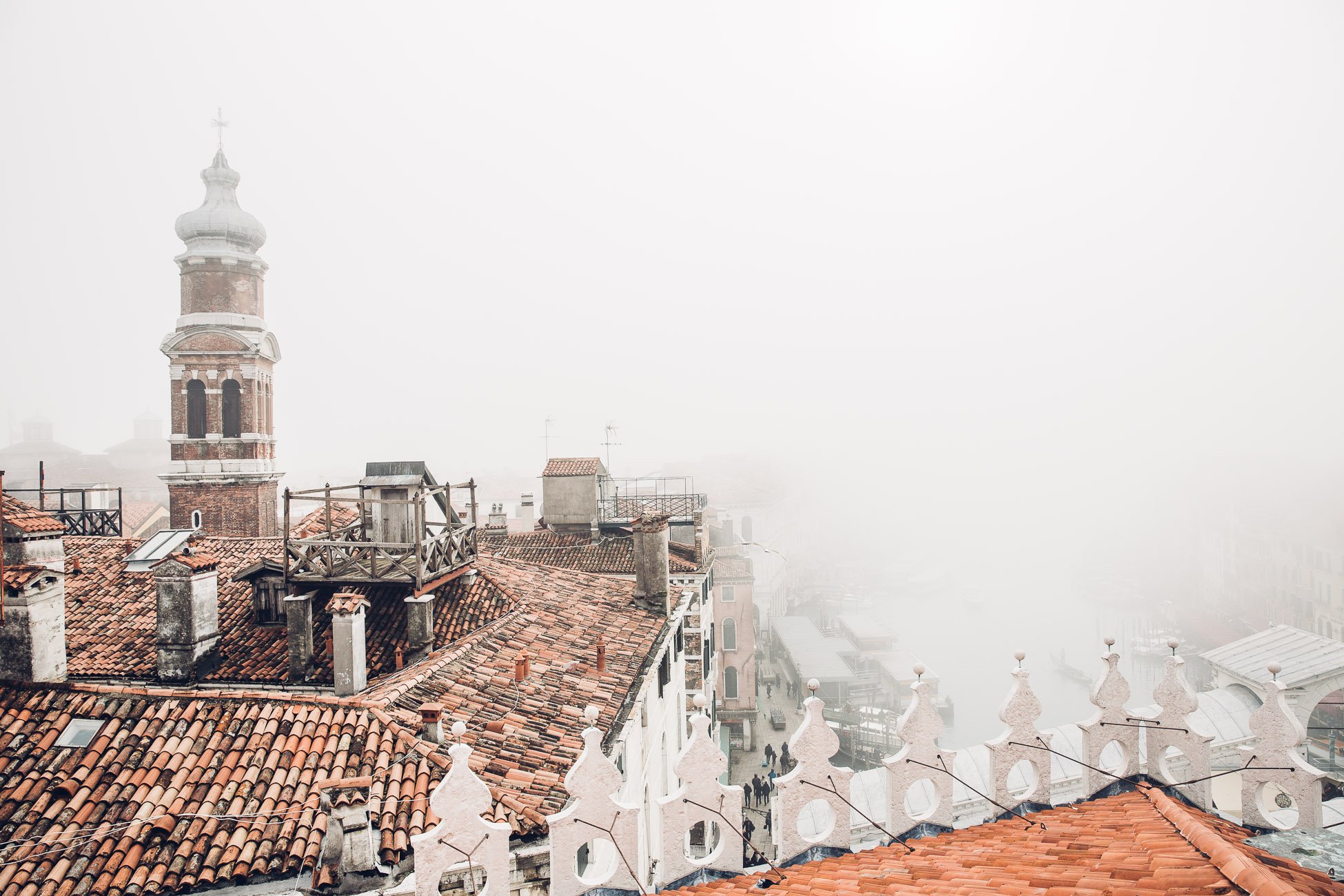 Venice needs some of it's mysteries back, the intriguing quality of the city in the lagoon.
If you look back at the history of Venice you'll discover countless mysterious stories of families quickly and quietly becoming rich by trading with foreign countries or securing safe passage for ships filled with gold and other treasuries. It's a history filled with glorious stories of a place becoming more important (and therefore) richer than any other city ever before, where one palazzo lined up next to another palace for the elite.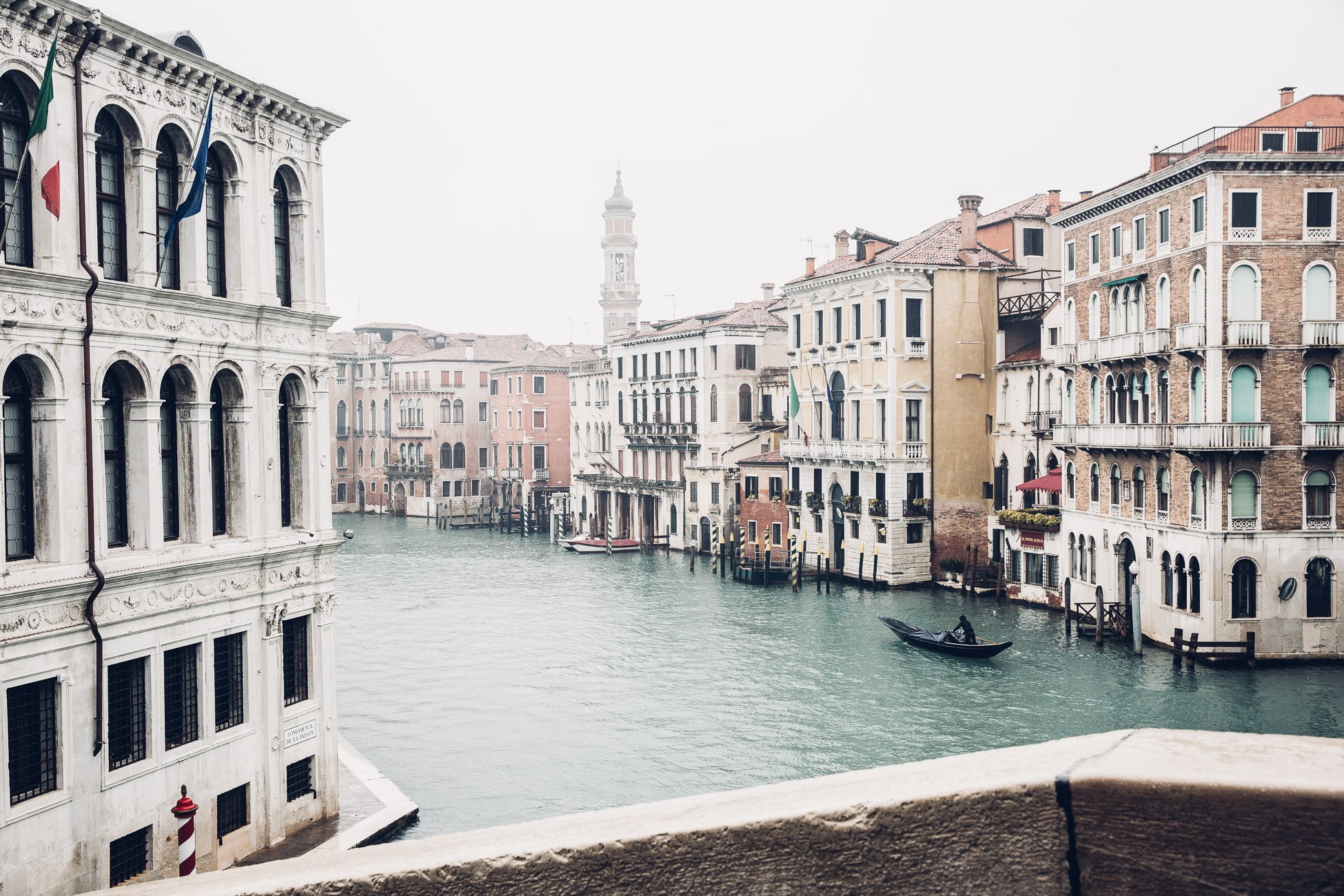 The palazzos recount the glorious past of Venice, yet crumble from today's pressure on the city.
The masks are a perfect symbol for Venice
When there's no secrets left, how can you escape the open? By wearing masks to conceal your identity. There's no definitive answer as to why Venetians started to wear masks (this tradition probably dates back further than the 13th century). But it might help us understand what kind of place Venice must've been back in the days (before the Austrian empire forbade wearing masks in the 18th century). Was Venice a city of promiscuous partying? Well, maybe – but only partially. But it seems that it mostly also was a city, that needed to hide in some ways.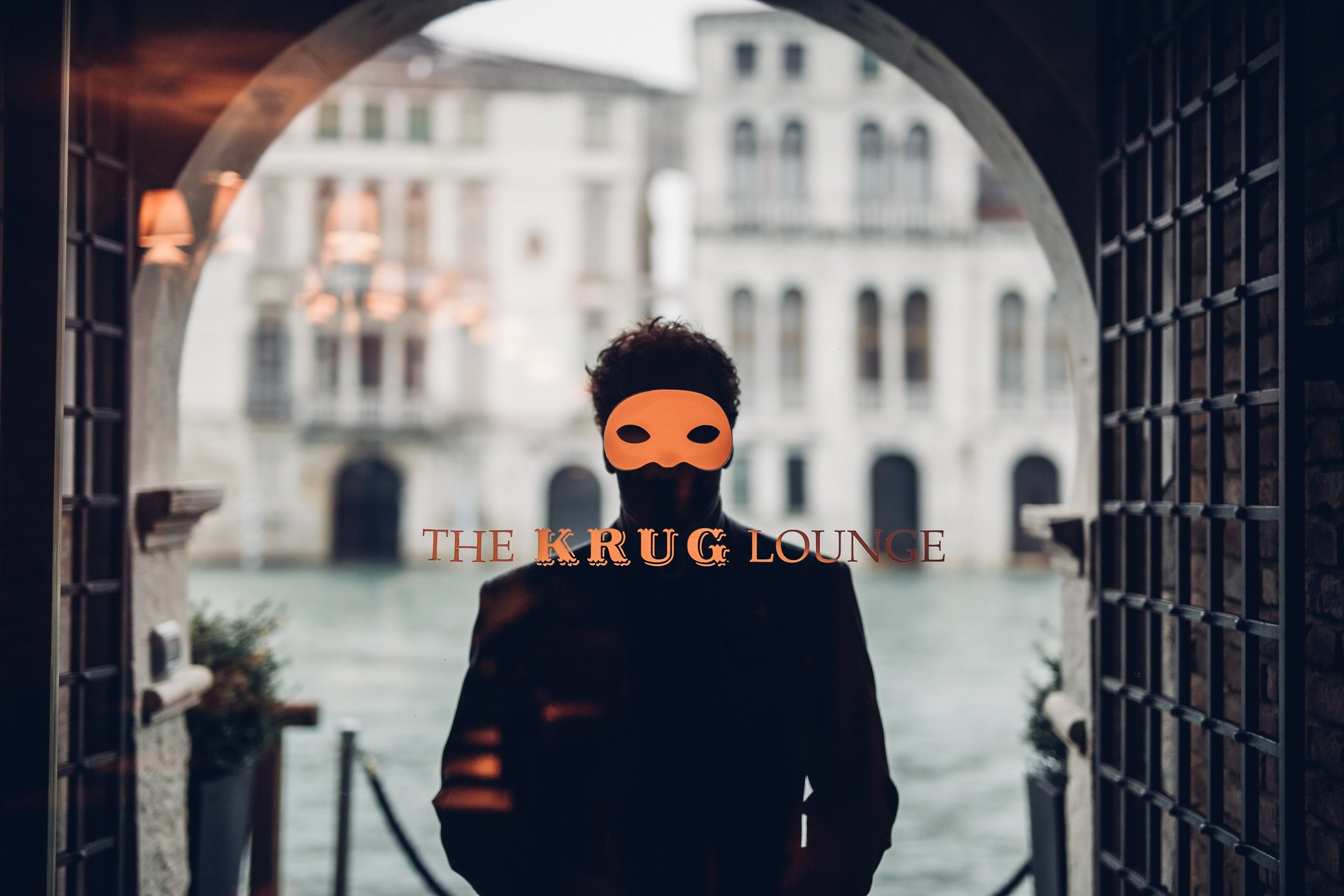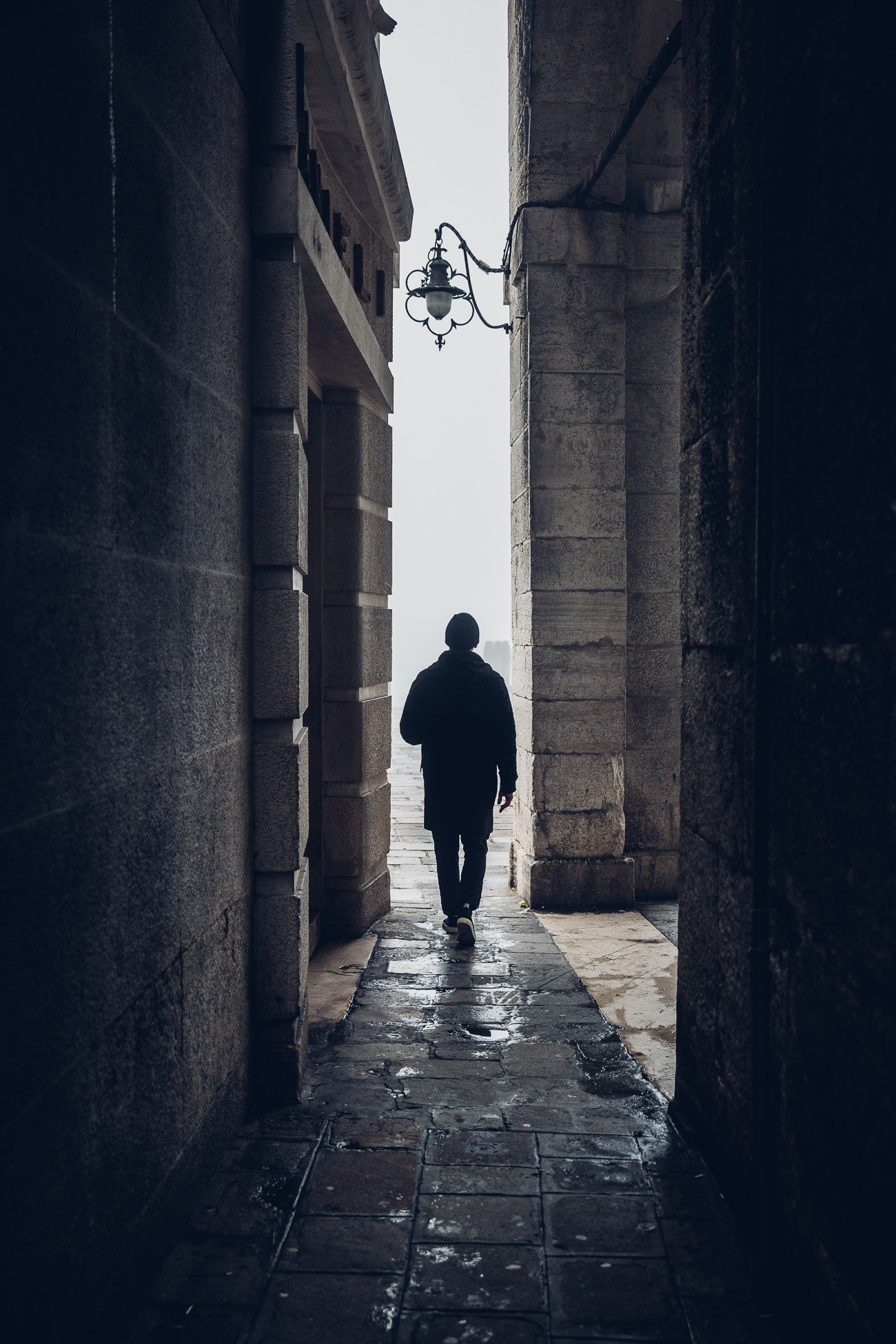 Hidden in the small alleys, behind masks or shadows – a secret Venice.
The class system was strong in Venice, but the masks helped overcome the class divide in some ways. Nowadays Venice still feels like it has a class system. The wealthy Venetians can still afford to live in Venice – although real estate prices have skyrocketed beyond any reasoning. Venice's number of inhabitants is constantly sinking. The ones who are staying in the city feel like they owe Venice to not give up. Not give it to the tourists alone, but keep it alive.
The remaining inhabitants of Venice fight for their city. They stay and live here – against all odds.
Hide what needs to be covered
I dare to say: Venice needs the fog. It needs some cover, some element to hide away some of it's beauty. Don't get me wrong: Venice doesn't look any bit worse in the fog. You just can see less of it 😉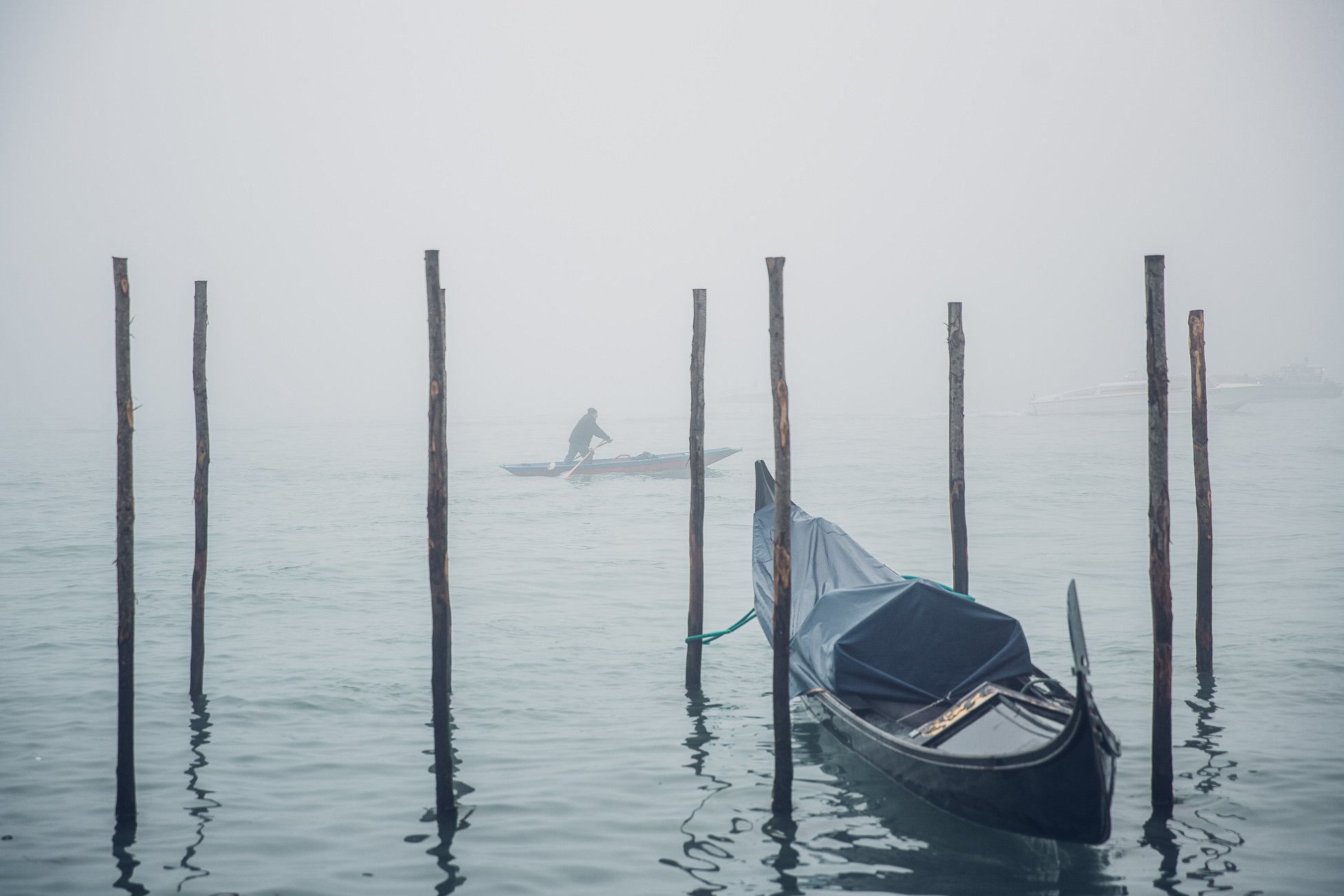 In the cover of the fog Venice gains back some of it's independence.
Visiting Venice is a sword with two edges anyhow. You know you're feeding the monster so to speak. You're one of those tourists in a statistic that's shocking. When over 15 millions of tourists are faced by only 50.000 inhabitants that seems like an unfair battle. On the other hand it's hard to resist a city, that seems to be in constant danger. Not only to fade away by Venetians leaving it behind, but also because of the elements constantly fighting it! While Venice needs fog, it could definitely spare some of it's water.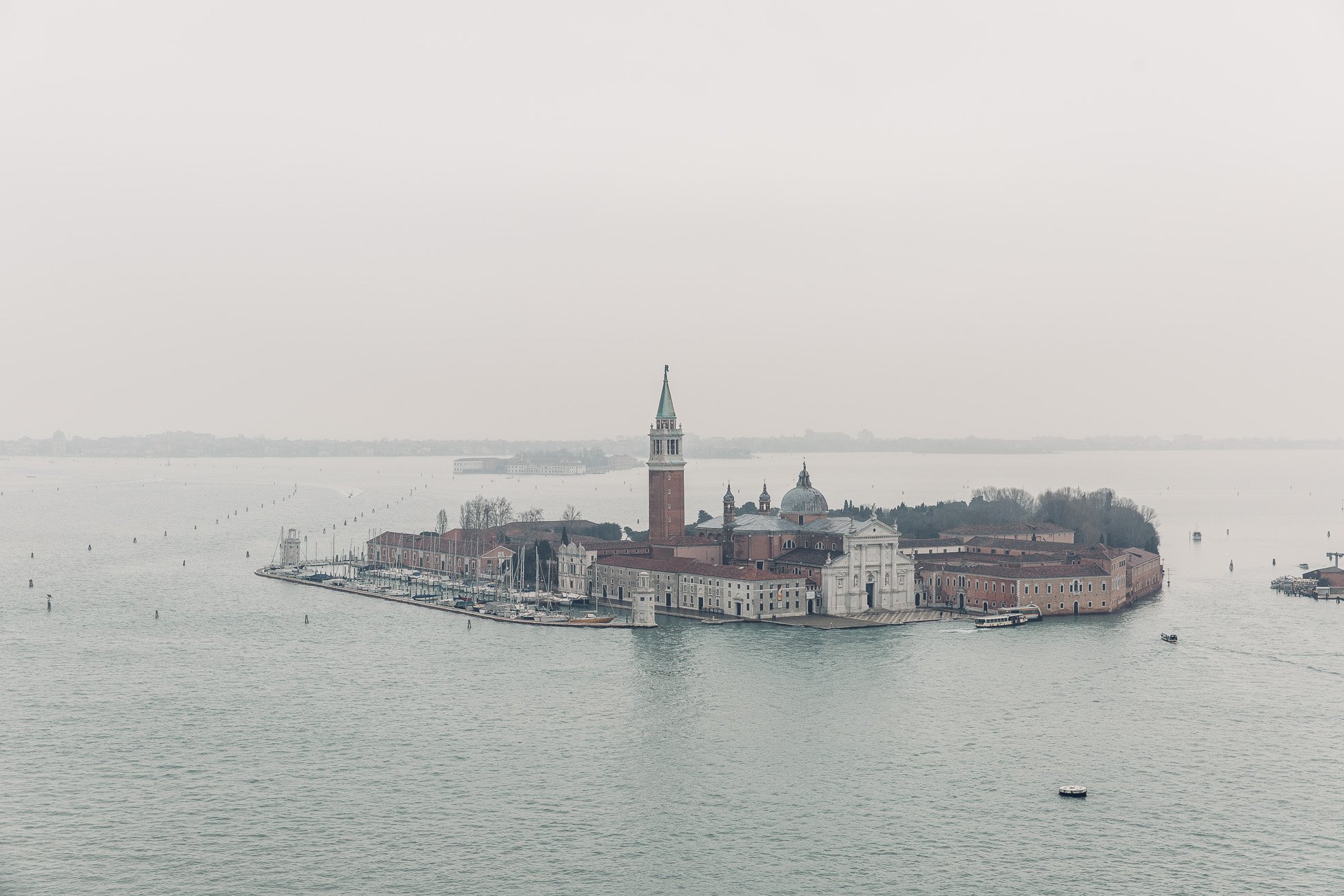 Water – the livelihood and fatal enemy for Venice.
How to visit Venice consciously
If you overlook all the facts that speak against visiting Venice, there are many good reasons to visit! But if you plan a visit bare in mind to do it in a way that supports the city in it's struggle. Don't use the Vaporetto in the "rush" hour, when locals try to get to work. Eat out in restaurants, that are run by locals. Stay more than just a day, so that some of your money also stays in the city.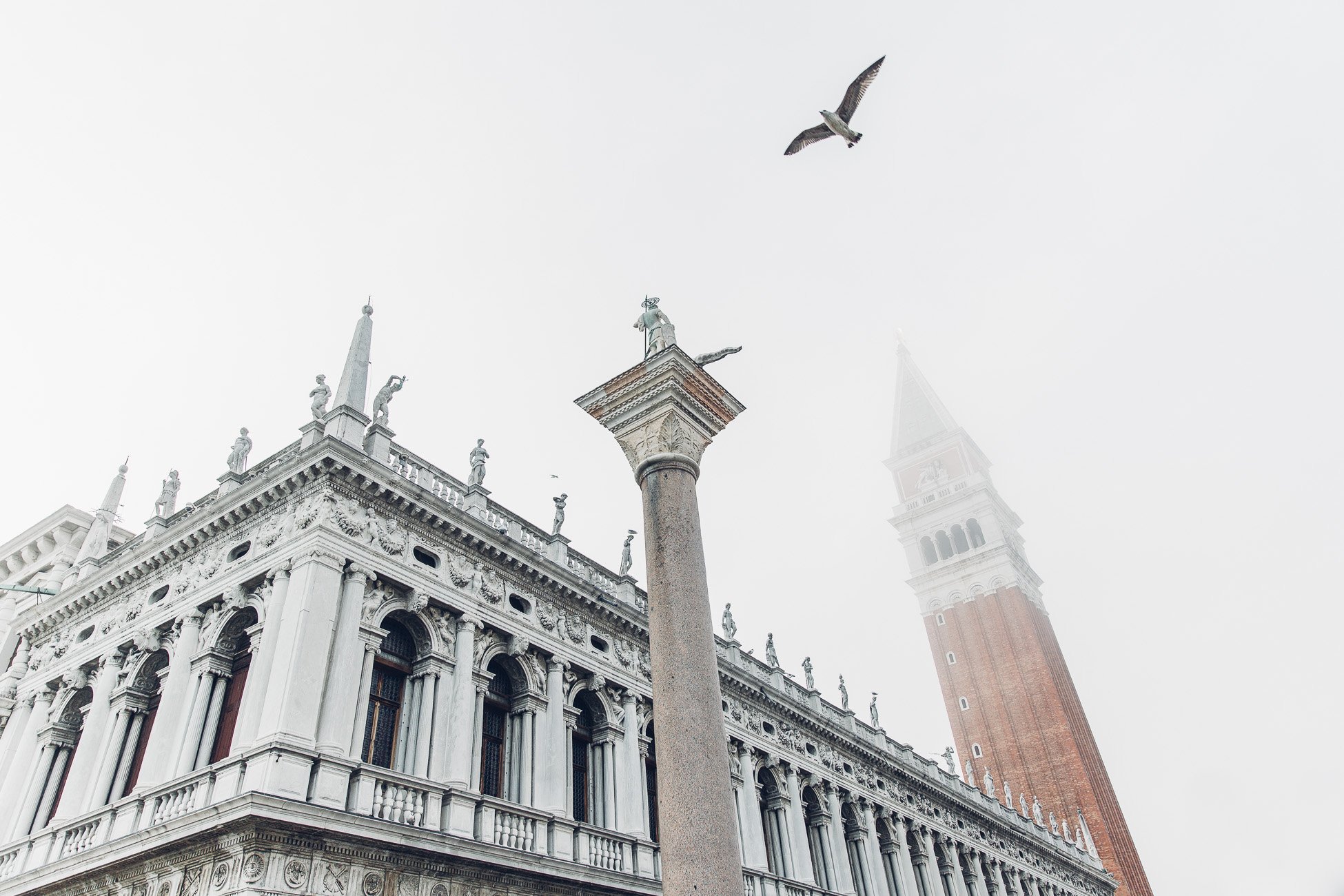 If you visit Venice, make sure you support the city – spend some of your money, stay over night – give back.
The biggest risk for Venice are tourists, who only come for one day or if they stay longer rent a private apartment (those affect rental prices for locals directly!) and try to safe money by bringing their own food 🙂 This may sound harsh, but it's the reality for Venice.
You should plan to spend a little more of your Euros in Venice. This way you don't just feed off of the beauty of the city, but also give back a little to help it sustain.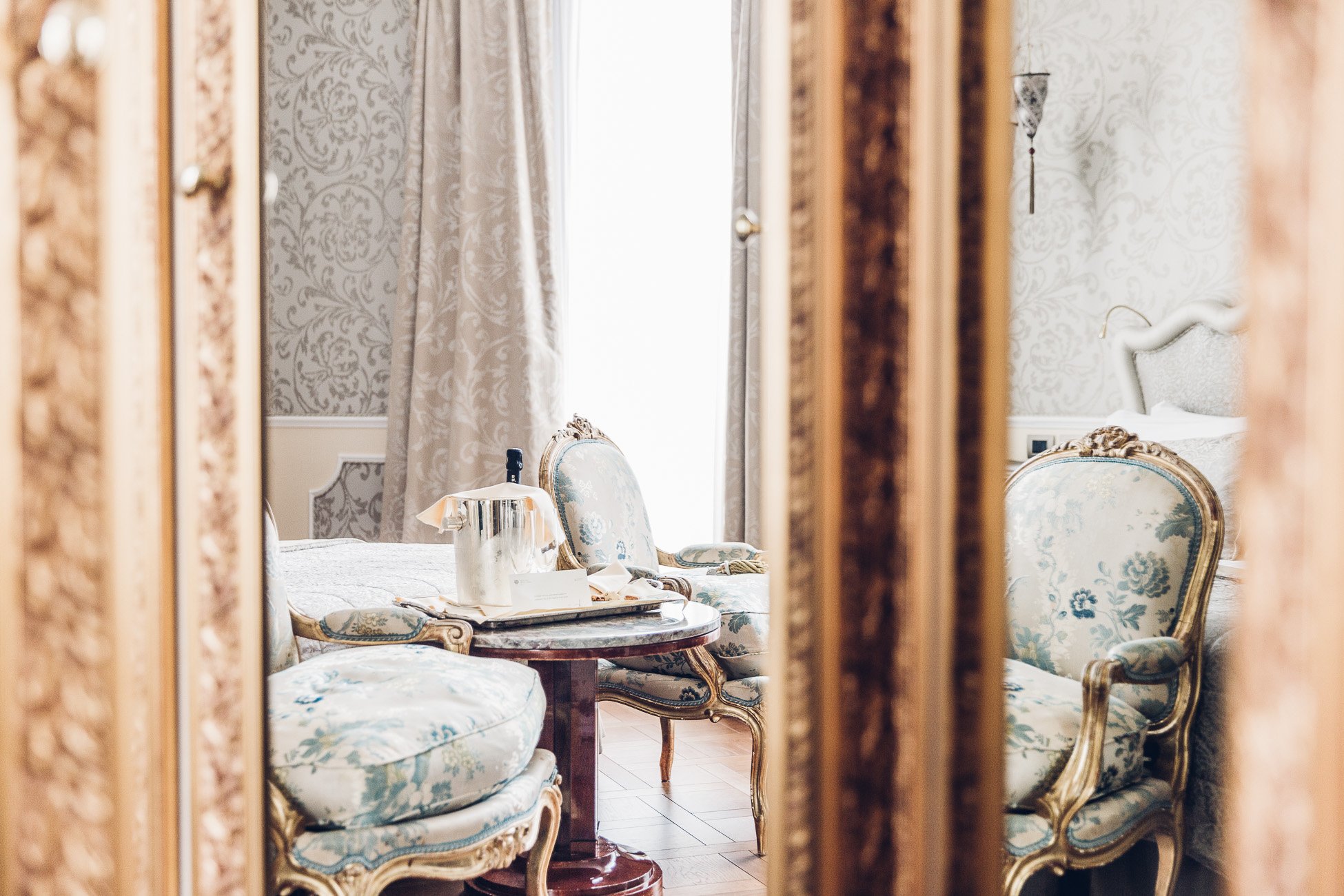 Support Venice by staying overnight and spend some of your money on hotels, restaurants, art… you name it!
Where to eat in Venice
A winter visit in Venice probably is the best way to assist the city. Visiting in the low season is always a great way to avoid the "boat to sink" quite literally speaking. And on the plus side, when it's cold outside  you'll spend more time indoors (hence spending more money on entrance fees and restaurant bills). Speaking of restaurants: Venice has an abundance of restaurants, but a high risk for you to spend your money at the wrong place. There probably is no other Italian city with so many bad restaurants 😉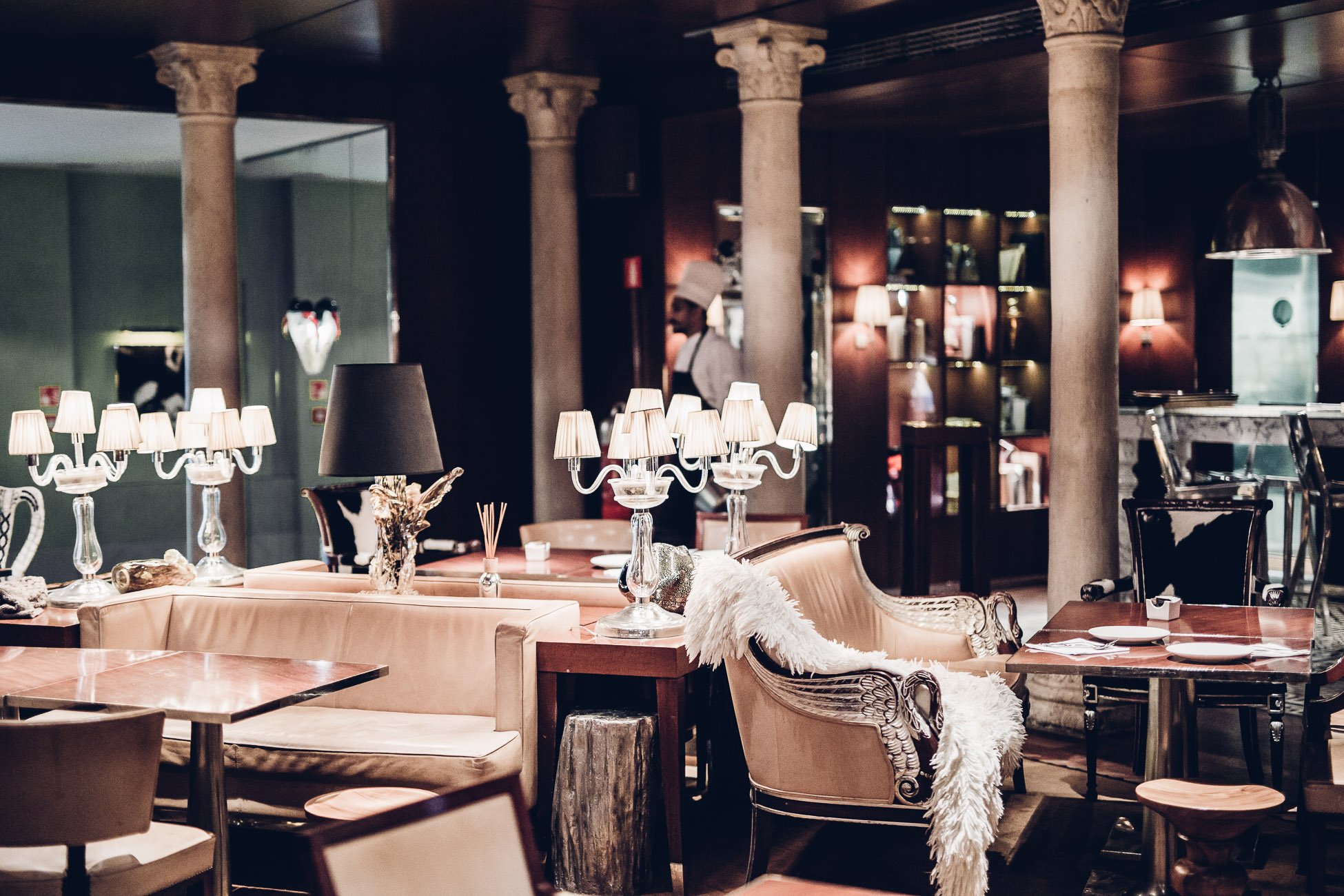 The bar & restaurant at "Palazzina Venice by Starck" is a great place to have a drink and eat a bite.
We had our worst dinner at "Taverna La Fenice". We should've probably escaped the moment they offered the bread basket: It was accompanied by olive oil with mustard in it. If this doesn't ring an alarm bell, than the risotto that was served in a huge loaf of white bread covered in aluminium foil should definitely! And we paid over 150 Euros for this hot mess.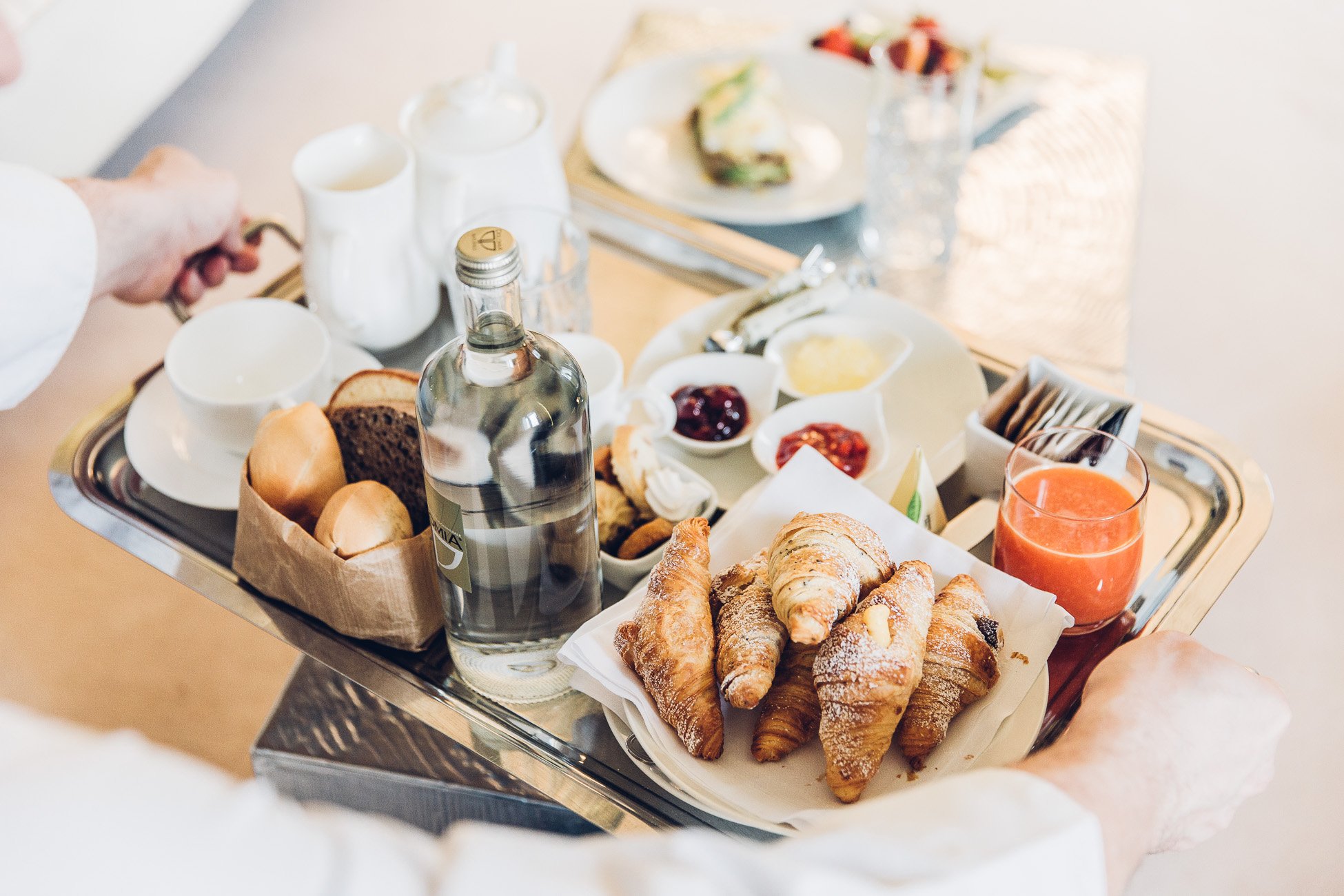 Breakfast at "Palazzina Venice by Starck" was a true delight, definitely better than some of our dinner failures.
The only way to escape bad restaurant experiences is by asking locals. No blogposts of foreign visitors can give you the right answer – especially as restaurant owners and chefs are changing all the time. We spent our favourite dinner at the "Osteria Nono Risorto"! We ate incredible Pizza and Pasta, it all was absolutely delicious and authentic (no mustard in the olive oil) and cost a fraction from our horrible dinner the night before.
A recommendation of a friend who lives in Venice, the Osteria Nono Risorto was our favourite dinner spot!
Our second favourite dinner was spent at "Luna Sentada". This is a more upscale place that features rather unusual dishes. The "Puntarelle pie with Taleggio cheese" was quite outstanding!
A little more upscale, but still cozy – this restaurant has a very creative chef!
One thing that is a necessity when visiting Venice is to do "Cicchetti". You might already know the Italian tradition of having drinks and little snacks before dinner as "Aperitivo" – it's basically the same thing in the Venetian version. To get the real deal you have to visit one of the "Bàcari". Our favourites being "Bacaro Risorto" (Campo S. Provolo, 4700, 30122 Venezia) and "Bacaro da Fiore" (Calle de le Boteghe, 3461, 30123 Venezia). Whenever there's a chance to order a red house wine, go for it – you won't regret it!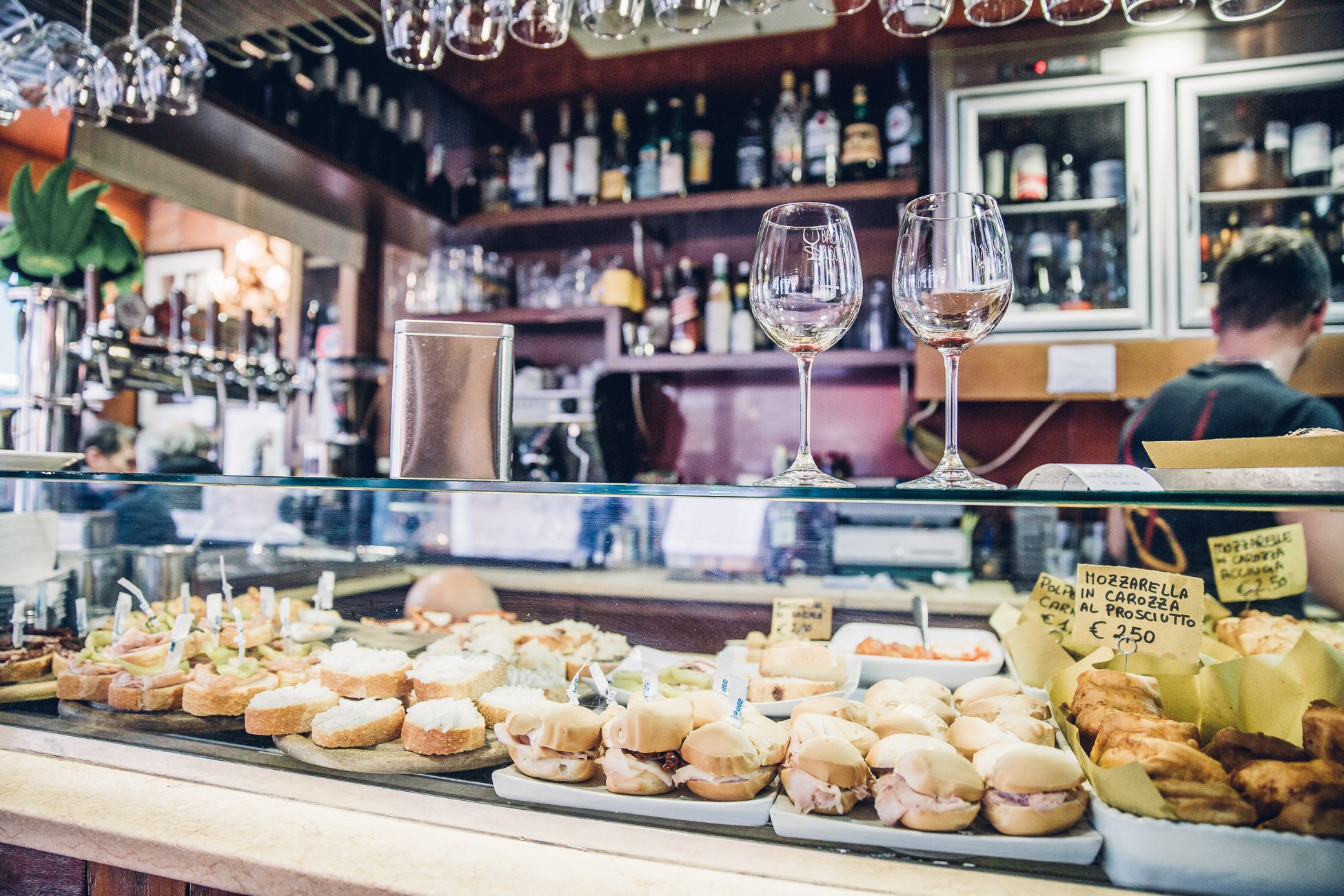 Disclaimer: There's not many vegetarian dishes at Cicchetti unfortunately. In Venice you'll get an abundance of seafood though if you're into this. We had to stick with little Tramezzini and Mini Pizze most of the time.
Winter highlights in Venice
If you have already eaten your way through Venice you might finally also want to see a bit of the city. We spent 4 nights in the city, but haven't discovered half of it – probably because we did spend a lot of time indoors in the bars and our comfortable hotels 😉 But nevertheless we did leave the hotels and bars at some point to discover a bit of the city. In Venice it's a requirement to just wander around and discover hidden canals and alleys (or end up in dead end streets at the water) :). But in winter it's also a good idea to plan for some spots where you can get inside for a bit.
4 best photography spots in Venice
1. Bridge of Sighs early in the morning
This bridge draws in every Venice winter – hence it becomes quite crowded early on. Make this your first stop in the morning!
2. Scala Contarini del Bovolo for a view of the city
Climbing up this tower isn't on everybody's list, but it's a great place for a quick stop and a lookout. The adjacent museum is small and not too noteworthy, but the tower alone is worth the entrance fee.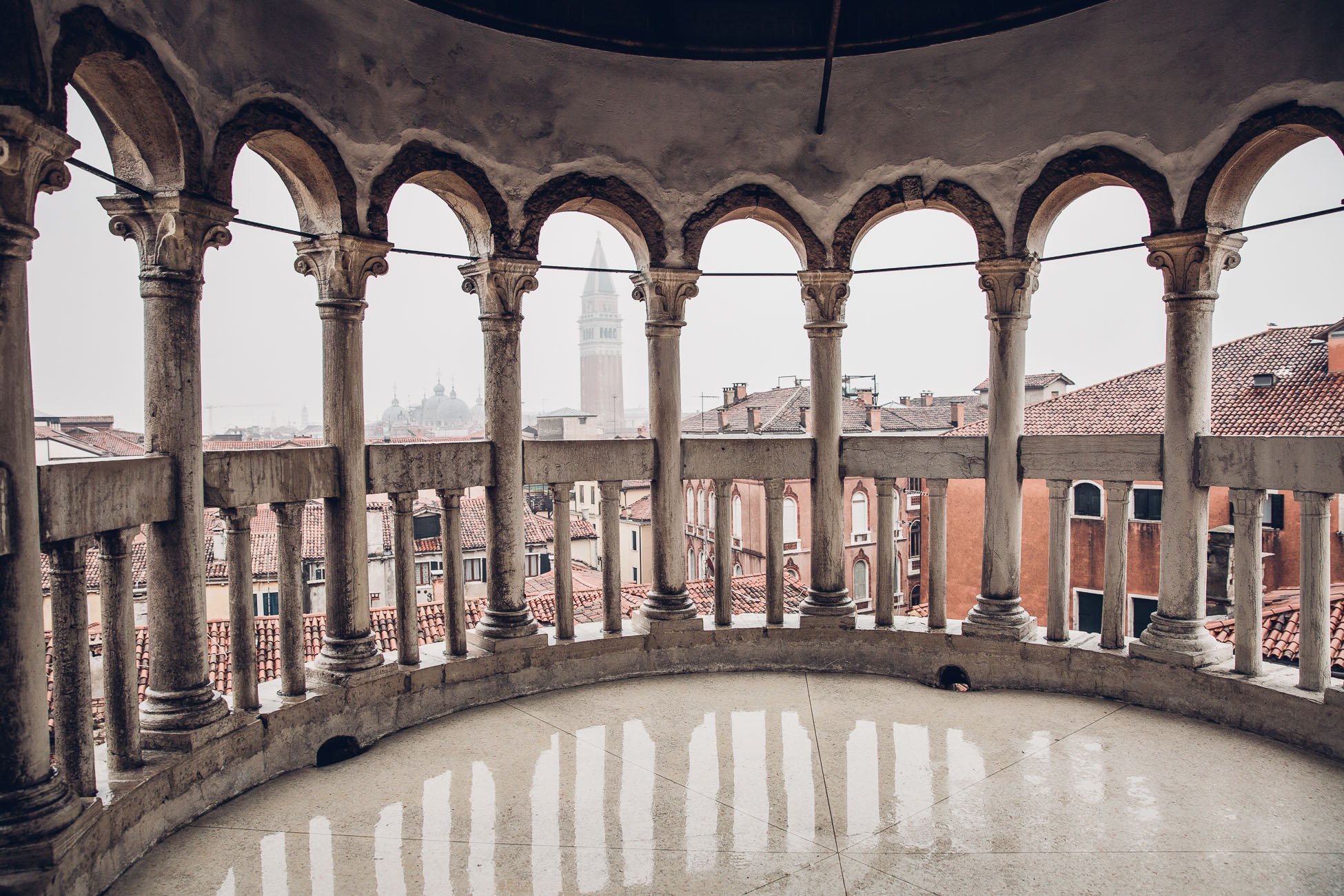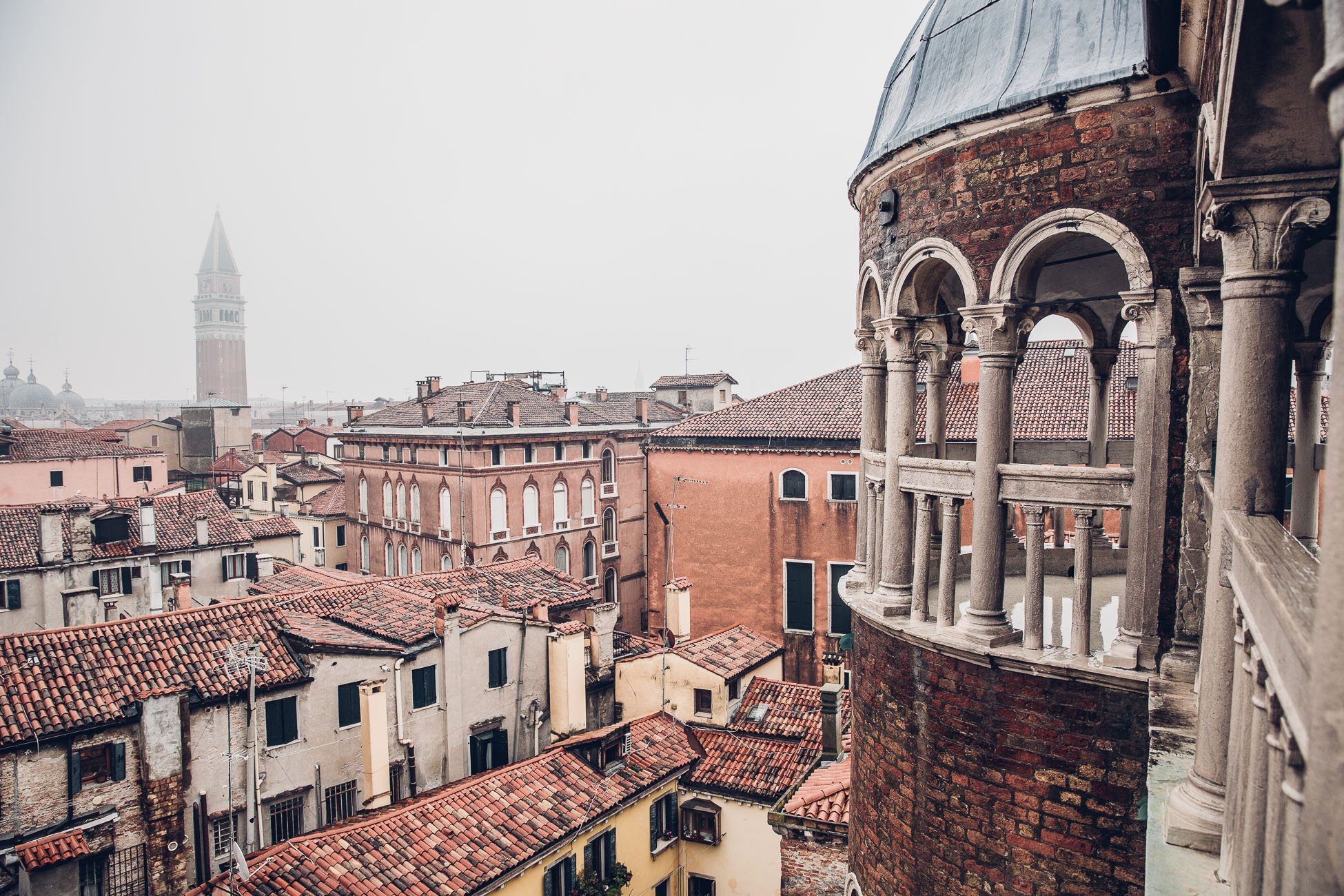 3. Rooftop of the "Fondaco Dei Tedeschi" shopping mall
Another lookout spot is hidden in a huge shopping mall right next to the Rialto bridge. Attention: You should reserve a ticket (which is free of charge) before you go there. We got the ticket online for a specific time slot and still stood in line for a bit. Although winter is the lower season, this is quite a famous spot!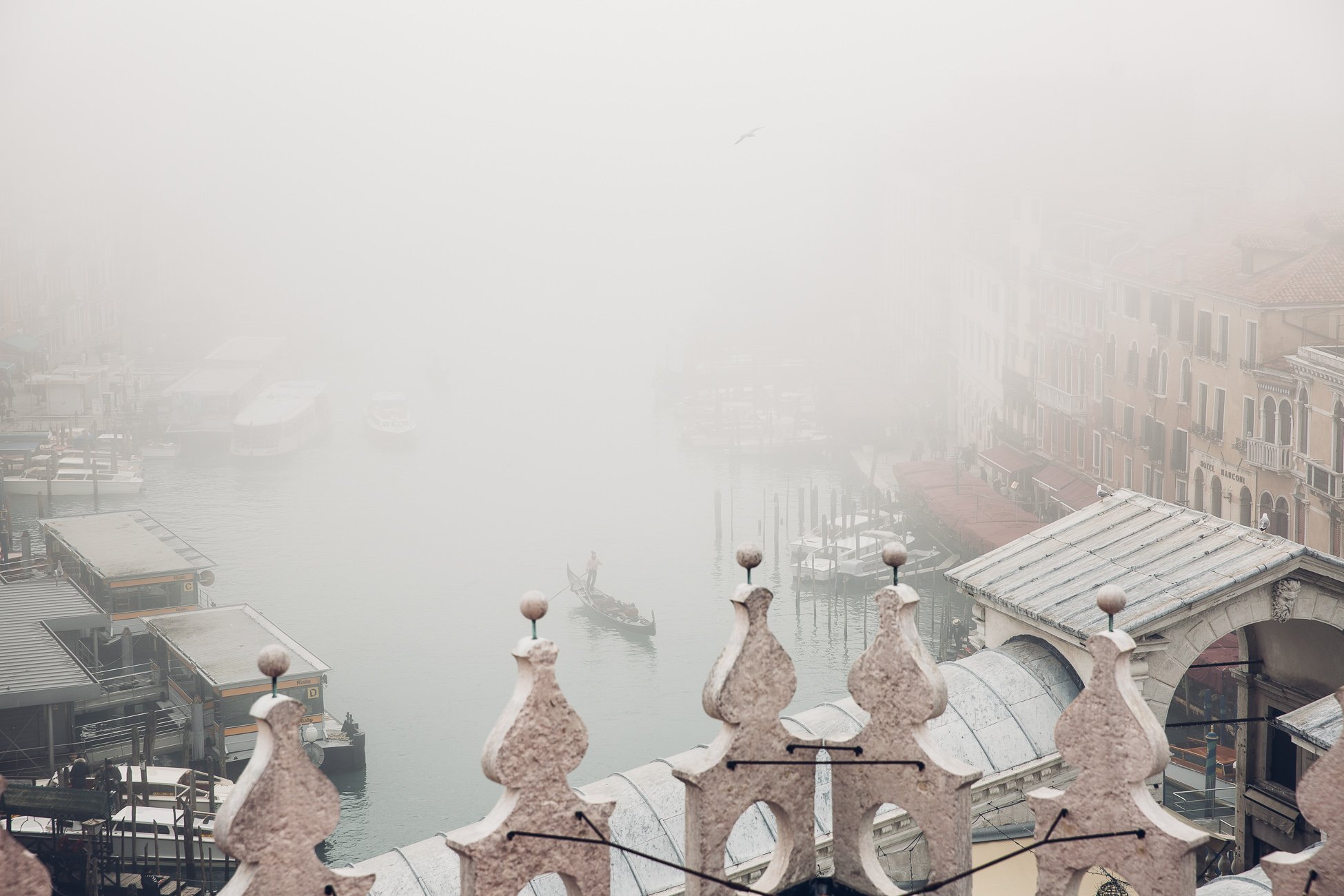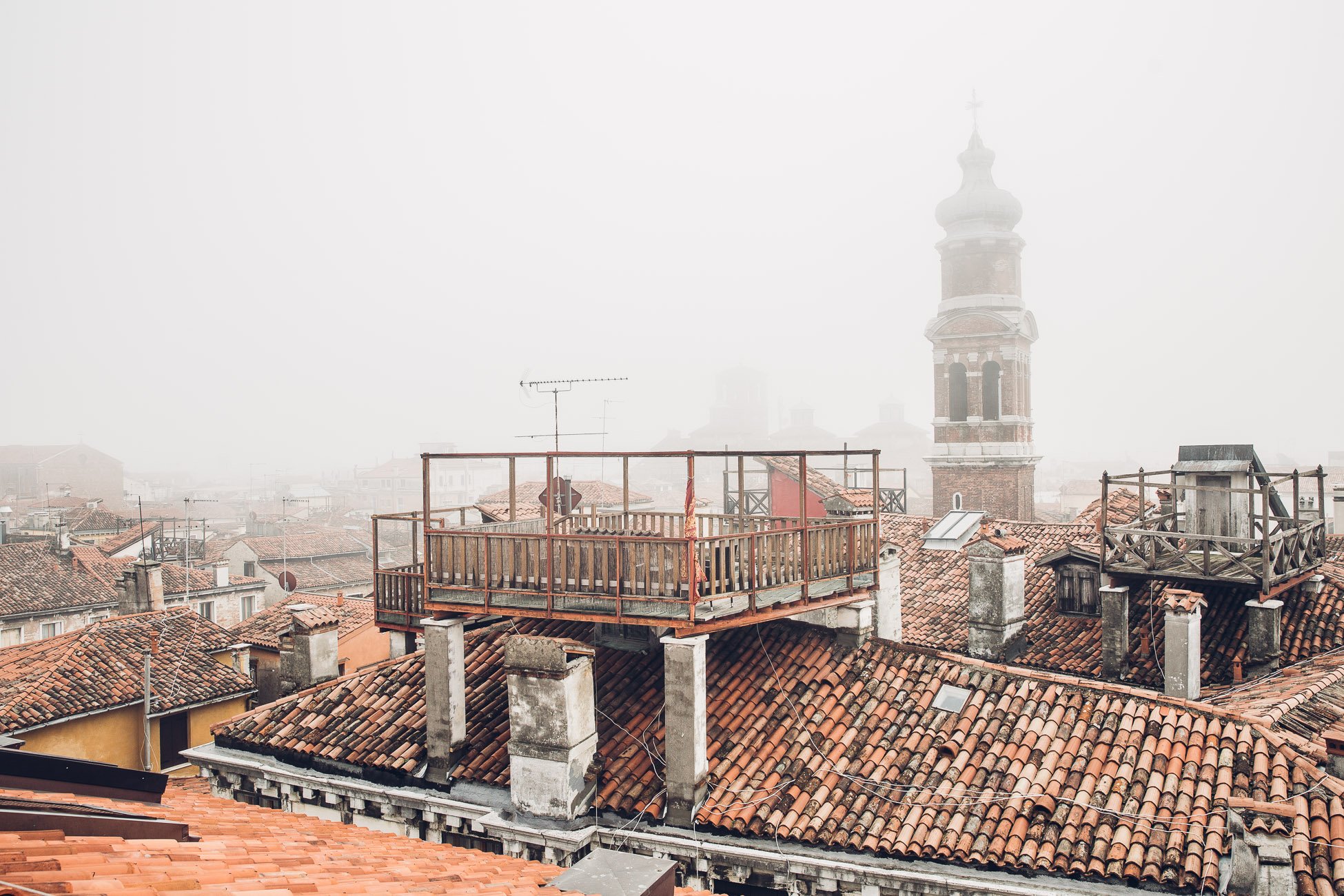 4. Campanile di San Marco
Last but not least – the very top of the Campanile makes for a great overview over the city of Venice.
These were our 4 favourite spots to shoot Venice in winter. If you ever visit Venice, make sure to leave something behind for the locals, that goes beyond your carbon footprint and your trash. The Venetians will thank you!
Save this post for later
Searching for a hotel in Venice?
Read our review of this Italian-owned 5* hotel right next to the Piazza San Marco: