(Last update: November 2022). In summer the North of Norway is radiating in the colours of the midnight sun and the Lofoten become a magnet for over 1 million (!) tourists. And then there's winter: Often associated with endless nights and ice cold winds, frozen lakes and vast emptiness. This time of the year is when the Lofoten are a true wonderland – a calm and quiet collection of islands, that only wait to be explored.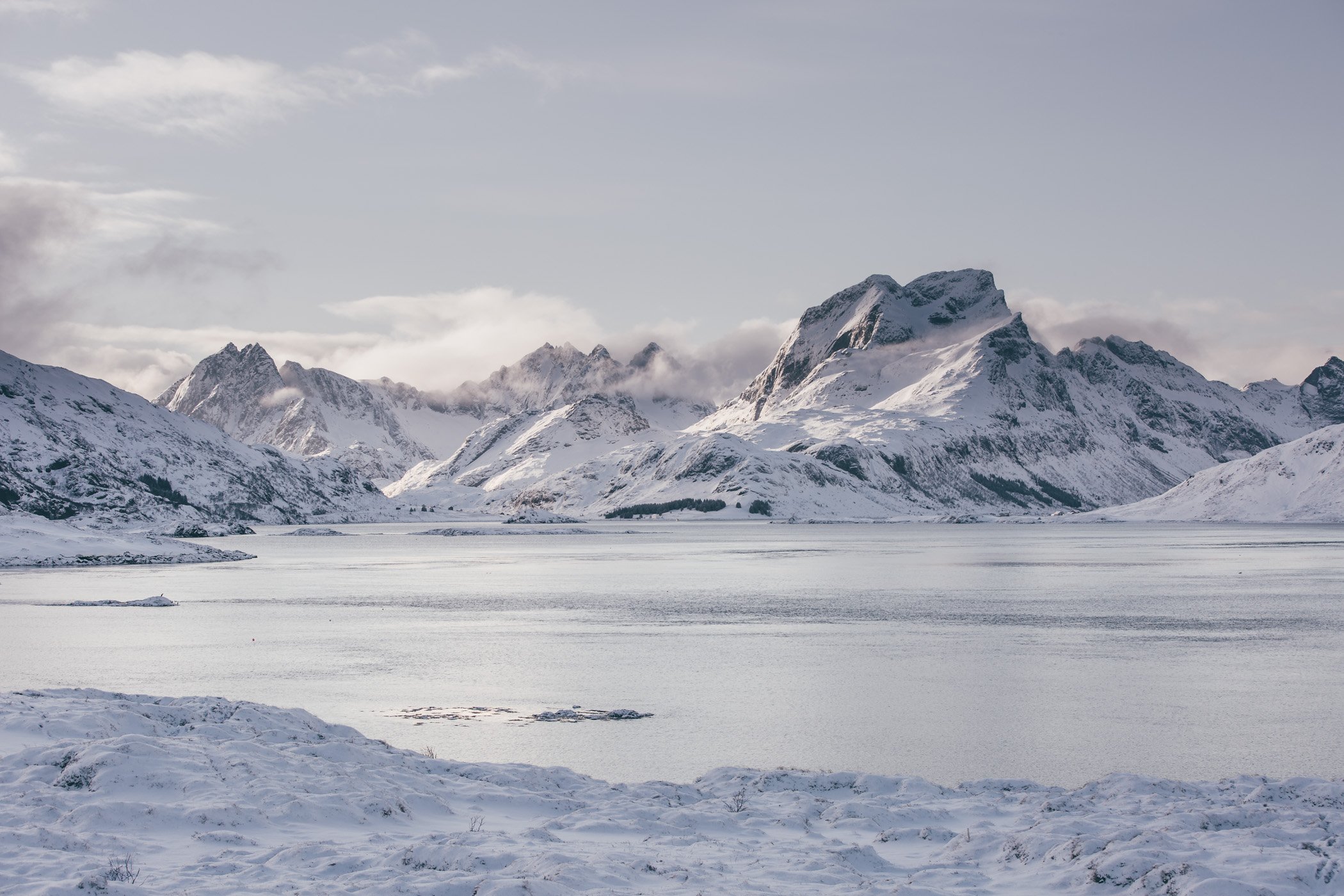 In winter the approximately 24.000 inhabitants of Lofoten are pretty much left alone.
Table of contents
Pre-Amble: A last minute booking
We booked our February Lofoten trip only a week in advance – it was a spur-of-the-moment decision and a Valentine's present to ourselves.  Booking last minute isn't really an option in the summer months when most cabins and hotels are fully booked months in advance. But in winter things look differently. Yet, a Lofoten trip needs a bit of expertise in planning – and therefore we relied on the services of a travel agency this time around (more about that the end of this post*).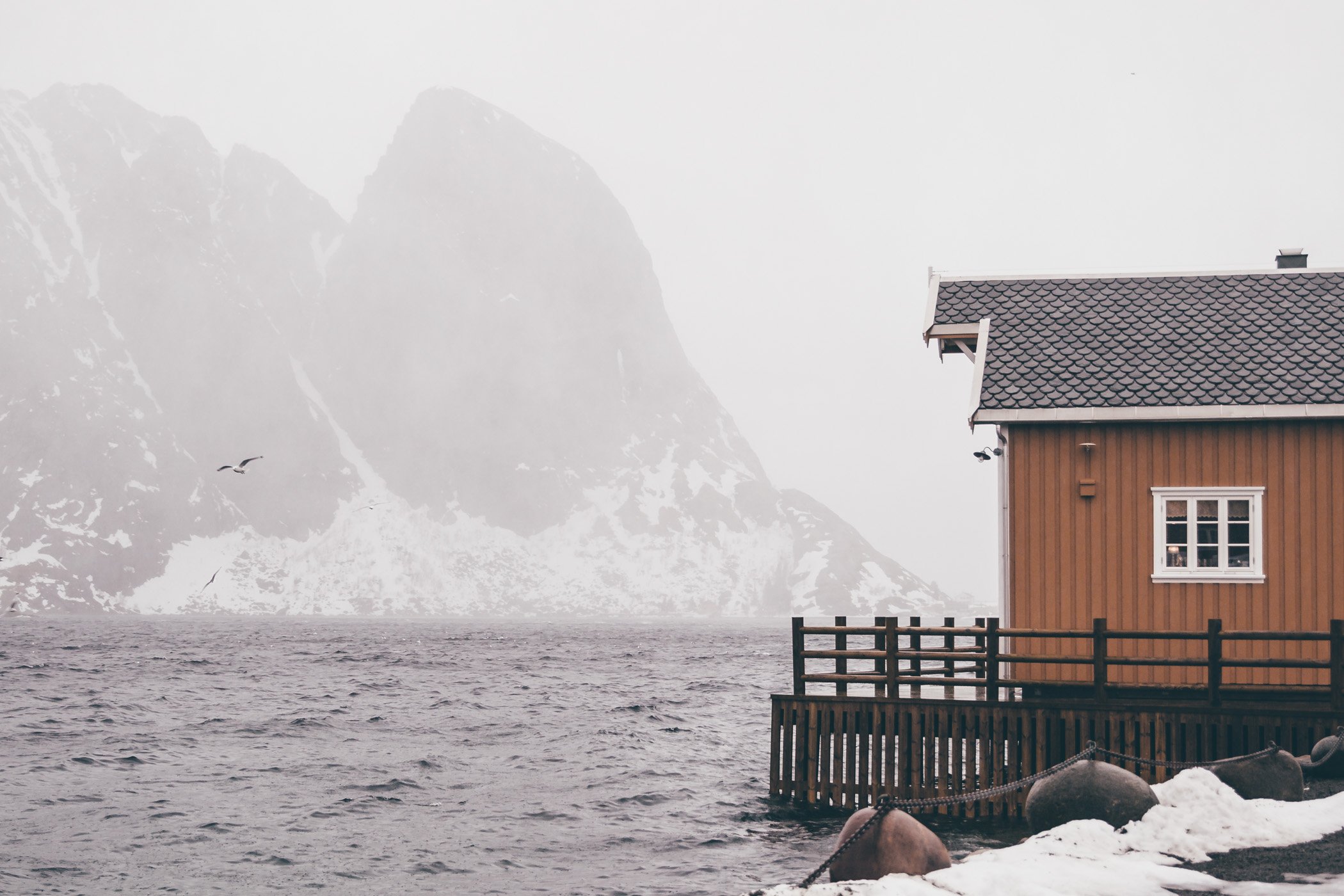 We booked our trip to Lofoten super last minute – that's not a problem in the low season in winter.
1. When to go, where to fly & where to stay in Lofoten
The best time to visit the Lofoten in winter is when days get longer again. So we recommend late February or March. This way you'll get enough sunlight throughout the day! In December the sunlight won't even move above the horizon in some places.
When it comes to logistics we were a little overwhelmed by the decisions that had to be made within a week. Where to fly? Go by ferry or car? And even more complicated: Where to stay? While the Lofoten might look small on a map, they are in fact quite spread out and the roads are snugged in between mountains and fjords, which means travel distances can be quite long.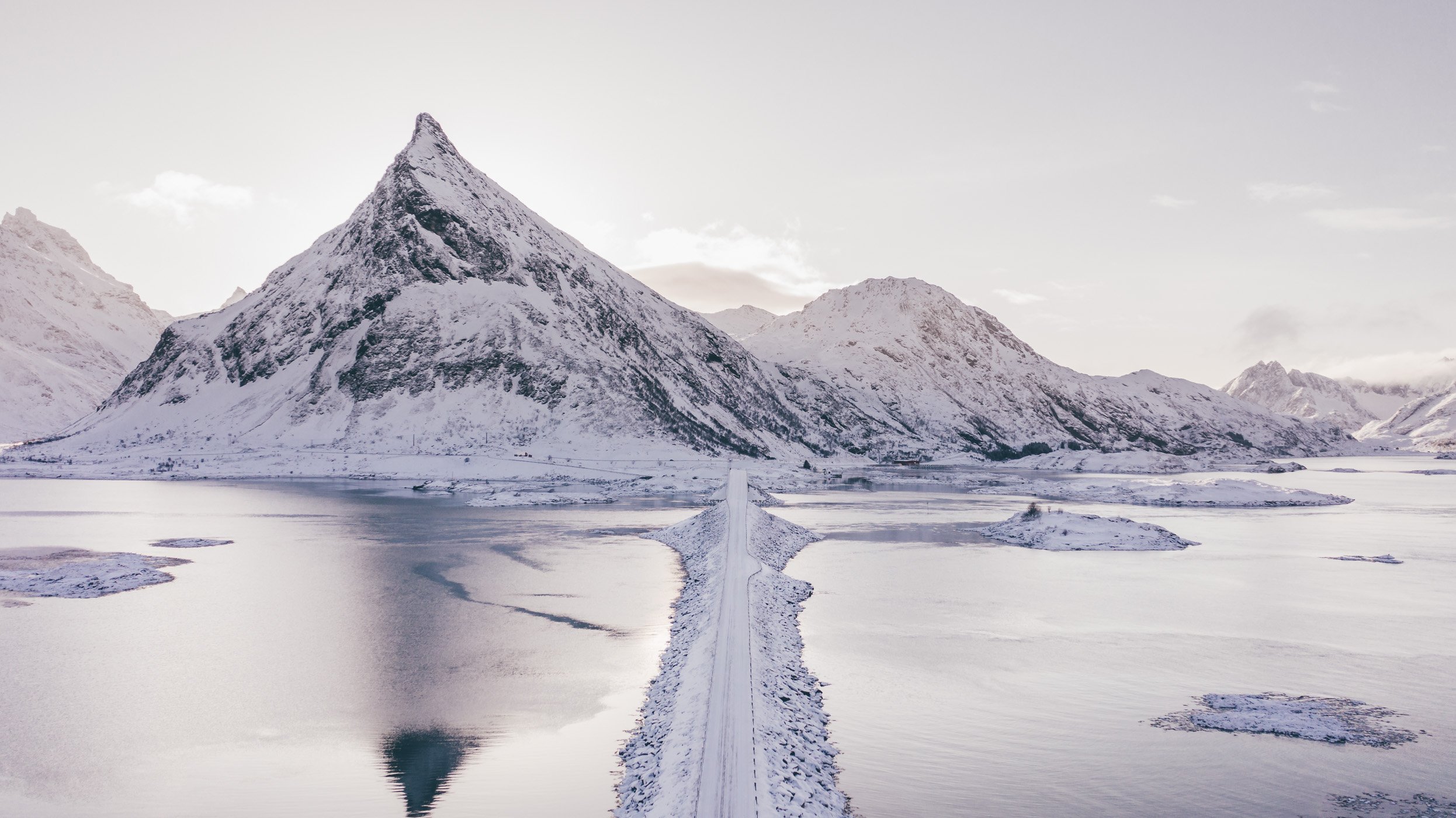 The roads stretch across fjords and mountain ridges.
Travel times can be long, so it's crucial to stay at the right place.
How to get to the Lofoten in winter?
In summer most visitors recommend flying to Bodø and then taking the ferry to Moskenes. But winter time also means a thinned out ferry schedule and less reliable weather. Therefore the best option in winter is to fly to Harstad-Narvik, the airport in the very North of the Lofoten.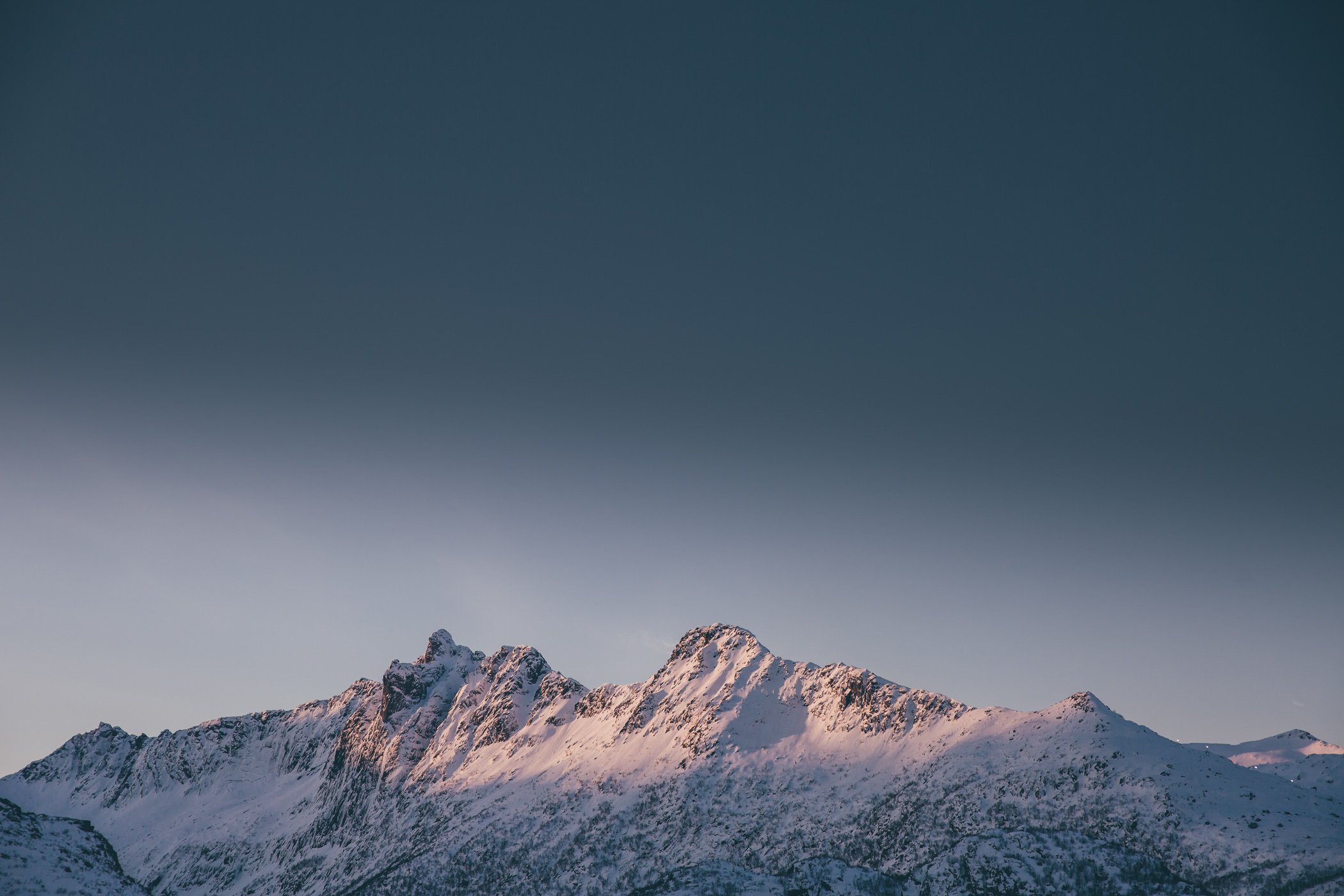 Days are short in winter, therefore you want to use your daylight and have shorter transit times.
Our flight from Vienna went to Oslo first and then we took a connecting flight to Harstad-Narvik (both with Norwegian Airlines). After those 2 short flights we arrived at 7pm in the evening and drove all the way down to Reine the same evening – actually until late in the middle of the night. Huge mistake! We don't recommend driving at night in winter.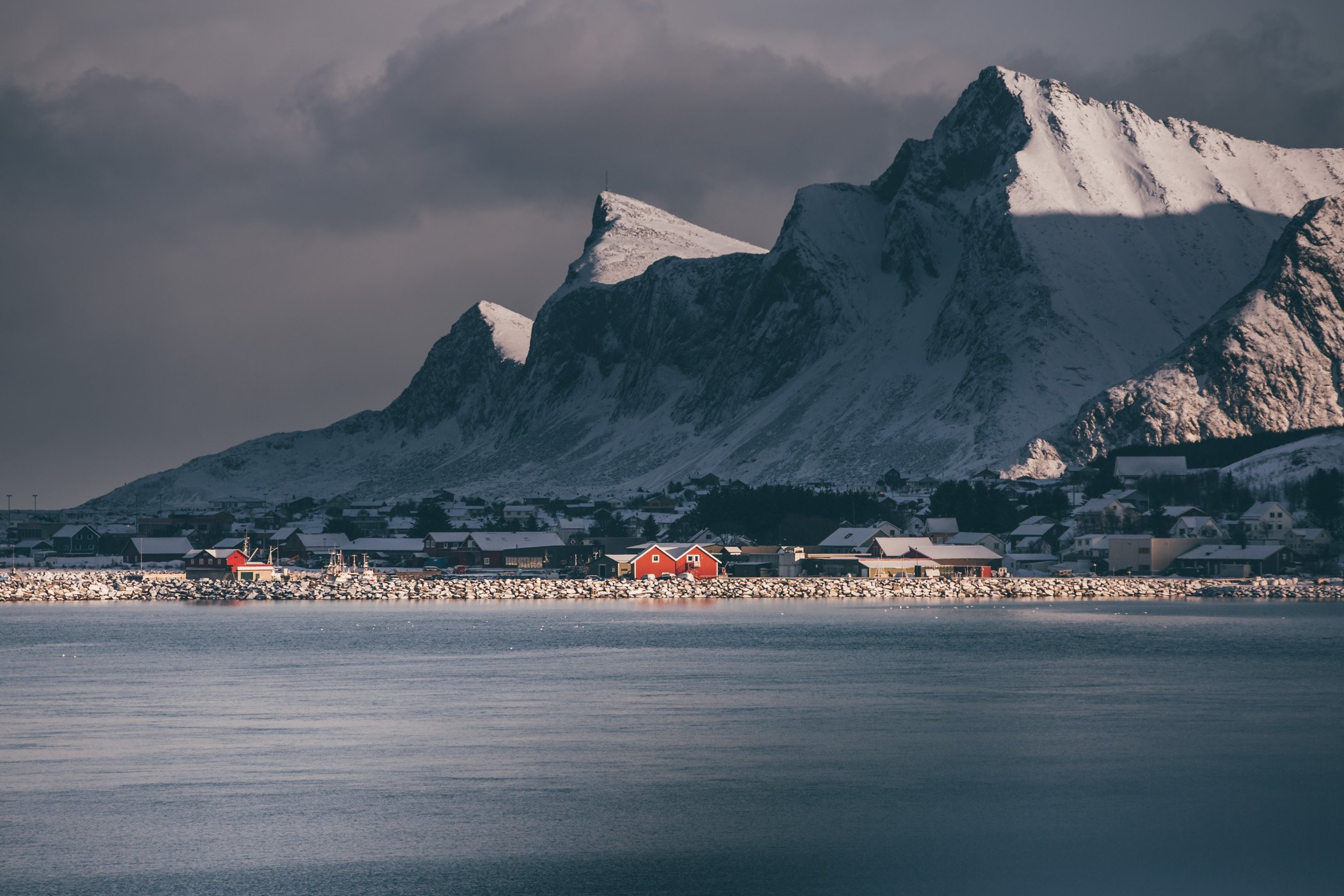 Driving in the night means missing out on roadside attractions like these….
Not only did we end up with really bad weather and the 4,5h drive was more a 6h drive that night. No, we also missed out on one of the most beautiful and scenic drives ever (which we only noticed on our way back – which happened during the day). So, if you arrive later in the afternoon or evening we recommend to stay one night closer to the airport and drive during the daylight the next day – you'll be rewarded with some awesome views.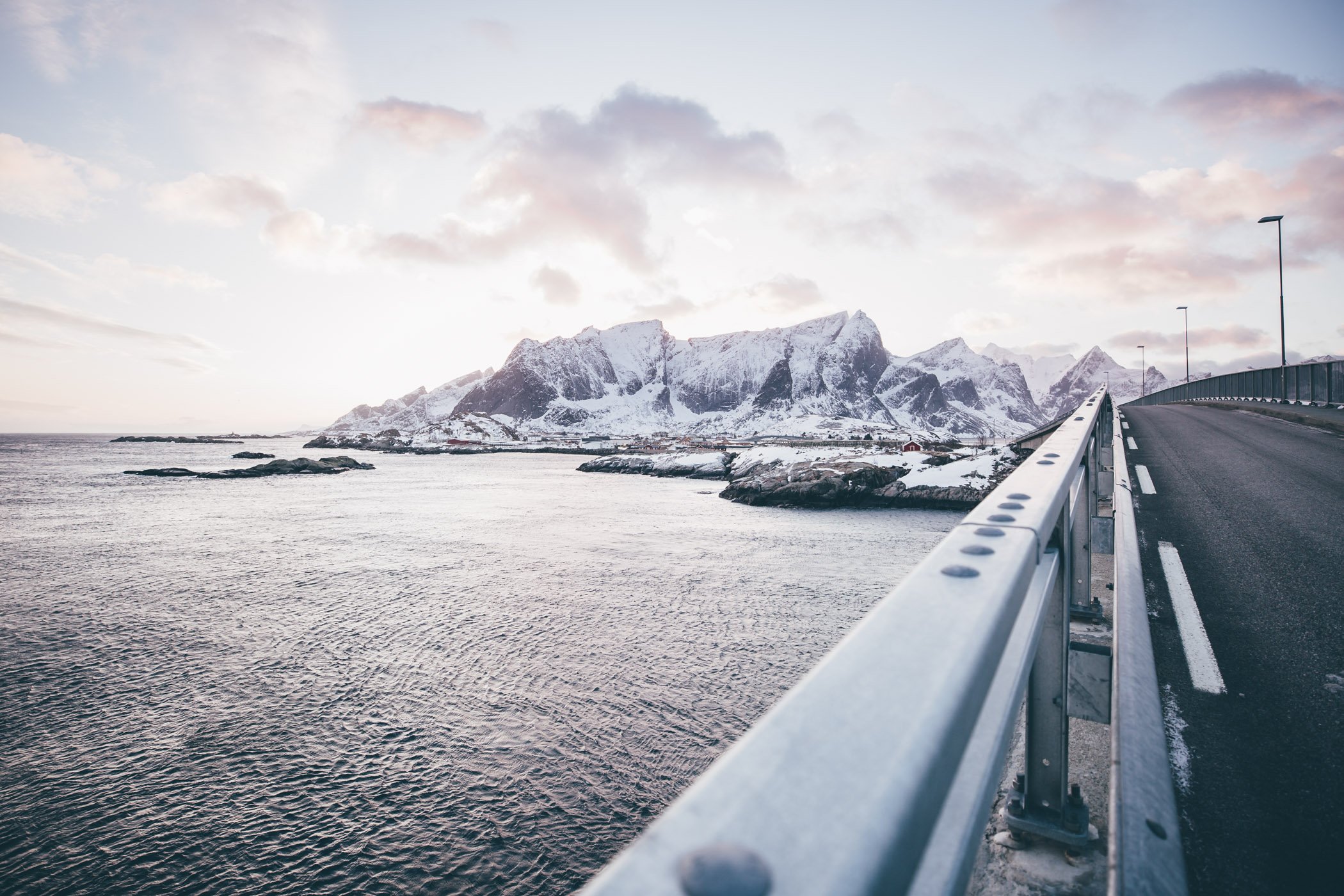 The roadside views are one of a kind in the Lofoten!
Best place to stay in the Lofoten in winter
If you start researching for places to stay in the Lofoten you might get stressed out due to the multitude of options 🙂 In the end it depends a little on what you want to do. If you want to watch Northern lights choose a location that faces North (so you can check the weather from inside the cabin and not have to wait outside in the freezing cold). Gimsøya is famous for it's Northern lights for example (Lofoten Links might be a good option to stay).
View this post on Instagram
(We didn't get lucky due to overcast cloudy nights…)
If you want to visit the most famous places in the Lofoten stay further in the South in either Hamnøy, Sakrisøya, Reine or Nusfjord – those are the best places to get the world-famous Lofoten impressions.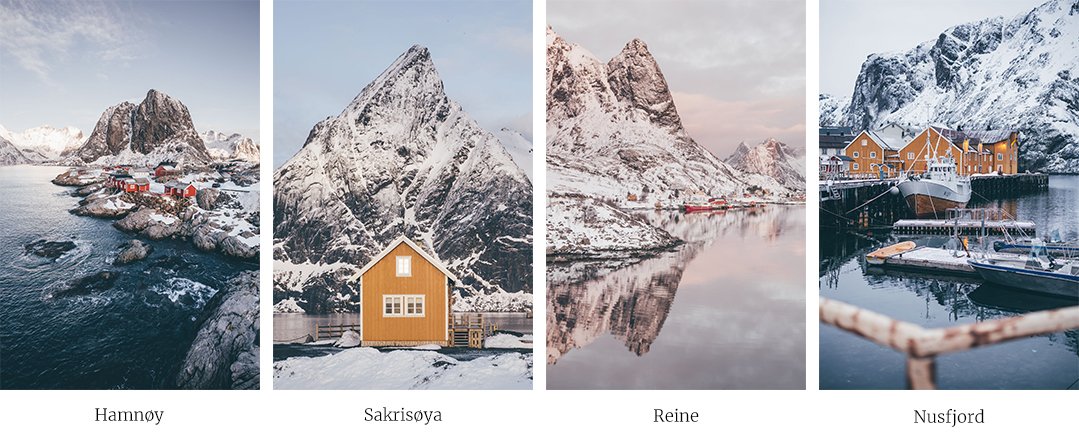 We decided to stay in the Southern part of the Lofoten in a small town called "Reine", which is probably one of the most scenic places in all of the Lofoten.
Reine is located in the very South of the Lofoten – the red cabins shown here are open for rent!
In Reine our B&B (Lofoten B&B Reine) was located just 2 minutes away from the incredibly famous Reine viewpoint on top of a bridge. Yet, we wouldn't recommend staying there (nicer options in that area would be Reinefjorden Sjøhus or Eliassen Rorbuer f.e.).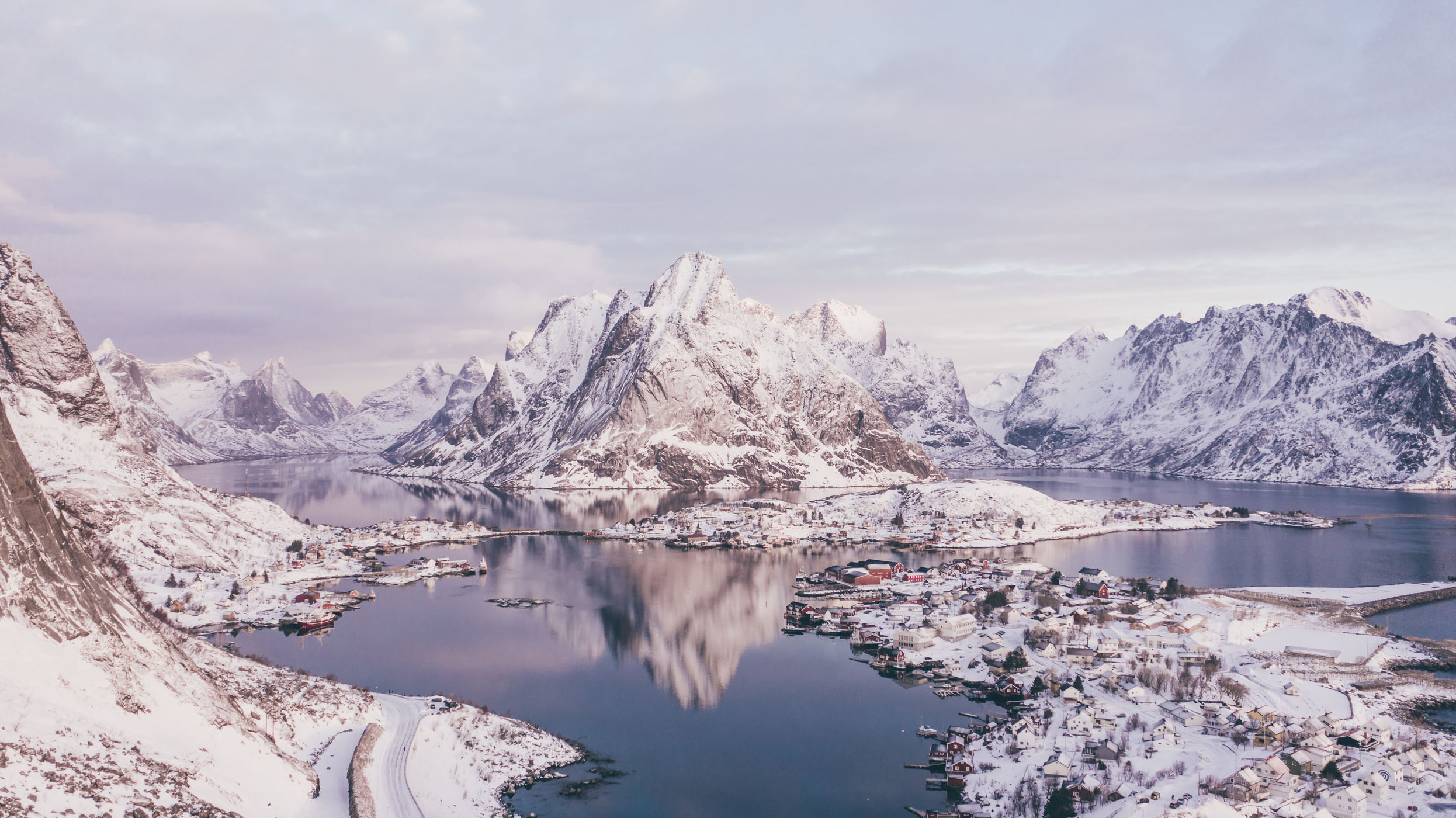 The scenic fishermen's village of Reine as seen from above.
Why we moved from Reine to Nusfjord
We initially wanted things to be as easy and convenient as possible – so we didn't want to change cabins. Therefore we booked the B&B with the intention to stay the full week in Reine. The idea of having a cozy room in a cabin for a whole week and not having to pack and unpack seemed tempting. But since we weren't the biggest fans of the B&B in Reine we changed our minds and took the chance to move a bit further to the North to Nusfjord after a couple of nights.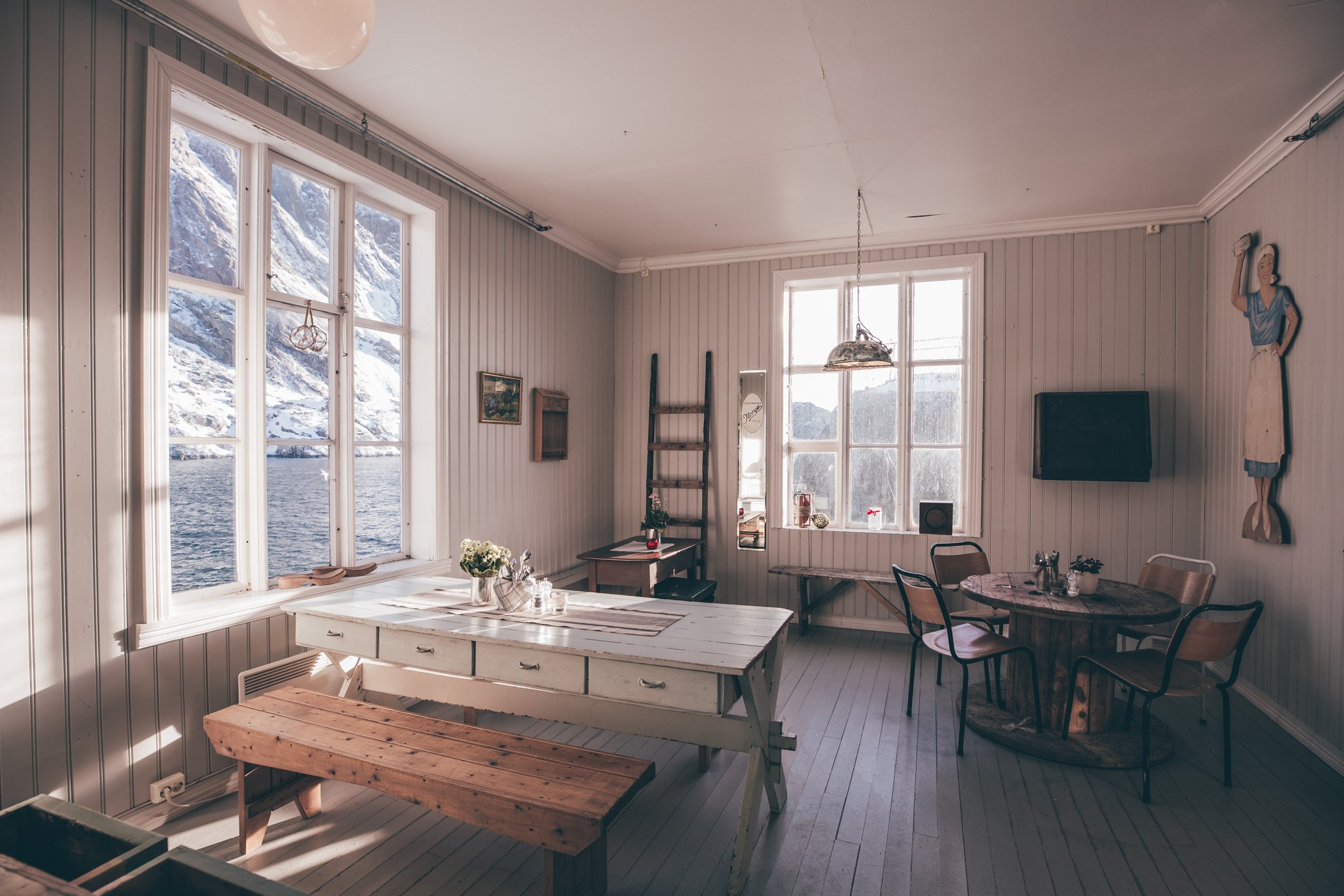 After a visit at the Landhandel café we fell in love with Nusfjord and decided to also stay in a cabin there.
So again, it's up to you. If you want to have a week of relaxation in a cozy cabin get one in a more central location, but be prepared to have to drive a while to get to other places. (Hattvika Lodge in Ballstad might be a good option – there's cabins with jacuzzis and it's only a 1 hour drive to get to Reine, but also just 1 hour to Henningsvær).
If you want to see as much as possible, we would recommend to move around a bit and change cabins once or twice.
These are some of the most famous spots in the Lofoten.
Even if it's only a 3 hour drive on the map – you will want to make multiple photo stops along the way…
2. Our tips for one week in the Lofoten
If you plan on visiting the Lofoten in winter make it at least one week or even 10 days. There's a lot to see and the weather might cross your plans once in a while. So, it's better to have enough time to experience everything and also relax in between.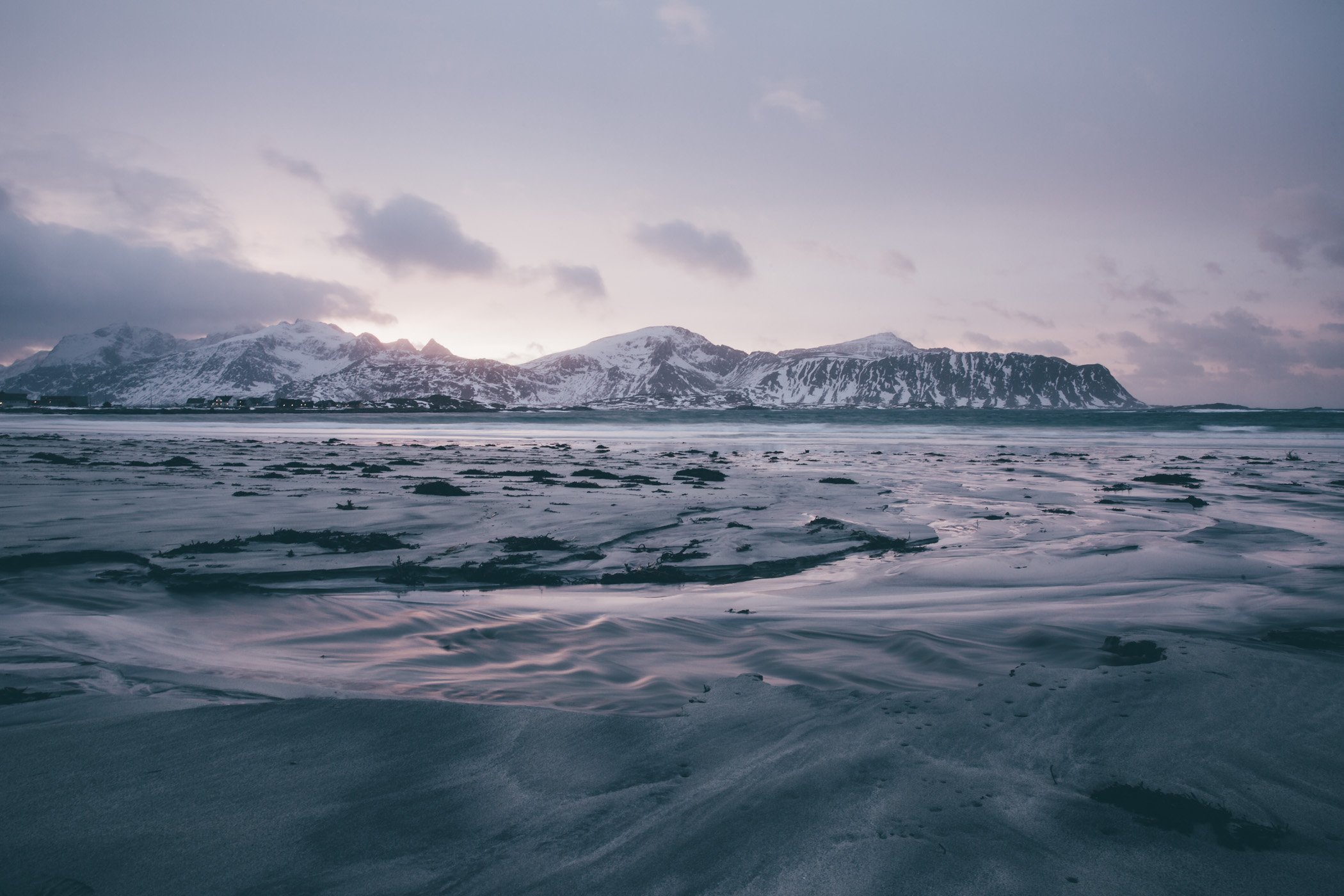 This sunset came as a surprise after a full day of storm and rain – so you'll need to be patient with the weather.
Our perfect one week Lofoten itinerary
Day 1: Arrive at Harstad-Narvik airport
Day 2: Scenic drive down to Reine or Hamnøy with photostops along the way
Day 3+4: Stay in Reine (or Hamnøy) and explorations of the area
Day 5+6: Stay in Nusfjord and relax in the Spa
Day 7: Scenic drive back to Harstad-Narvik
If you have more time you can also add a stay in Henningsvær, Svolvær or Ballstad – but should be aware that those are larger "towns" and not as scenic and original as Reine, Hamnøy or Nusfjord. In fact, the more South you go the more remote the islands and the more picturesque the villages become.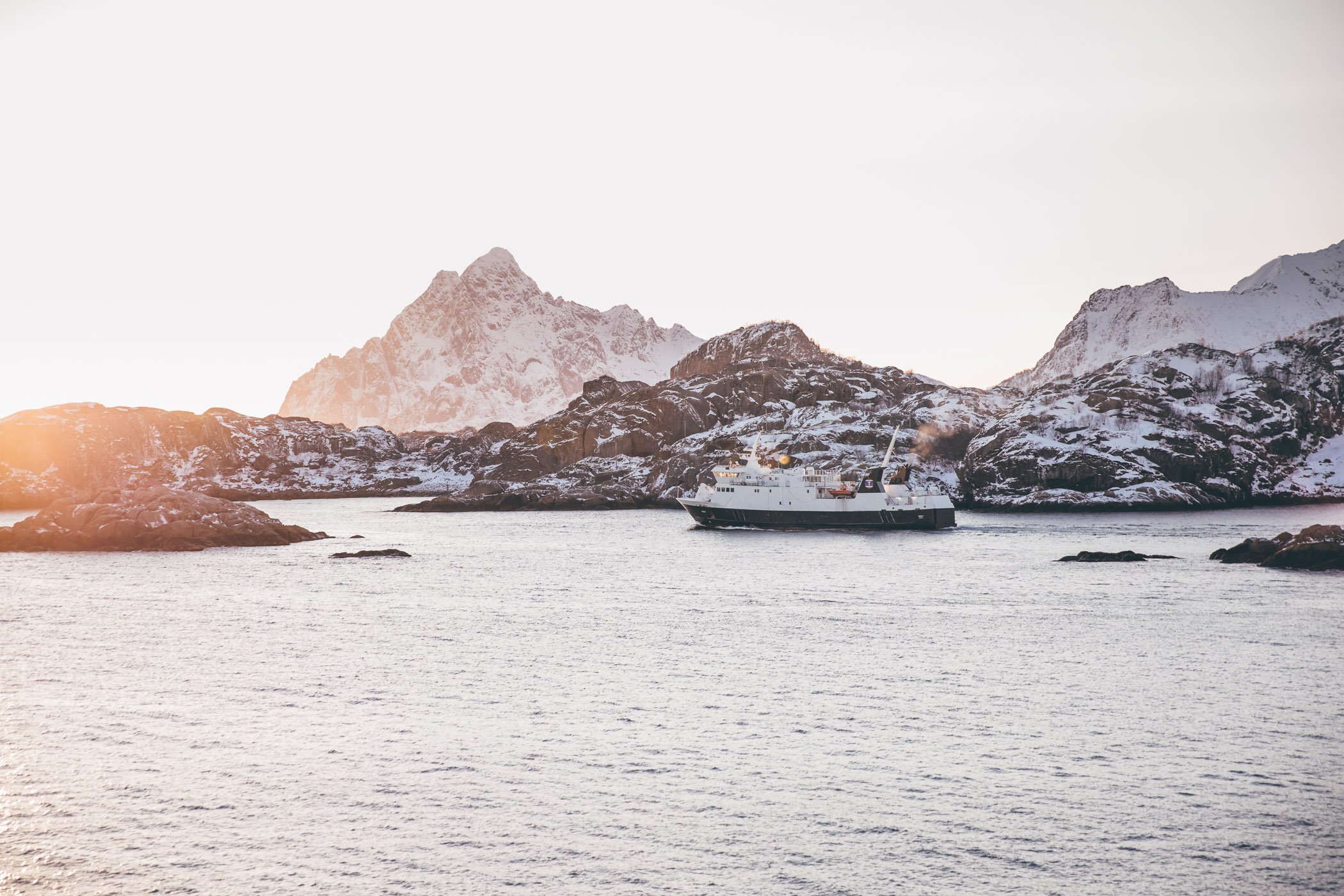 While Svolvær is surrounded by the same beautiful Lofoten scenery, the town itself is quite industrial with a ferry dock and many factories.
If we had a couple more days we also would've gone further to the North to Tromsø and visit the Arctic reindeers, go dog sledding or stay in a glass igloo. But this will have to wait for another visit!
3. Our hotel recommendation for the Lofoten
Here's the deal: You can either go really wrong or really right with your hotel choice in the Lofoten. You can find the ultimate cozy cabin with a fireplace and whirlpool or freeze to death in an under-heated room in what feels like an office building made from surplus ship containers.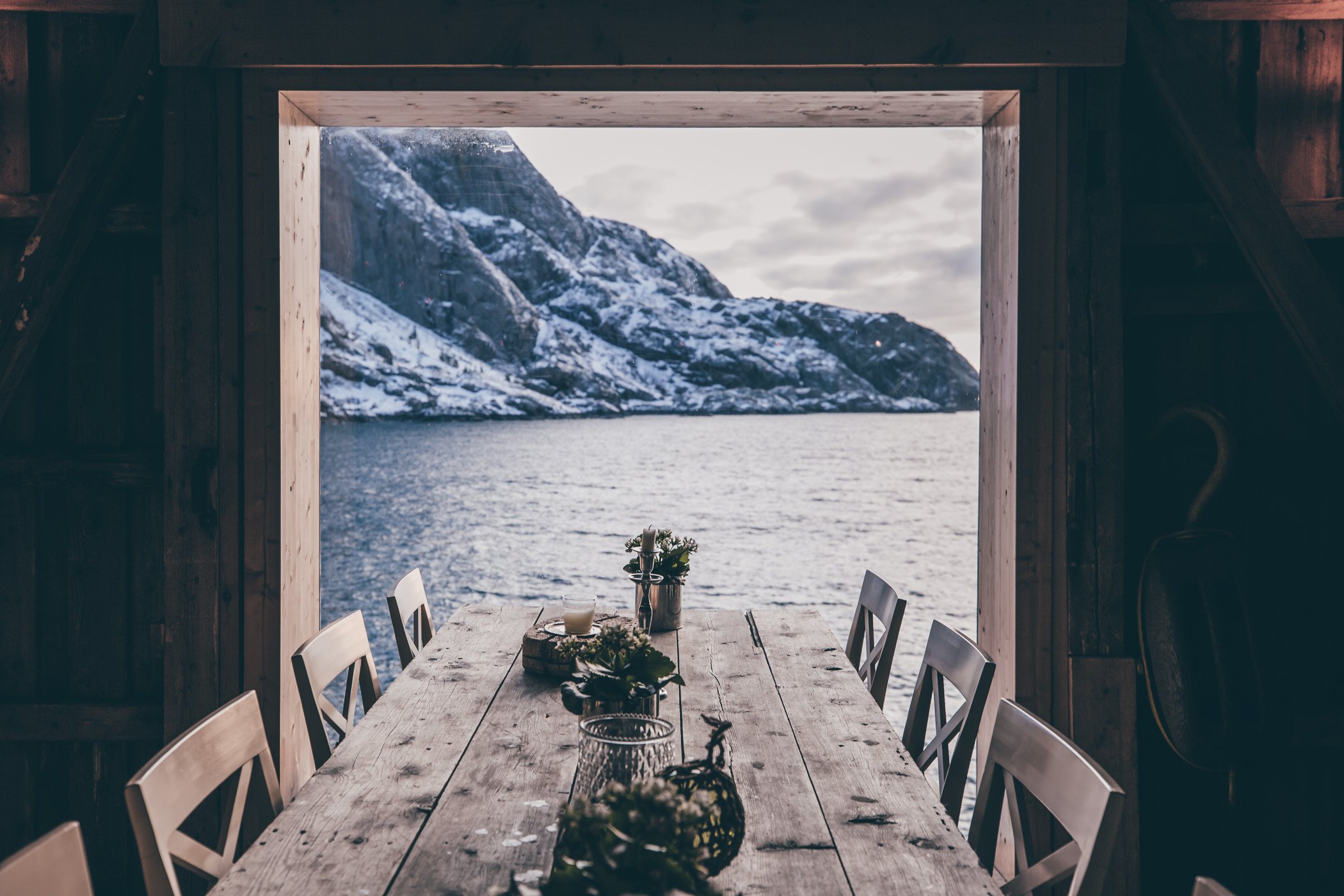 Especially in winter you want to stay at a really cozy place with proper heating and great views.
This is one of the panoramic windows at Nusfjord Arctic Resort.
Nusfjord Arctic Resort
The place we really loved was the Nusfjord Arctic Resort – a 200 year old fishermen's village that has been completely transformed into a brandnew luxury hotel. In it's historical peak 1.500 fishermen would have lived in the village – now the resort has 20 splendid rooms inside the original cabins, 2 restaurants, a café with shop and a traditional spa with wood-fired hot tubs facing the ocean.
The cabins at Nusfjord Arctic Resort are really cozy, well insulated and beautifully furnished.
A little money goes a long way here. The cabins at Nusfjord Arctic Resort have been renovated with a lot of care and love and now feature heated floors, a walk-in rain shower, boxspring beds, a living room with a fully furnished kitchen and even a dressing room. And the real highlight is the view of the harbour of the fishing village every morning right from your bed or breakfast table.
From the bathroom to the bedroom – it's all very well designed while keeping it's original character.
You could potentially bring your own food and cook in your kitchen here, but the buffet breakfast and dinner options are plentiful and of high quality – so we recommend to spend a little more to get the full package.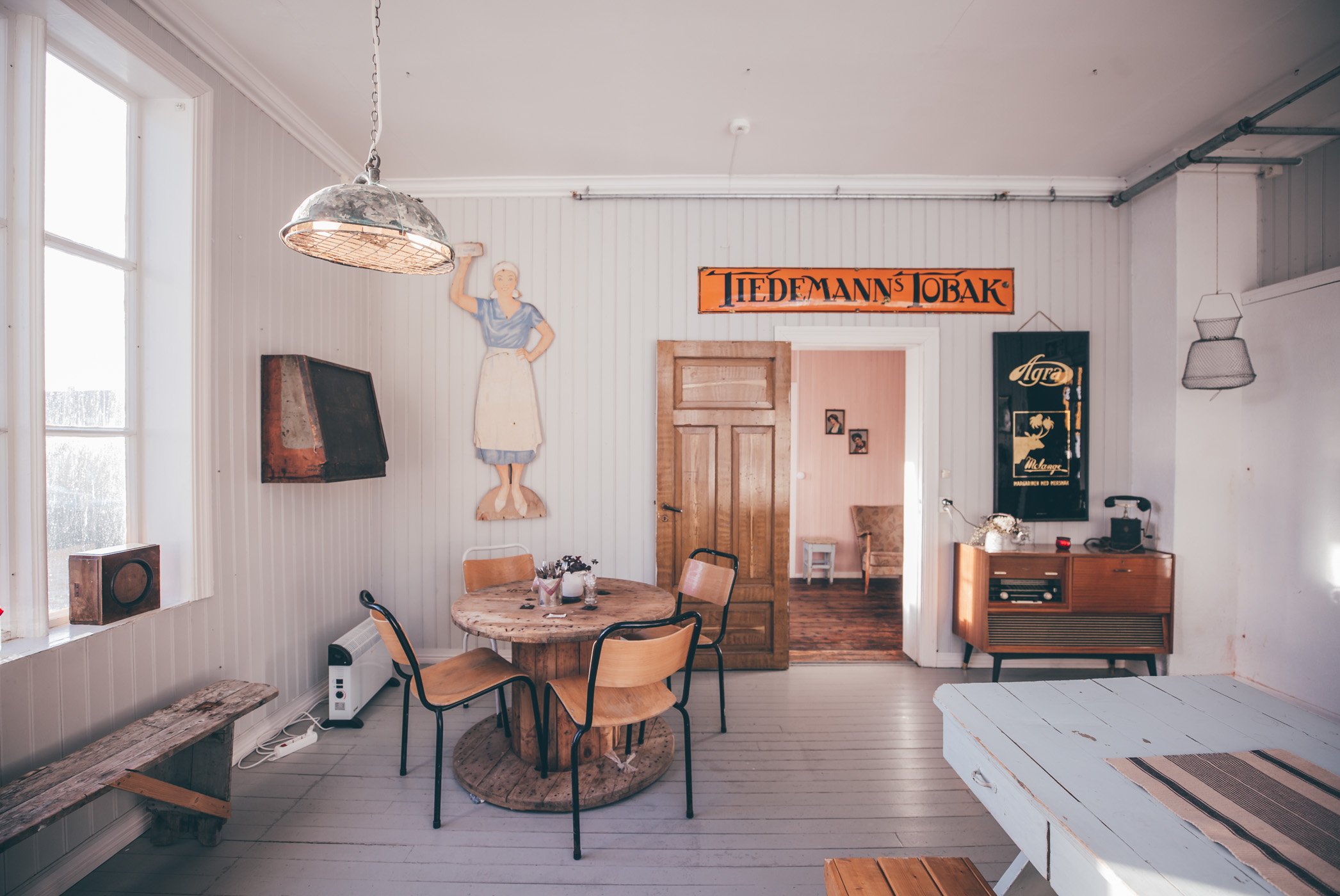 You can eat waffles or cinnamon rolls at Landhandel.
4. Lofoten in winter: Empty & closed?
So why visit in winter anyhow? In fact a lot of places like restaurants and bakeries close in winter. Also some of the hotels don't have proper insulation and get really cold (we're talking to you easyhotel.no!). But there's two undeniable qualities of the winter season: Incredible sceneries with very little amounts of visitors (except photographers, but they mostly all gather at the same iconic spots).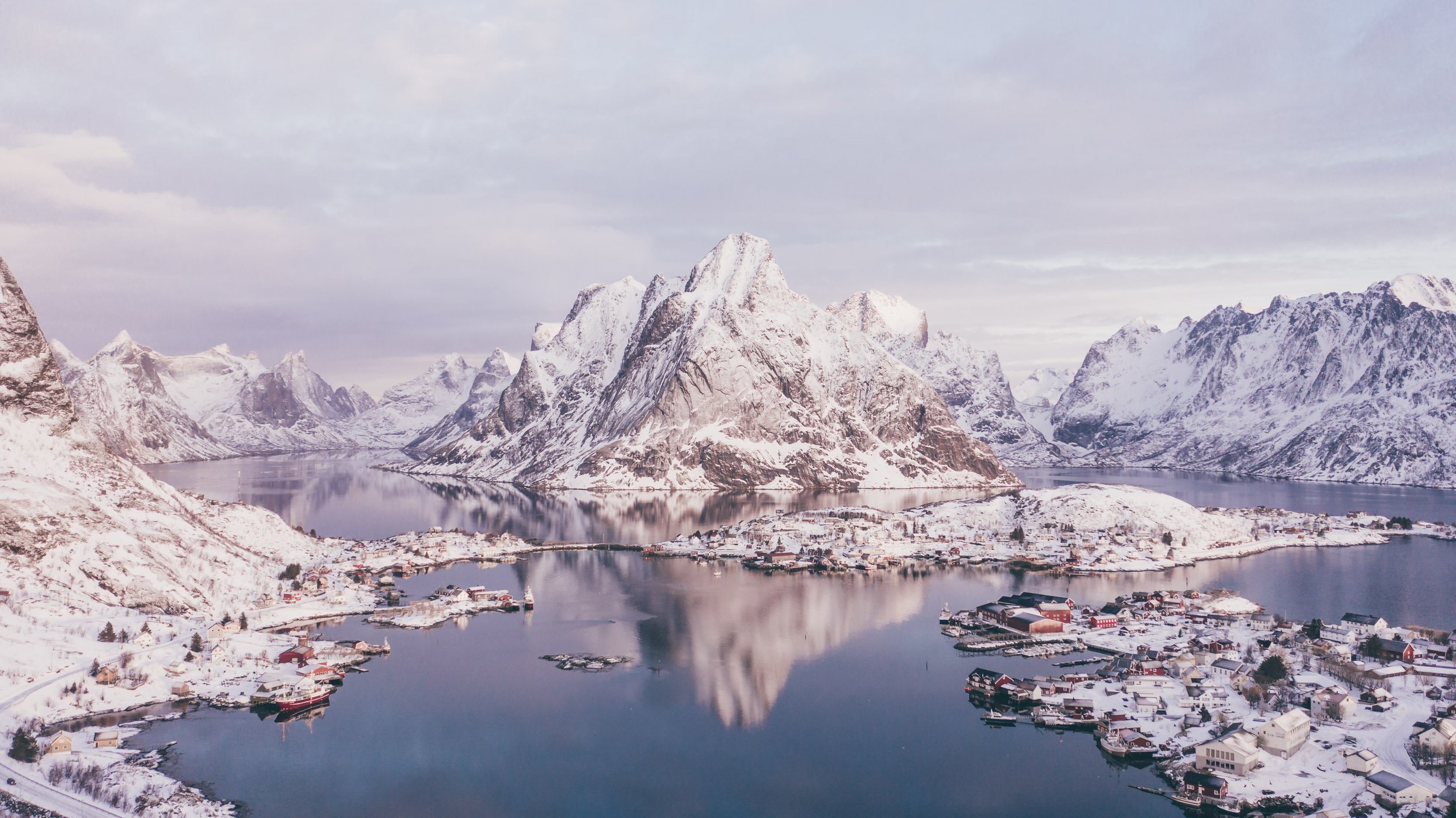 Views like these attract many photographers in winter, but not too many other tourists.
The promise of Northern lights and snow covered cliffs, that fall off directly into the fjords – where the arctic water shines in all shades of dark blue and almost black – this promise is what gets photographer's hearts beating.
The winter sceneries in the Lofoten are one of a kind.
But we believe that you don't have to be a photographer to enjoy the Lofoten in winter. Where else in the world can you drive along empty roads from fjord to fjord over countless bridges all with views that get better and better behind every curve? It's the perfect place to do a road trip and then spend the long nights in your cozy cabin – fire up the oven or plunge in a wood-fired hot tub.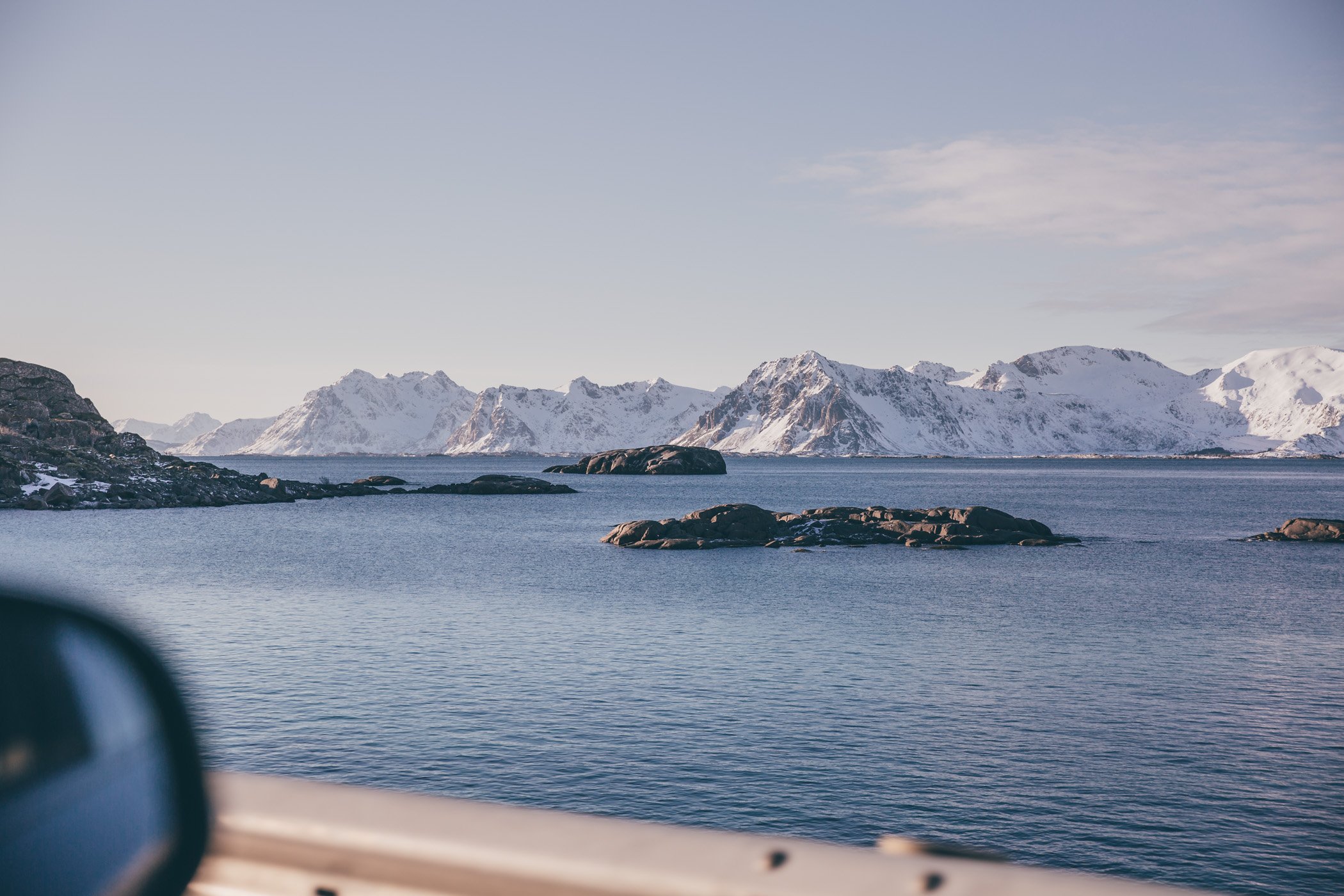 The most amazing views are waiting right next to the road in the Lofoten.
We thought the Lofoten would be wild and unwelcoming in winter, but it's just the opposite. While the wind gusts can get pretty intense, the weather does change often and can clear up (sometimes in a matter of minutes) and you can just hop outside your cabin and discover the beauty of the islands without too much of a hassle.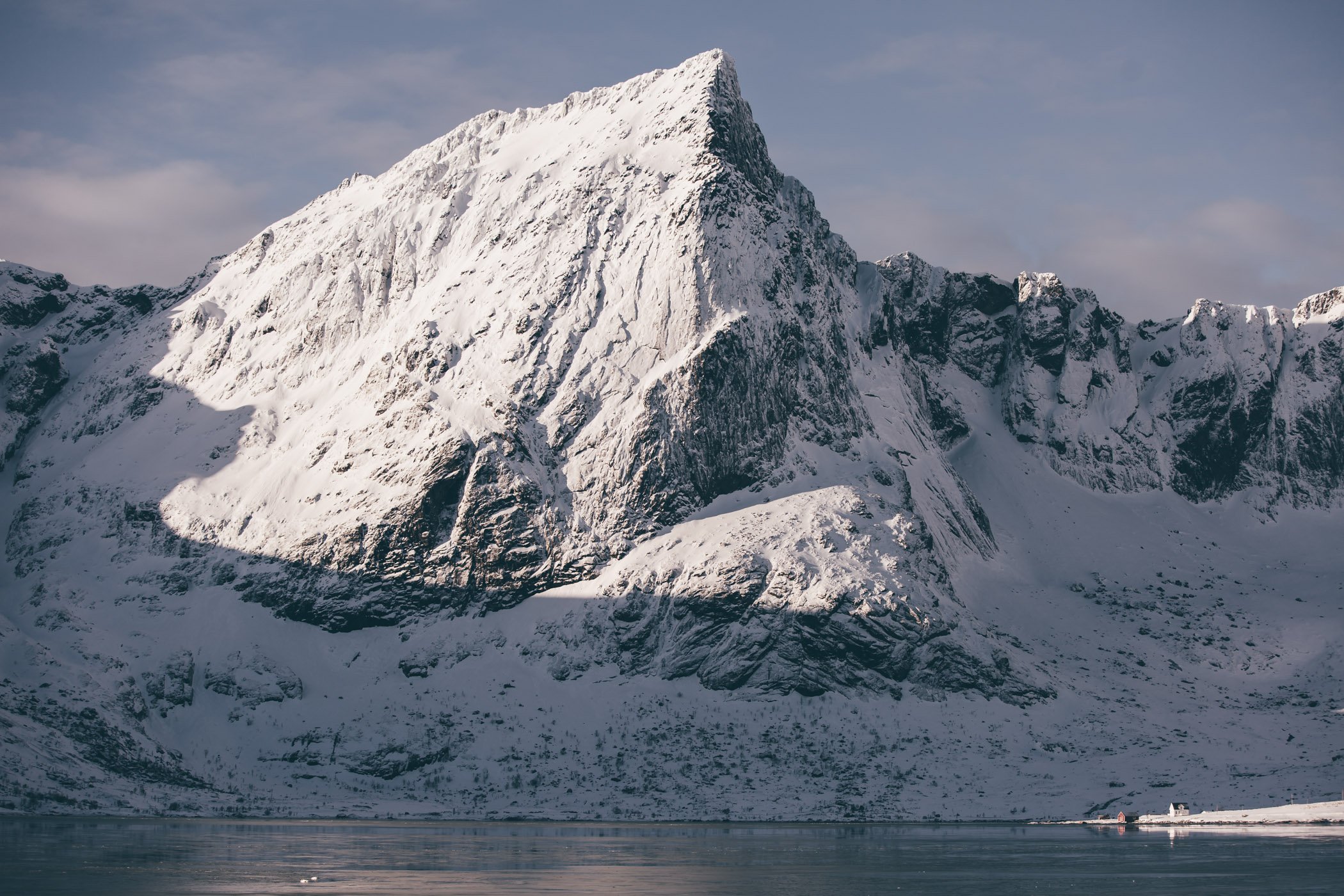 You can get all these views within walking distance from parking spots along the main Lofoten road E10.
It's not like you have to hike for miles to get to stunning sceneries or climb over rocks and wade through hip-deep snow. It's all right there, right next to the road – which is offering parking spots at every corner.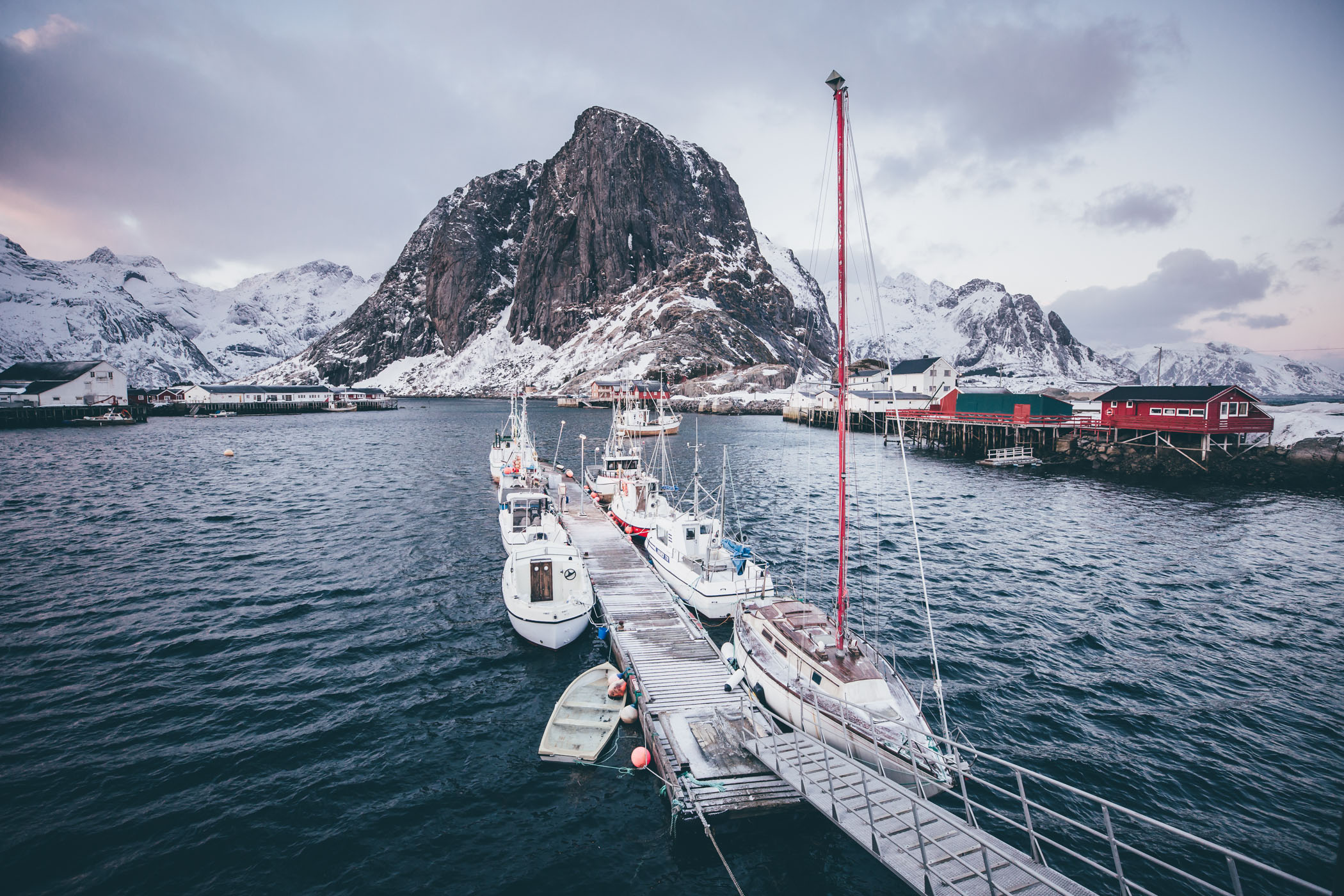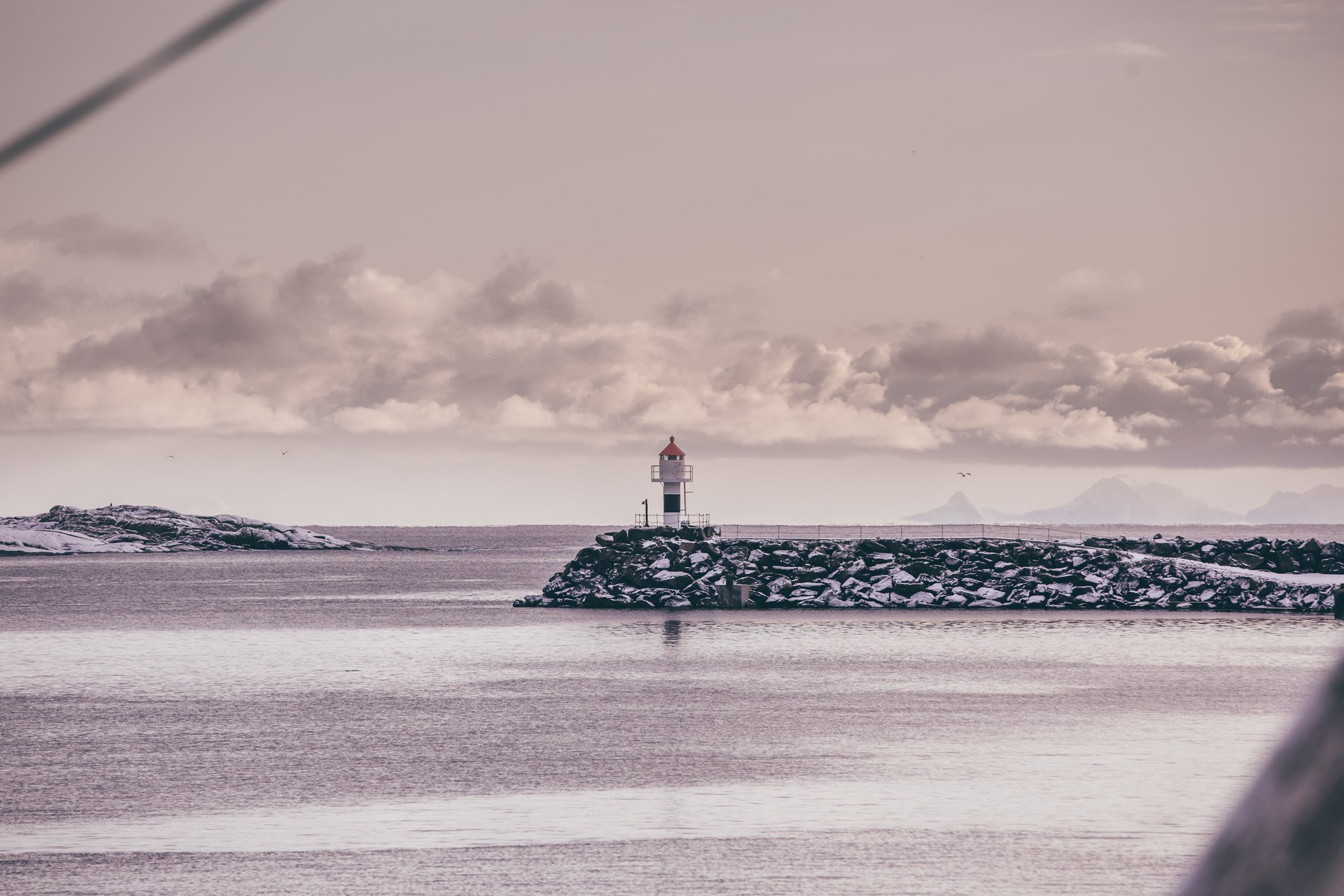 We are still not really able to process all of the incredible views we got right from the road…
5. What to see in the Lofoten
If you're visiting the Lofoten in winter, there are a couple of spots to add to your itinerary. Here are our favourites, which are all easily accessible (and also no real secrets 😉 but you'll love them anyways).
Our Top 7 photography spots in the Lofoten
1. Reine bridge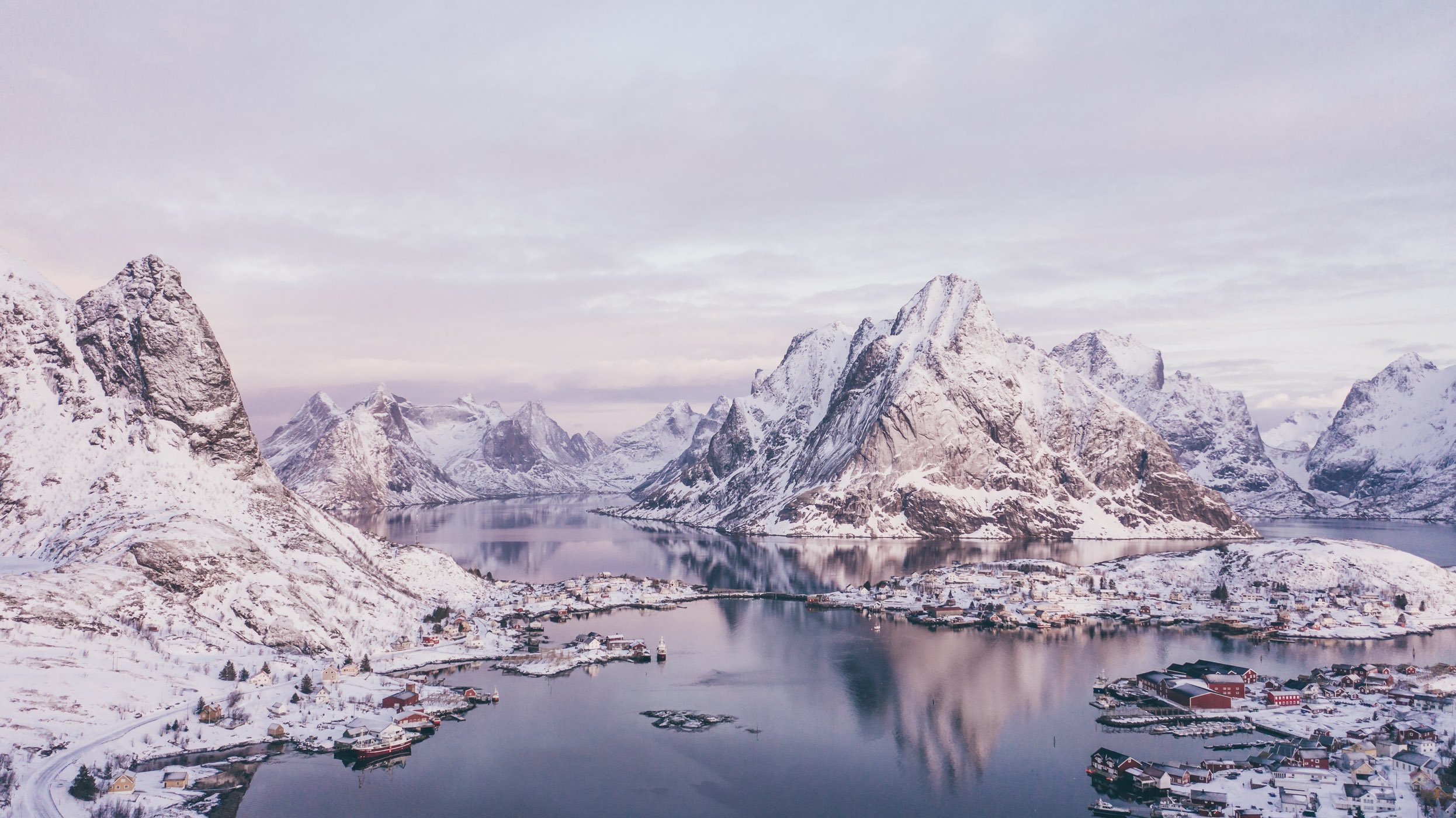 2. Hamnøy bridge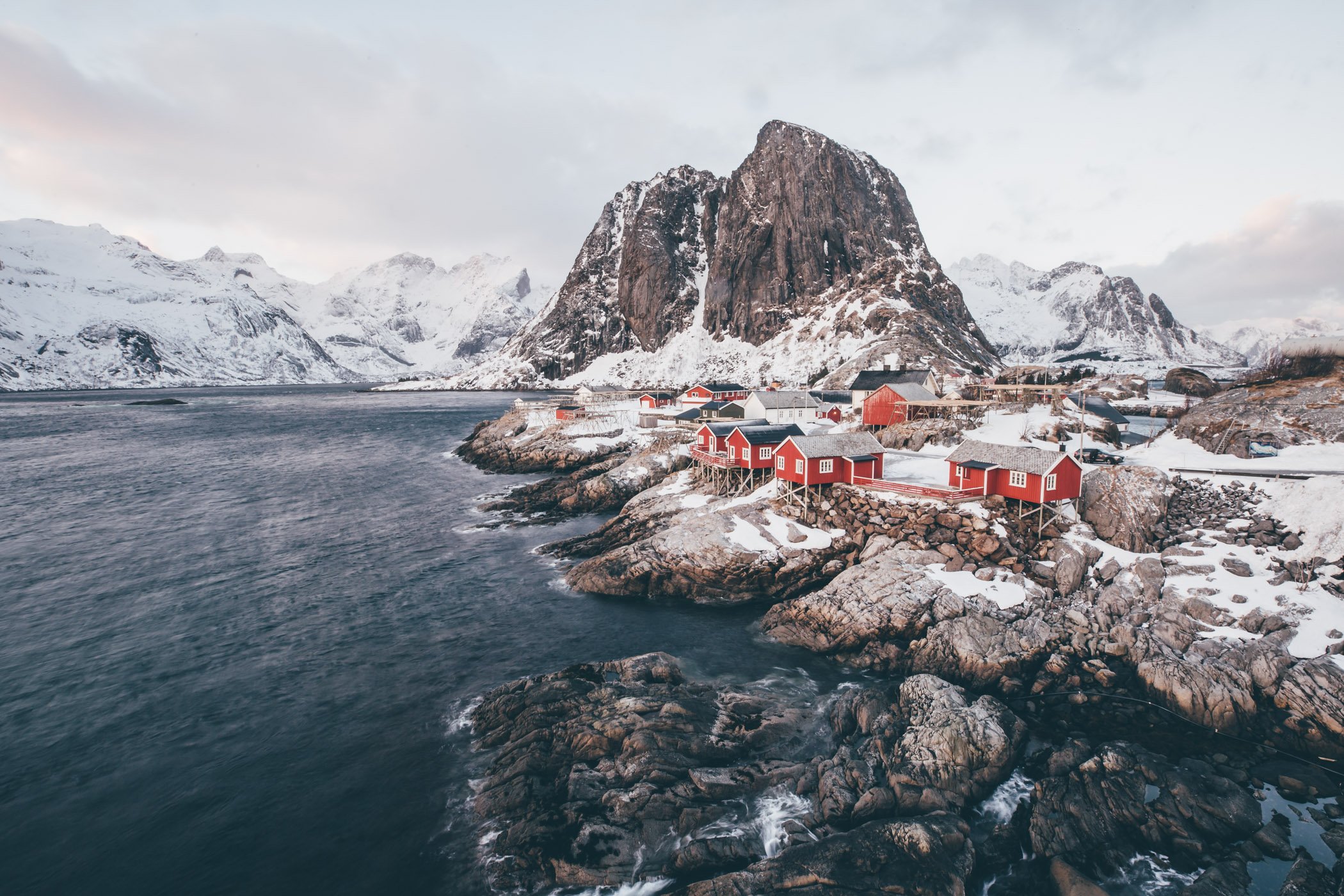 3. Sakrisøya village and yellow houses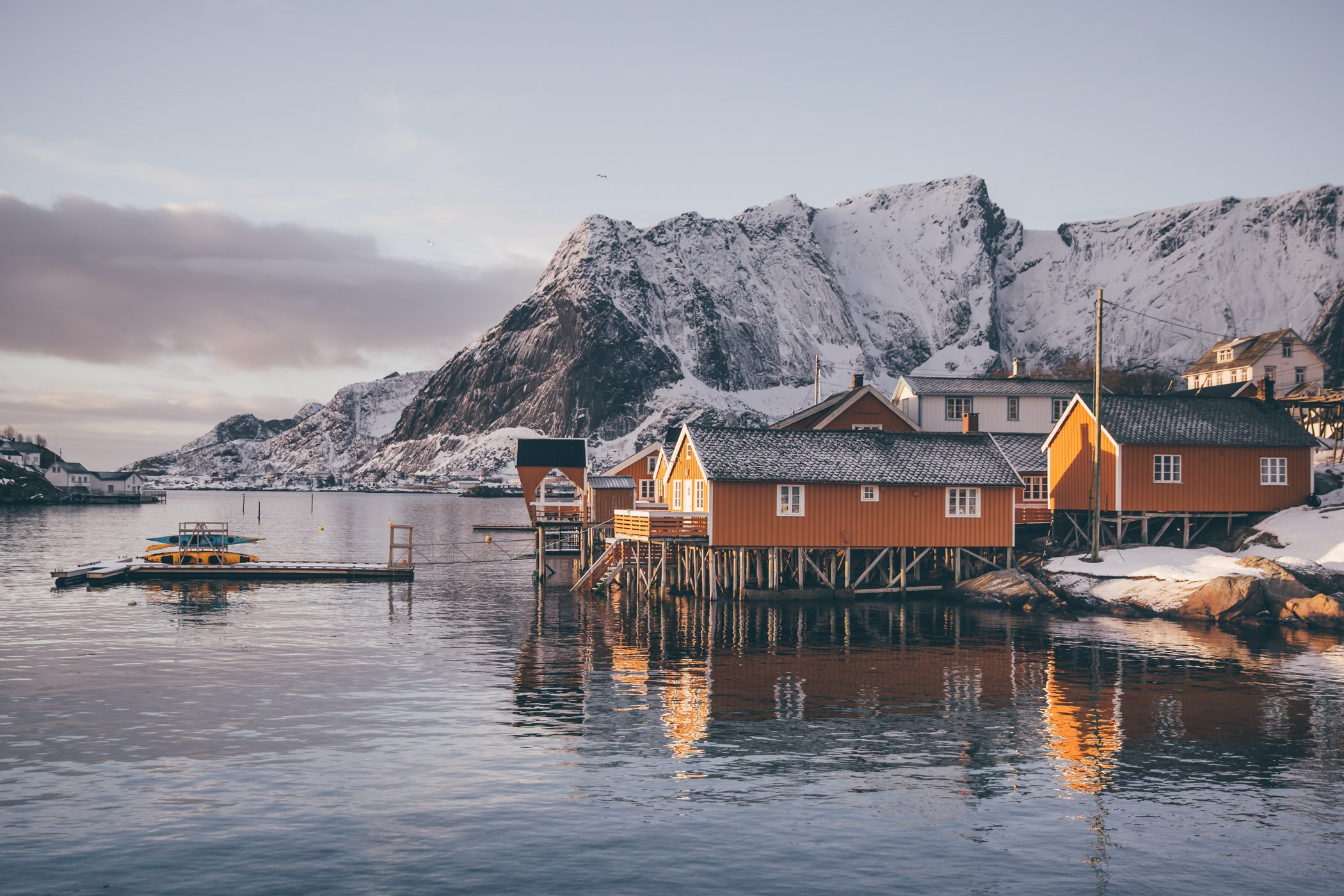 4. Haukland beach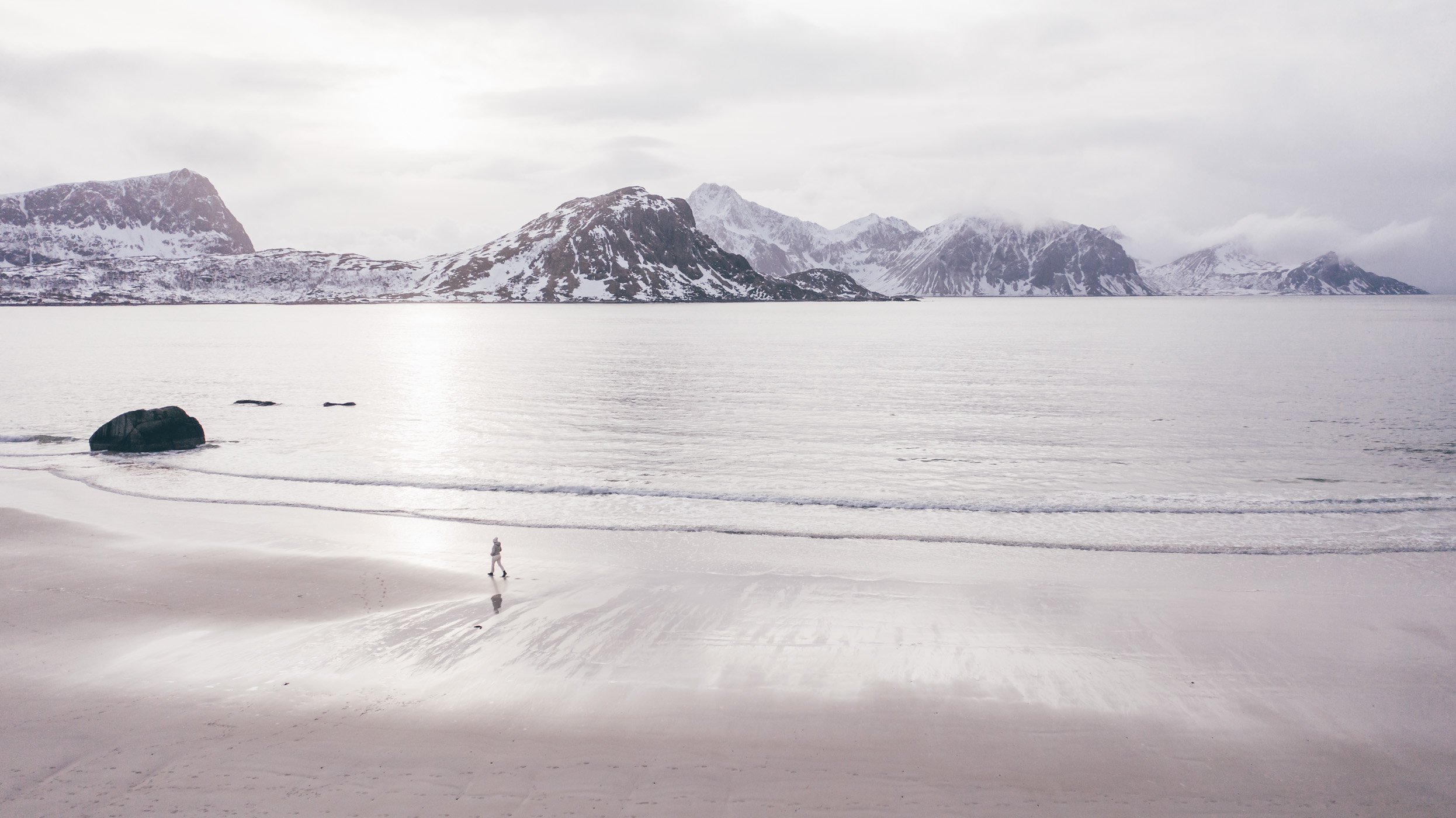 5. Unstad Arctic Surf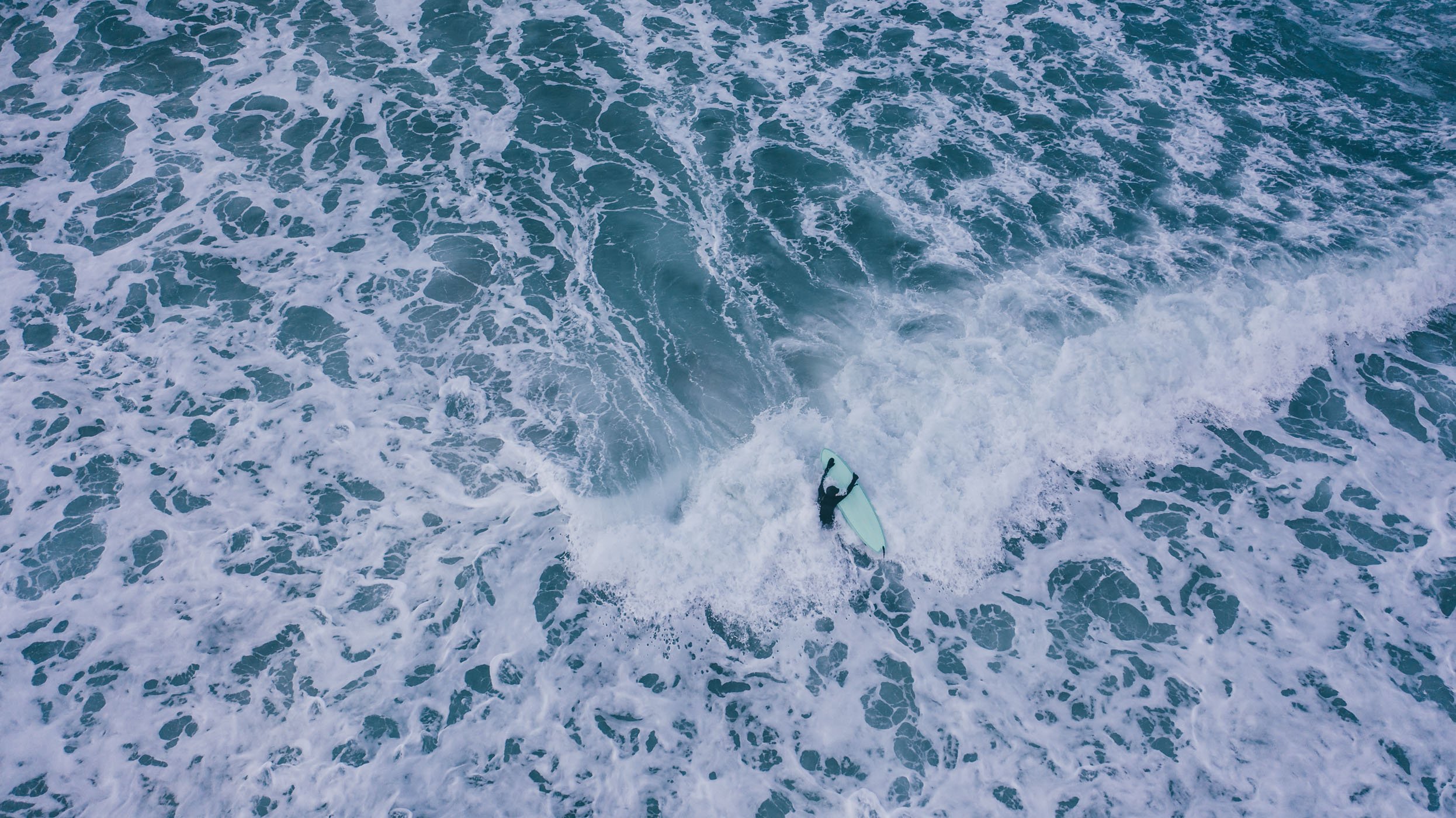 6. Rambergstranda Beach and red cabin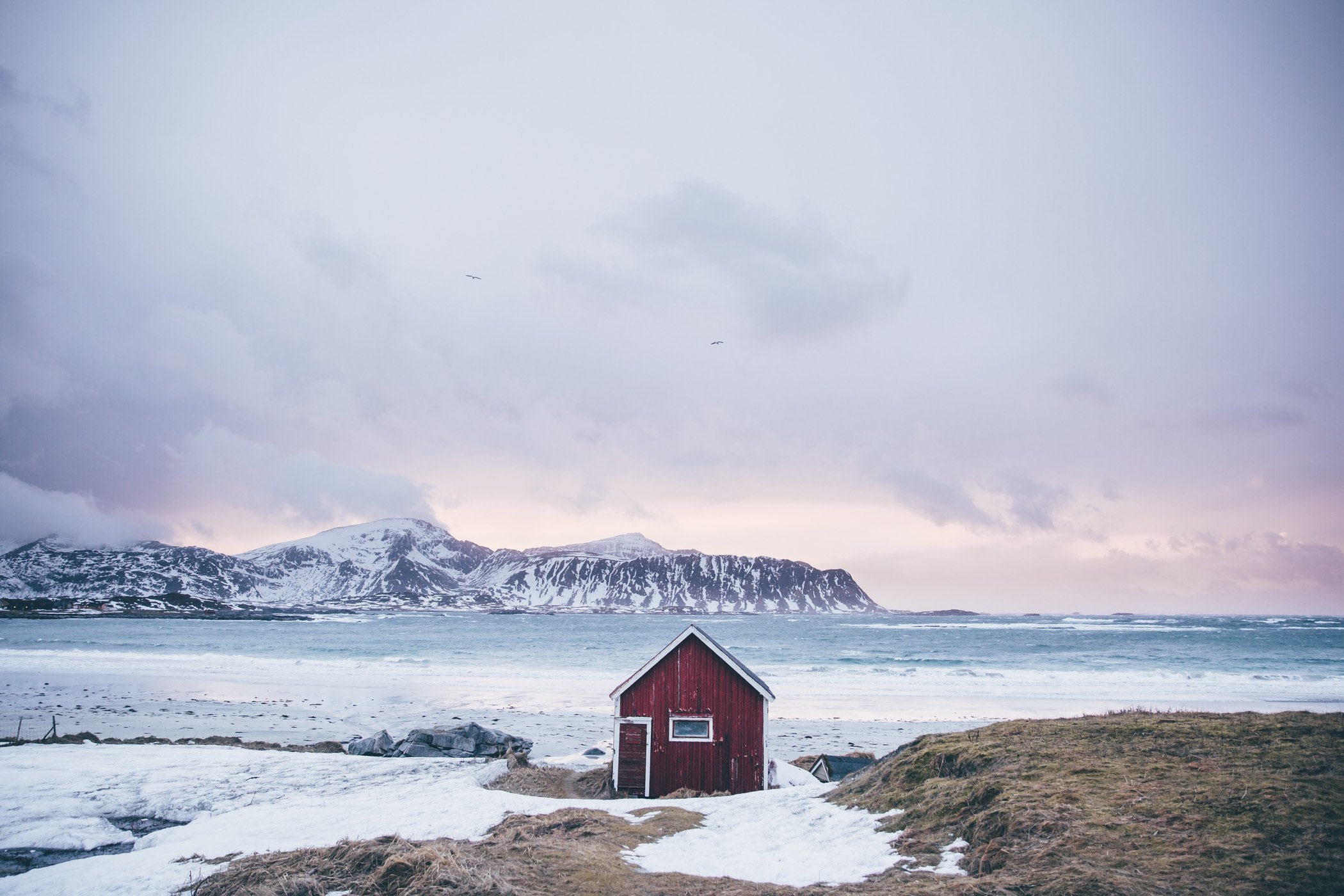 7. Bridges to Fredvang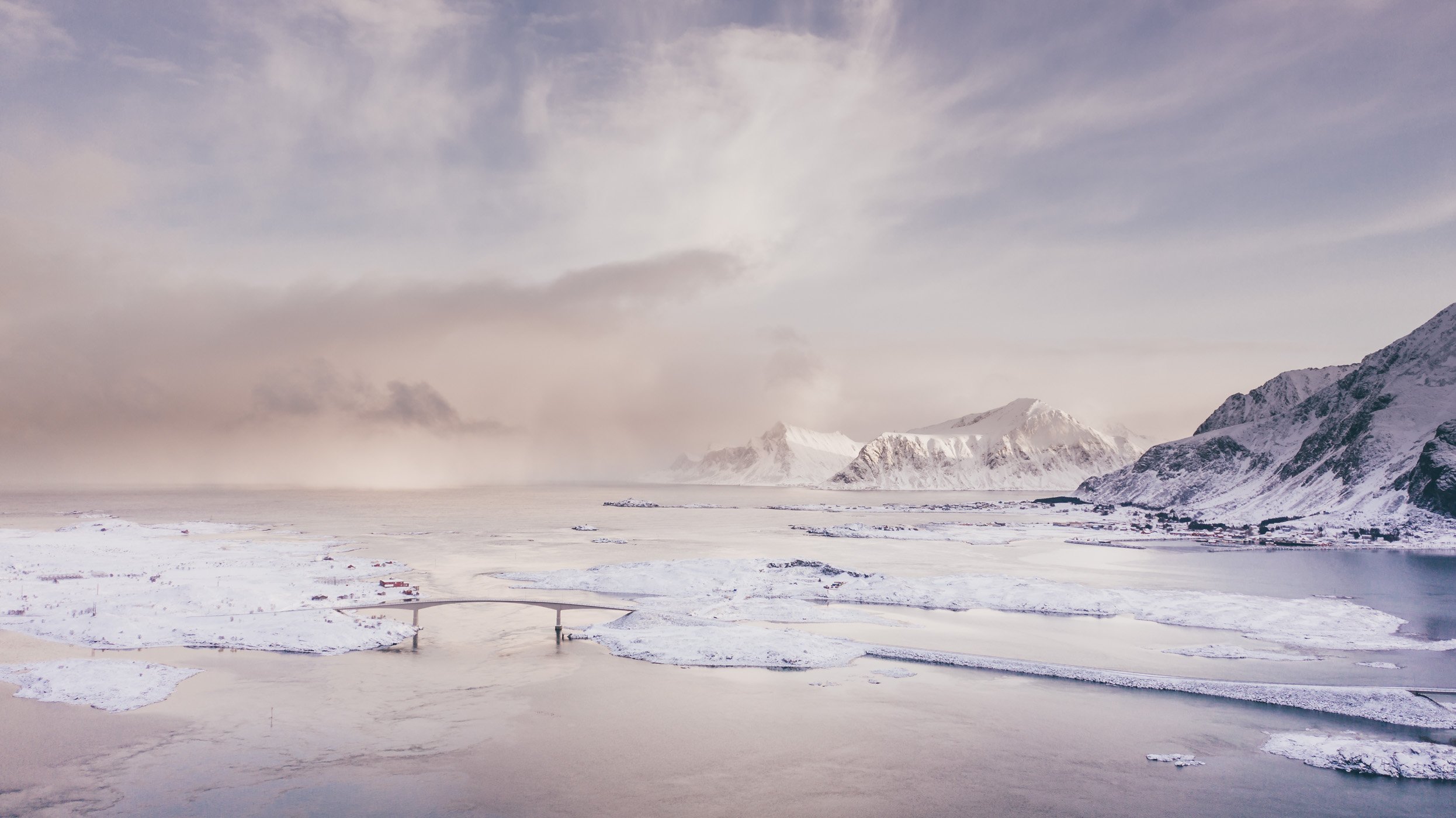 6. What to do in the Lofoten in winter
To be honest, we didn't book one single activity during our stay, because just driving & hiking around while marvelling at the landscapes was enough of an experience for us (and sunlight time is limited). There are a couple of options for activities though – like winter kayaking or RIP boat tours with eagle feeding and of course Northern light expeditions. Yet be aware that all of them are weather dependent, so you need to keep a flexible schedule.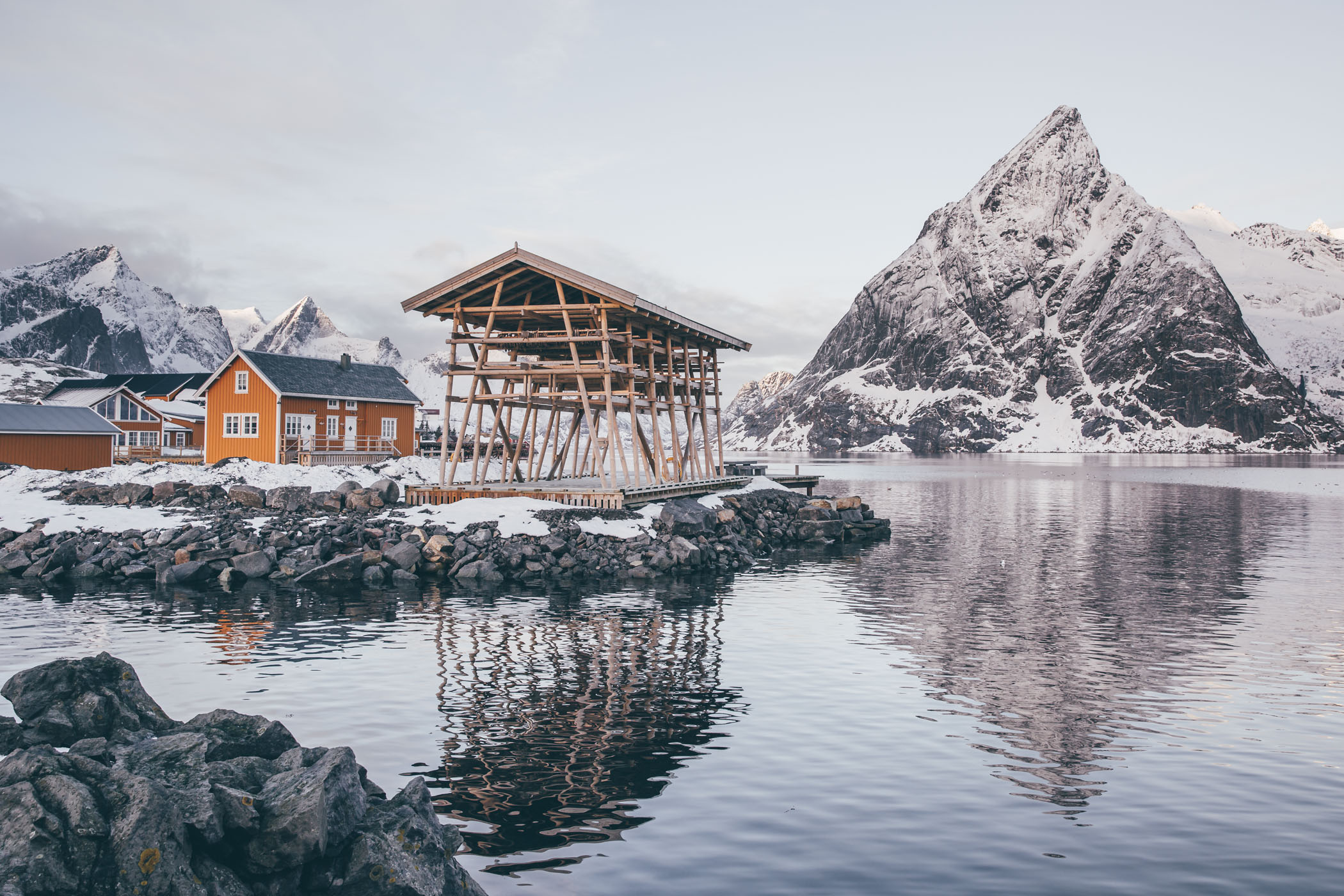 For us personally – photography was the main activity during our Lofoten trip.
We believe the Lofoten in winter are a perfect place to relax and spend a week amongst the most incredible landscapes. Pack your board games and poker set, rent a cozy cabin and fire up the oven. Bring your outdoor gear and enjoy the vast emptiness outside during the day.
Pack your bathing suit and jump in the hot tub at night. Drive to the beach and watch the daring arctic surfers (or even surf yourself!). But most importantly pack your camera and tripod as you'll want to capture all the fantastic scenery – and if you get lucky (luckier then us) even some Northern lights!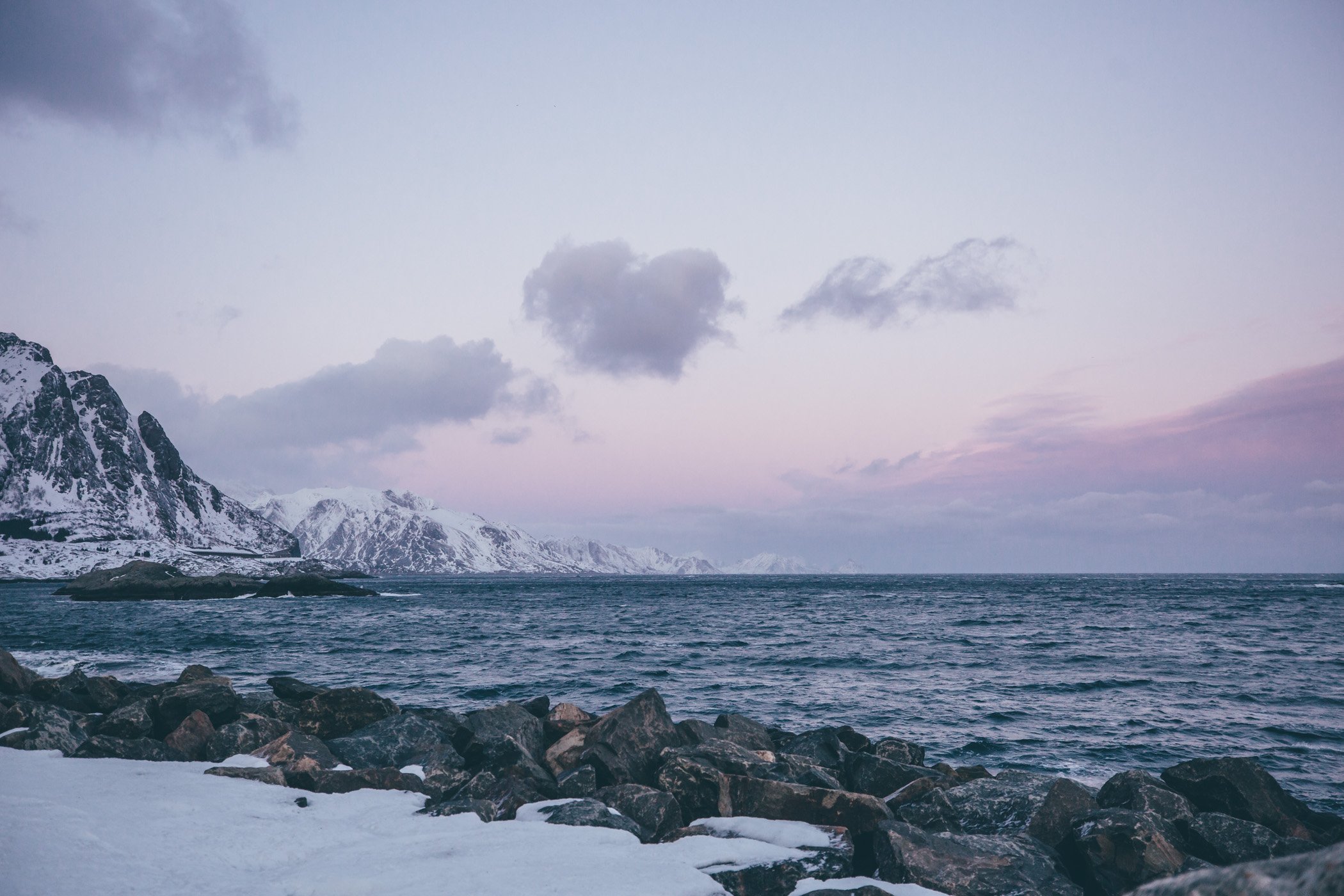 A heart shaped cloud in the Arctic sky – close enough to Northern lights 😉
Pin this post for later:
*Our travel agency: Zuklin, Vienna (Unpaid advertisement)
As stated above we used the services of a travel agency to book this trip. Usually we're booking most of our trips individually and research flights, hotels and rental cars ourselves. But for a last minute trip to a destination, that isn't really made for all-inclusive-packages, a travel agency can come really handy. Especially if you don't have enough time to plan 🙂
Within a day's notice we had a complete package offer for the best flight options (including luggage and priority boarding as add-ons), two options for cabins in Reine, that were available for the full week (as we initially didn't want to move around in between places) and two options for rental cars (without deductible). All in a short mail with recommendations from the agency. And with one more e-mail we had it all booked, this seriously didn't even take me two minutes.
To top it off agencies have access to special rates (like wholesale rates), which regular customers can't get online – so in the end we didn't pay more although we had a full-service travel planning included. So if it weren't for Zuklin we wouldn't have been able to go to the Lofoten on such short notice, so we really appreciated their help!
Find travel tips & packages of Zuklin here!
Transparency: This trip was not sponsored. We did get the assistance of Zuklin travel agency while booking our trip and they waived their service fee, but we paid the trip ourselves. During our stay we got invited to spend a night at the Nusfjord Arctic Resort. All the views in this report are our own.