When we planned our Rajasthan roundtrip with the travel experts of Evaneos a tiger safari was among the Top 3 items of our wish list! After doing a bit of research we immediately noticed how much conflicting information there is about important facts such as the tiger density in India's national parks, where to go for the best chances to spot tigers and in general how to best plan a tiger safari in Rajasthan.
Spoiler alert: We saw a tiger in Rajasthan!
But let's be honest: This isn't guaranteed and there are a lot of factors that come into play.
Lucky for us we could rely on the local experts of Evaneos to plan the tiger safari for us – little did we know how important that was! But let's start at the beginning and answer your frequently asked questions when it comes to tiger safaris in India!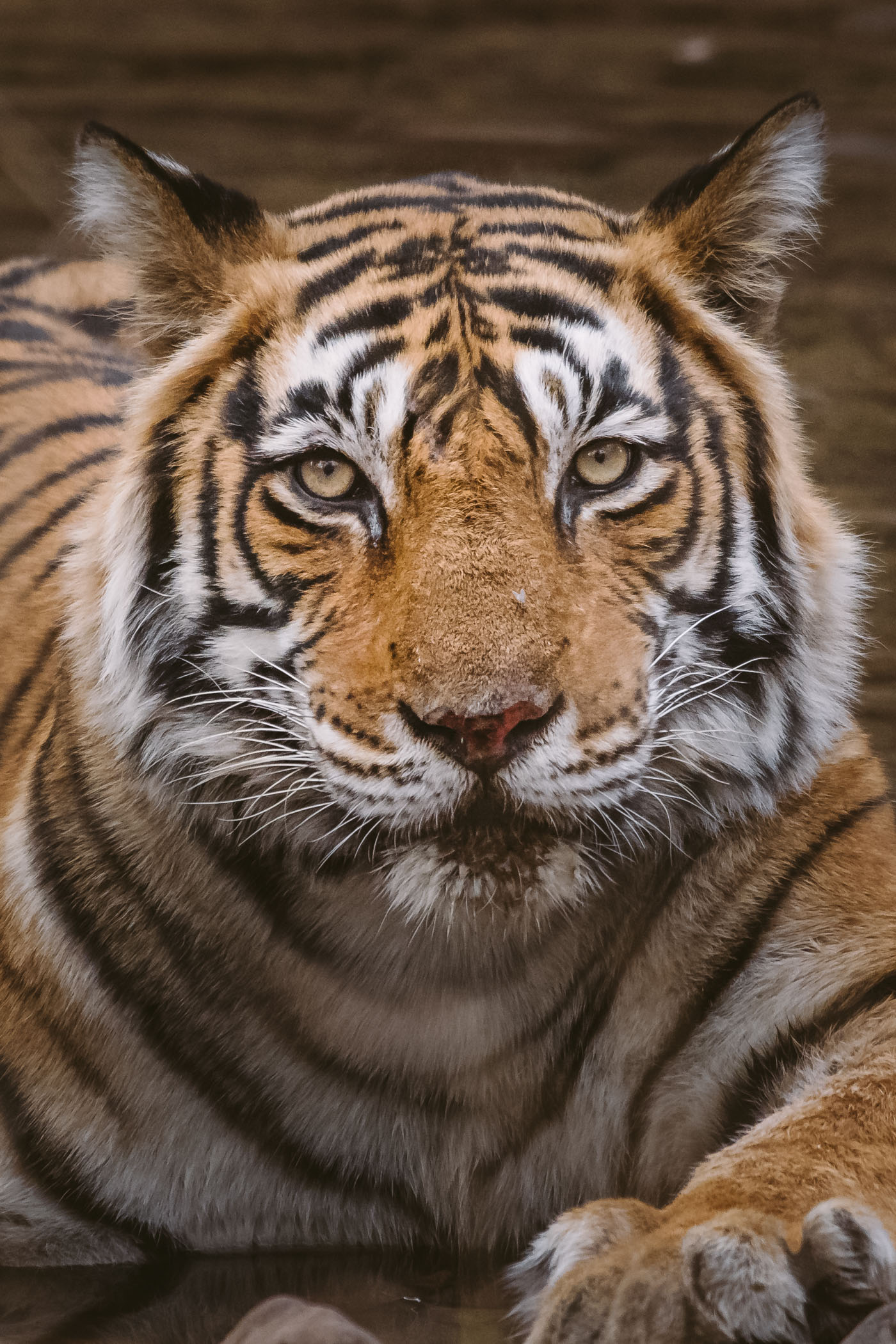 10 FAQs about tiger safaris in Rajasthan and India
1. How many tigers are there in India?
India hosts approximately 75% of the world's remaining tiger population (which is heartbreakingly small to begin with). The result of the latest tiger census of 2018 states that there are 2.967 tigers roaming the jungles, forests and mountains of India (up from 2.226 in 2014!). Therefore India is considered the safest place for the big cats to live. But those tigers are spread out over more than 40 national parks in the country! Therefore choosing the national park with the highest density is important to increase your chances of seeing a tiger.
Tigers are a critically endangered species and therefore not easy to spot in the wild!
2. How many tigers are there in the different national parks?
In the state of Rajasthan there are 5 national parks, but only 2 of them have tigers – Ranthambore National Park and Sariska Tiger Reserve. Ranthambore used to have 26 tigers living in the park in 2005, but recent numbers have increased to over 70 tigers in Ranthambore 2020. In fact there's not enough space to accommodate any more tigers, so some of them have been translocated to Sariska Tiger Reserve (with more and less success). There are 16 tigers in Sariska Tiger Reserve in 2020.
When it comes to going on a tiger safari in Rajasthan Ranthambore national park is your best choice.
Ranthambore National Park has the highest tiger population in Rajasthan.
If you are not focusing on Rajasthan you can also consider one of the following national parks. Just be aware that most of them are at least a 2 days drive away from Delhi:
Bandhavgarh National Park: Similar tiger density as Ranthambore, relatively high chances to spot a tiger – although most likely on asphalt roads (not as scenic as Ranthambore)
Corbett National Park: High tiger density and also not too far from Delhi (about 5-6 hours towards the Himalayan mountain range)
Kanha National Park: Similar tiger density as Ranthambore
Pench National Park: Similar tiger density as Ranthambore
Panna National Park: Lower tiger density than Ranthambore
Sanjay National Park: Lower tiger density than Ranthambore
Satpura Tiger Reserve: Tiger density rather low
Bandipur National Park: South India, high tiger density
Nagarahole National Park: Adjacent to Bandipur in Southern India – with similar high tiger density
Apart from tigers Ranthambore National Park also offers scenic views.
3. How high are the chances to spot a tiger?
It's important to know that tigers live in quite large territories,  which means they roam vast grounds and are not easy to spot. A female tiger's territory can be up to 20 square kilometres large, a male tiger's even up to 100 square kilometres. Knowing these facts help to manage expectations when it comes to tiger safaris.
Spotting a tiger isn't only rare, because the species is rare – but they also roam vast territories.
4. Is there a spotting guarantee on a tiger safari?
No, there is no spotting guarantee and you can go for hours without seeing even a trace of a tiger in the national parks. The guides will do their best, but in the end it's nature. It's recommended to increase your chances by staying at least 3 nights and book at least 4 game drives – the more the merrier!
There might be game drives where you only see a footprint.
5. What is the best season to go on a tiger safari?
To increase your chances of a sighting it's best to visit in the hot and dry summer months (April or May, November should also be good). When the sources of water become limited the tigers will have to gather at the rare remaining water holes and rivers, which makes them easier to spot.
We went on our tiger safari in February – which isn't the best season, but still got lucky!
6. What kind of vehicle is best for a tiger safari?
In Ranthambore National Park you can choose between canters and gypsies. Canters are buses, that hold up to 20 passengers, whereas gypsies only carry a maximum of 6 guests.
The two options of safari vehicles: Canters carrying up to 20 passengers vs. gypsies with a maximum of 6 passengers.
Due to the size of the canters they cannot access all parts of the National Park and are limited to certain zones and areas with better streets. That being said the best zones in Ranthambore are accessible for canters as well. Yet, if you spot a tiger and it's hiding in a bit of a remote and overgrown area your chances are better in a gypsy! In the end it also comes down to what you're willing and able to pay as canters are the cheapest option.
In zone 6 the streets are wide enough for canters and gypsies.
7. What do I need to know about Ranthambore National Park?
If you decide to visit Ranthambore National Park you have the best chances of spotting a tiger in Rajasthan! And even if you don't spot a tiger, the scenery of the national park is quite intriguing and there's many other animals to see. Ranthambore also has leopards, hyenas, sambar deer, Chital, Nilgai, langurs and much more!
Even if you don't see a tiger, there's other wildlife to be spotted during a safari in Ranthambore national park.
But if you want to see tigers there's one important thing to know! Spotting a tiger comes down to many factors – not only seasonality and luck, but also the zone of the park. Ranthambore has been divided into 10 zones, with 1-5 being the core zones and 6-10 the outer zones.
We spotted this tigress in zone 6 of Ranthambore National Park!
8. Which zone is best in Ranthambore National Park?
Older reports indicated that zones 1-5 were the most promising when it comes to tiger sightings in Ranthambore National Park. Nowadays zone 6 is one of the best zones in the park and we also got lucky during our safari in zone 6!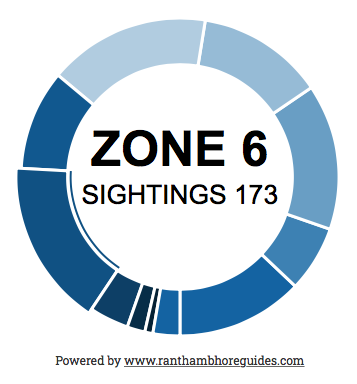 You can check this tiger tracker with a zone wise sighting report.
9. How do I get into the best zone in Ranthambore National Park?
Timing is everything! You have to book your zone ahead of time and the best zones sell out quicker than the others. As we had only booked our Rajasthan trip at the very last minute (about a week before) we didn't get tickets for the core zones anymore. Therefore two out of our 4 games were limited to zones 7 and 8 (which are really not good), but luckily the other two brought us to zone 6. If you can book your safari at least 3-4 months in advance you can increase your chances by booking only good zones.
The entry gate to zone 6 – our lucky zone!
Statistically also with high chances of spotting a tiger.
10. How much does it cost to go on a tiger safari?
This depends greatly on your choices. You can go as cheap as 20 dollars per person in a canter tour (with 20 other passengers) or pay up to 700 dollars per person for a private vehicle and your own private guide. We chose the medium option and picked a shared gypsy tour with other passengers, which costs about 40 dollars per person.
Even in a shared gypsy car a tiger safari is relatively affordable.Why
Why we think it's best to book Ranthambore with a local expert travel agency
Now that we've covered the Top 10 tips for a tiger safari in Rajasthan, let us explain a little bit more about why we think professional services like those of Evaneos make a lot of sense when booking such an adventure.
Evaneos only works together with certified local agencies. In our case the whole trip was planned and booked by the local travel agency of Neetesh. The founder Neetesh was always there for us and he and his team made sure our very specific wishes were catered to – and also made recommendations, that were both surprising and enriching to our itinerary. In Ranthambore (and all the other cities) they works together with a network of professional local partners and offices. This is a valuable asset when it comes to tigers safaris especially!
Why we recommend a travel agency to book your tiger safari? Firstly the registration for the tiger safari in the national park is complicated and time consuming. Secondly if you book individually you won't have any chance to make changes when on location. We hadn't informed ourselves enough about the zones beforehand and also booked very last minute. That's why we ended up in zone 8 during our first game drive. Only afterwards we found out, how bad the chances were in this zone. After a call to our local agent he managed to get us into zone 6 that same evening – and voilá, we saw a tiger right during the first game drive in this zone!
Where to stay in Ranthambore: Top & Flop hotels
Another important factor is the expertise of a local travel agency when it comes to hotels. Imagine the following: You arrive in a hotel, that already looks a bit run down from the outside and then discover you're the only guests (although it's the main season). Later on you find out that there is no heating – and believe us when we say, in February it gets quite cold at night in Northern India. To top things off the sheets are dirty and warm water will only be switched on twice a day to save costs. That's exactly what happened to a British couple who we met during our game drive in Ranthambore.
They had booked their hotel online (trusting positive customer reviews) and were not just disappointed, but very much eager to leave the place the same day. They had to cut their safari short and leave earlier because of their hotel choice! 🙁 From our experience in Rajasthan hotel quality can vary greatly and it's very often not clear from photos and online reviews what to expect. Therefore we whole-heartedly recommend to book hotels via a specialist.
The Tigress Spa & Resort didn't only look good from the outside – we enjoyed our 3 nights here.
Neetesh from the local agency booked a 3 nights at "The Tigress Resort & Spa" for us – and even though it's not one of the absolute luxury hotels in Ranthambore (like the Oberoi), we enjoyed our stay very much. We got spoiled with snacks at 6am before your morning game drive, only to return for a huge buffet breakfast with fresh cooking stations. The stay includes full board (although we often skipped lunch, because it was simply too much food 😉 ). One evening the hotel held an oriental night with live music and dancers on their rooftop. But most importantly the hotel rooms are spacious, clean, well-maintained and the service was  the best we experienced in all our 3 weeks in India.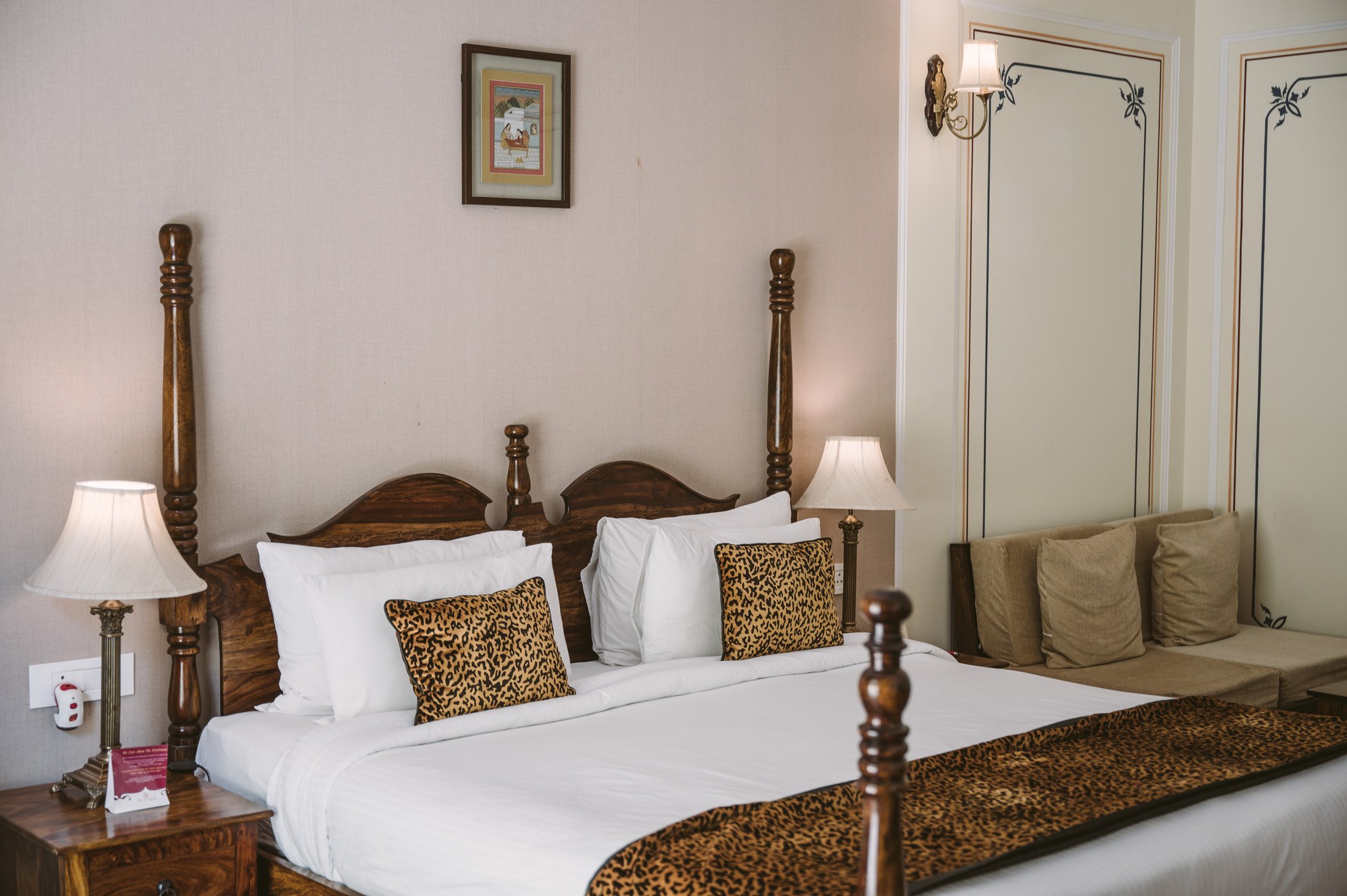 The Tigress Resort & Spa in Ranthambore National Park.
How to get to Ranthambore: Private drivers
And last but not least we cannot stress enough how convenient it is to have your own private driver when traveling through Rajasthan. The traffic and road conditions make driving really challenging. We travelled around with our driver Vikram for the full 3 weeks of our roundtrip and he was an absolute gem.
These roads make it challenging to drive on your own in Rajasthan.
Thanks to Evaneos for this incredible experience!
If you plan a tiger safari or a Rajasthan roundtrip we highly recommend their services.
Spread the love if you found the tips in this post helpful:
Disclaimer:
This is sponsored post in collaboration with Evaneos, who kindly invited us on this trip and planned the itinerary with their local partner agency. The views in this blogpost are our own.