(Updated, April 2023). Are you considering the archipelago of Cape Verde for your next island escape? If your answer is yes you've come to the right place. We spent one week in Cape Verde on the islands of Sal and Boa Vista in collaboration with TUI Austria and in this post we'll show you our itinerary, best of and tips for a visit!
All shades of blue & turquoise: The first good reasons for a visit of Cape Verde!
One week in Cape Verde: Our itinerary
We decided to split our time between the two islands of Boa Vista and Sal almost equally. In hindsight we wouldn't do it differently as both islands have different things to offer, although the landscapes are quite similar.
Update April 2023: Unfortunately the direct flight connection between Boa Vista and Sal with TAP Airlines seems to be suspended for now. This makes combining the two islands a bit more difficult now as you'll have to find a boat or ferry transfer (see more below).
Boa Vista and Sal are both dry, sandy and mostly flat islands, that were formed through volcanic activity. If you're looking for days at the (perfect) beaches and vast emptiness you've come to the right place. In case you want mountains, hiking options and more lush & green landscapes – jump to the end of this article where we'll recommend you some of the other islands of the archipelago!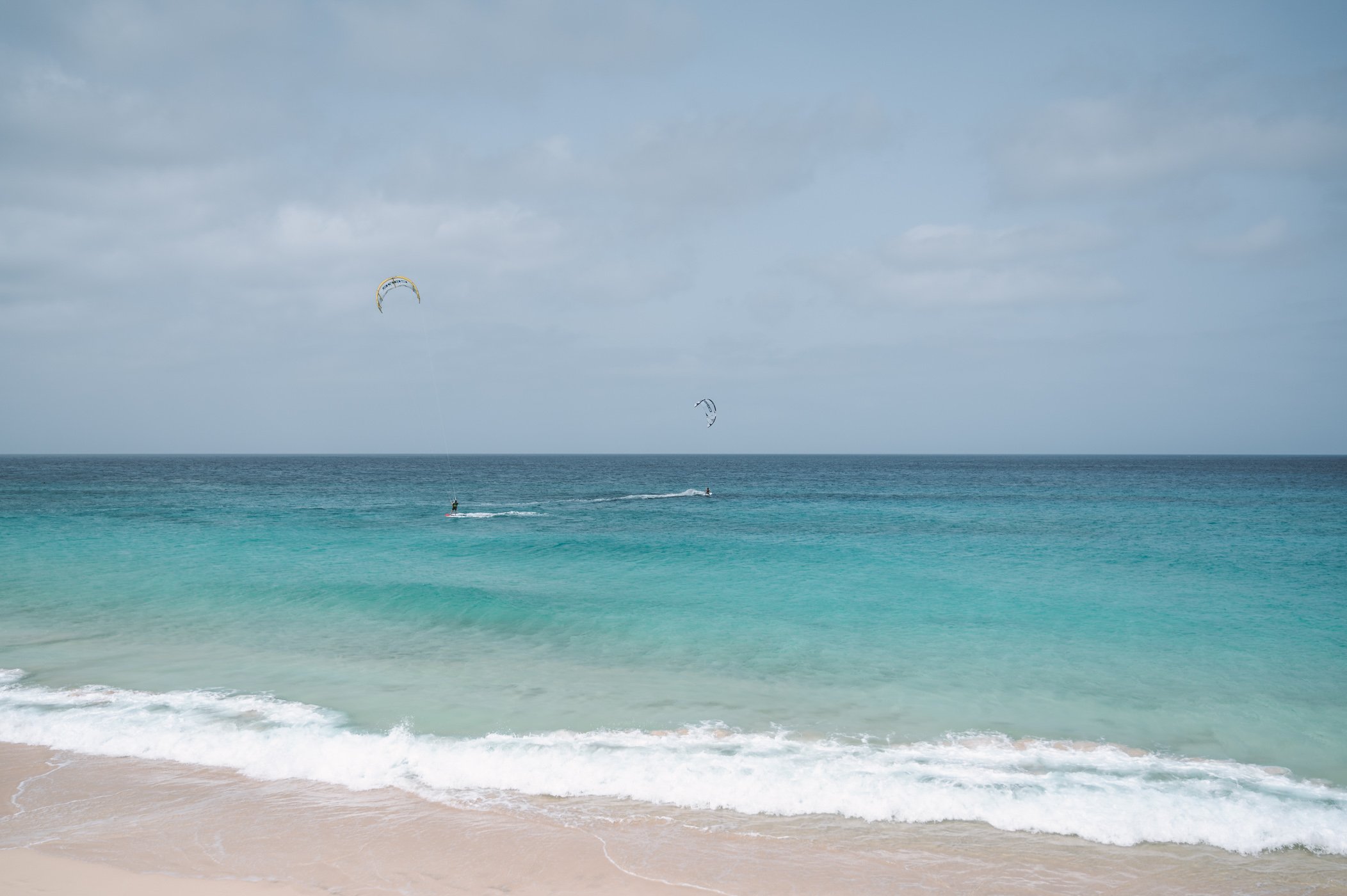 Most visitors come to Cape Verde for beach holidays and water sports activities!
Without further ado, here's our
one week itinerary for Cape Verde:
Day 1: Boa Vista Check-In & Quad excursion
Day 2: Boa Vista island adventure in a rented 4×4
Day 3: Boa Vista sailing trip, snorkelling & visit of Sal Rei city
Day 4: Flight to Sal (suspended in 2023, instead go by boat), Check-in & visit of Santa Maria fishing village & pier
Day 5: Salinas de Pedra de Lume, Shark Bay & sailing trip
Day 6: Kite surfers at Ponta Preta, Buracona Blue Hole & Turtle Aid Project
Day 7: Check-Out & Fly home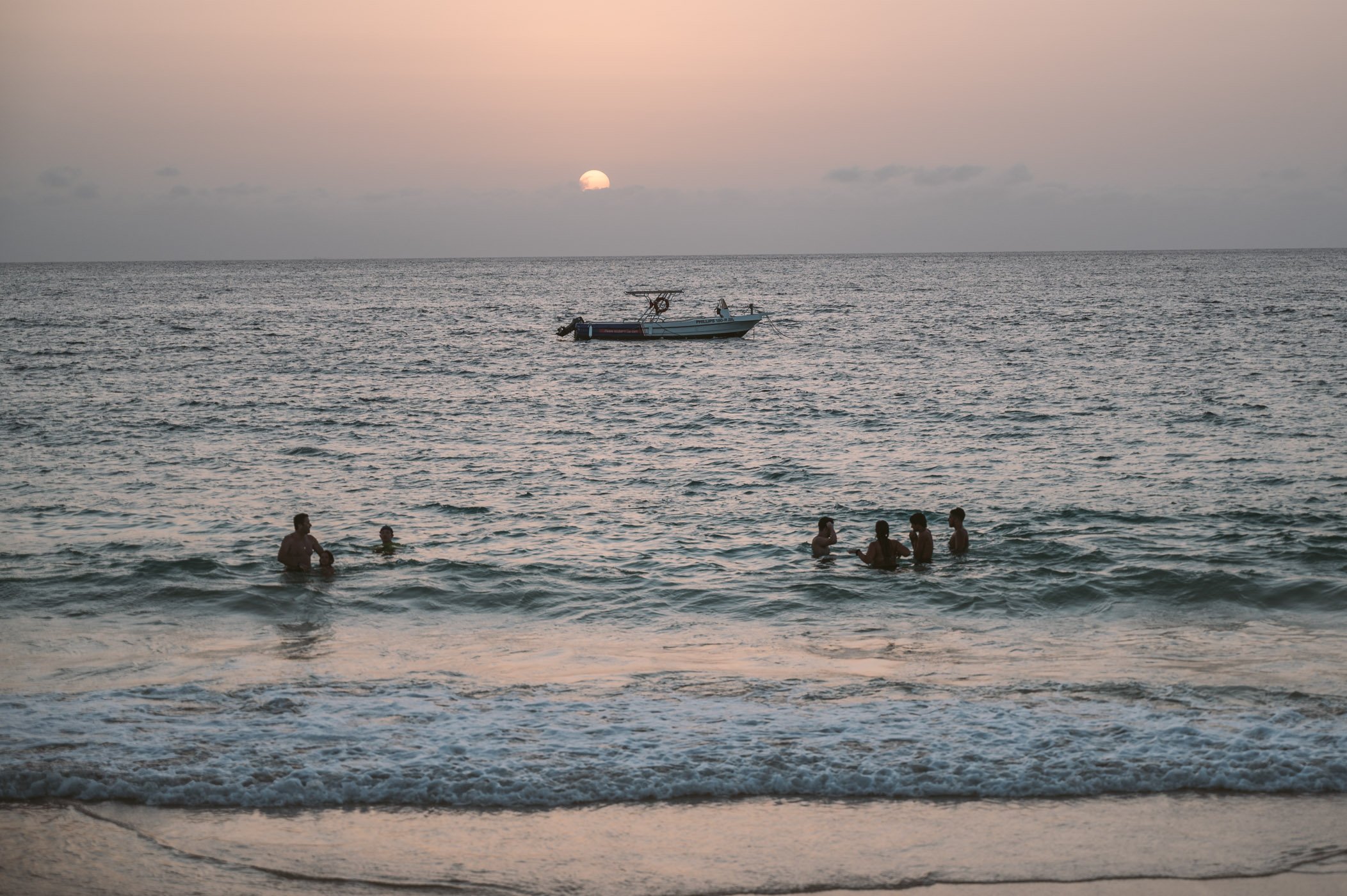 After one week on the islands of Boa Vista & Sal we think the beach is only one good reason for a visit!
Boa Vista: From deserts to endless beaches
We spent the first 3 days on the island of Boa Vista, the easternmost island of Cape Verde. From all the 9 inhabited islands of Cape Verde Boa Vista is the least and most sparsely inhabited with only 1% of the population living here. But since Boa Vista is also the third largest island of the archipelago there's a lot of space – vast emptiness and not many "sights" in a traditional sense. Therefore the island is perfect if you're looking for a beach getaway (the island has 55km of white sand beaches!) with some adventures along the way (like riding quad bikes, 4×4 tours of the island and boat trips to empty bays).
Day 1 on Boa Vista: Quad tour to Estoril beach, the shipwreck and Viana desert
After checking into our hotel we went on our first excursion with quad bikes straight away. We decided to do a guided tour, but booked a private quad trip, so it was just us and our guide. Therefore we could change the planned route according to our wishes and also stay longer to take photos wherever we felt like it 😉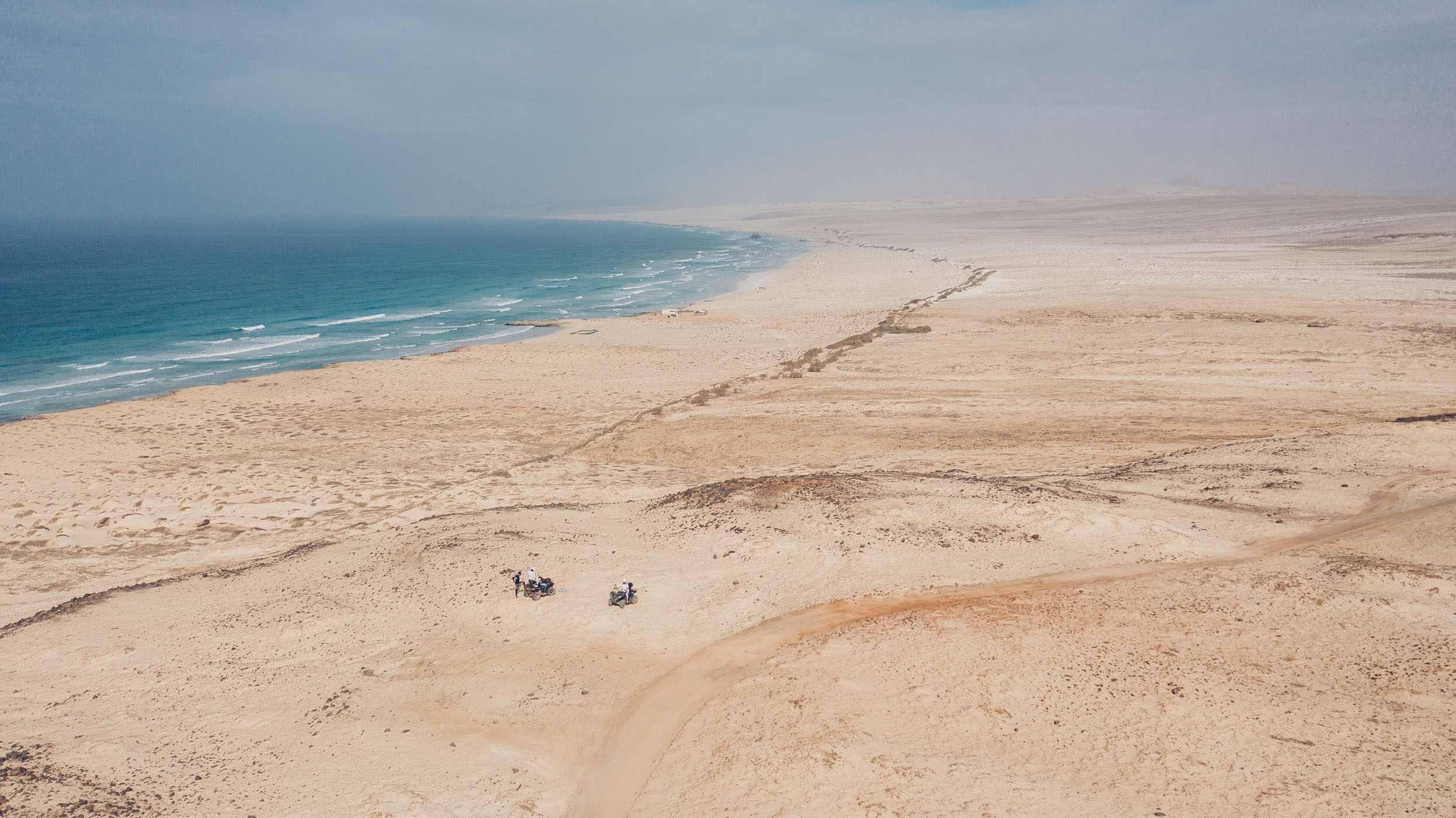 Our first day on Boa Vista started off with a quad tour of the island!
The route brought us to the famous Estoril beach first, which is where most guests go at the end of the roundtrip to watch the sun set in the ocean. Then we went on driving along sand dunes and rugged terrain to arrive at the shipwreck of the M/S Cabo Santa Maria. The freight ship stranded here in the 1960s and has become an attraction for visitors (as stated above, there isn't a lot to "see" otherwise ;)). Our final stop of the 3 hour quad tour brought us to the Viana desert – or Deserto de Viana.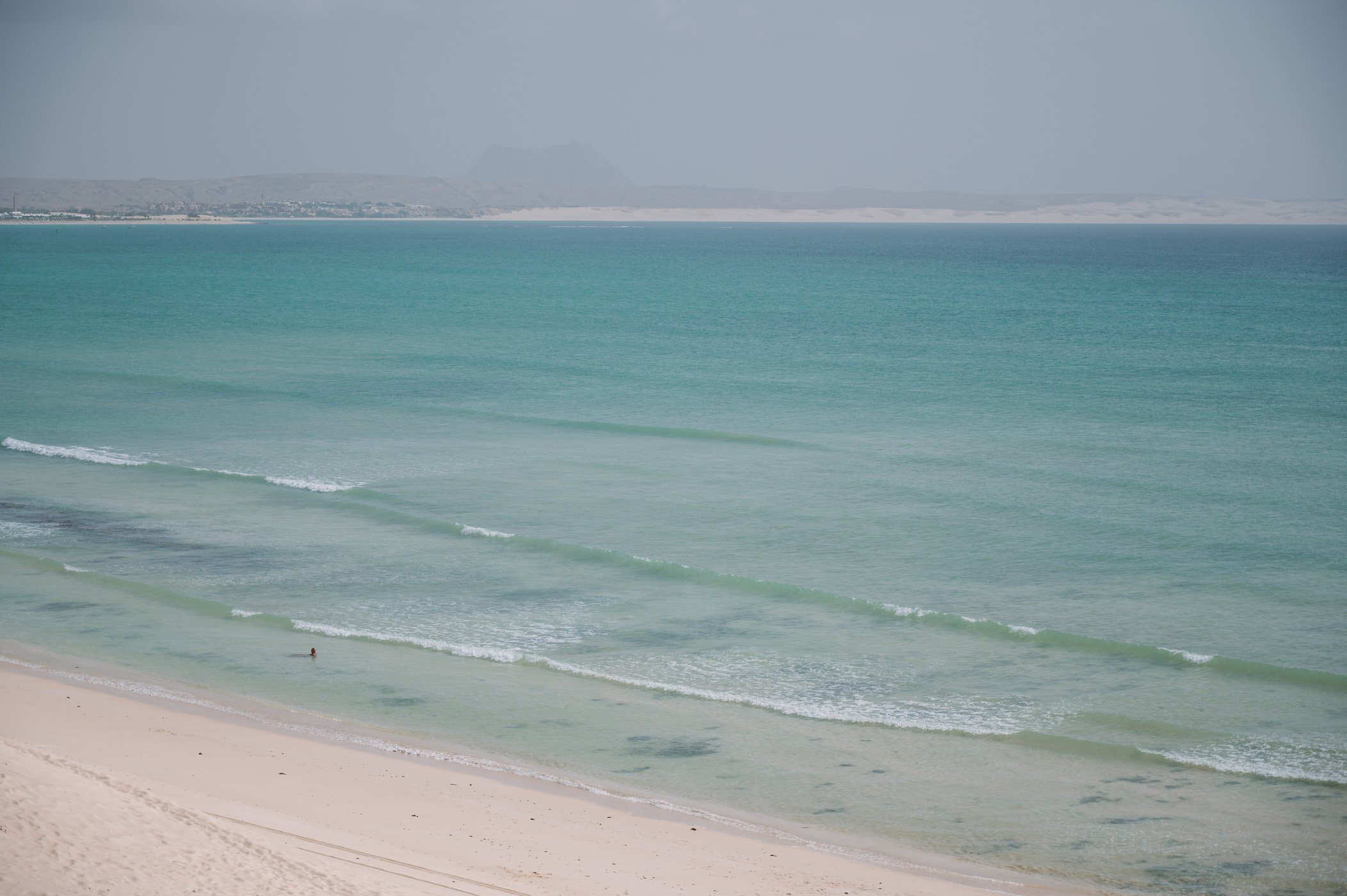 From Estoril beach to the shipwreck of the M/S Cabo Santa Maria and finally the Deserto de Viana.
We had hoped for a sunset in the desert that evening, but unfortunately the sun hid behind the clouds a bit. But since we did the whole quad tour counterclockwise we at least had the desert all to ourselves, which was a real treat! The Viana desert was formed by Sahara sand that was blown across the Atlantic Ocean by the steady wind. It's not a huge desert, but still quite impressive.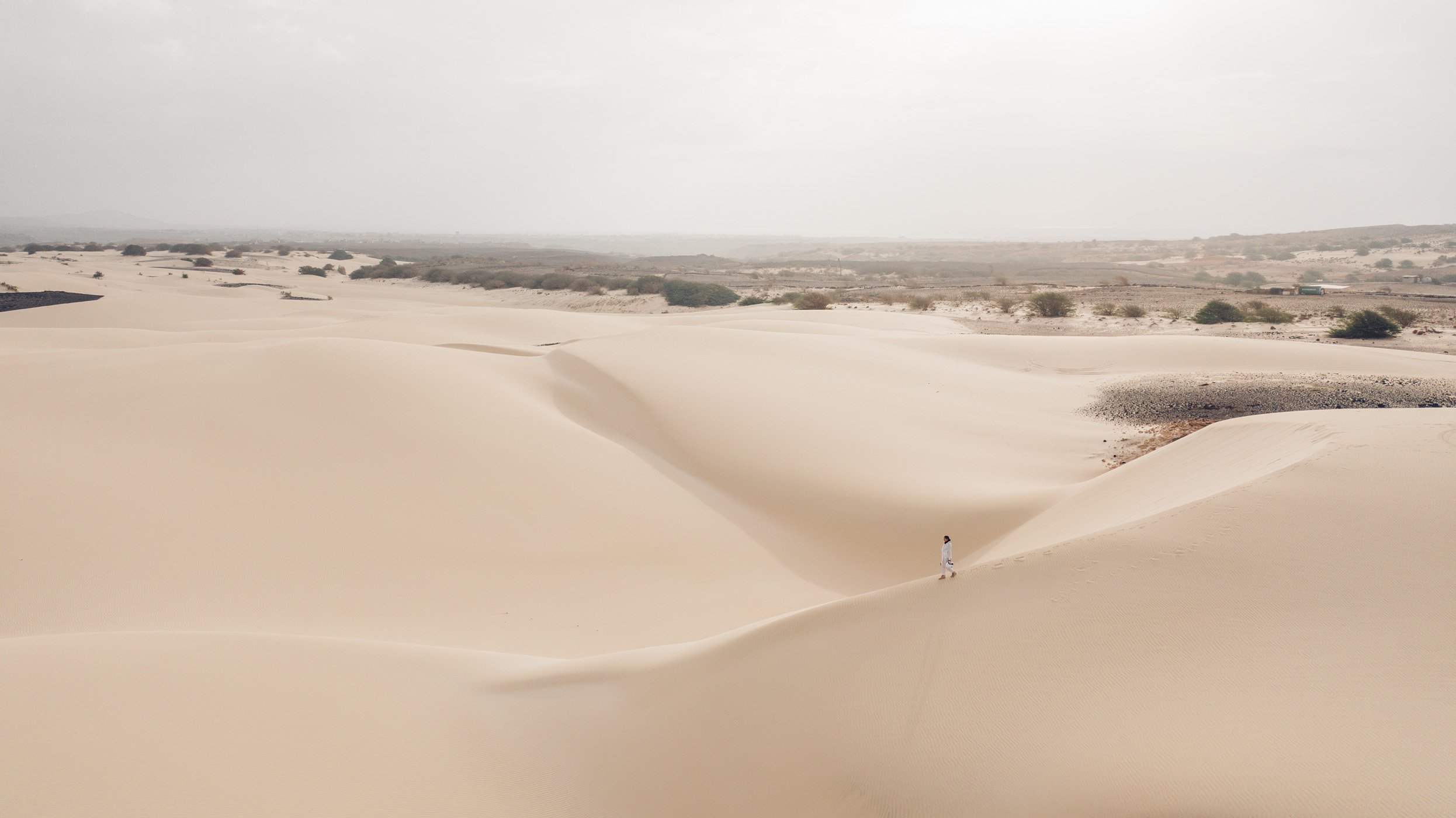 The desert was impressive, even if we didn't get lucky with a sunset!
Our tip:
Definitely do the quad tour with a guide, otherwise you might get lost along the way and not find the right spots. Especially in the desert you really need to know where your quads can go and where it gets too tricky to drive!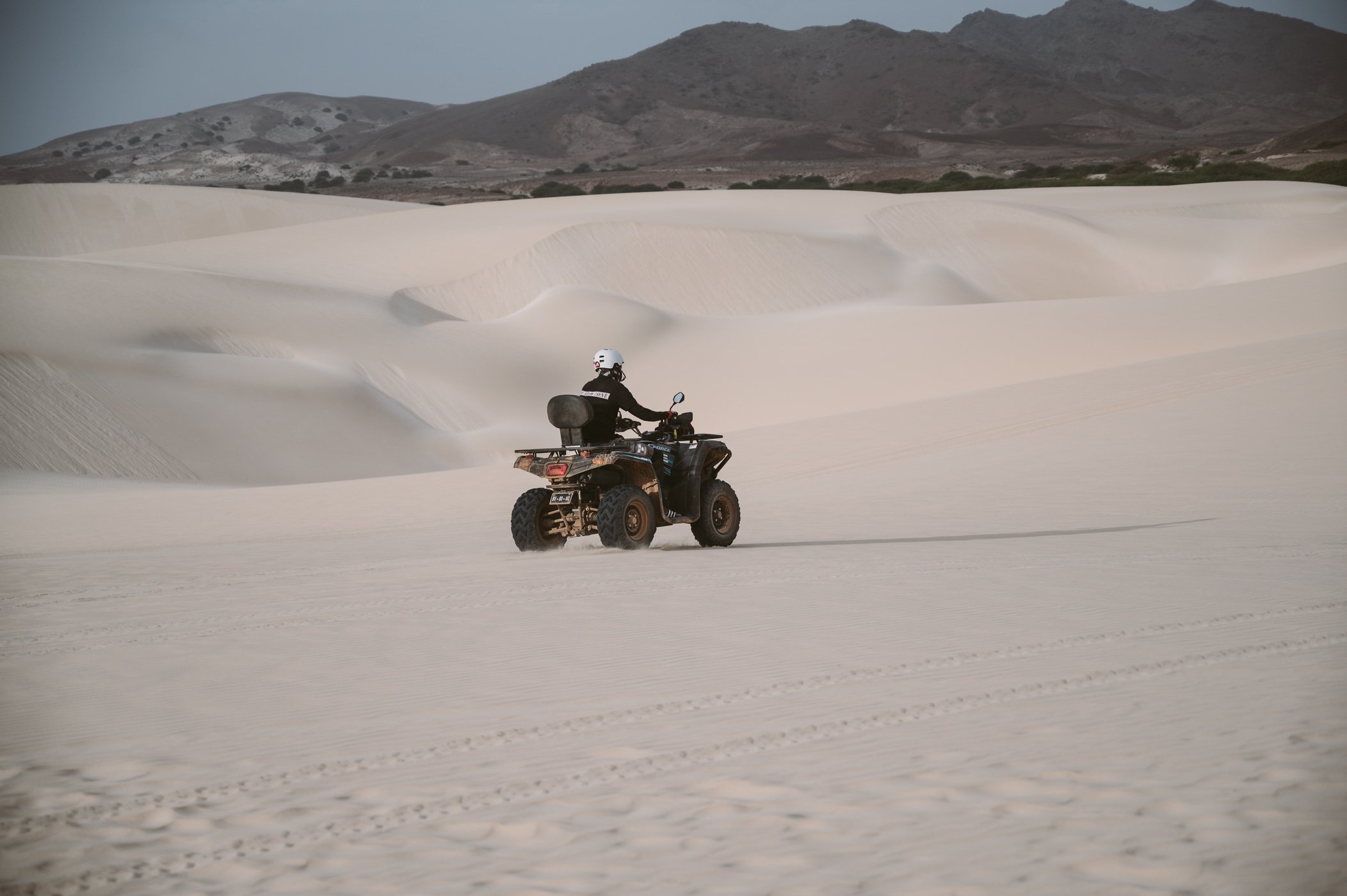 Our guide showed us where it was safe to drive in the desert!
Day 2 on Boa Vista: Exploration with our rental car to Rocha Estância & Praia de Santa Mónica
Wherever we go we always try to be independent and able to discover the destination on our own. Therefore we also opted for a rental car on Boa Vista. The roads on Boa Vista are mostly gravel and sand, hence a 4×4 car is necessary if you want to go on explorations on your own!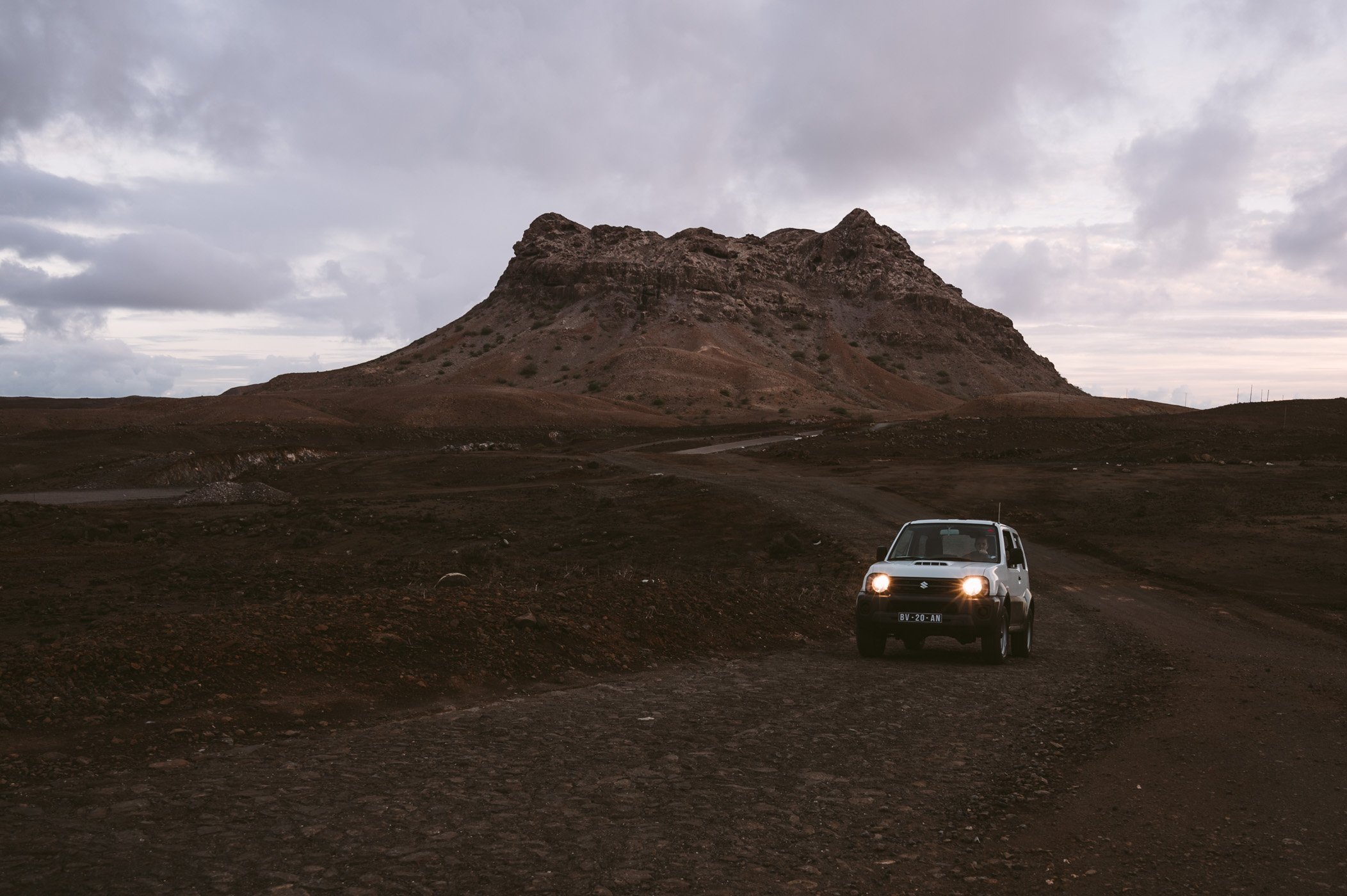 This Suzuki Jimny was good choice for the gravel roads of Boa Vista.
It had rained a bit that morning, therefore the roads became a bit more challenging, but we still made our way to the Rocha Estância mountain in the South of the island. If you're up for a hike this is the one place that is recommended on Boa Vista (the mountain is around 350 meters high).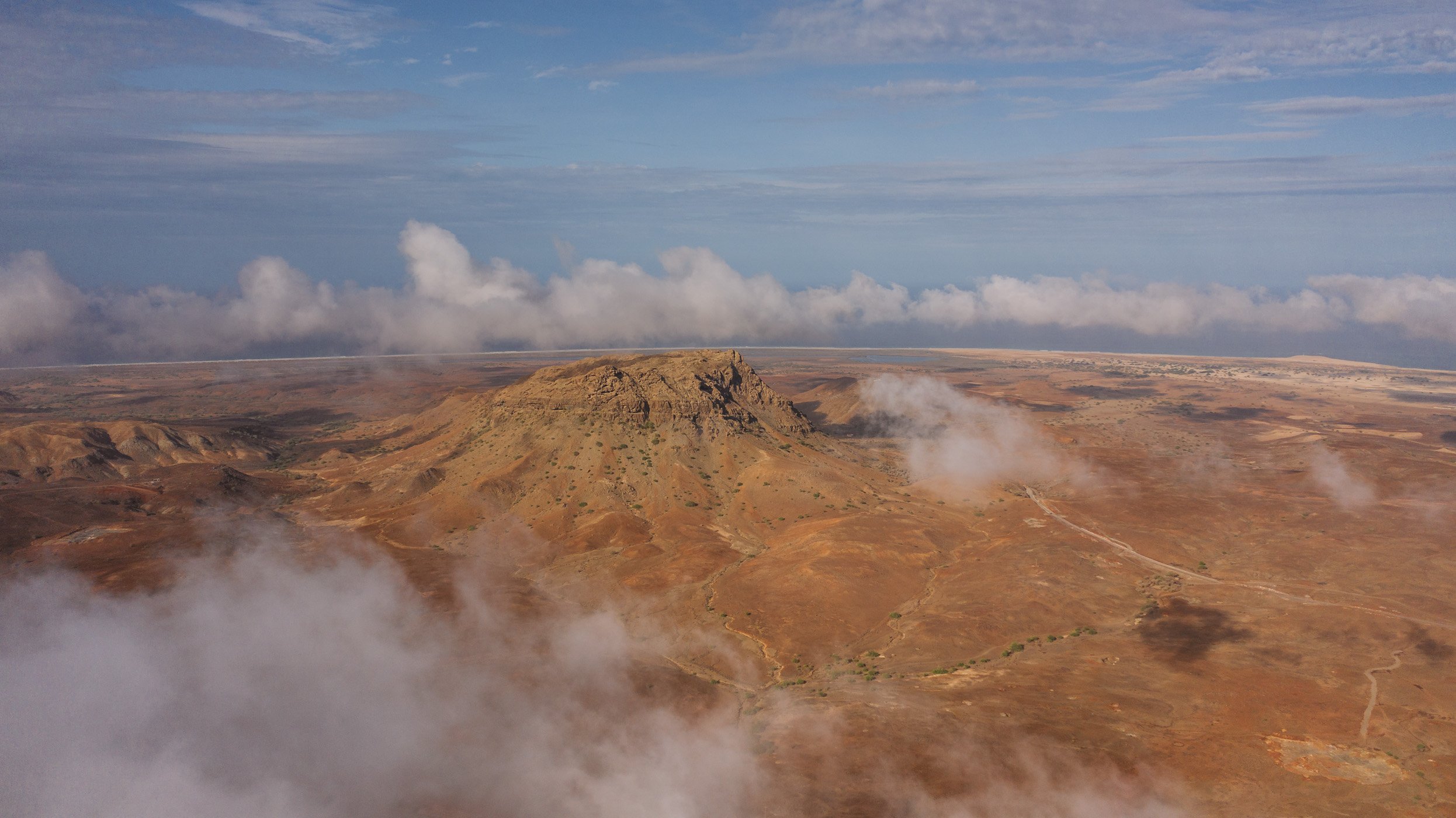 The Rocha Estância mountain is the only relevant elevation on Boa Vista.
From there on it makes sense to also drive further to the South and visit the famous Praia de Santa Mónica – a long stretch of untouched beach! There are no signs or good access roads, so you'll have to find your way by following the paths in the sand.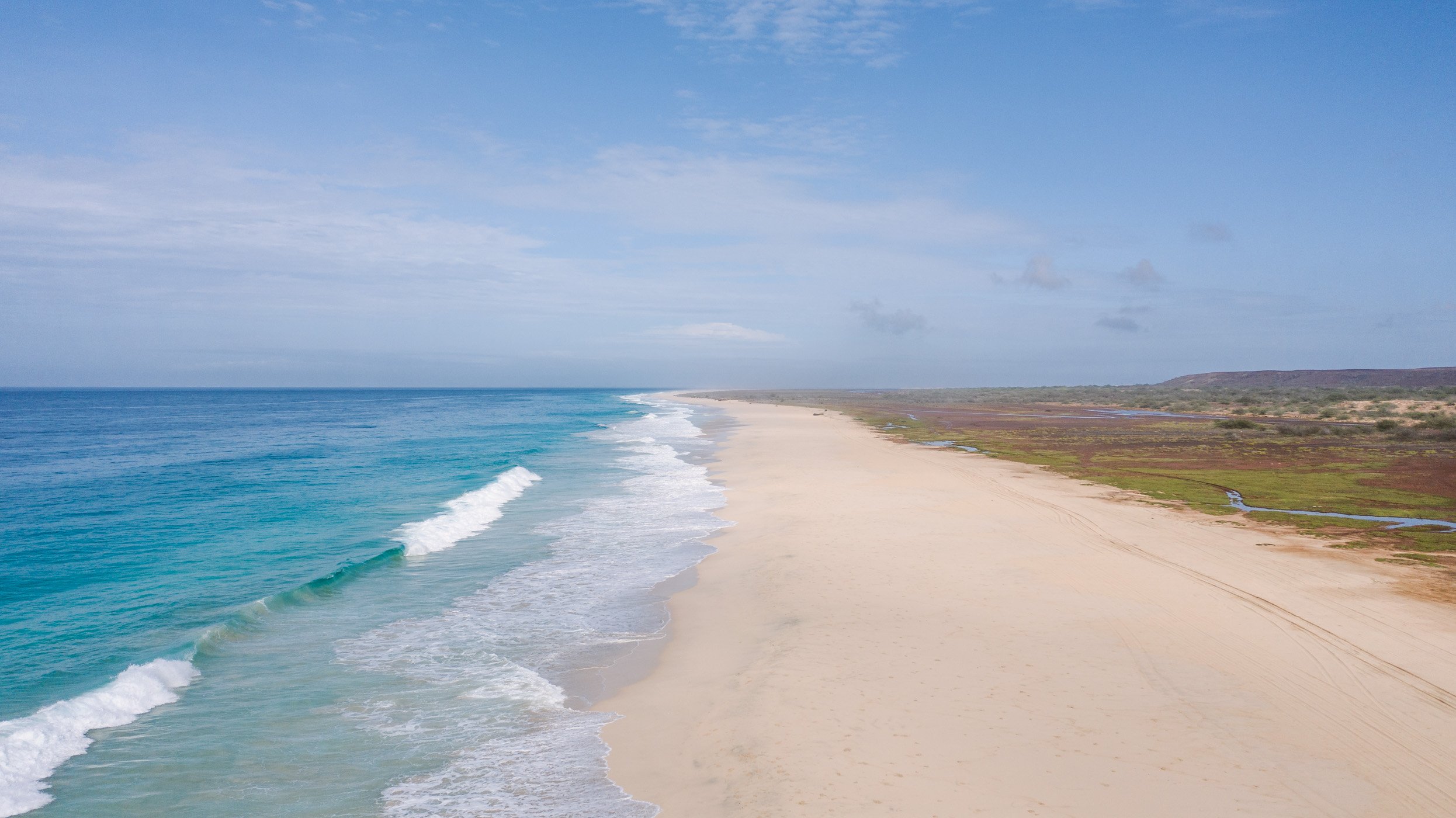 This stretch of beach called "Santa Monica" is still basically untouched…
Our tip:
Ask the rental car company beforehand which roads and parts of the island you can access and where you shouldn't drive. The Eastern part of Boa Vista is mostly off limits from what we've gathered as there are no real streets there! If you prefer to be on the safe side you can also book tours with guides instead of driving yourself.
Traffic isn't an issue here 😉 But the roads are still quite rugged on Boa Vista.
Day 3 on Boa Vista: Sailing, snorkelling & a visit of Sal Rei city
On our third day we opted to finally check out the crystal clear water around Boa Vista. On the wooden Italian sailing boat "Salina", that was built in 1881, we went on to discover a bit of the Atlantic Ocean and also find good spots to snorkel.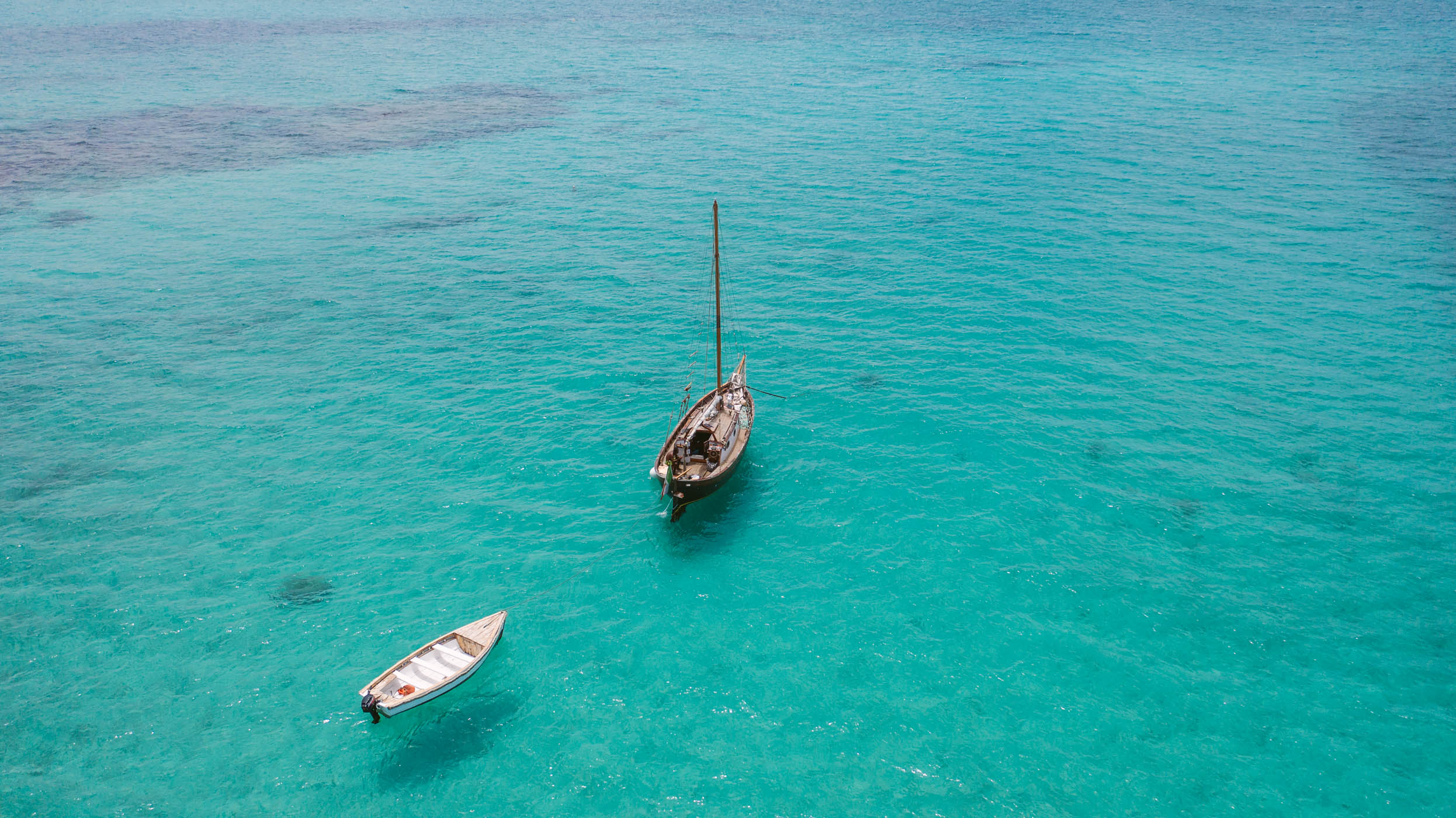 The water around Boa Vista is pretty incredible!
The constant wind and swell on Cape Verde makes for perfect conditions for surfers of all kind, but if you want to go snorkelling you'll have to find a calm bay. The day we chose for our sailing trip was especially rugged, therefore the calmest bay still turned out to be a challenge for inexperienced swimmers. I personally am like a fish in the water, so I had no problems, but a few of the other guests went back to the boat after a few minutes 😉
Our tip:
If you're not a good swimmer try to choose a very calm day for a snorkelling trip. We also recommend to bring a long sleeve UV shirt, as you'll spend a long time in the sun!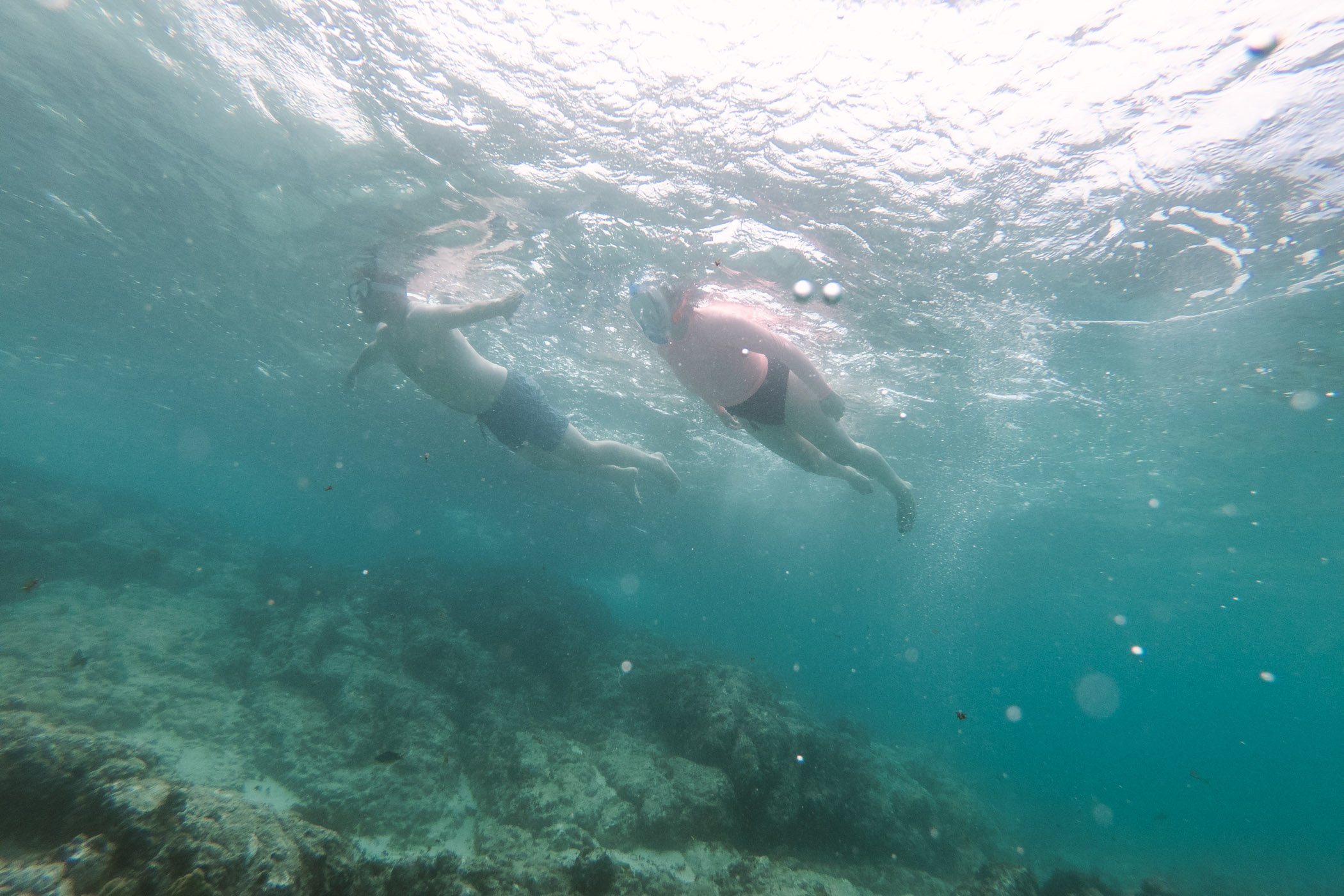 Snorkelling can be a bit of a challenge – depending on the currents! Make sure to check the weather ahead.
After drying off on the boat a bit we went on to our last stop – the small islet called "Ilhéu de Sal Rei". This uninhabited small island off shore of Boa Vista is where the Portuguese built a fort called "Forte Duque de Bragança" to protect the island from pirates back in the days when salt used to be called "white gold". This commodity needed to be protected in the 18th century, when it was one of the main products and sources of income of the island. Today the fort is only a ruin, but interesting testament to the colonial history of Cape Verde.
Setting sail to reach the old Portuguese fort at Ilhéu de Sal Rei.
The boating excursion lasted for a half day, therefore we still had time to discover a bit of the island on our own in the afternoon. We decided to visit the island capital Sal Rei. Wandering around the cobble stone streets of the 2.000 inhabitant town you can get a sense for the history of the island. "Sal Rei" can be translated as "King Salt" and that's what founded the wealth of the island. You can sense this prosperity in the pastel coloured buildings, although not all of them are still standing in their former glory.
The town of "Sal Rei" is sleepy, but cute!
Our tip:
If you visit Sal Rei make sure to pass by at the store "Puru Spiritu Kabuverdianu", where you can marvel at the original interior and buy souvenirs like the locally brewed "Grogue" and of course "Flor de Sal", which is still mined in small amounts on Cape Verde.
Buy Grogue, salt and pink pepper at the local store "Puru Spiritu Kabuverdianu" in Sal Rei!
Sal: From kite surfers to salt mines
After 3 days on Boa Vista it was time for us to hop over to Sal. And when I say hop over I'm not exaggerating, as that flight only takes 10 minutes 😉 Literally the shortest flight we've ever been on.
Update 2023: Unfortunately this direct connection with TAP has been suspended. If you Google you'll find direct flights operated by Edelweiss Air, but they are also not operational at the moment of this update (April 2023). The only option is now a boat transfer, which sets you back around 3 hours according to online sources (we didn't test this ourselves).
The landscapes of Sal might be quite similar to Boa Vista, but there's a couple of things, that are unique on Sal. First and foremost the salines with their pink lakes at Pedra de Lume, but there's also a bay with baby sharks, a sea turtle hatchery and the famous blue hole – and of course the fishing village of Santa Maria!
Day 4 on Sal: Santa Maria Fishing village & Pier
We decided that the first impression of Sal should bring us to one of it's most famous "attractions". The fishing village of Santa Maria has a pier, that is like the center of the island life. This is where locals gather during the day to trade fish and in the late afternoon hours to relax after work.
In the fishing village of Santa Maria the pier is the local hot spot!
We spent a while here as it was a lot of fun to dive into all the action that's happening here – from kids on bodyboards to teens jumping into the ocean from the pier. There's never a dull moment at that pier it seems! No wonder the locals say you haven't been on Sal if you didn't check out Santa Maria pier.
If you dare you can also jump from the pier! But nobody does it with as much style as the local kids 😉
Day 5 on Sal: Salinas de Pedra de Lume, Shark Bay & another sailing trip
Since we were a bit lazy on day 4 we opted for a thorough island excursion the next day. The same goes for Sal as for Boa Vista – you'll need a proper 4×4 to explore the island. Our first stop brought us to the Northeast of the island and the so called "Salinas de Pedra de Lume", a natural saline in a volcanic crater.
The pink color of the salt lakes varies in color – depending on the sunlight and salinity.
We arrived there at 9am and our early bird luck granted us to be all by ourselves in the crater. Here you can not only walk around and marvel at the pink water, but also bathe in one of the basins. The salinity is as high as in the Dead Sea, so you can float equally elegantly on it's surface! When we finished our wellness ritual our skin felt amazing and when we left at around 10:30am the first groups started to arrive.
If you want to see the pink colours well you can climb the edge of the crater!
Our tip:
Visit the Salinas de Pedra de Lume in the morning ahead of the crowds! Bring your own towels and don't shave for at least 2 days before you go bathing there (you'll thank us later for that tip 😉 ). If you want to shower after the salt bath you have the option to use the facilities (they charge 1 Euro for every minute of showering).
The entrance fee at "Salinas de Pedra de Lume" is 5 Euros.
You have to pay extra to use the shower facilities. Well worth it if you ask us!
Not too far away from the Salinas you'll find the famous "Shark Bay". To drive there you have to follow the tracks along the coast. There's not really a street, but with a 4×4 you'll be fine, even if it's a sandy path. Once you'll arrive at the bay a few locals will welcome you there and offer their services. We "hired" one of the guys to show us the baby sharks, that use this bay as training grounds before heading out into the open ocean. This way we learned a bit about the lemon sharks and their behaviour, while wading through the water.
Our tip:
Bring bathing shoes, so you can go into the water without hurting your feet as the ground is rocky here. Don't touch the sharks and respect their territory! And most importantly: Don't eat shark or buy shark souvenirs while on Cape Verde (you'll see those on offer everywhere, even in the most official souvenir shops, but it's still illegal as sharks are endangered!).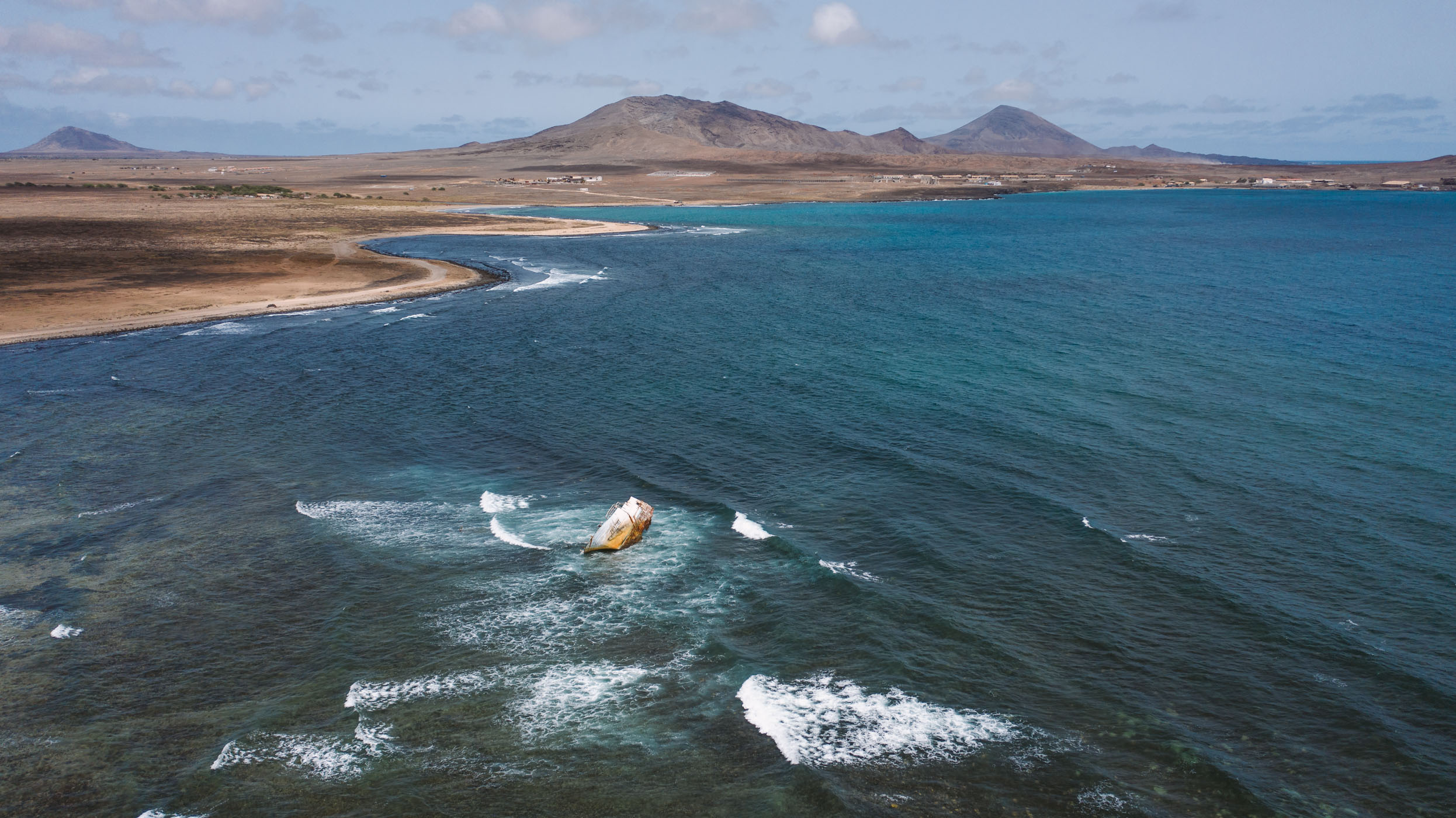 We saw a few baby sharks in the famous Shark Bay, but only caught them on film (so check the video 😉 ).
In the afternoon we then decided to go on another sailing trip. There's just no better way to discover an island and get to spots you wouldn't be able to visit from land! This time we opted for a private sailing excursion – so we had the boat all to ourselves, which was a really nice and relaxed way to spend an afternoon!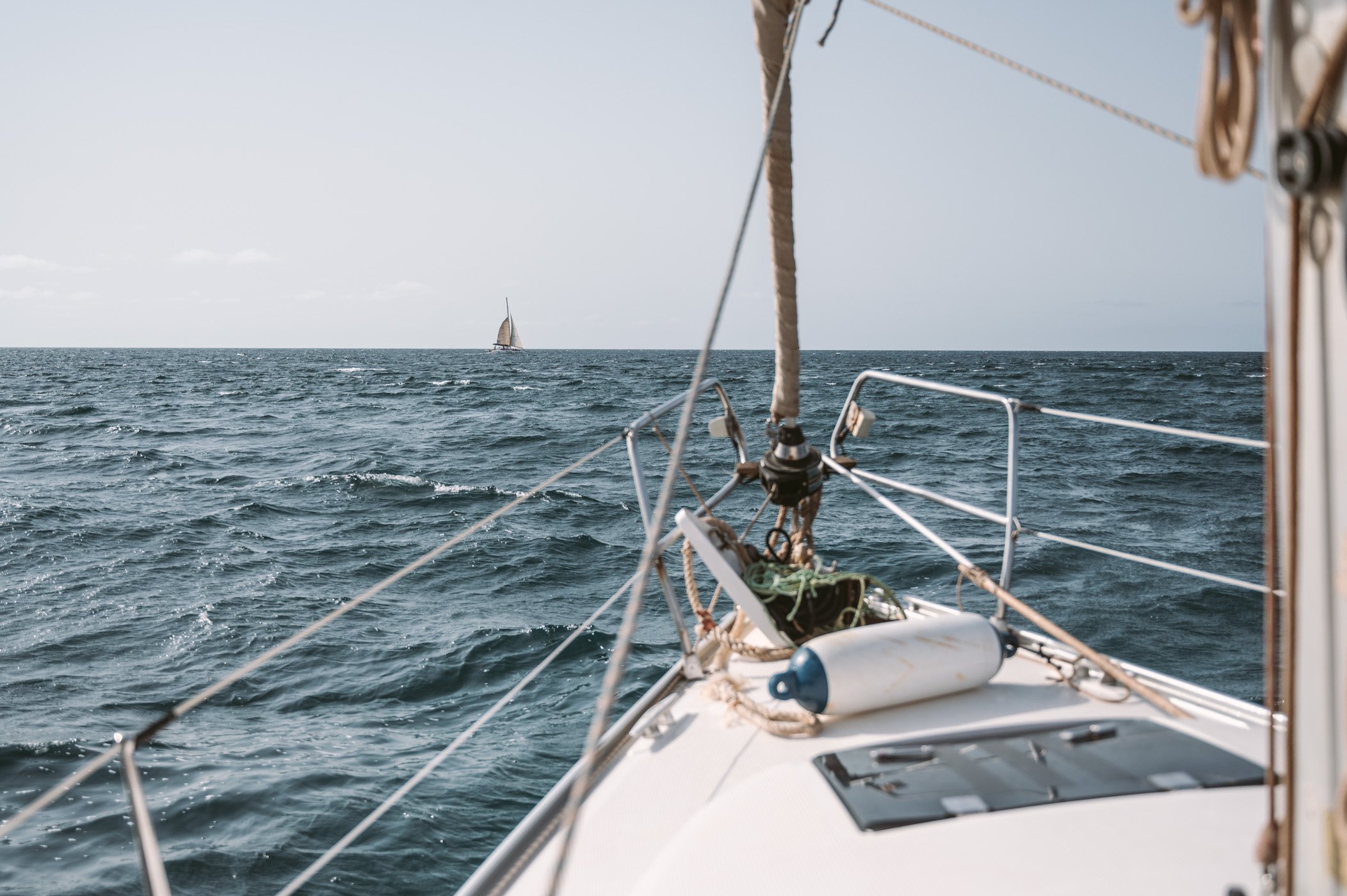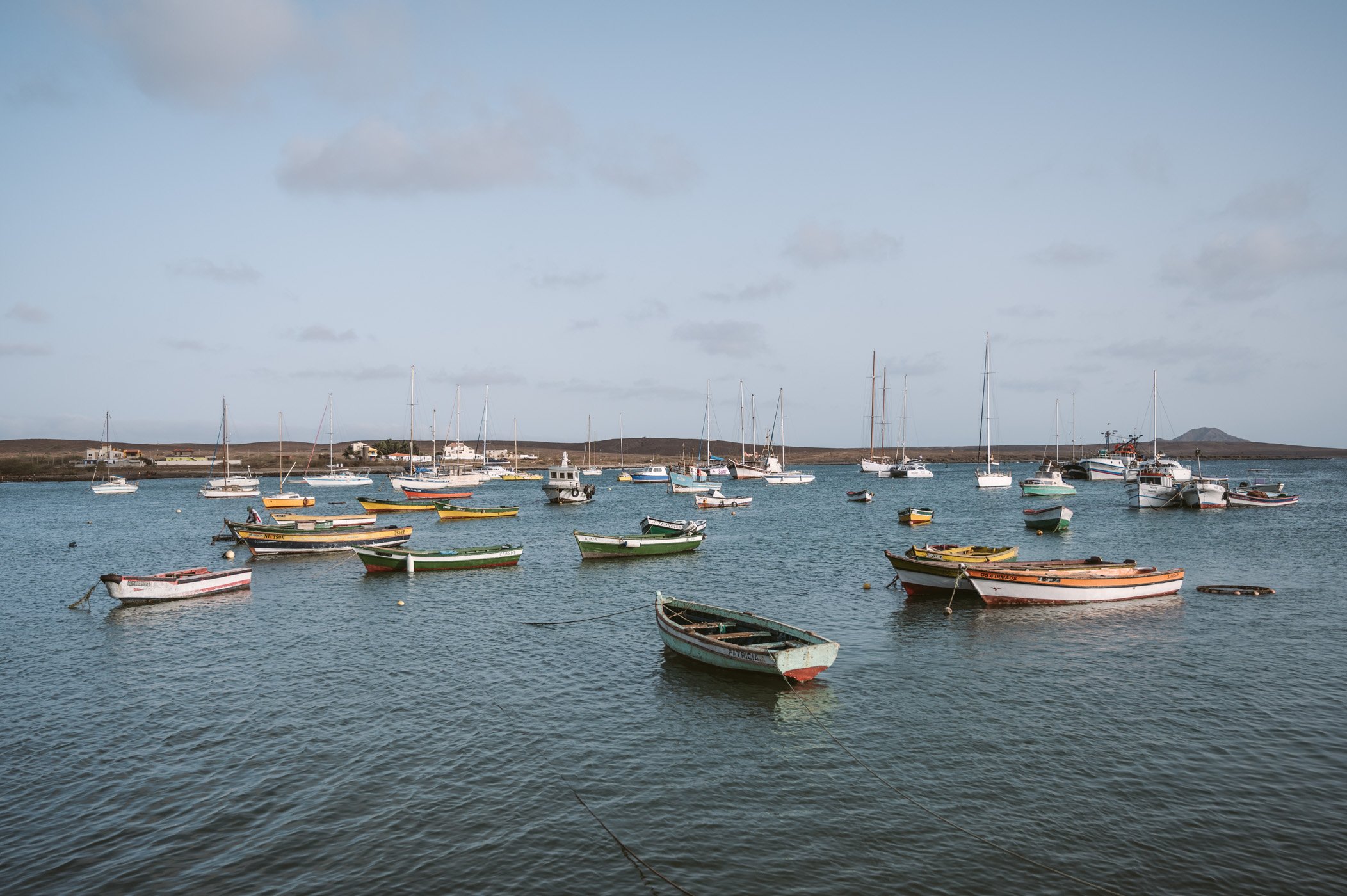 Sailing around the islands is one of our favourite recommended activities!
Day 6 on Sal: Kite surfers at Ponta Preta, Buracona Blue Hole
Our last full day on Cape Verde was dedicated to another island excursion with our beloved 4×4 car! 🙂 We stopped by the beach at Ponta Preta which is famous for it's steady wind and therefore a favourite among kitesurfers. Although we've never tried kitesurfing ourselves we watched a few professionals and also two beginners taking a lesson and it looked quite cool! I don't think the conditions could be any better than there.
Kite surfers love Cape Verde for it's constant breeze and warm water temperatures.
But even if you're not up for kitesurfing this beach has a lot to offer. You can ride horses along the shore or simply walk for miles on the empty stretch of sand, that looks like straight out of a commercial!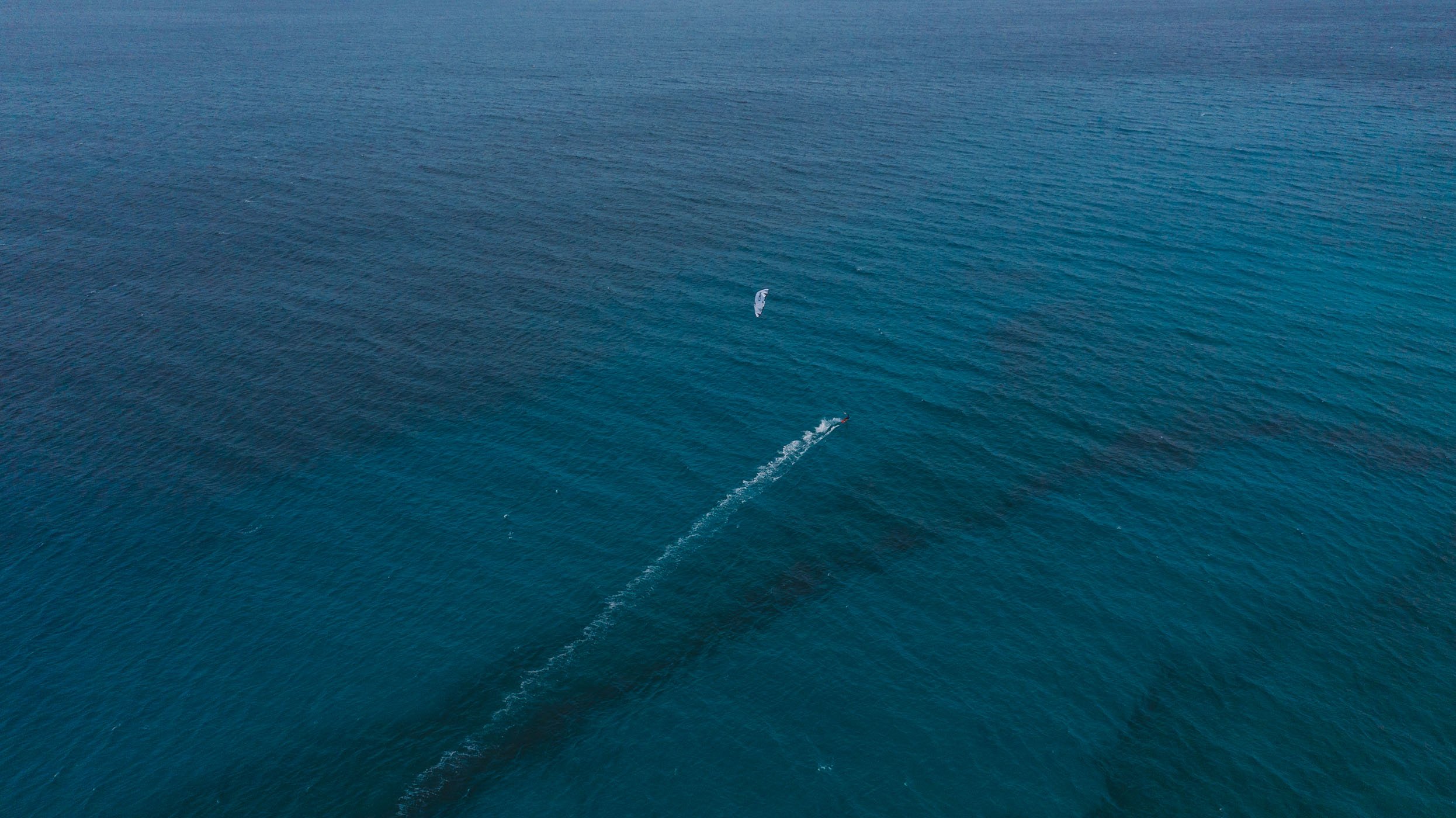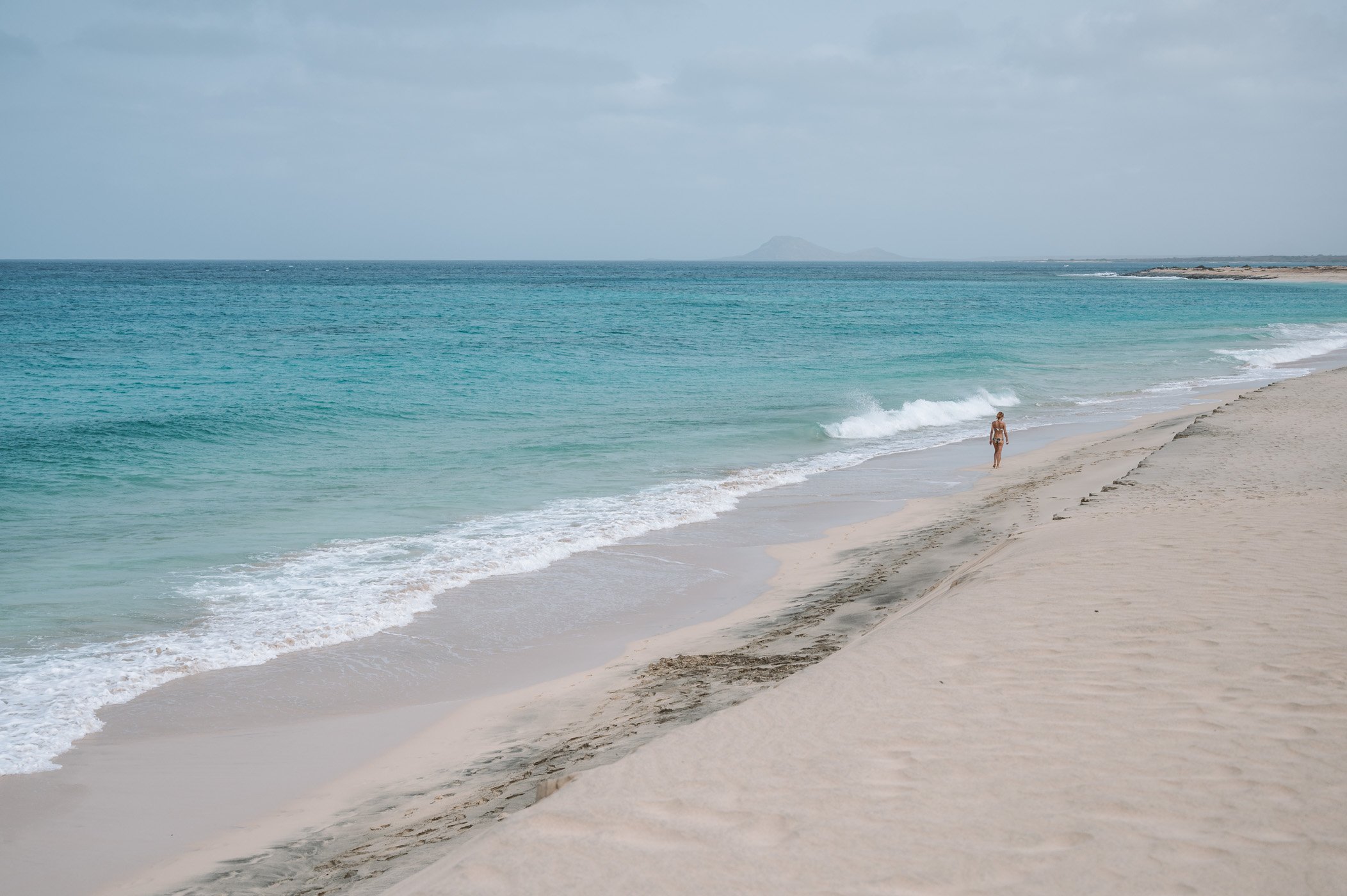 Even if you're not up for Kite surfing you can enjoy the endless stretches of beach on Sal!
For a change of scenery we then drove all the way to the Northwest and it's rocky shores. Here you'll find many natural caves and among them is the so called "Buracona Blue Hole". This cave is formed in a way that when the natural sunlight hits the water it starts shimmering in all shades of blue. Now a word of warning: They are shamelessly using this phenomena to make money. So you'll have to pay an entrance fee, stand in line for a while to then get a 30 second peak into the cave before your time is over.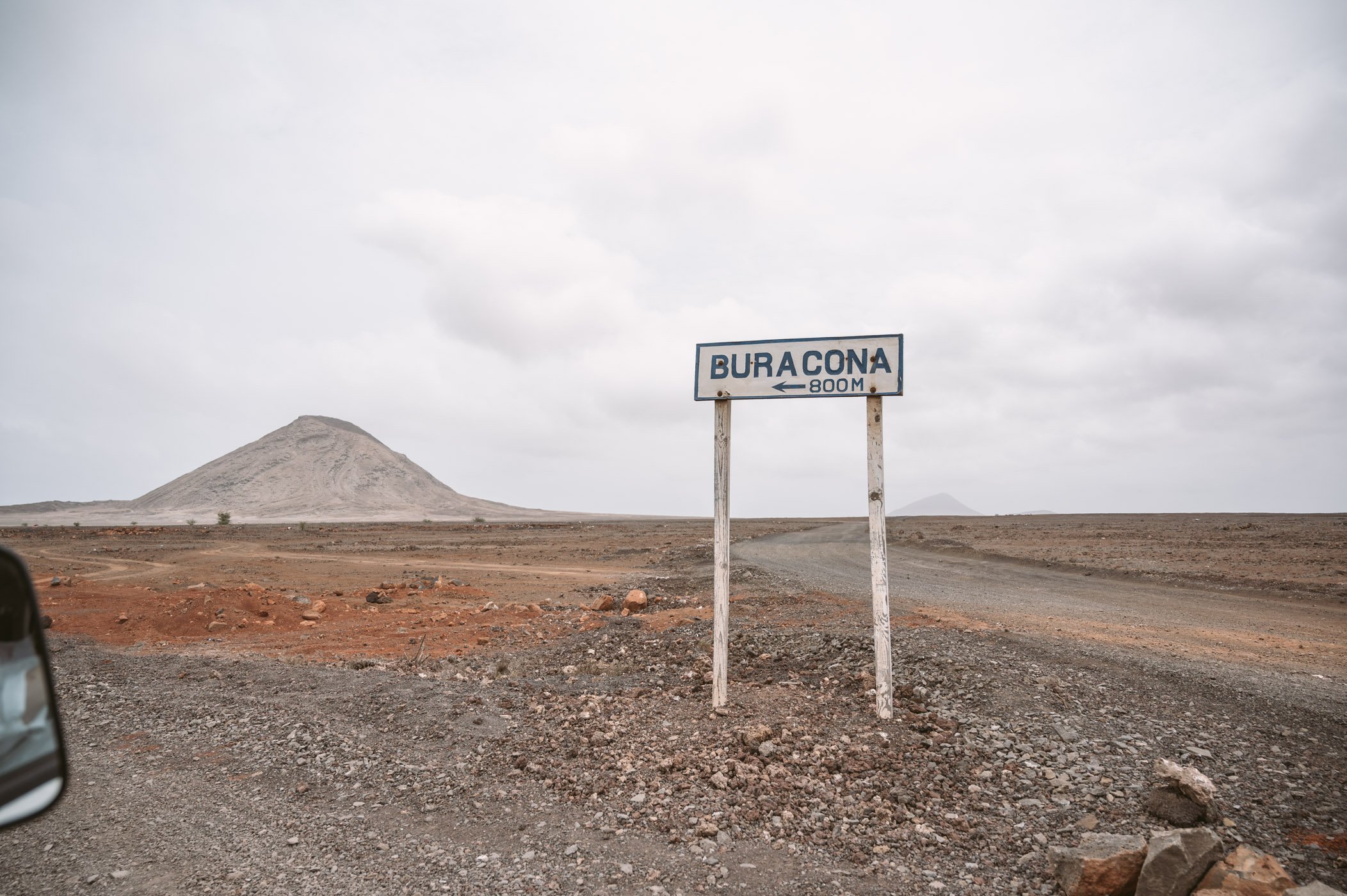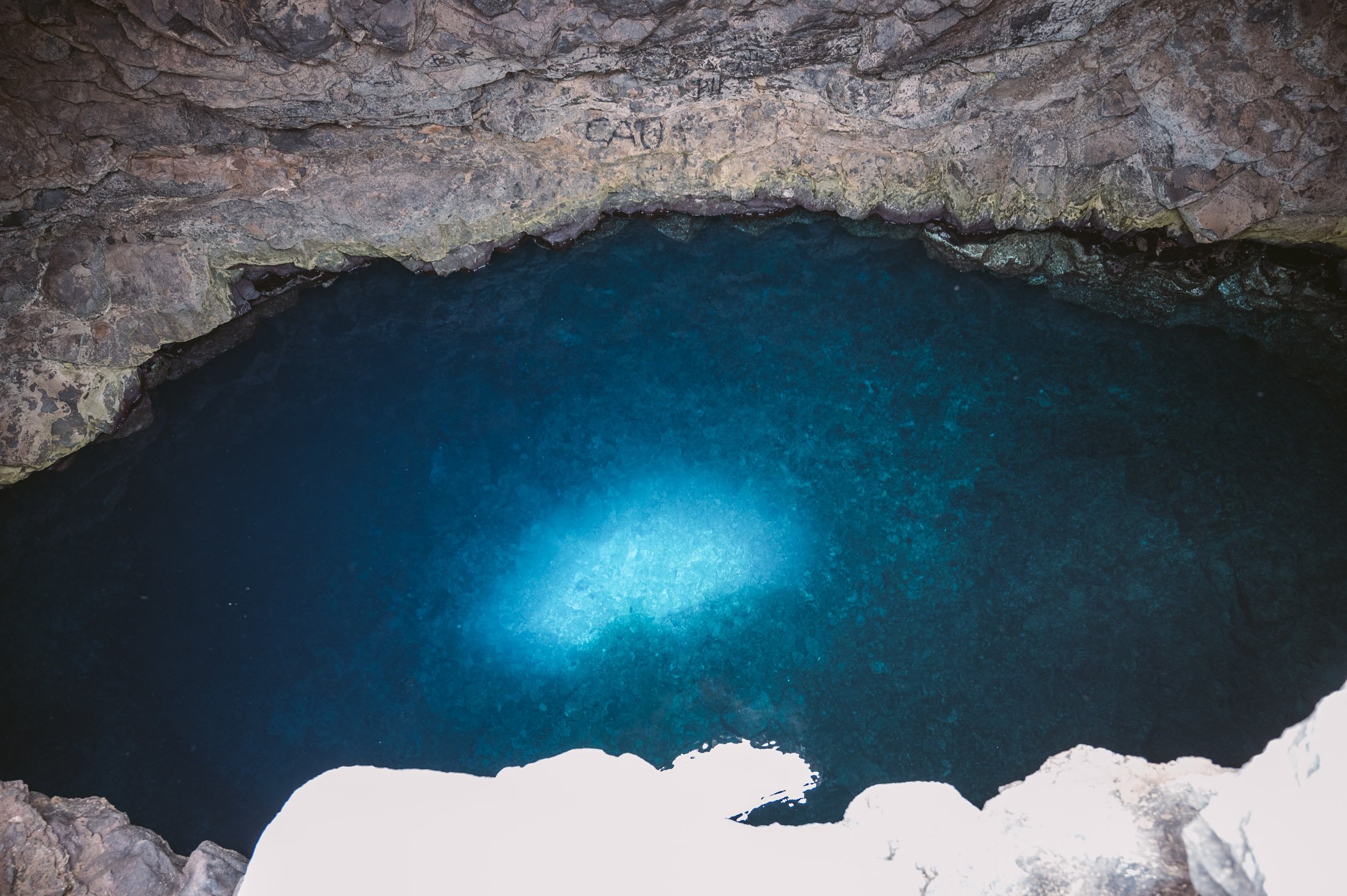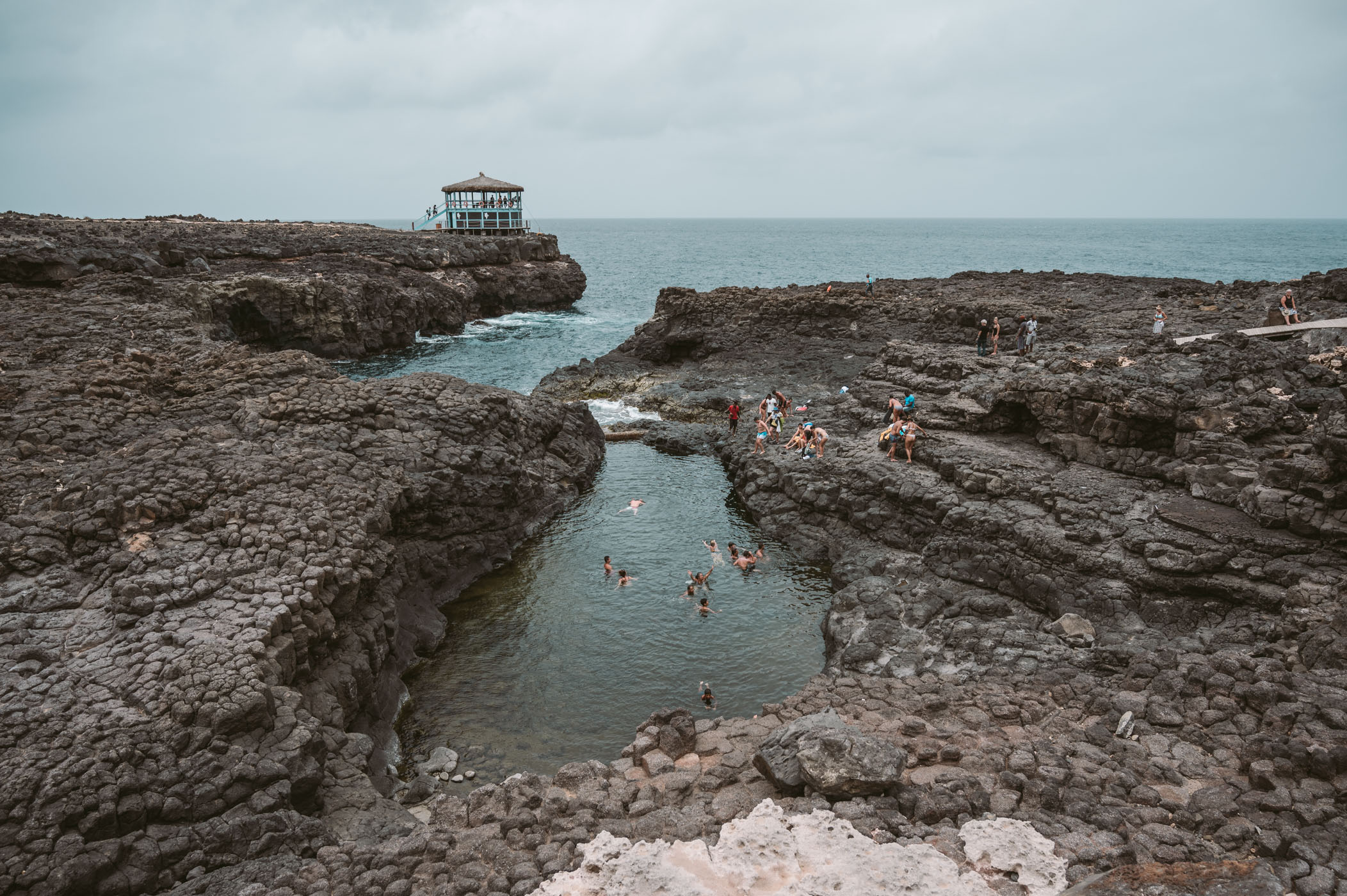 The Buracona Blue Hole is quite famous and equally well visited!
We honestly didn't feel too impressed by this, but then followed a local guide who showed us a hidden cave where we were able to climb in and swim (which is both only possible during low tide). This reminded me a lot of the Cenotes in Mexico and was one of the most refreshing and renewing dips in water I had during our visit!
Our tip:
Time your visit to come during the mid day hours (this is the only way you'll see the blue hole in the right light) and during low tide. After the blue hole there's a wooden runway leading towards the water and what seems like a dead end. Here you can climb down (after consulting with the guides if the conditions are safe!) and bathe in the cave.
We enjoyed the cave much more than the blue hole itself 😉
Project Biodiversity: The Turtle Aid Project
In the afternoon we visited the sea turtle hatchery of the local organisation "Project Biodiversity". Supported by the TUI Care Foundation they are saving sea turtle nests from being raided by stray dogs and potential other risks (like light pollution, which can be disorienting for nesting turtles).
The sea turtle hatchery of Project Biodiversity is a perfect place to learn about the endangered species!
The local project has already saved over 70.000 baby turtles in 2017 alone and are continuing their work every year when the hatching season starts. Unfortunately only 1 in 1.000 sea turtles survives in the wild – so of those 70.000 only about 70 will return to Cape Verde one day to hatch themselves. Due to climate change and habitat destruction the number of sea turtles and especially the loggerhead turtles in Cape Verde are threatened towards extinction.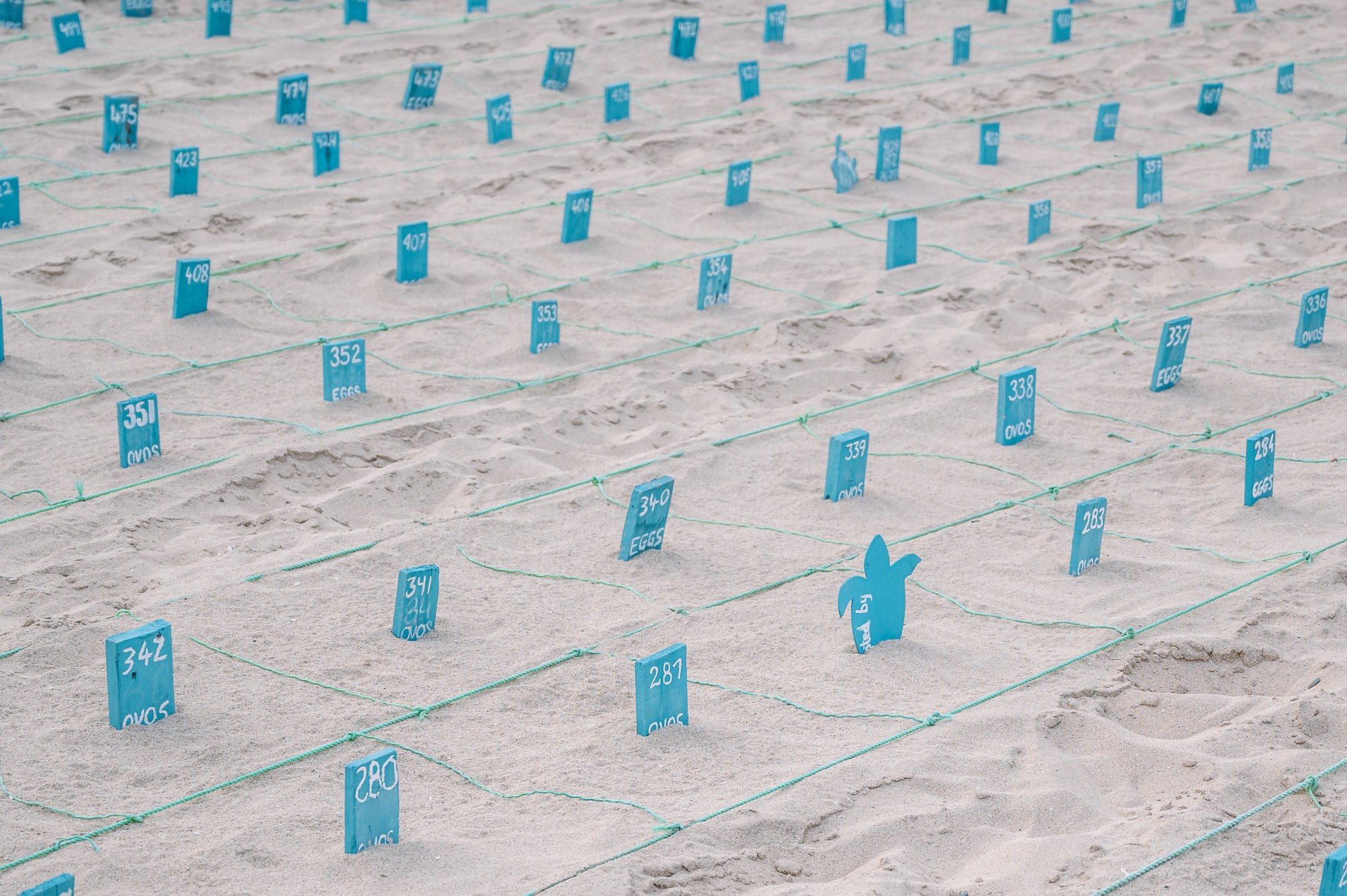 Each number represents a rescued nest, with each a couple of dozen eggs ready to hatch!
As a visitor of Cape Verde one can support the project by visiting the hatchery and adopting either a baby turtle or a complete nest. We decided to adopt a nest of 82 eggs, but unfortunately we never got the promised e-mail updated about how many turtles made it. So the only good feeling remaining is that we did the best to support their work. Once the baby turtles have hatched the volunteers of Project Biodiversity bring them to their original nesting ground and release them to the ocean – in the hopes that at least 1% survive and return to keep the population steady on Cape Verde!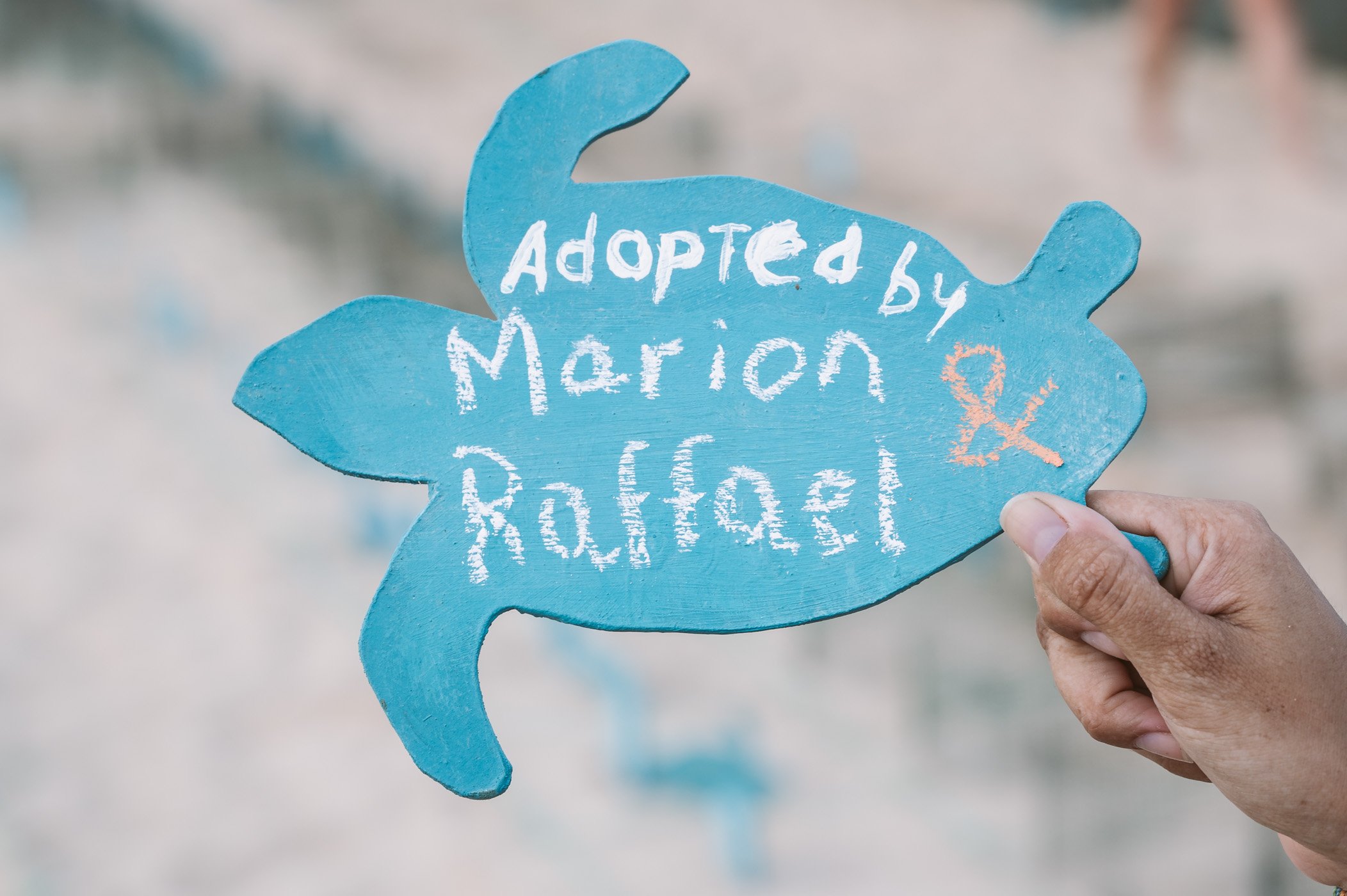 We adopted a nest and are now waiting for the baby turtles to hatch!
Practical Tips for a visit of Cape Verde
How to get there
We visited Cape Verde in early September which is the low season. Therefore we didn't have the chance to use one of the direct flights operated by TUI, which start in October and fly throughout the winter season here from several airports in Austria.
That's why we had a stopover in Lisbon, which made our travel time a bit longer. With direct flights it's only a 5 hour flight time to get to either Sal or Boa Vista from any Austrian airport. And the best thing is that you'll be in Caribbean style climate, but without the jet lag! The time difference between Cape Verde and CEST is only 2 hours.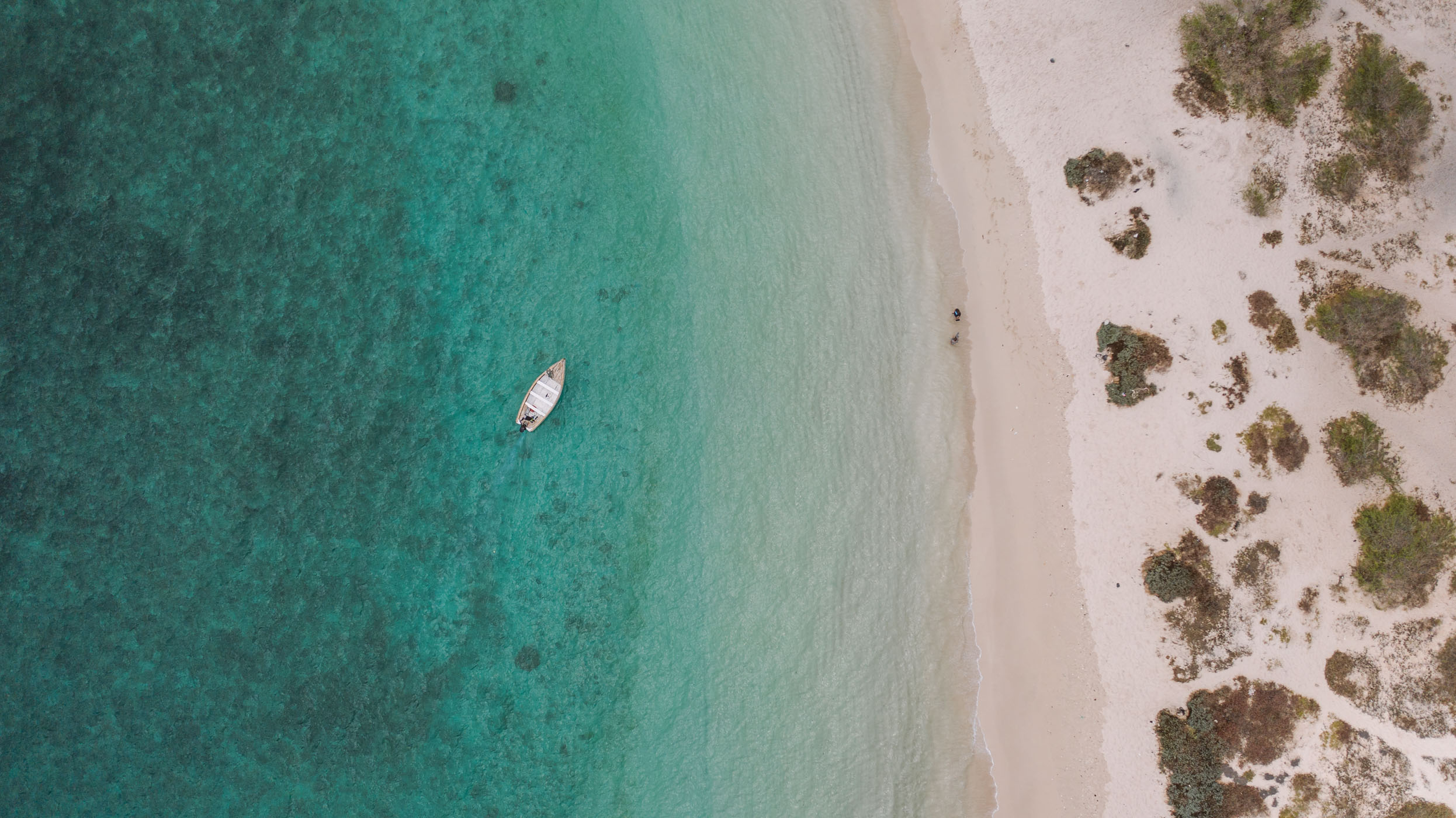 TUI operates direct flights to Cape Verde from several European airports!
Best time to go
Cape Verde has 350 days of sunshine every year – and therefore are called the islands of endless summer. The islands can be visited the whole year as the temperatures are steadily warm (between 20-30 degrees Celsius). The ocean also never gets colder than around 23 degrees Celsius.
That being said there is a so called "rainy season" in the Northern hemisphere's summer months (August, September). During our week long stay in September we did have a day of rain (and the locals couldn't have been happier about it). In fact it hadn't rained the whole rainy season until that day!
Taking all that into consideration the Northern hemisphere's winter is the best time to travel to Cape Verde – starting with October all throughout May. That's the dry season and most of the direct flights from all over Europe (UK, Germany, Austria) operate in that period.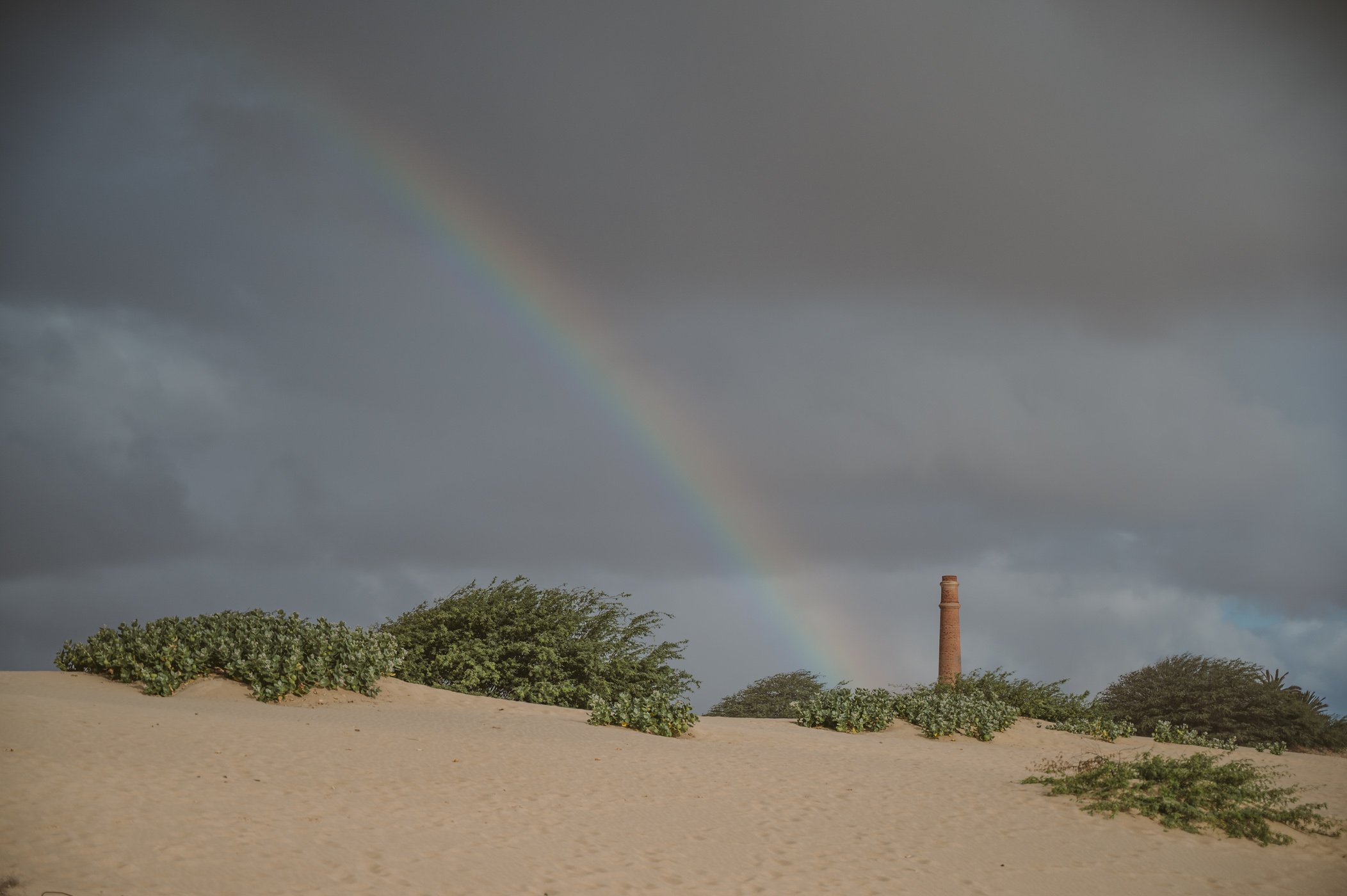 The weather in September was mostly sunny, we only had one day of rain and a few clouds!
Which island to choose
Cape Verde has around 15 islands, of which 9 are inhabited. Thereof Sal and Boa Vista offer the most developed touristic infrastructure, with airports, roads, hotels, tour companies, etc.
When it comes to the landscapes the islands couldn't be more diverse. While Sal and Boa Vista are both very dry and rather flat, offer long stretches of sandy beaches and turquoise water, islands like Santo Antão are mountainous and quite lush and green. We unfortunately only got to see Sal and Boa Vista, but would love to visit some of the other islands as well the next time!
Therefore it really depends on what you're looking for! If you opt for a beach vacation with some adventures to be had then Sal and Boa Vista are your best choice. If you'd rather go hiking, explore mountains and volcanoes then you should opt for Santo Antão and/or Fogo. Maio is also developing as a new off-the-beaten-path island getaway for the eco-conscious traveler.
The choice is yours! It might only be limited by the infrastructure, especially the flights connecting the islands and the ferry schedule has to be taken into account. International flights will almost exclusively land on Sal and Boa Vista. Our recommendation would be to combine one of the more developed islands and then jump over to one of the more remote islands for a change 🙂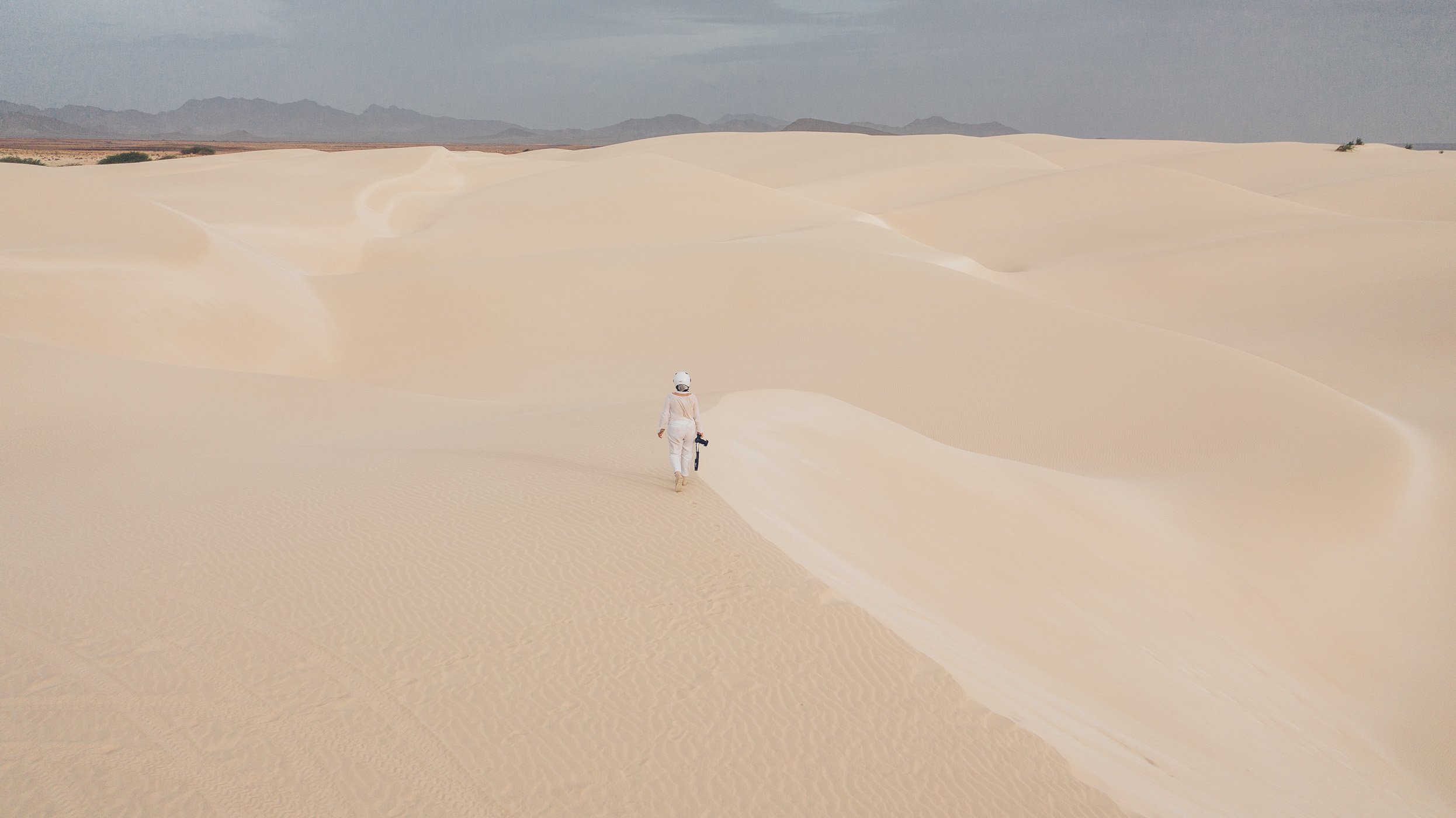 If you like deserts, sandy beaches and crystal-clear water, than Sal & Boa Vista are the right islands for you!
Interested in a trip to Cape Verde, but not right now? Pin this post for later:
Disclaimer:
We were invited to Cape Verde by TUI Austria, but our views stay independent from that invitation.