It's just like everyone tells you when you ask them if you should get ReLEx smile treatment. You'll be fine! It'll all going to be ok. This is a routine surgery. The risks are negligible, but only if check-up and pre-exams are made right and at full range.
But still – it's suddenly real. And it's about your own eyes. The very single pair of eyes you have. And of course you panic, you fear for your eye sight, you doubt your decision…
"And then you go for it. And it's done after 10 minutes."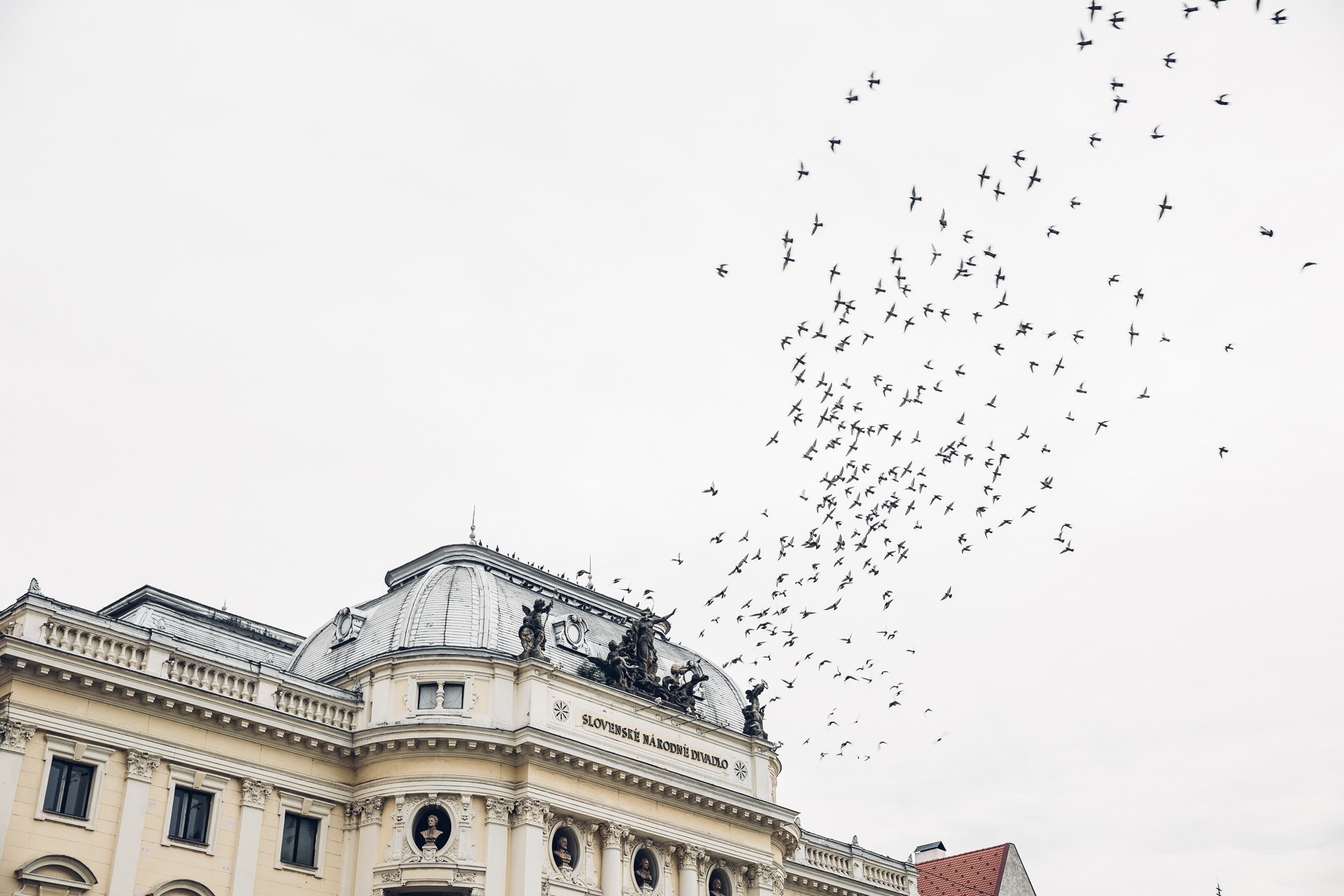 And you can't believe how easy, smooth and pain free it really was. Here are my personal experiences with getting the ReLEx smile treatment at NeoVizia eye clinic in Bratislava.
Questions over Questions
There are many, many questions that you guys asked me when I announced I was getting the ReLEx smile treatment. Therefore I wanted to share my personal answers to these questions and how I got to the decision to go for the treatment. I hope this helps you guys come to a more informed decision. But first let me give you a step by step description of the treatment!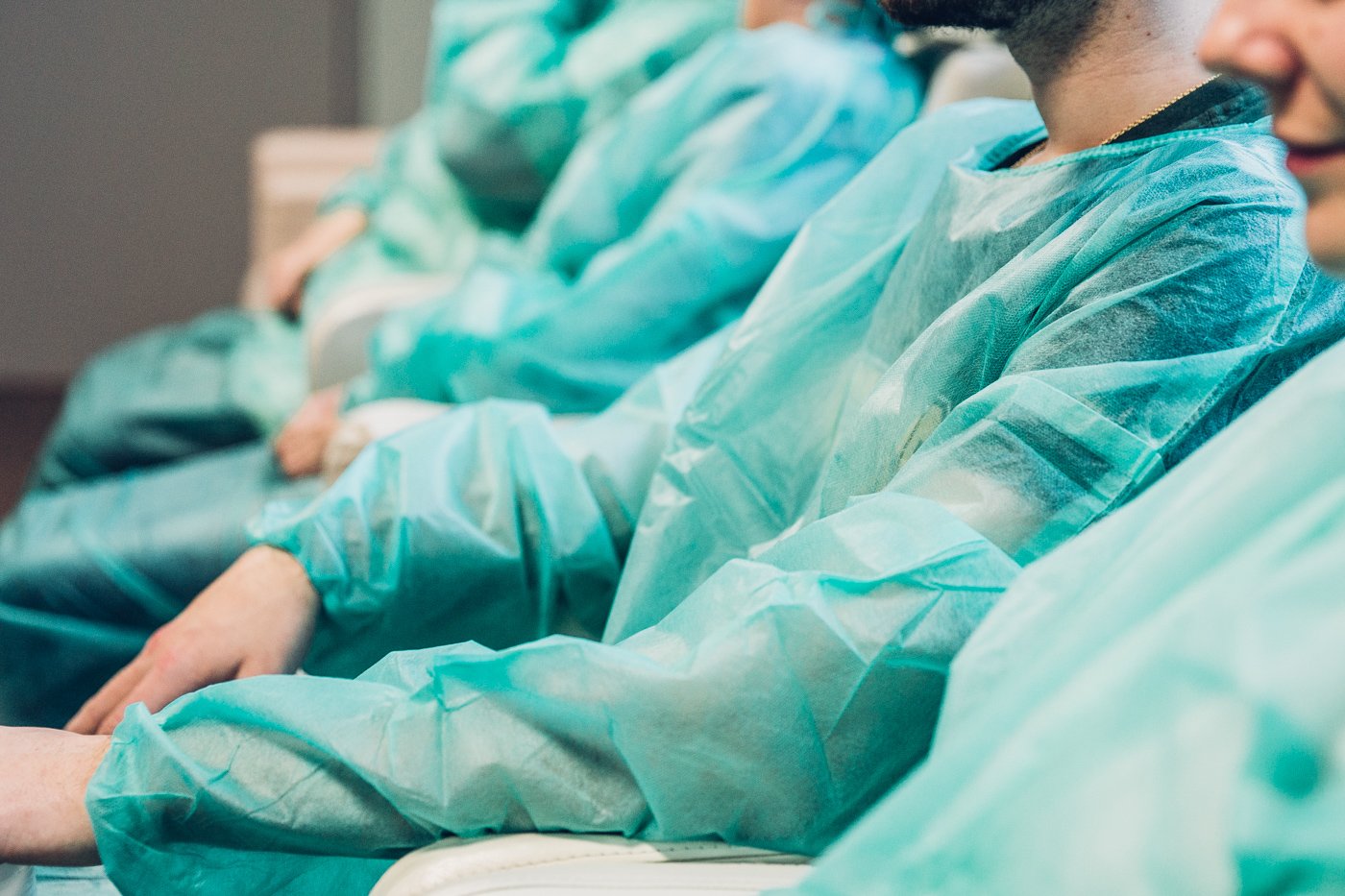 Step by Step – from pre-examinations to the surgery
We arrived in Bratislava the day before the pre-examinations. Now that's not a pre-requisite, but we wanted to have a day in Bratislava to relax and unwind and explore the city (as we had never been there before). Crazily Bratislava is only a one-hour train ride away from Vienna, so it's closer than Linz.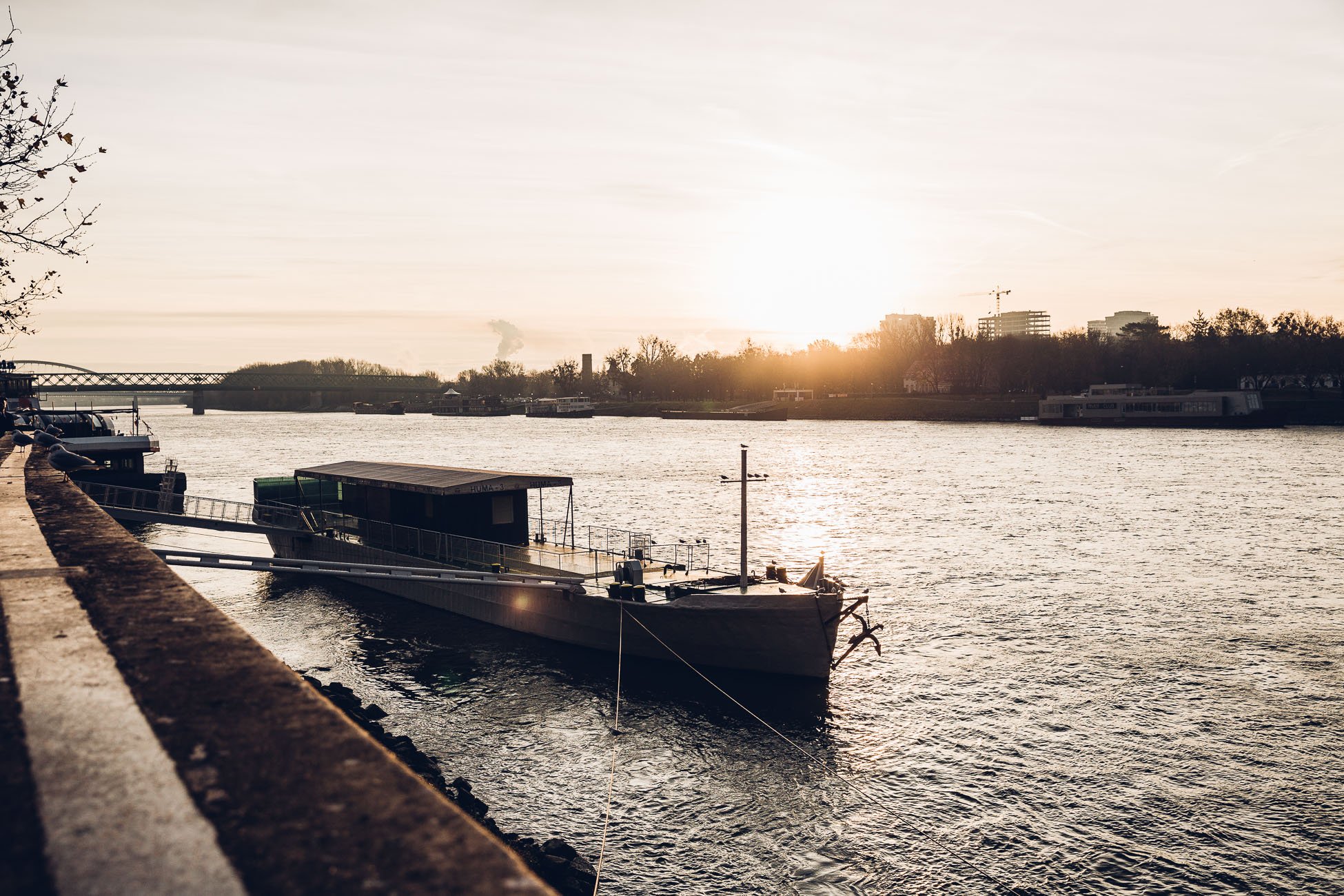 We enjoyed a day in Bratislava before the surgery to unwind and relax. And get distracted 😉
The day before the pre-exams
After wandering through the old town of the city and climbing the Old Town Hall's tower to get a view of the city, we got a super delicious dinner and then went to our hotel for the next two nights. NeoVizia offers a full-service package for German speaking guests – and they also book the hotel for you. Hotel Devín is located right next to the Danube, with a view of the famous UFO. From here it's only a stone throw's distance to everything you might want to see in Bratislava (check our full Bratislava City Guide here).
The night was – let's say it – a bit uneasy. I didn't sleep too well and I was quite nervous. How would the pre-examinations be, what will they find, will I be able to get the ReLEx smile treatment? I could barely eat a thing for breakfast and at 7:45am we were picked up by Jana from the hotel.
Jana is responsible for the service for German speaking guests. She accompanies every patient through the whole process. Jana has been living in Munich for more than 30 years now, so she speaks perfect German and is around all the time if you need something.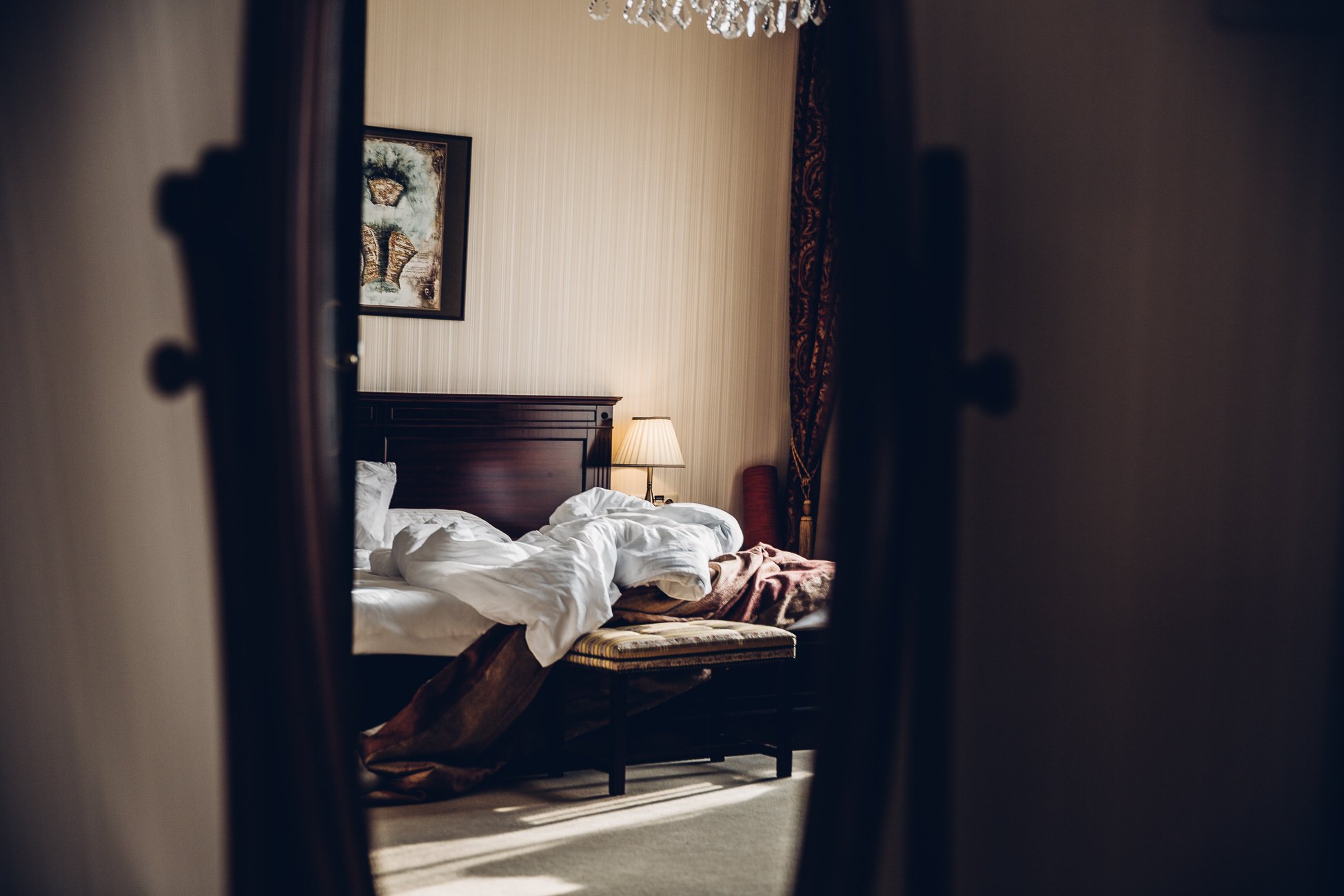 I didn't sleep too well the day before the pre exams, although we had a comfortable room!
The pre-exam day
We arrive at the clinic at 8:00am. It's a super modern building, that houses a couple of different medical facilities. In the first floor NeoVizia has it's exam and surgical rooms. It all feels like a normal doctor's office – just a bit bigger. There are at least 10 other patients that day, all sitting lined up in the waiting room. Nurses are everywhere and pick up each patient for their pre-exam.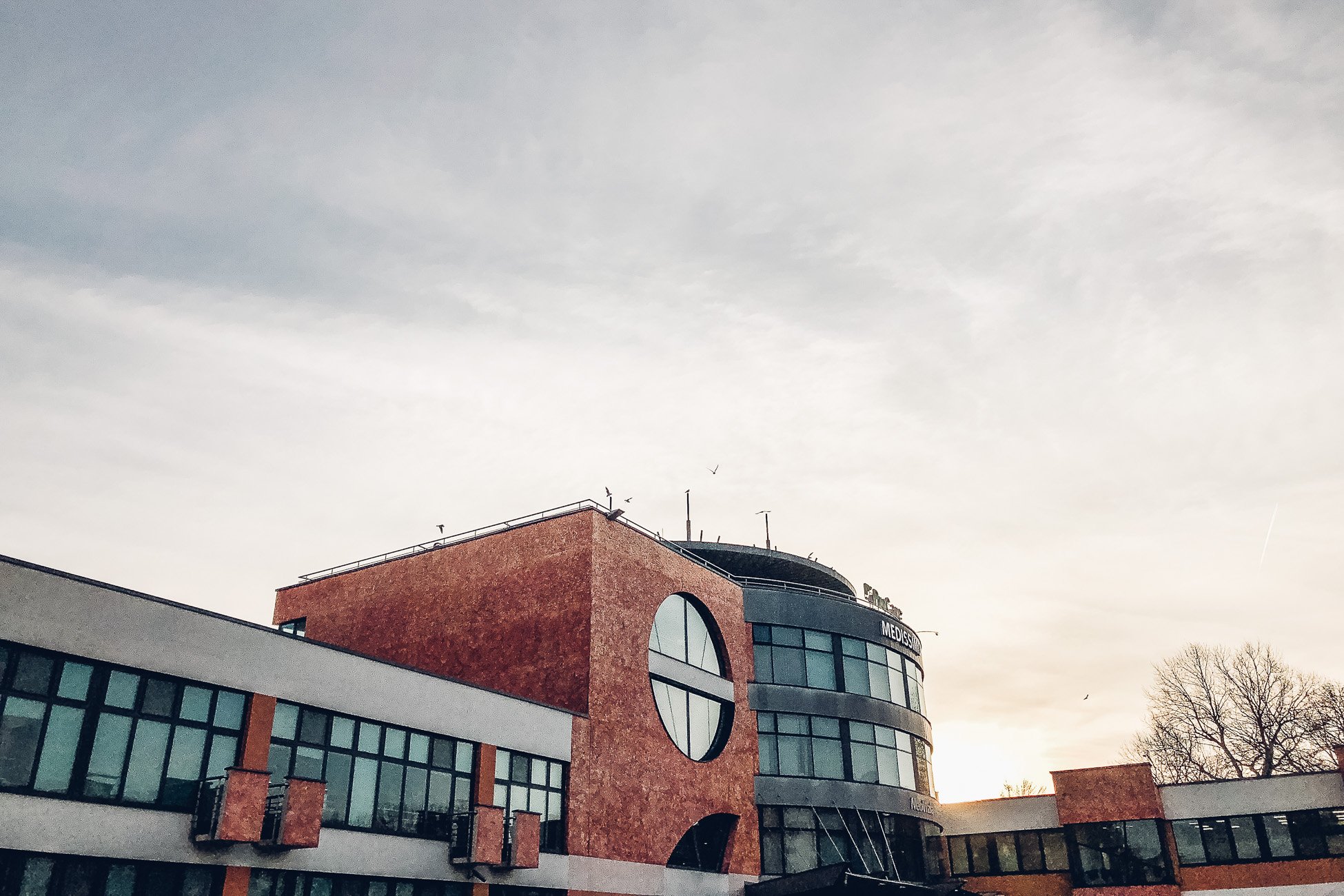 NeoVizia clinic in Bratislava.
Today Daniel – the founder of the LASEK LASIK Bratislava Service (which is the specialised German-speaking service at NeoVizia) – is also at the clinic. I was in contact with him during the whole "on-boarding" process and he consulted me on the procedure and also organised the whole trip for us.
After only 5 minutes of waiting I'll get my first pre-exam. They test my glasses for my current prescription and then my eyes – to check if the prescription still fits my current eye sight. Before ReLEx smile your eyesight shouldn't have changed for at least 3 years – so it's stable and won't change after the surgery. If the sight was less stable, other methods would be considered.
The second test is for my intraocular pressure. A small machine blows air in your eye for this test. It doesn't hurt, but it's also not super comfortable. I have a hard time keeping my eyes open, but we finally manage to get a result 🙂
After these two tests I go back to the waiting room. Then I get called to another room. Same procedure – a small device is set up, I look into it and they test the quality of my cornea cells and the cornea's thickness. For ReLEx smile it's important to have a thick enough cornea. After the treatment you still have to have over 250 microns of cornea left.
Then I'm back in the waiting room. A nurse comes and uses a small device (like a thermometer) to check for the fat content of my tear fluid (I didn't even know that consisted fat 😉 ). A few minutes later another nurse comes and puts small paper test strips in my eyes to check how much tear fluid I can produce. Those have to stay in my eyes for a couple of minutes – which is probably the least comfortable part of the whole pre-exam.
The last bit is something not every clinic does: They do a test after they give me eye drops to relax and widen my pupils. There's a 1 in 100 chance that the pupillary muscles conceal  your real diopters! Daniel told us about a patient that had 1 diopter less due to her pupils and they only discovered it after this last pre-exam. This was also the reason she had always had problems with migraines and other issues with her prescription glasses!
Most of the clinics don't do this pre-exam, because laser surgery isn't possible on the eyes for at least 24 hours after you receive the eye drops that paralyse the muscles of your pupils. And most of the clinics perform the surgery right after the pre-exam. So they skip this – rather important – part of the pre-exam. NeoVizia decided to do this extended pre-exam, which means that you'll have to stay one night in Bratislava, because the surgery can only happen the next day.

After the pre-exam
At around 11:30am I'm all done with the pre-exams and get to talk to Dr. Schreinerova – the German speaking eye doctor at NeoVizia. She explains to me all the results of the pre-exams and confirms that my eyes qualify for the ReLEx smile method. I'm super happy! Another patient from Germany, that arrived with me that day didn't qualify because of his astigmatism and will get a femto LASIK surgery instead.
There are several factors that play a huge role which method is the most safe and individually appropriate. The German institute KRC (Kommission Refraktive Chirurgie) has defined strict criteria, that should be met, but not all clinics adher to their protocol. NeoVizia deciced to not only adher to it, but based on their experience with more than 70.000 patients added even more restrictive criteria. If you manage to get green light after the check up at NeoVizia, you can be lucky.
"One out of 5 patients disqualifies here for eye laser surgery."
For me ReLEx smile was definitely my method of choice and I'm really happy, that my eyes met all the criteria.
I'm done for the day and Daniel drives us back to the hotel. My eyes feel a bit dry and I also don't see very well – due to the widened pupils. We still decide to get lunch and walk around Bratislava. It started to snow and the Christmas markets are even more magical today. It's still hard to grasp, that I'm wearing my glasses for the last day!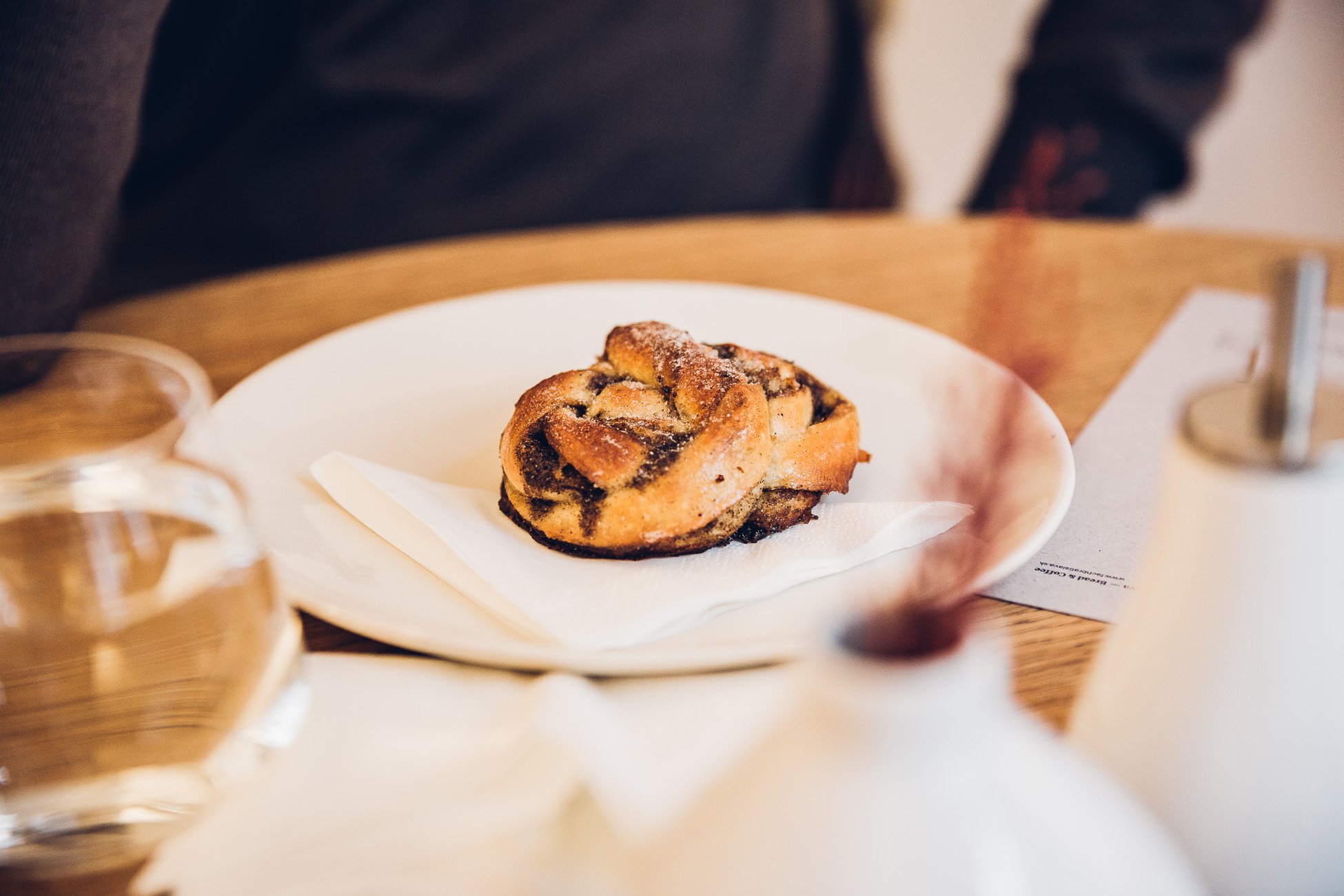 Last lunch with glasses at fach Bistro in Bratislava…
That night we go to bed early after getting take-away dinner. The whole day of pre-examinations made me tired, but also very relaxed. I have a great feeling about the doctors, nurses and the clinic and feel well taken care of. I'm actually less nervous than the night before and sleep just fine.
The day of the surgery
We only get picked up for the surgery at 11:00am.
That means we can sleep in, eat a lazy late breakfast and I even decide to take another last city walk with glasses. It has snowed all night and Bratislava is covered in a thick layer of snow. A magical sight! Although I only have 30 minutes left I decide to climb up the Old Town Hall tower again for the rooftop view of Bratislava. I think it's the perfect last sight before the surgery.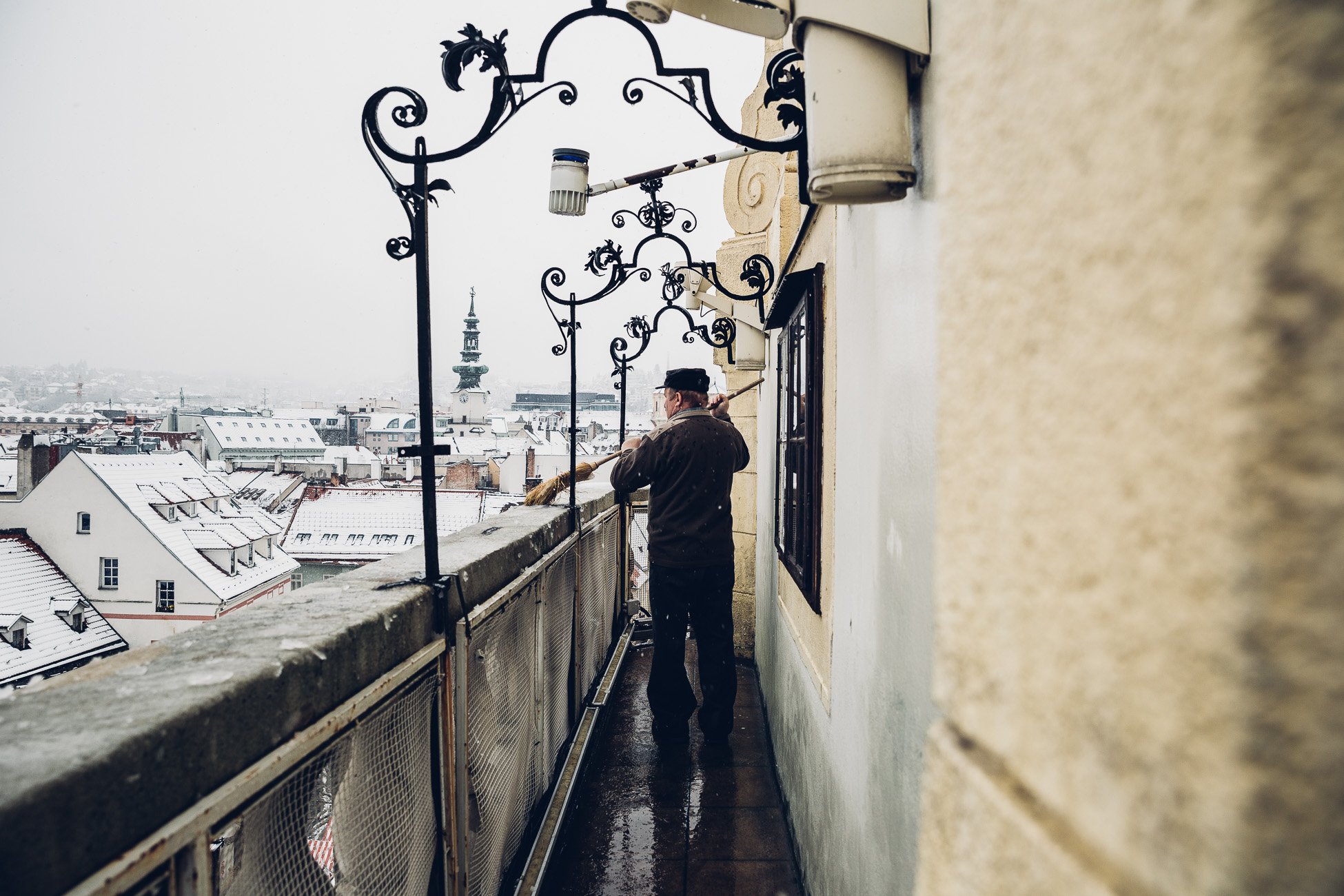 Last view of Bratislava with glasses… couldn't be more magical!
Right on time at 11:00am Jana picks us up at the hotel again. Today we're getting the ride together with another patient – Manuel from Austria, who is getting a femto LASIK treatment. He seems rather nervous, but we manage to strike up a great conversation about him getting the surgery so he'll be able to join the police! We spend the rest of the day together as Manuel is in line directly behind me for his surgery.
Upon arrival at the clinic I sign the consent form to confirm that I agree with the treatment and understand the possible risks. As with every surgery there are certain risks, but they are really minimal and can usually be treated very well (risks of infections get treated with antibiotic eye drops for example). This obviously only applies if the pre-exams have been done at full range and the KRC criteria are met!
We sit down in the waiting room and just minutes later a nurse picks me up and brings me to the surgical tract of the clinic. It's another small waiting room, where I get dressed in my surgery gown (just over my normal clothes). They ask me for my name again and stick a sign with it on my cap – just so that there's no mix up 😉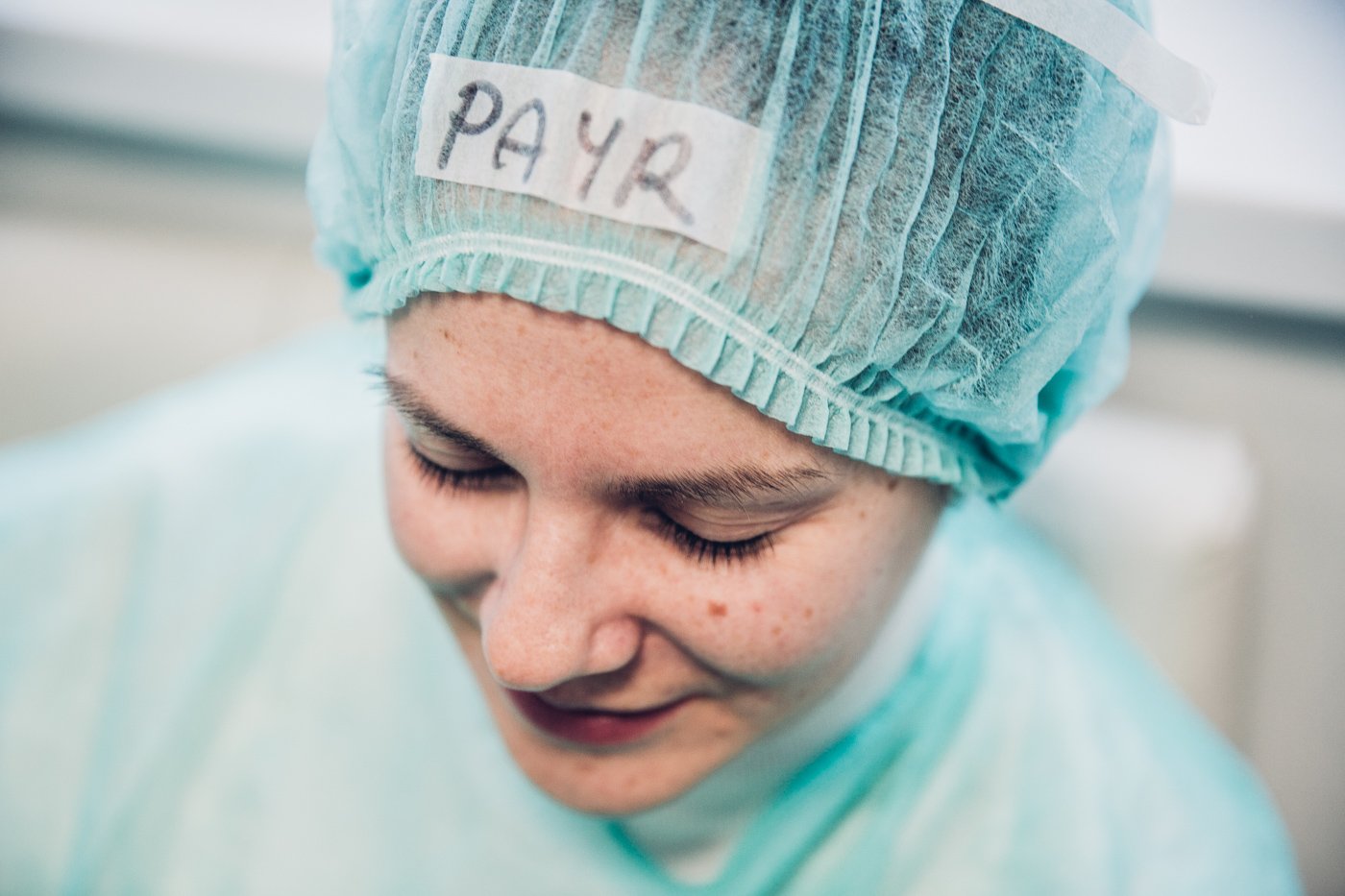 Me before my ReLEx smile Treatment at NeoVizia eye clinic Bratislava.
The waiting room & preparations for the surgery
In the waiting room I meet another Austrian patient who is getting a laser correction after cataract treatment a year ago. I learn that in approx. 5-10 out of 100 cases of lens exchange the diopters change again during the healing period. This however is covered by the guarantee of the clinic, which is quite a plus! So even though his eye sight was back at 80%, they give him a free eye laser surgery to really get him back to 100%!
The waiting room game begins – and the first thing I get is a sedative. I swallow the tiny pill and feel super calm (although I wasn't crazy nervous before as well). Manuel joins the seat next to me – he gets two pills – just in case 😉 Jana also sits down with him and manages to calm him down just by talking to him and giving comfort! After this I get five different kinds of eye drops. I honestly don't remember all of them, but the first was an anaesthetic – and it made my eyes feel numb within a matter of minutes.
One last joke and off we go to the room adjacent to the waiting room. I sit down and my doctor – the head physician Dr. med. Radovan Piovarči – explains the whole surgery to me in full detail – step by step. I feel super comforted by this explanation and off we go to the final room – the surgery room. It looks just like your dentist's office. One flat bed in the middle and the laser device that you will be rolled under. It's not as big and impressive as I would've imagined (I heard this laser – the Zeiss Visumax – costs about 5 million Euros).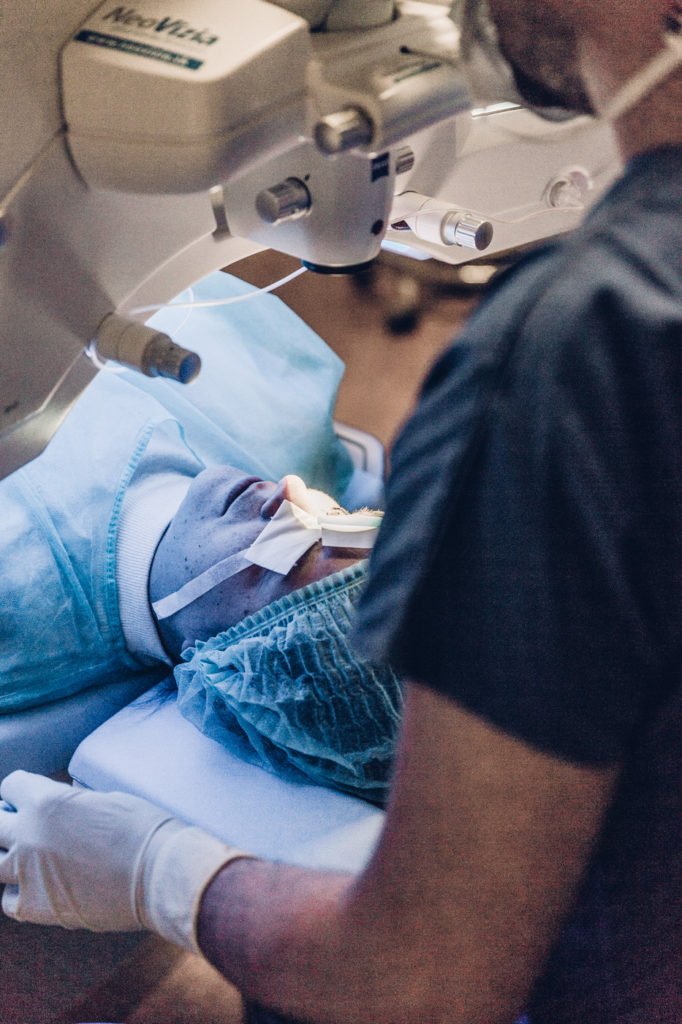 The ReLEx smile treatment – step by step explanation
They roll me under the laser and off we go. Step by step Dr. Piovarči explains the whole surgery while doing it. (If you're faint hearted you might want to skip this part as it's a graphic description of everything that happens…).
Here's what happens during ReLEx smile:
They close off one eye with a piece of fabric.
They give me a small plush dog to hold on to – mostly to keep my arms calm –  and I really feel like a kid 🙂
You look up to the doctor with the other eye and he fixes your lids.
He pushes in a small device to block your lids from closing. This doesn't hurt, it's just a little uncomfortable as your reflexes try to kick in and close your eyes. But once you just look straight and relax your eye you'll be fine.
The worst part comes now – you have to look directly in a ring of bright white light. That's the ring light of the laser, which is coming closer towards your eye. This only takes a couple of seconds though.
Then the laser device touches your eye and the machine says "Suction on". Now you know your eye is fixed by the laser and you can already see the small green laser light in the middle. This is where you have to focus.
Now the doctor counts 25 seconds down. I can't believe it – I don't feel a thing. And also there's no sound or smell – just nothing. After a couple of seconds you don't see the green light anymore, the doctor exactly tells you when and that this is normal.
Then the laser is done and lets go of your eye – now you only see a very blurry version of that white ring.
The final part is the removal of the lenticle. This is basically the small lens that the laser has cut off and that now needs to be removed. The doctor will use small pinchers and insert them in your cornea. You'll see something like a windshield wiper as he loosens the tissue. And then he removes the lenticle from your cornea.
Done. The eye gets closed and the same procedure happens on the other eye.
All of this takes about 5 minutes per eye (if even). What did I feel? Not a lot. Maybe a small sting once or a blinding light there, but nothing bad. Definitely less pain than at the dentist sometimes 😉
Once both eyes are done, they roll you out from under the laser and tell you to sit up slowly. That's it! They take one photo as a memory of you and the doctor and off you go (yes, you can immediately see enough to walk back to the waiting room)!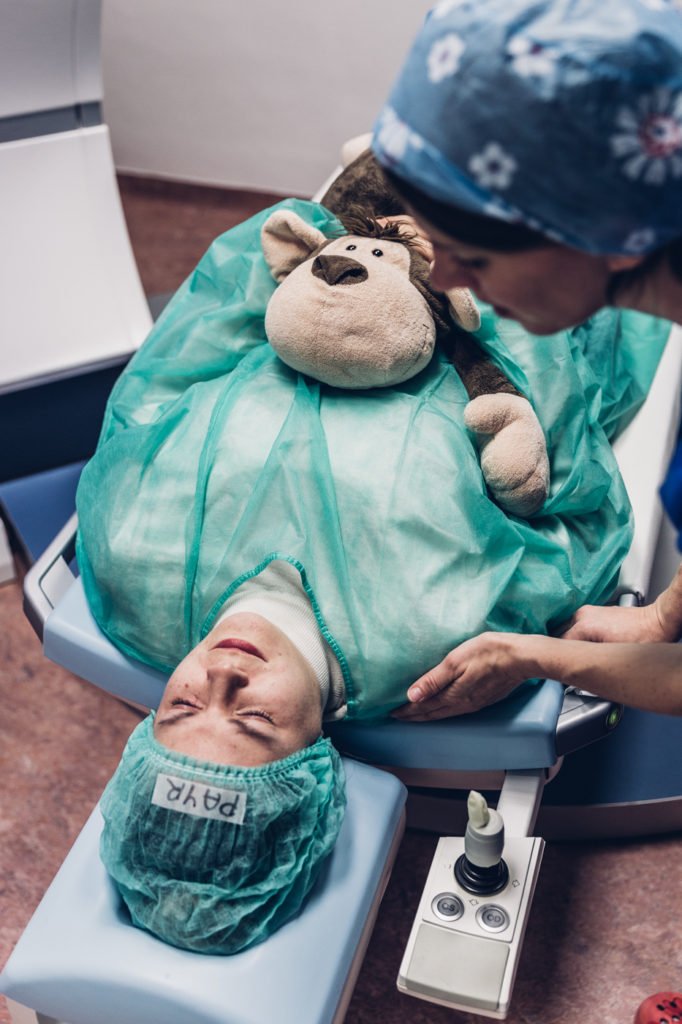 Right after the ReLEx smile treatment
They walk me back to the waiting room and there's a huge leather recliner, where they seat me. I get a glass of water and can lean back for 15 minutes (while I relax it's Manuel's turn for the surgery – I wish him luck and off he goes).
I can already see faces clearer than before, although everything is a bit cloudy and foggy. It doesn't hurt at all. I can't believe this was it!
After 15 minutes they take me back to Dr. Piovarči and he checks my eyes. This takes 1 minutes and he basically nods his head and says "Perfect!".
That's it – I'm done!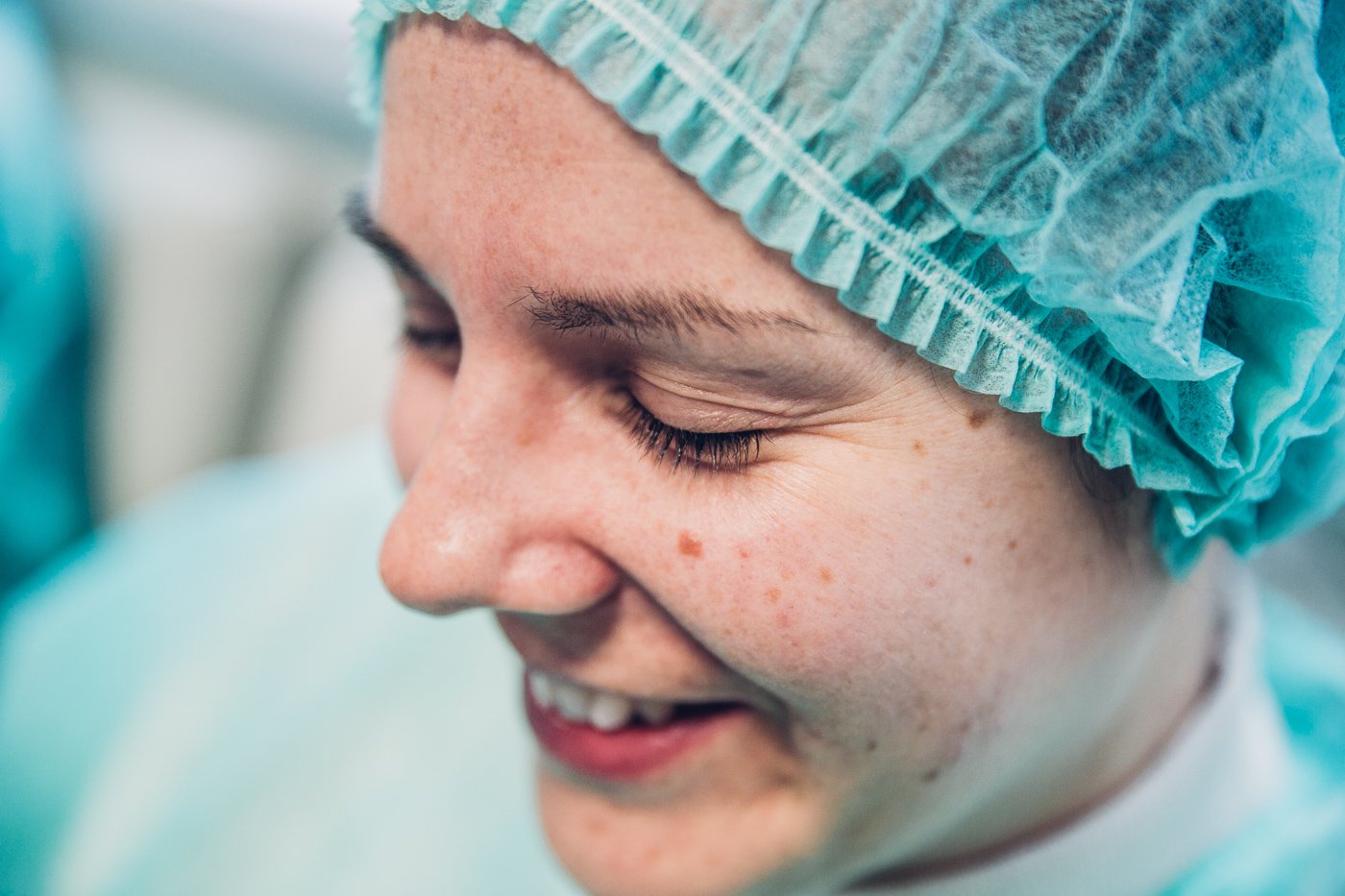 Pure relief!!! It didn't hurt at all.
The after care
The final step is a nurse handing over my after care package. It consists of:
One package of pain medicine (I take a pill right away, even before the pain really kicks in – better be safe than sorry 😉 )
One sleeping pill (if necessary that night – I skipped that one.)
Eye drops with antibiotics (to be used for one week)
Eye drops with tear liquid (to be used for one week)
With all this in my hands and a huge super dark pair of sunglasses on I leave the clinic and can already see the steps of the hallway! It feels unreal.
Daniel drives us back to Vienna and that's it for the first day. I manage to cook dinner together with Raffael (nothing complicated, just a coconut corn soup) and even empty the dishwasher. I call my Mom and tell her that I feel fabulous (no pain whatsoever).
The only thing: I'm a real pussy when it comes to eye drops. No way I can do that myself… Raffael has to do this for me every two hours, but he's a patient nurse fortunately 😉
The day after the ReLEx smile treatment
I wake up and don't dare to open my eyes. Will they be ok? What will I see? I try to really feel how they are and there's just ZERO PAIN. Unbelievable. Those pain killers must have stopped working hours ago. Is there really no pain? No stinging, itching, dryness? No. There's just nothing. My eyes must be dead…
I open my eyes and there's our bedroom. The door is open and I can look out of the terrace door and see that there's snow outside and the sun is shining. I virtually jump out of bed to open the window and gaze over the rooftops of Vienna. It's all there. I can see it! WITHOUT GLASSES!
It's like a miracle. Then comes a short setback. I try to read what time it is on my phone. This doesn't really work for me. It's like my vision is reversed. I can see things clearly that are far away, but have blurred vision on everything that's too close. I have to hold my phone further away from my eyes to find the sweet spot where I can read it. Just like my grandma used to do it 😉
On Instagram dozens of people have sent me their experiences with laser surgery. One girl tells me she felt the same thing after getting a very similar treatment. She couldn't read her musical notes (while playing piano) for a month. So I sense that's a normal reaction of my eyes and relax again. After some research it's confirmed that this is normal – the near sight needs to adjust after the surgery.
And here I sit – writing these lines at the computer. The day after my surgery. I don't feel any pain. And I can read what I write on this screen without wearing glasses… I'm still in denial about all of this!
Day 4 after the ReLEx smile treatment
4 days have passed and my sight feels like a rollercoaster ride. One day they feel better, the next day they are worse again. Today is a bad day. My right eye seems all blurry and the lights are flickering.
And today of all days the clinic sends me a newsletter, stating that most of the patients are ready to drive their cars by today. I immediately call Daniel with my concerns. He tells me that about 95% percent of patients would be ok with driving today, but it seems I'm part of the 5%, that aren't ready yet. No need to panic – it will all settle, just a little slower.
In three days I'll have my check-up. Patience isn't my strong suit, but I'll have to push through!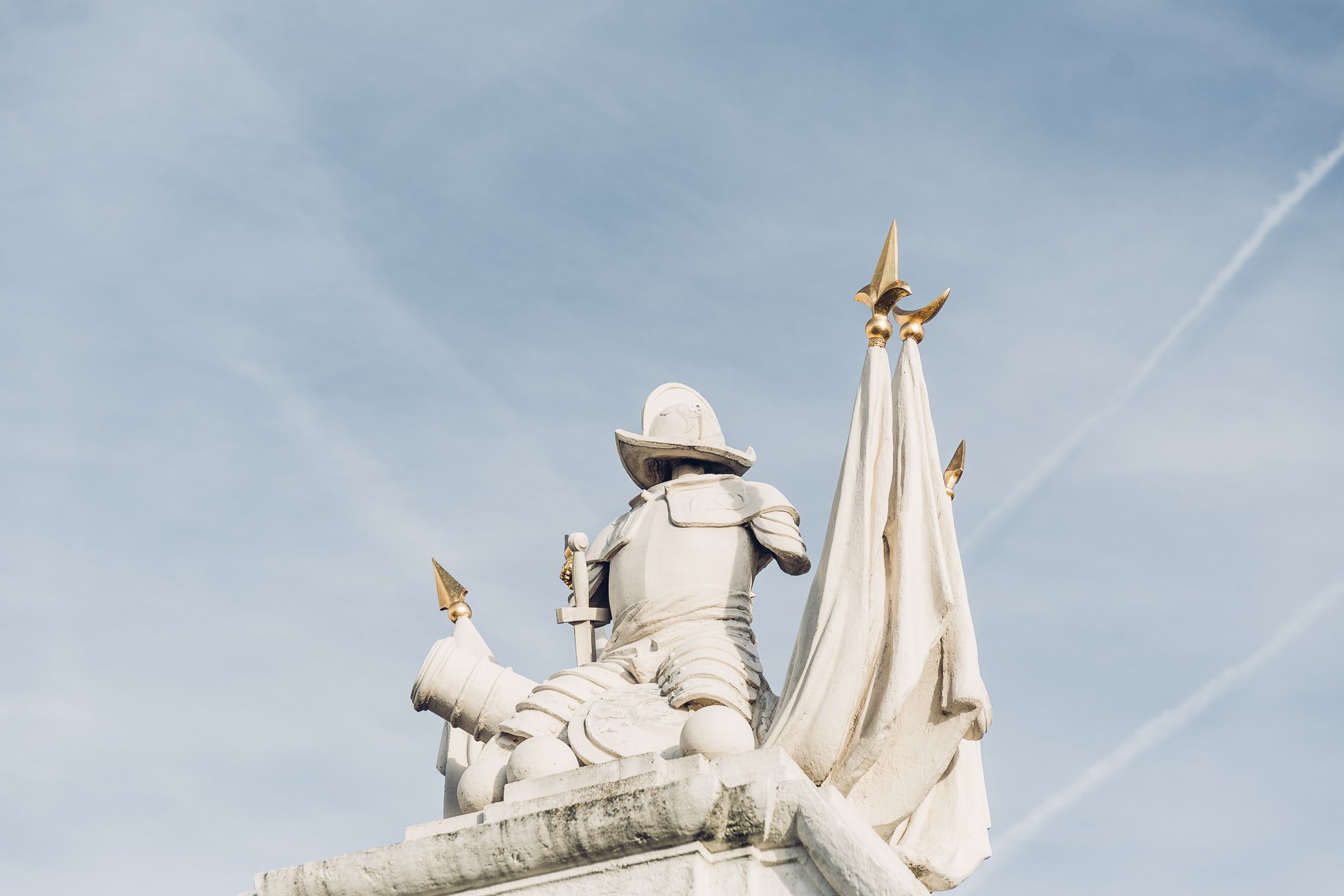 I feel a bit like this headless guy at the Bratislava Castle at Day 4…
Day 7: The Check-Up & Results
It's finally here – day 7 after the treatment. Excitement is the right word for this day. I'm excited to finally meet up with Dr. Schreinerova at the clinic again and get my eyes checked out. What will the result be? How did my sight develop in this past week?
The whole exam takes about 10 minutes and then I get the results:
I have 120% sight!
Zero diopters are left on both eyes.
My sight is perfect!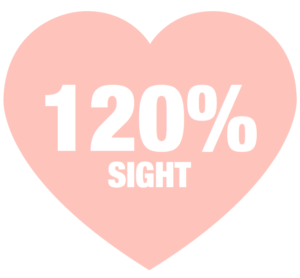 I feel a huge relief. My problems from Day 4 are completely forgotten. The reasons for a slower development of sight can be various. About 20% of patients take longer than a few days to fully gain their sight back after a laser treatment and I belong to these 20%. The main reason in my case are severely dry eyes.
Therefore I get new eyedrops called "Hylo-Gel" with a higher amount of Gel to hydrate my eyes better. This should help with my dry eyes and development of my sight over the course of the next few weeks. I'll keep you updated in a month or so after I did my first trip without glasses!
After thoughts
All in all I can say that the service and professionalism at NeoVizia really convinced me. I felt in the best hands all the time. This is just my personal feeling of course, so I want to answer all your questions now and give you a few facts as well:
Why choose ReLEx smile over Femto-Lasik (if the pre-exam allows)?
First off it's important to state, that not always a patient is really free to choose the method. As mentioned above plenty factors play a role and it's really the pre-exam that is so important to prevent real complications (or choosing the wrong method for your eyes). The way to think of eye laser surgery is like flying airplanes. It's very safe, but only as long as perfect check lists exist and are strictly followed. Different clinics use different "check lists". However the KRC criteria are certainly a good thing to follow. If both, femto LASIK and ReLEx smile are possible, I would always choose the latter. Why?
ReLEx Smile is minimally invasive, as there's no flap cut into your cornea. The lenticle will be removed through a tiny laser incision (2-4mm) at the side of your cornea. The flap that is cut with femto LASIK is up to 2cm long and therefore more nerves are cut with this method.
Also the exceeding cornea tissue is not removed with heat (as in femto LASIK), but loosened with small air bubbles and then removed manually.Therefore ReLEx smile reduces pain and healing time to a minimum and is safer.
Advantages of ReLEx smile:
Most precise method that is currently available. In comparison to other methods, where 5-10% of surgeries need corrections, this rate is at only 0,1% with ReLEx smile.
No risk of flap dislocation during the healing period.
Less dry eyes after surgery, because less nerves are cut in the cornea.
No heat used to "burn" the exceeding tissue of the cornea.
Only one laser used during surgery. (I watched a Youtube video of a blogger that even had to switch rooms during the surgery to go from one laser to the other… at NeoVizia they do this more elegantly by just turning the bed under the other laser.)
You can read more about medical study results here and here and here.
Disadvantages of ReLEx smile:
ReLEx smile can only be done once. If any time after the treatment another correction is needed another method (surface technique) has to be used for a second surgery. Such a correction is necessary on average in 1 of 1.000 patients within the first 12 months of the first surgery. However – diopters can change during life time – therefore the method is rather recommended for patients aged 25 years or older, once the sight becomes more stable. Younger patients are more suitable for other methods.
No wavefront treatment possible, which is an advanced, individualised treatment variety of femto LASIK. But: wavefront isn't necessary for ReLEx smile, as it is already the more precise method!
I read that the sight develops a little slower with ReLEx smile than with femto LASIK, but I'm not sure there are any studies confirming this. So it's possible that while patients with LASIK can already see better the first day, it can take a couple of days longer for ReLEx smile patients.
Not as many long-term studies available, as it's a younger technique (200.000 operations since 2011, as opposed to 28 million LASIK treatments since 1999). The FDA – as one of the strictest regulators – has finally approved ReLEx smile in the US in 2016. (Right now there are multiple clinical studies under way to improve the method. For example: They test an adapted version of the method called "HiSmile" with a different, aspherical cut or also if the method is applicable for longsightedness.) It can be said that the technique will be further developed over the years.
What's important:
Don't go to a clinic that only offers ReLEx smile. The method isn't the right fit for every eye and shouldn't be pushed onto every patient, just because it's the least invasive method. There are indications against ReLEx smile for patients with thin corneas or severe astigmatism for example. If the clinic advertises with ReLEx smile, make sure that they also still perform the other methods and make a well-informed decision for you!
Why go to Bratislava and not do the surgery in Vienna?
Many of you asked me why I decided to go to Bratislava and not do the surgery in Vienna. The most obvious reason might be money – the surgeries cost less than 50% in Bratislava than in Vienna. But when it comes to my eyesight money isn't the center of my decision making. What's way more important: Trust in the professionalism and experience of the doctors.
Bratislava has a long tradition of top class eye laser surgery. Patients from all over the world have been coming to Bratisla for more than 20 years now. Many doctors had the chance to earn big insights into the very complex topic of eye laser treatments, that a "regular" eye doctor knows just too little about.
So this is what makes the main difference: Experience comes from operating often enough. You won't find a number of surgeries performed on websites of Austrian doctors (at least I didn't find any). NeoVizia has done 70.000 surgeries so far (counting per patient, if you count per eye it would actually be 140.000!).
Dr. Piovarči (my doctor) alone does up to 3.000 surgeries per year. I would recommend to ask your doctor how many eye laser treatments he or she performs per year to get a sense for the experience. Especially in Austria those numbers will be much lower than in Bratislava, because doctors don't specialise in eye laser surgeries alone. And that makes a huge difference!
And on top: Bratislava has a long history of specialised German speaking services. Therefore many patients from Austria and Germany choose Bratislava for their eye surgery.
Why NeoVizia?
When you begin to research the different clinics in Bratislava you'll basically end up with three clinics that also offer German speaking services for patients from Austria/Germany and Switzerland. Here are the pros and cons for those:
Excimer:
They have been on the market the longest (over 30 years), but stick to surface methods (LASEK, Epi-LASIK, C-Ten). They don't offer ReLEx Smile or femto LASIK. On their website they state that the surface methods are safer than the deep methods (like femto LASIK), which actually opposes scientific findings from clinical studies and also the KRC criteria. So this didn't convince me after reading many studies and medical reports.
iClinic:
They did the most ReLEx smile operations in 2016. This sounds impressive at first, but it's not the criteria I wanted to go for. Mostly because I learned that every method has it's advantages and disadvantages – and that it needs a full range pre-exam to select the right method for my eyes. I wanted to go to a clinic that does and extended pre-exam and is unbiased when it comes to treatment methods.
NeoVizia:
They offer all the methods possible and that's what convinced me in the end. I wanted to have all the options and only decide after the pre-examinations what would fit my eyes and needs best!
 
This was the story about my ReLEx smile eye laser treatment in Bratislava! Let me know if you have any thoughts, questions or if you're thinking about getting your eyes treated as well in the comments.
The next month
I'll have my final check-up later this month and then go on my first trip without glasses. This next month is still part of the healing period and I'll let you know how my eyes feel after that first trip I took – so stay tuned!
Disclaimer: This is a sponsored, but unpaid post. NeoVizia provided the eye surgery for free, but the views in this blogpost stay independent from their services.