Will city trips have a comeback moment during this pandemic? This was one of the questions I asked myself at the beginning of this summer. What does a city trip have entail for me to enjoy it? Culture, food, aimless strolls through hidden corners, beautiful hotels. All of this is still possible right now – despite COVID-19, yet with the added bonus of less crowds. Especially Salzburg during the festival season is usually a magnet for crowds, but this year is different.
We decided to visit Salzburg and see what it feels like to do a city trip in these uncertain times!
This year – everything is different, even in Salzburg
In the summer of 2020 traveling has changed – and city trips are amongst the most prominent victims. The pandemic has brought tourism to a standstill for a few months in spring, but since the beginning of summer and the re-opening of hotels (at least some of them), traveling has made a cautious comeback.
In Austria the most sought-after destinations included ones with lake access or mountain escapes. And understandably so! Ample space, natural surroundings, a break from the city life – that's what most people are looking for after months of lockdown in their hometowns.
But what about city trips? Will they come back?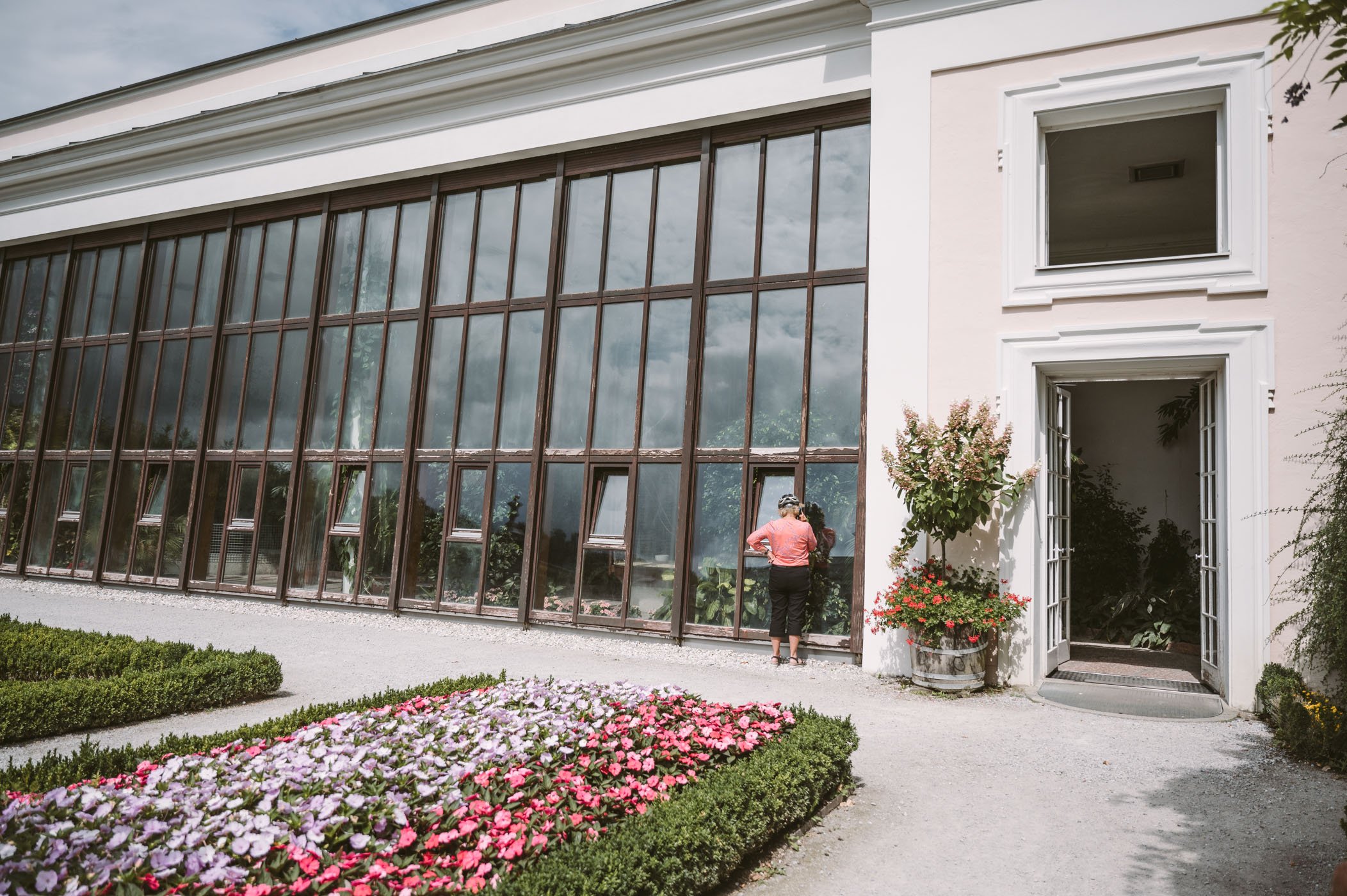 City trips in times of a pandemic – from Salzburg to Venice
In the last few weeks I noticed a paradigm shift. People started to book & enjoy the first city trips. It didn't go unnoticed that some of the most sought-after destinations and recent victims of overtourism, have now become new kinds of visitor magnets. These days everyone wants to visit Venice or Rome – to experience these famous cities without the crowds.
Salzburg falls into that same category – it's a small city with international appeal. And therefore it's usually well visited, especially in the summer months during the festival season. But we got to experience a different kind of atmosphere, one that is a bit eery at times, but looses none of it's appeal. In fact Salzburg probably got some of it's more original charm back this summer!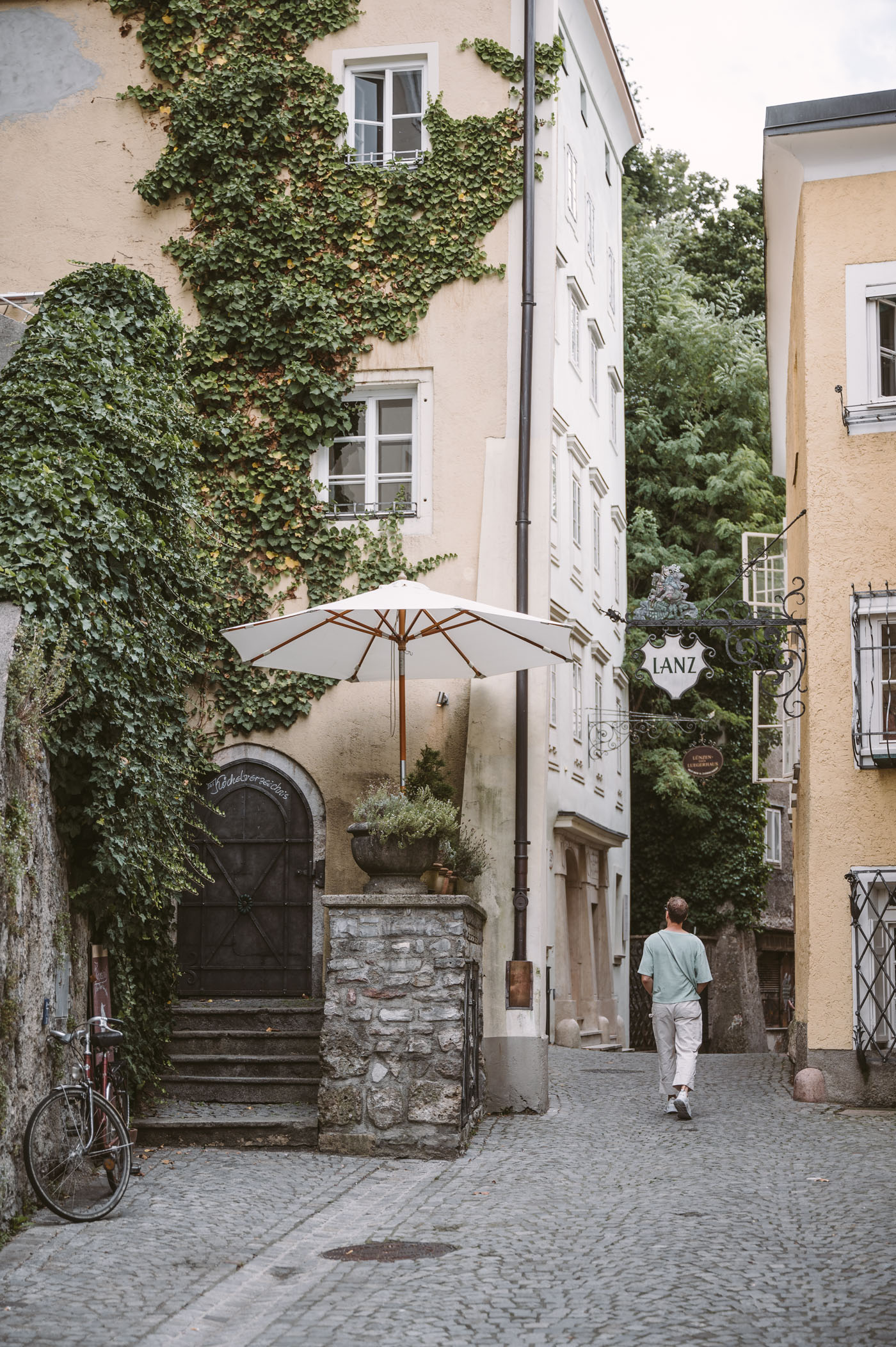 Tips for a Salzburg city trip – even during COVID-19
What you should avoid:
Even in times of a pandemic, there's no need to let animals suffer. So, please avoid horse carriage rides and also don't fall for the newest hype of flamingos (!) in Salzburg. Yes, there are flamingos, but they are in a miserable state with truncated wings, so that they can't escape. So they are basically imprisoned (and not in a zoo, but by a private wealthy "bird lover").
These flamingos are a shame and shouldn't be put on the visitor map… they are imprisoned and had their wings cut, so that they can't escape.
1.) Book a small, centrally located hotel with spacious rooms & served breakfast: Hotel "The Mozart"
If you book a city trip, we highly recommend to go for a boutique hotel to avoid encounters with too many other guests. Luckily Salzburg has some beautiful hotels and we stayed in the prettiest one 😉 The newly redesigned and reopened boutique Hotel "The Mozart" is located in walking distance from all the attractions in Salzburg, offers just a handful of rooms and convinced us with it's exquisite interior.
Envisioned by local interior designer Pia Clodi, this unique hotel ticks all the boxes of lovers of the analog lifestyle – stunning (film) photography, a muted yet still modern color palette, carefully chosen design items and a great balance between elegant and hip. Also the rooms are spacious and equipped with completely silent air conditioning!
Breakfast gets served to the table instead of a buffet and you get to choose your personal selection from a wide array of items. We only saw a handful of other guest during our stay, making it feel almost like a private homestay. Of course there are hand sanitising stations and extra measures taken to guarantee maximum safety. So even during COVID-19 you can feel secure here.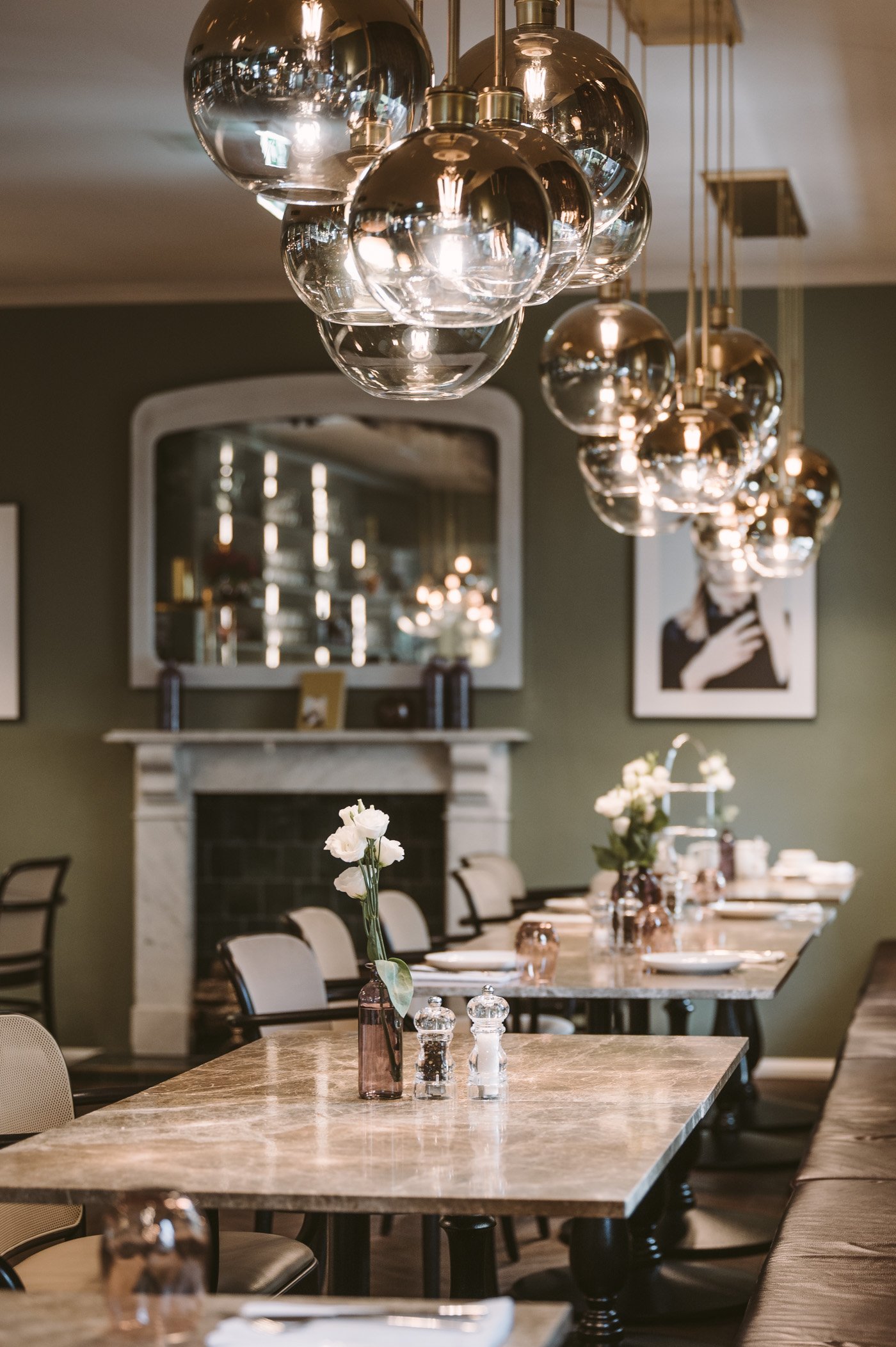 2.) Enjoy culture, but cautiously: Salzburg Festival
One of the reasons why we wanted to visit Salzburg, was to enjoy it's outstanding history & presence of culture. Personally I have been to the Salzburg festival the last time as a teenager, so this was a special trip down memory lane for me. The atmosphere of the Salzburg festival is unique and even during COVID-19 and with a reduced program, the festival brought back some really joyful memories to me.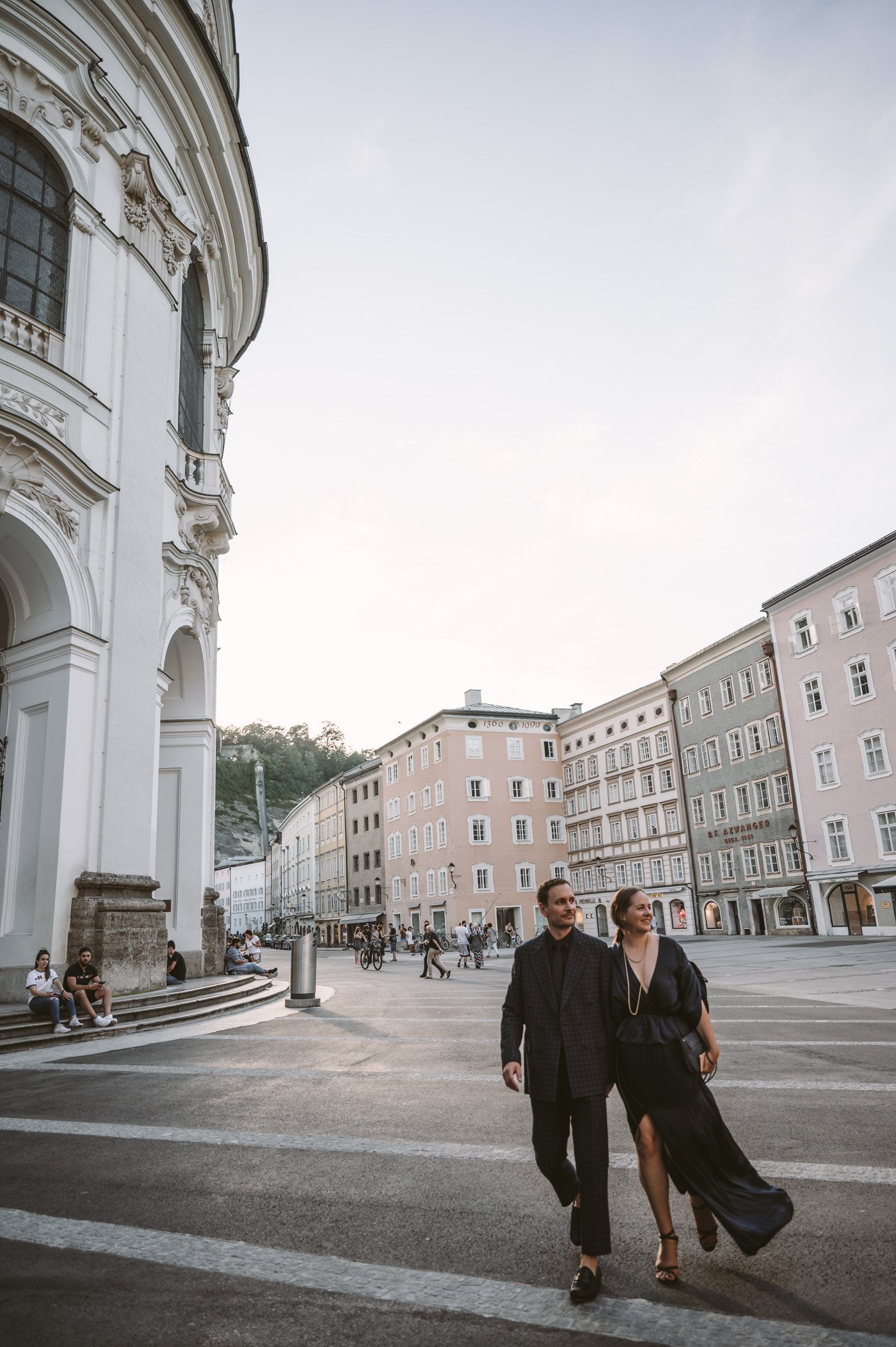 We visited a concert by maestro Daniel Barenboim and the West-Eastern Divan Orchestra playing Wagner, Schönberg, Boulez and Beethoven. Guests had to wear masks until the first note of the orchestra and were separated by empty seats from each other. In between the pieces the stage hands darted across the stage silently to change seating and it felt a bit like a peak behind the scenes of the glamorous festival. This way it was a very special mix of sophisticated culture and a private atmosphere.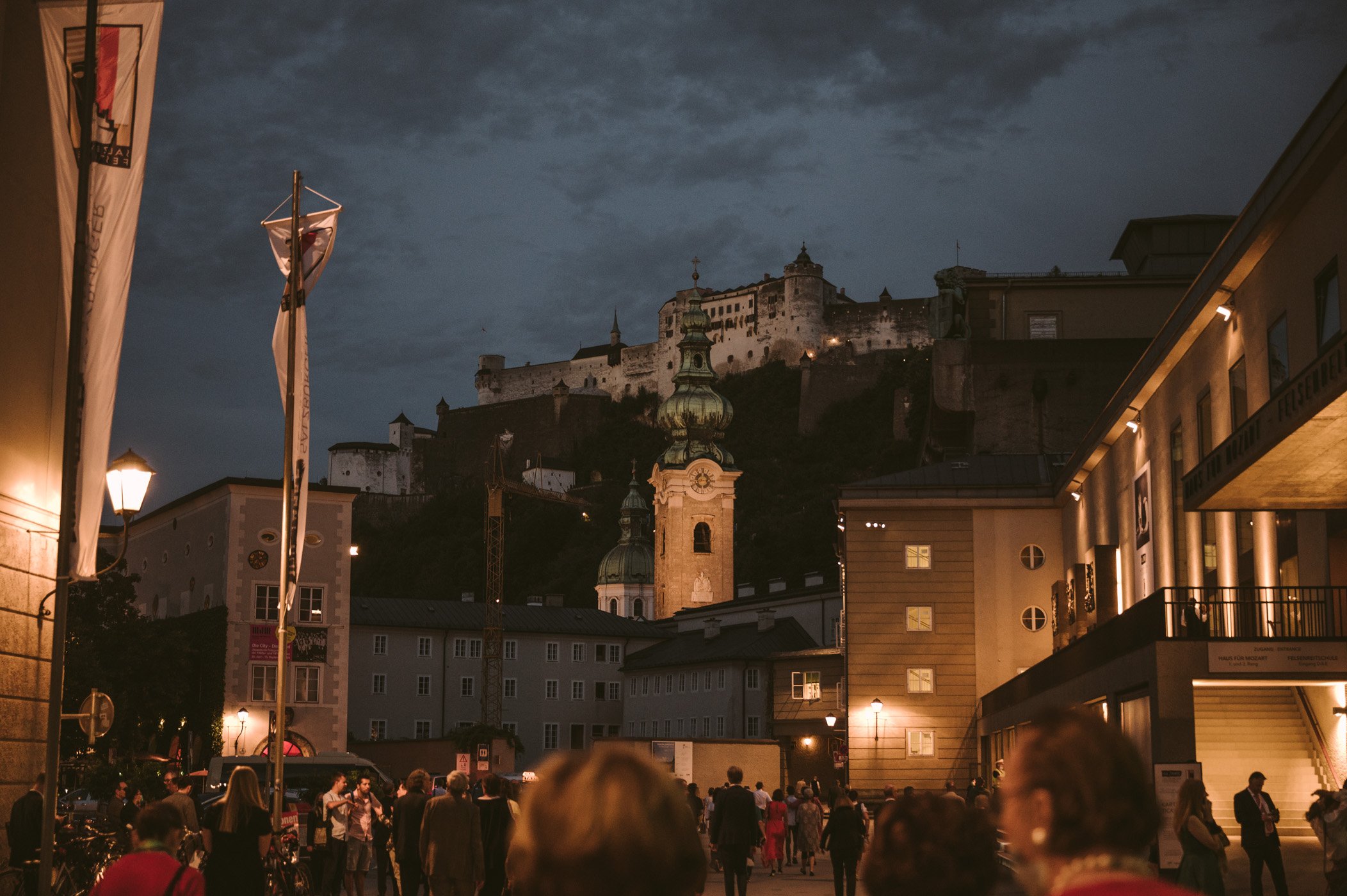 3.) Make dinner reservations: "Die geheime Specerey" or "Magazin"
Of course no city trip is complete without enjoying great food. We enjoyed two incredible dinners while in town and even got reservations easily (one of the pros of less tourists in town). "Die geheime Specerey" is the perfect place to go for dinner after a festival visit, as it's located just a few footsteps from the festival. Food here is unfortunately not super vegetarian friendly, but we got a delicious homemade pasta and drank a glass of excellent Rosé.
Another special place to have dinner is the "Magazin" as it's located right at the edge of the enthroning wall of "Mönchsberg", the city mountain of Salzburg. Parts of the restaurant are built into the mountain in a cave-like fashion. The cuisine is not traditionally Austrian, but rather international, but on high level.
Other restaurant tips for Salzburg:
4.) Discover the top highlights of the city without the crowds: Mirabell garden, Mönchsberg, Getreidegasse
The top sights of Salzburg are all in easy walking distance from each other and can be covered easily during a day in the city. They don't need any extra introduction as you'll find enough info on those online. But here's our recommendation for a route starting at hotel "The Mozart":
Linzer Gasse
Schloss Mirabell & Mirabell garden
Steingasse (Stone lane)
Mozartsteg
Residenzplatz
Domplatz
Sphaera sculpture
Cemetery of St. Peter (Petersfriedhof)
Kaigasse
Nonnbergstiege
Nonntal
Hohensalzburg Fortress
Museum of Modern Art
Down with the elevator (Mönchsberg Aufzug)
Getreidegasse
Back over "Staatsbrücke"
Our tip: Make sure to wear comfortable shoes, as you'll have to walk a few steps and cobble stone streets!
Our personal favourite place in Salzburg is this iconic former horse watering station: "Marstallschwemme – Pferdeschwemme" (Herbert-von-Karajan-Platz 11, 5020 Salzburg).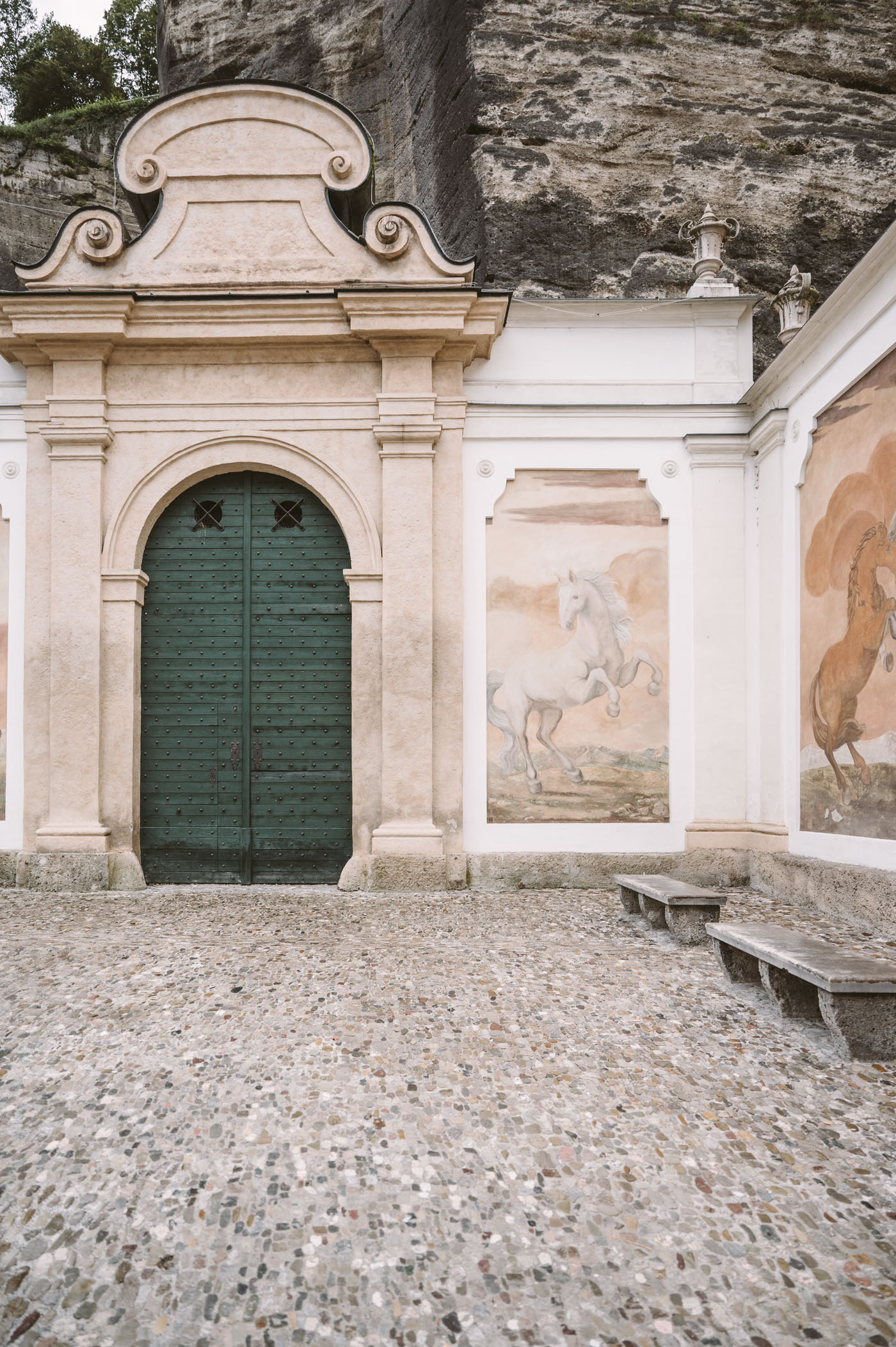 And of course no Salzburg city trip is complete without a city view. We didn't get lucky with the weather that day, but you can get the best views of Salzburg from these spots:
Pfarre Mülln (take a few steps up and then you'll already see the view opening up)
A small path leads up to Mönchsberg from here and then there's a fork, if you take the left path there will be a few steps down leading to a view of St. Markus church and the city
And the other path leads all the way up to the Museum of Modern art, where you'll get the best unobstructed views.
If you don't want to walk, take the elevator "Mönchsberg Aufzug" (open from 8am-9pm)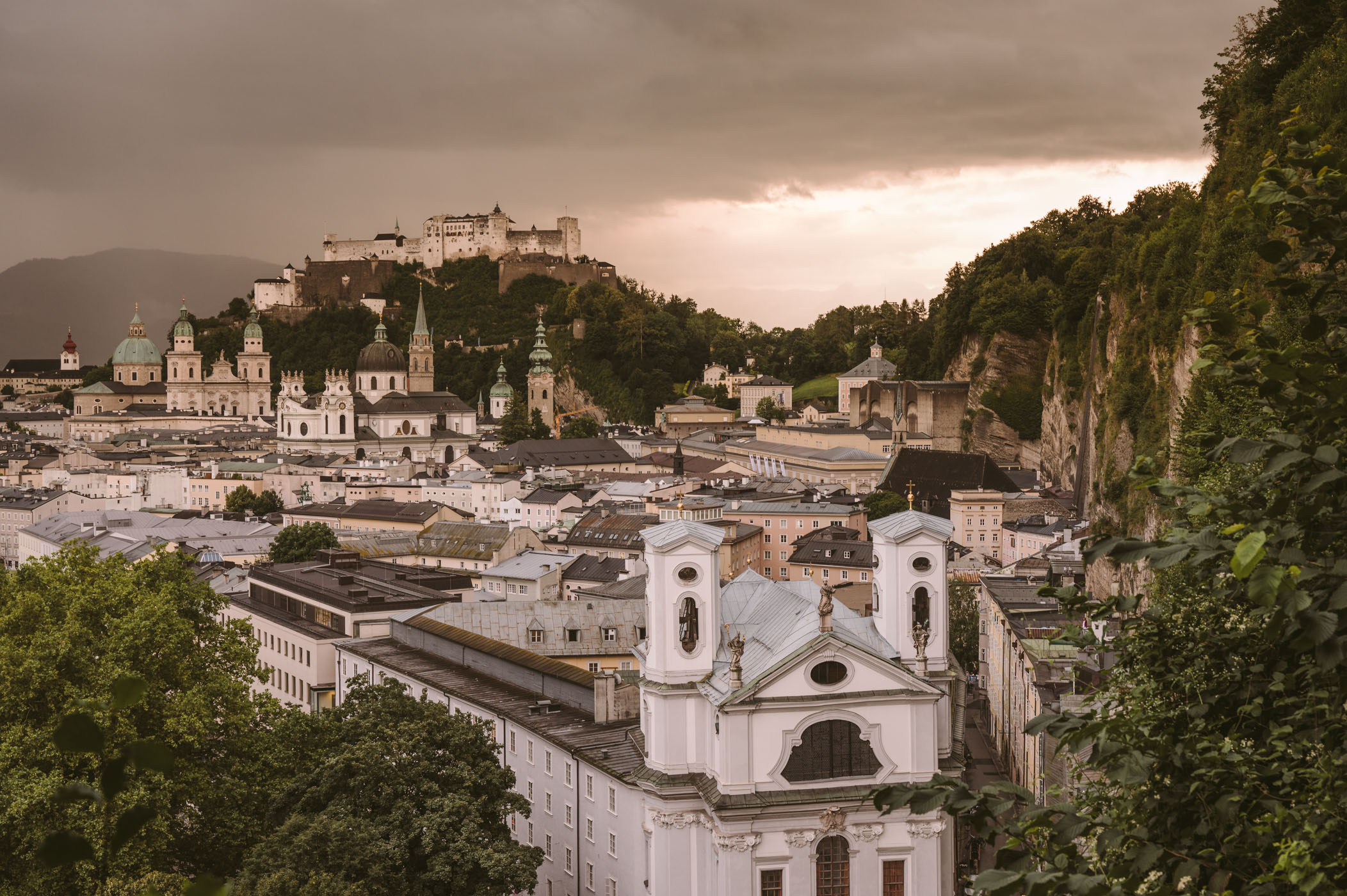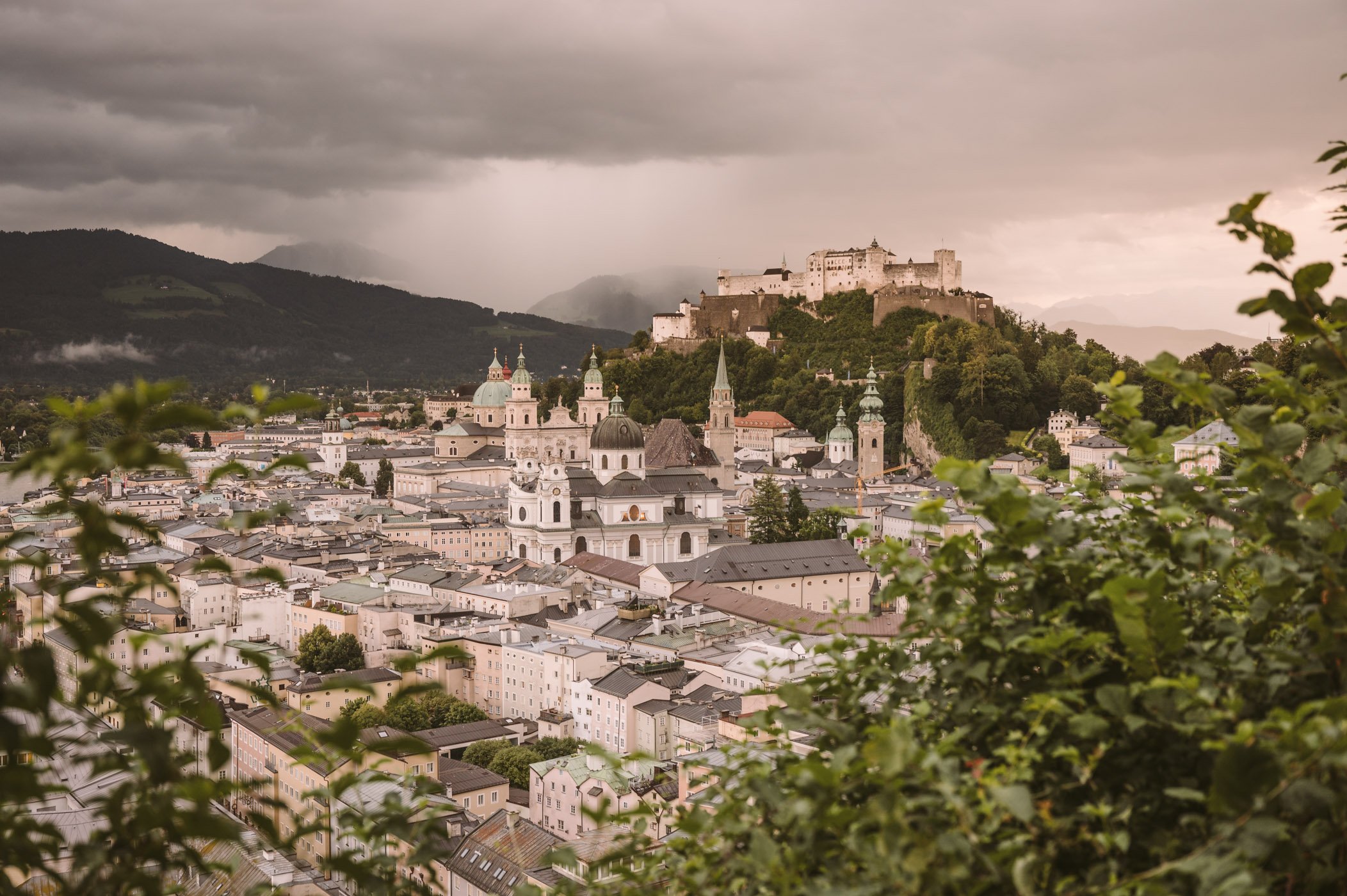 5.) Drink an Apertivo with a city view: Steinterrasse
Another great view of Salzburg opens up from the rooftop terrace of Hotel Stein – also called "Steinterrasse" (one of the very few rooftop terraces in the city centre of Salzburg)! Make sure to make reservations, this is also a favourite among locals and always well visited.
We wouldn't necessarily eat here, but it's perfect for aperitivo before you go to a concert!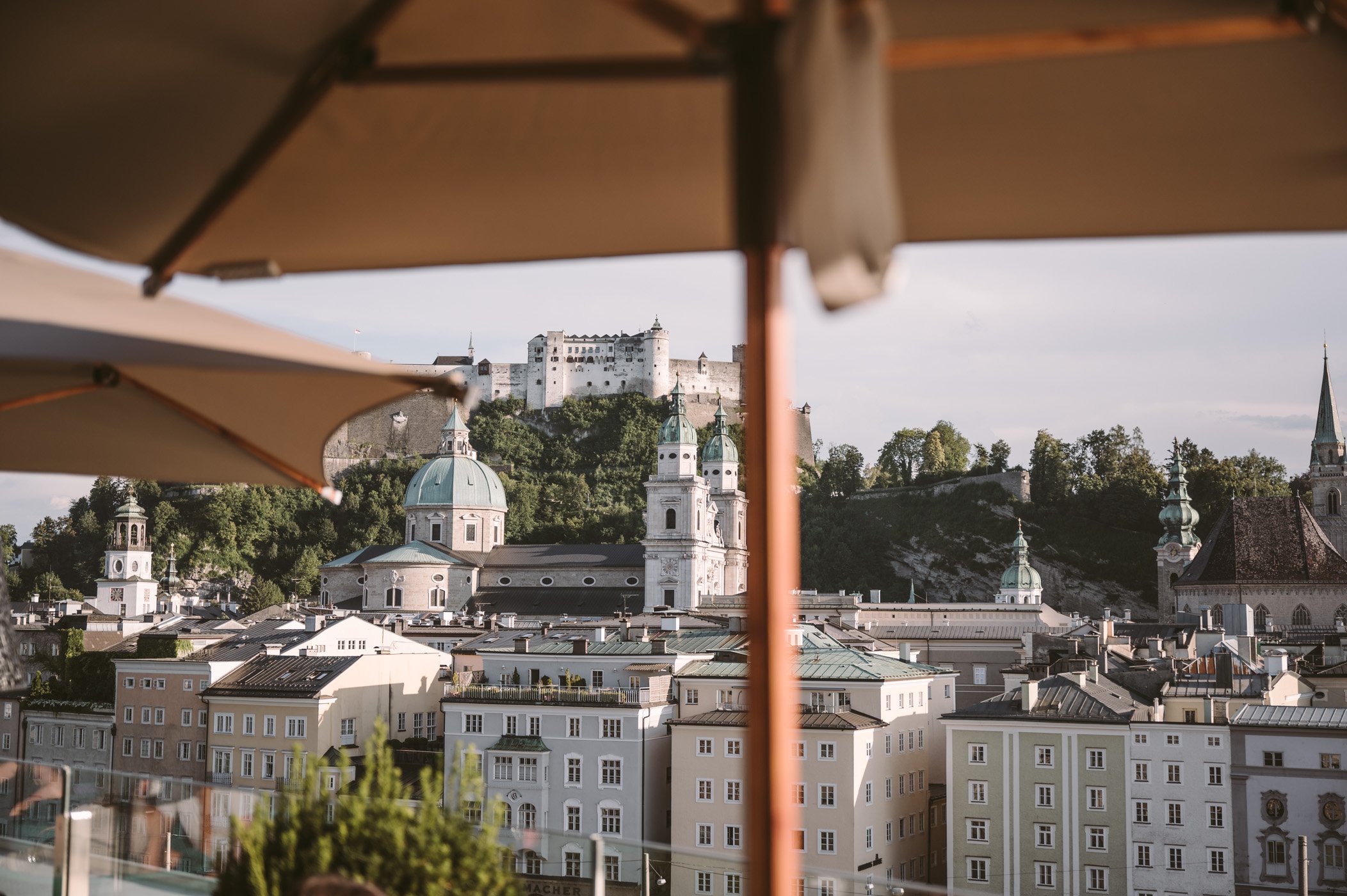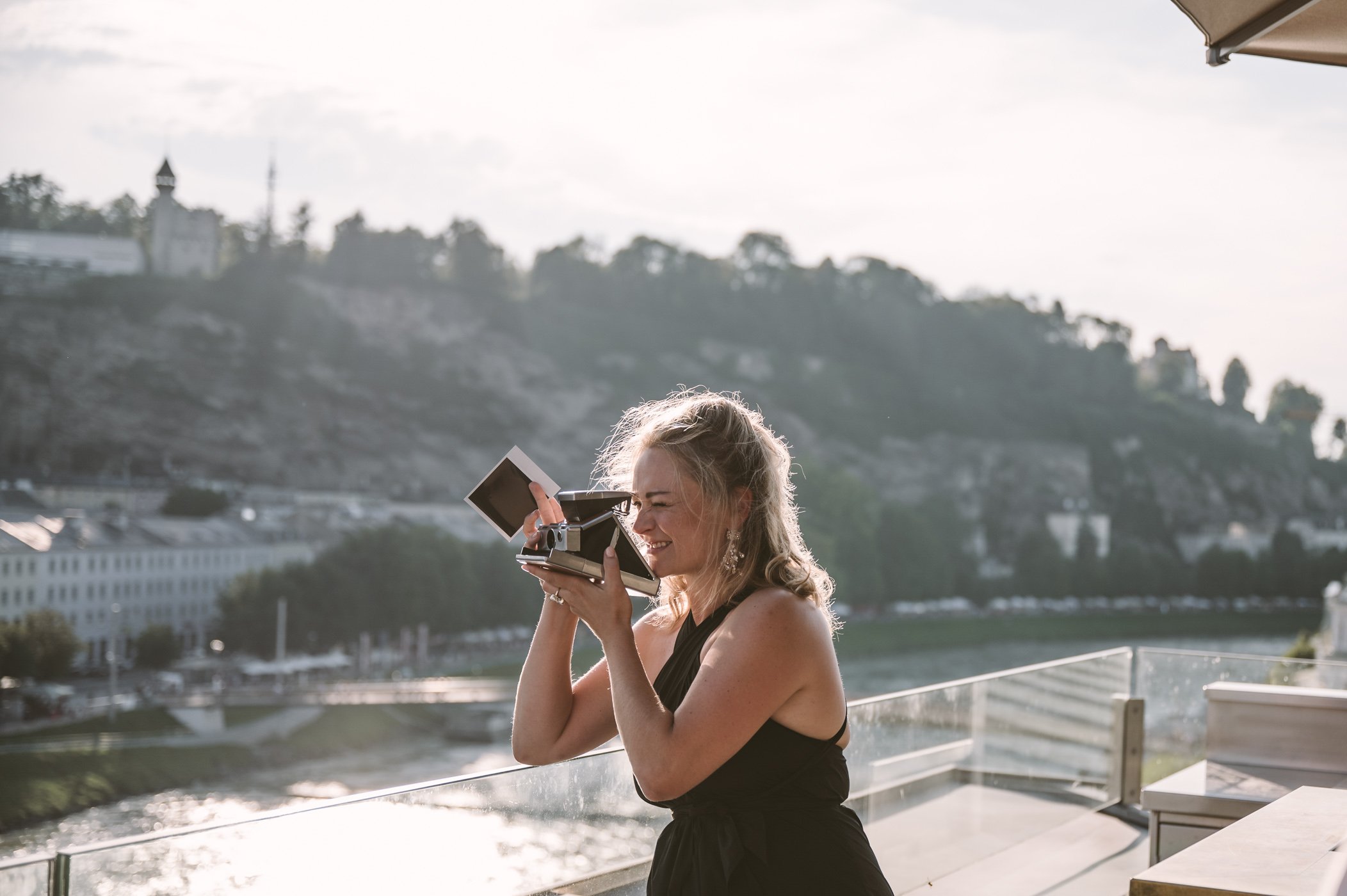 6.) Replenish with a coffee with a twist: Kaffee Alchemie
Last but not least, this is a local favourite when it comes to really good coffee in Salzburg. The guys at "Kaffee Alchemie" use fair-trade high-quality coffee and brew it freshly in their tiny shop along the Salzach river.
Our personal tip: Order the Espresso Tonic! A perfect refreshment after a day of running around the city.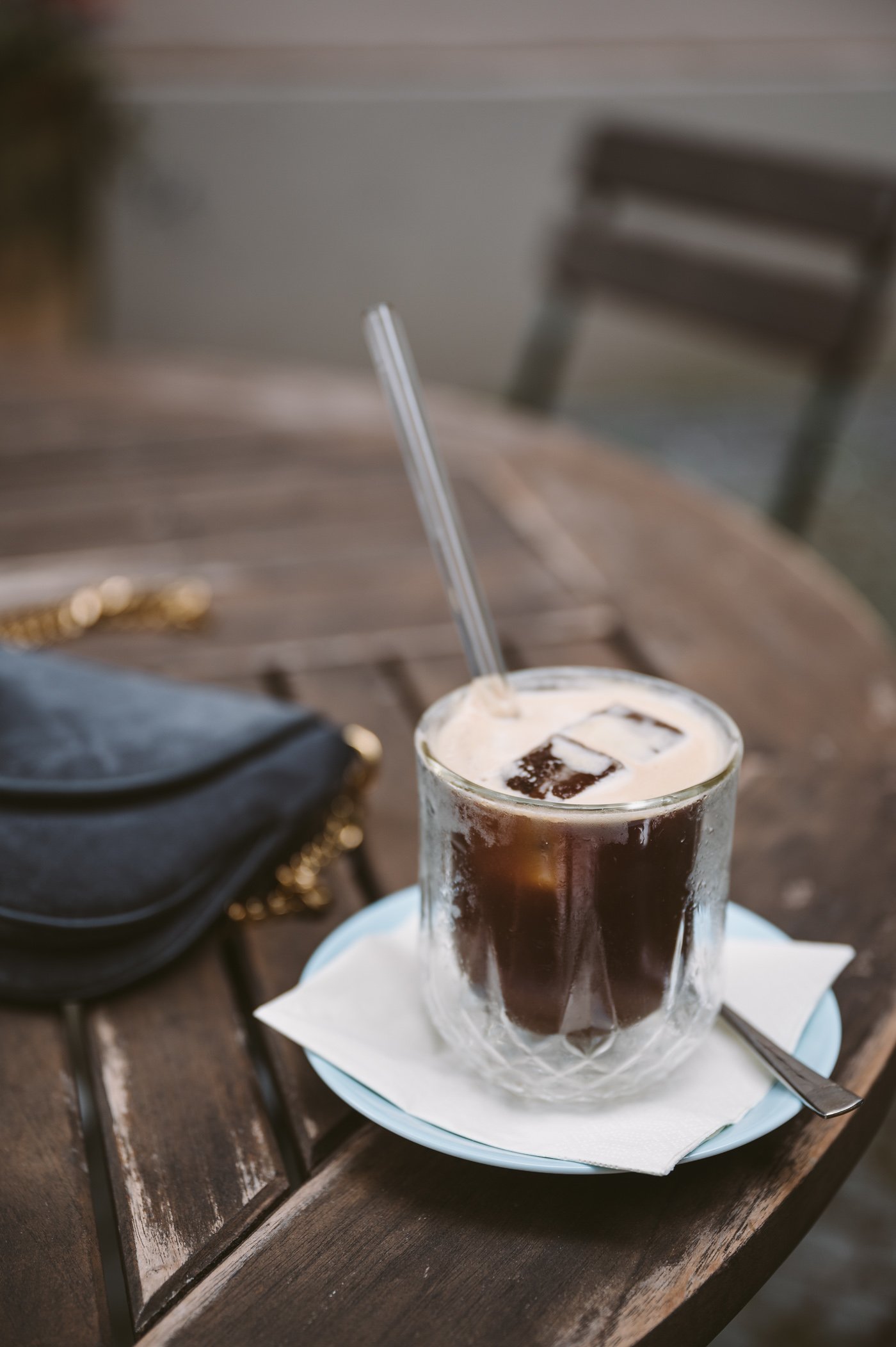 Additional Salzburg tips
If you have some more time in the city you can also enjoy some of these extra tips: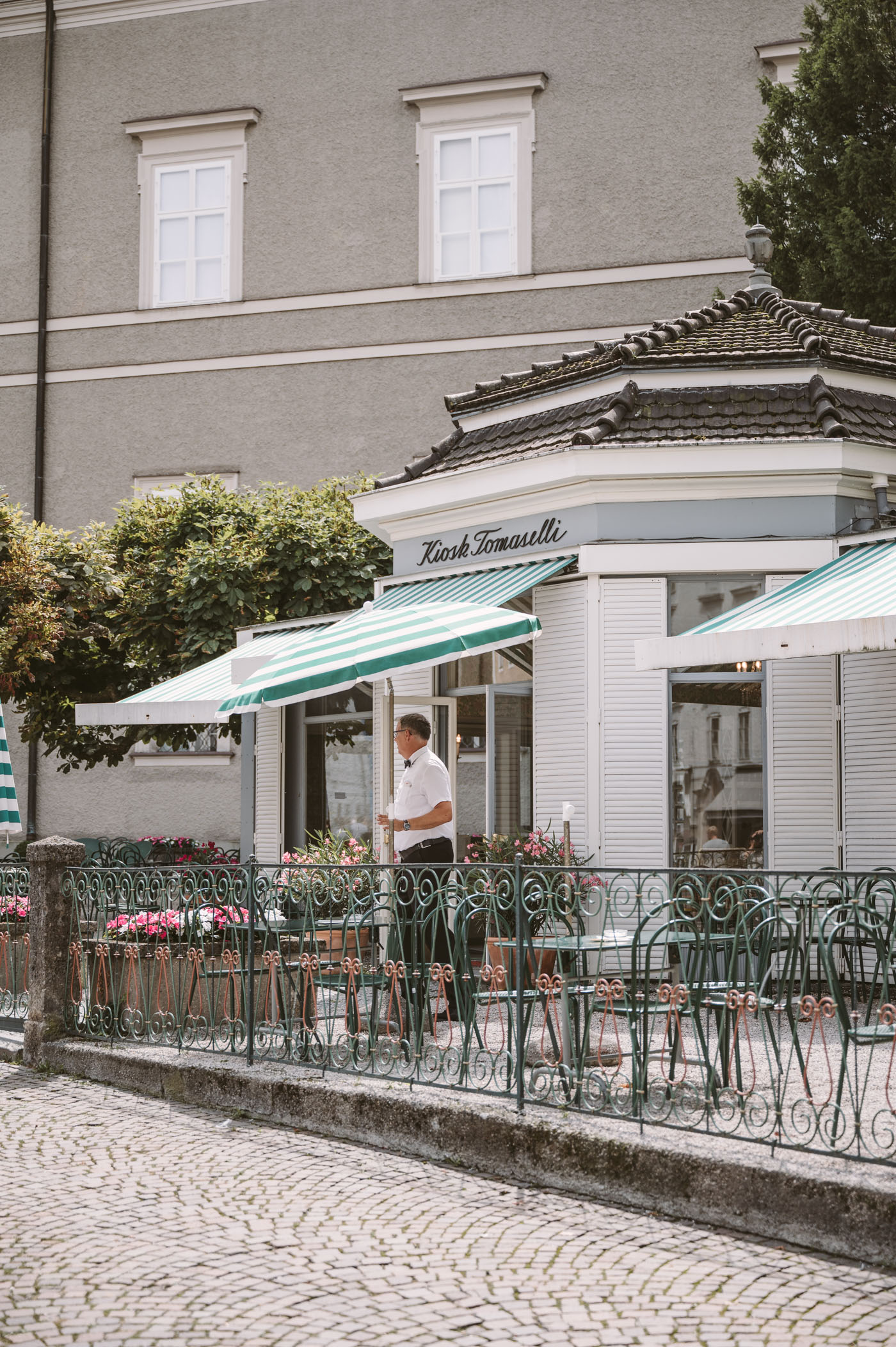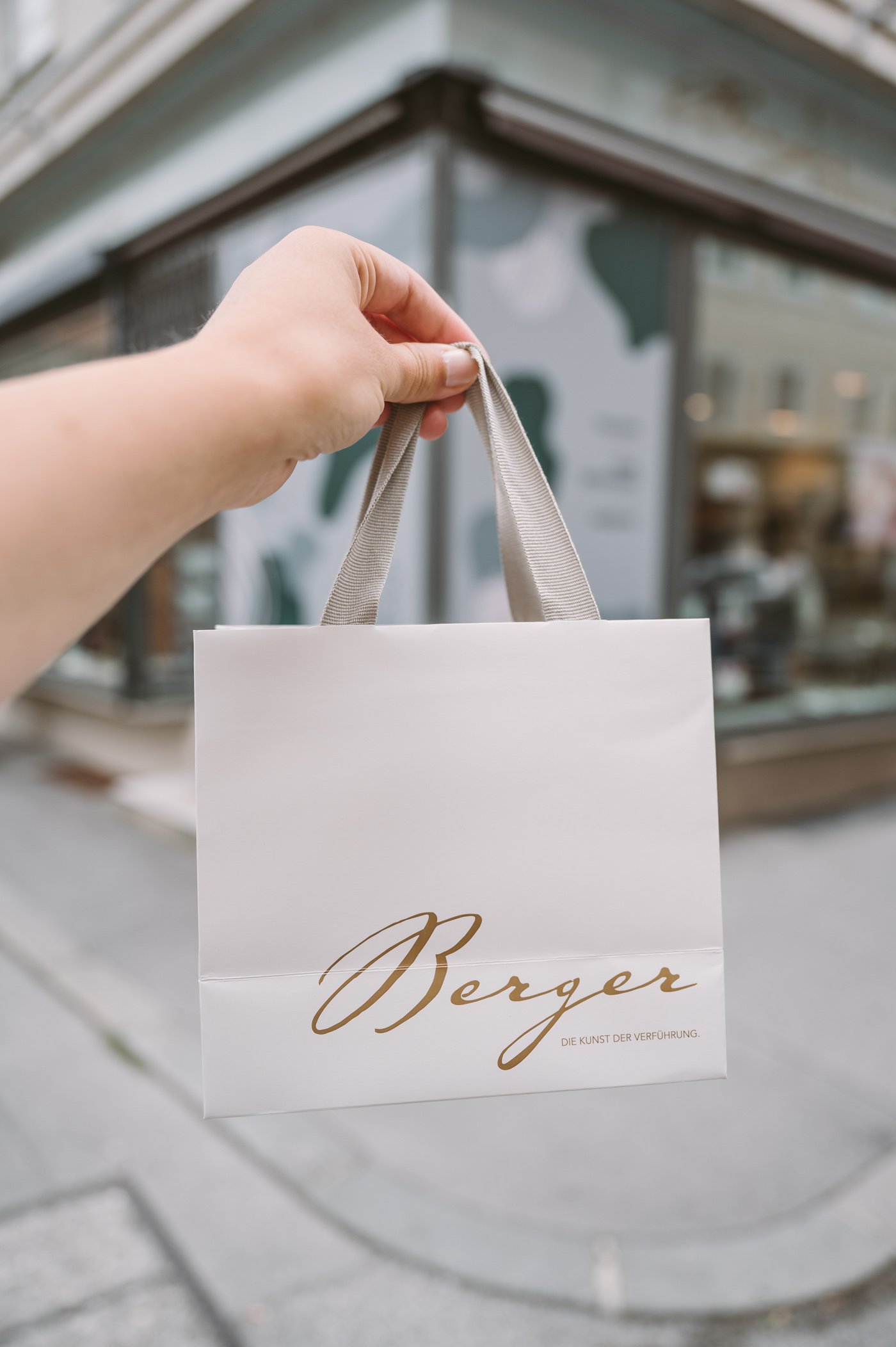 Visit the Buddhist stupa on top of Mönchsberg (Mönchsberg 15A, 5020 Salzburg)
Make reservations at traditional restaurant "Blaue Gans"
Buy the real original "Mozartkugel" at "Café Konditorei Fürst"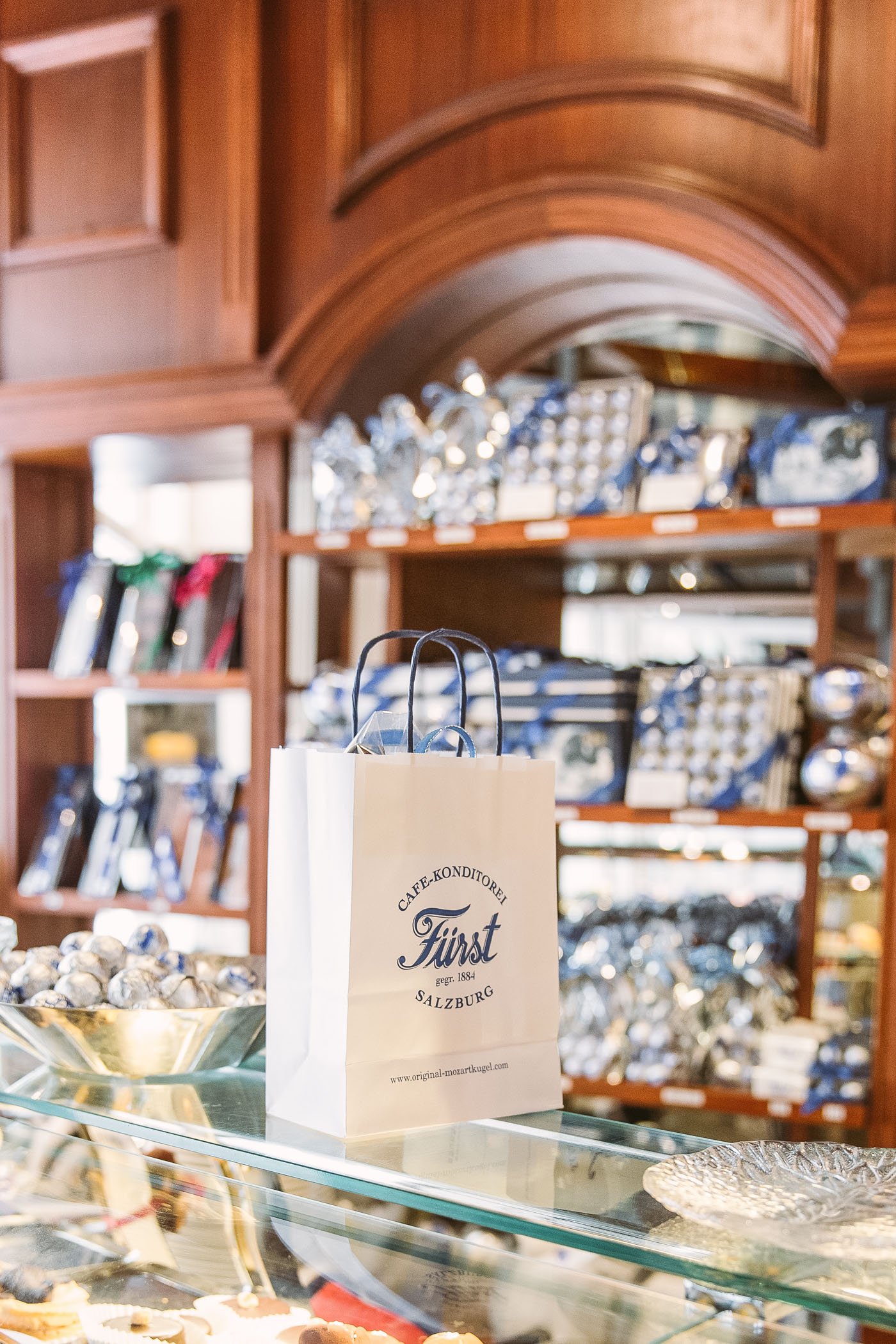 Save these tips for later on Pinterest:
Disclaimer: This is a not a sponsored post, but we were invited to stay at Hotel "The Mozart" in Salzburg. The views in this blogpost are our own.