After we spent 2 days in the city of Salzburg – enjoying culture & city life – we changed scenery. Just 20 minutes from the city of Salzburg you can reach lake Fuschl – one of the most beautiful lakes of Austria's Salzkammergut.
Lake Fuschl is famous for it's quietude and unspoiled shoreline.
Many lakes in Austria have unfortunately lost a lot of their natural appeal due to excessive lakeshore constructions, but at lake Fuschl you can still enjoy a maximum of untouched nature.
One of the key assets of lake Fuschl is it's unspoilt shoreline!
Where to stay at lake Fuschl
Essentially there's only one place, THE place to stay at lake Fuschl. That's the "Schloss Fuschl – a Luxury Collection Resort & Spa". The hotel is located on a private peninsula – surrounded by nothing but woods and the lakeshore. There is no better location directly at the lake and without any neighbours.
Located on a private peninsula – the "Schloss Fuschl Resort & Spa" is the place to stay at lake Fuschl.
Parts of the Schloss Fuschl hotel date back to 1461 (!) – when it was built as hunting castle by the local archbishop. Since then many centuries have passed, it fell into the hands of the state for a while, was then a private home until it became a hotel and the famous movie set for the "Sissi" films in the 1950s. In all these centuries it has been carefully expanded and modernised and now offers an up-to-date standard with Wifi, air conditioning – yet within the traditional walls.
There are different room categories – we highly recommend a room with lake views!
Upon entering the estate you drop your car keys at the valet service and retreat to a sanctuary, that leaves nothing to be desired. My favourite place was definitely the breakfast terrace, that overlooks the sunrise and the lake and the private swimming deck, that is reserved only for guests. Schloss Fuschl also offers boat and SUP rentals, so you can start your lake day right at the hotel's dock.
The private deck and lake access is the best place to stay and enjoy the quiet of lake Fuschl.
Unfortunately I didn't get to enjoy all of the amenities, because I'm clumsy and managed to tore two ligaments on my way to the dock. No, not while hiking up to the mountains or anything spectacular – just one stupid step 3 minutes away from the hotel ;-).  The advantage of this was that the lovely people from Schloss Fuschl picked me up with one of their golf carts and brought me back to the hotel reception, where they already awaited me with a cool pack and pain killers… nothing beats that service (although I don't recommend testing this yourself) 😉
The traditional architecture combined with outstanding service makes for a 5 star experience.
When we returned from the hospital and I was all bandaged they let me use their wheelchair and we enjoyed room service for dinner! The next morning they rolled me over to the breakfast terrace for a last farewell at the lake – and a promise that I would return with a functioning foot so I can go stand-up paddling and swimming the next time I visit ;).
All in all Schloss Fuschl is the ideal hotel for people who love history, an elegant atmosphere and a maximum of privacy.

Breakfast on the terrace overlooking lake Fuschl is a wonderful way to start the day.
What to do at & around lake Fuschl
Lakeside holidays invite for sweet dolce far niente, hanging out at the deck in the sunshine and enjoying the local cuisine. But there are a couple of activities, that can spice up a holiday at Lake Fuschl. Of course water-related activities come to mind first (just know that motor boats are not allowed on lake Fuschl – for the sake of the quietude).
Schloss Fuschl offers their own very traditional electrical boats for rent!
You can go sailing or rent one of the electrical boats of Schloss Fuschl. Another very popular activity is stand-up paddling (SUP). The water at the lake is often very calm, so it's a perfect surface to train your balance on a SUP board. We can recommend the services of "SUP BOX" – who offer guided tours, private lessons and take-away rentals.
Stand-up paddling is a popular activity at lake Fuschl.
Also they are specialised in sustainable stand-up paddling. This might sound odd at first, but we learned how SUP boards are manufactured in cheap bulk commodity and shipped across continents. To change this SUP BOX partnered up with local Austrian manufacturer "WUUX", who shapes exquisite wooden SUP boards (and surfboards) and they are now introducing these boards to their offering!
We recommend the services of SUP Box Austria and to test their wooden boards!
If you need a break from the lake there's a special tradition in the Fuschl region – the so called "elder alps". A couple of alpine farmers have joined forces to specialise in elderflower and elderberry delicacies on their huts. One of the most scenic alpine huts to visit is the so called "Gruberalm" – a collection of 3 huts from 3 different farmers. We visited the most original one called "Mayerlehenhütte", where they still practice traditional alpine faming. The hike up to the alp isn't really a hike, but more a casual 45-minute walk alongside a forest road. So you can easily walk up there and then enjoy one of the freshly prepared delicacies!
The elderberries were not ripe yet when we visited the Mayerlehenhütte – but soon they will be ready to get served!
Make sure to talk to the alpine herdsman and woman Werner & Lisi. The couple run the forestry and the alpine pastures and have a lot of interesting facts to share (especially on one of their herbology walks). One thing we now know is to look for a dunghill behind every alpine hut. Only if the hut still has such a pile of dung they run a traditional alpine farm, with animals and everything that is needed for a true circular alpine management. If you're up for an adventure you can also sleep up there in what they call the "Sennerinnen Suite" (literally the suite of the dairy woman) 🙂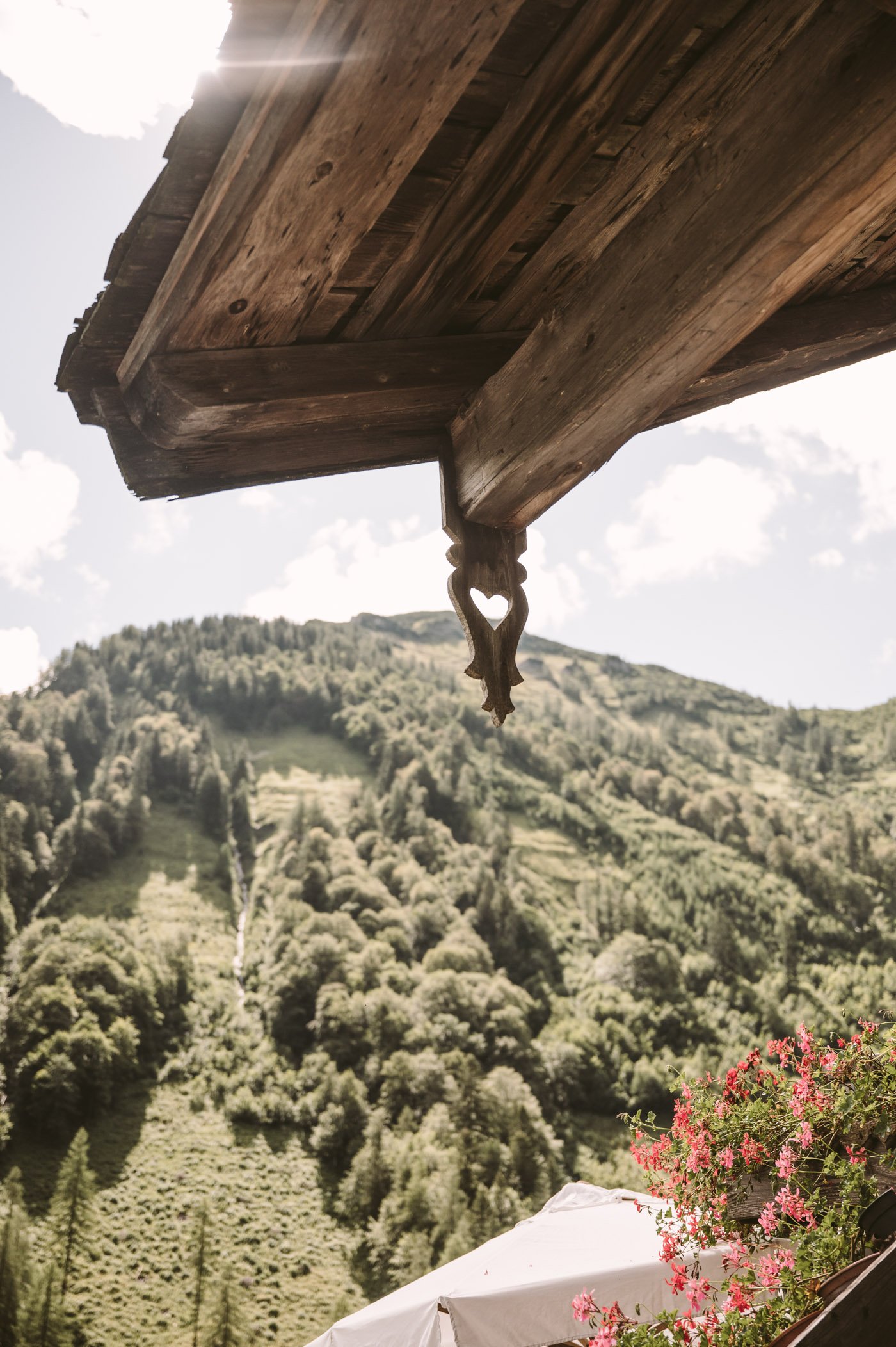 Due to my ligament injury I wasn't able to walk around lake Fuschl, but this is supposed to be one scenic (and easy) hike. Most of the shoreline is undeveloped and the pathway is reserved for hiking – so you can enjoy the full circle in calm and quiet. We had also planned to take one of the traditional boat rides on a so called "Zille" (a wooden barge) to get to the other shore of the lake, but well, this is when I tore my ligaments. So this has to wait for the next visit!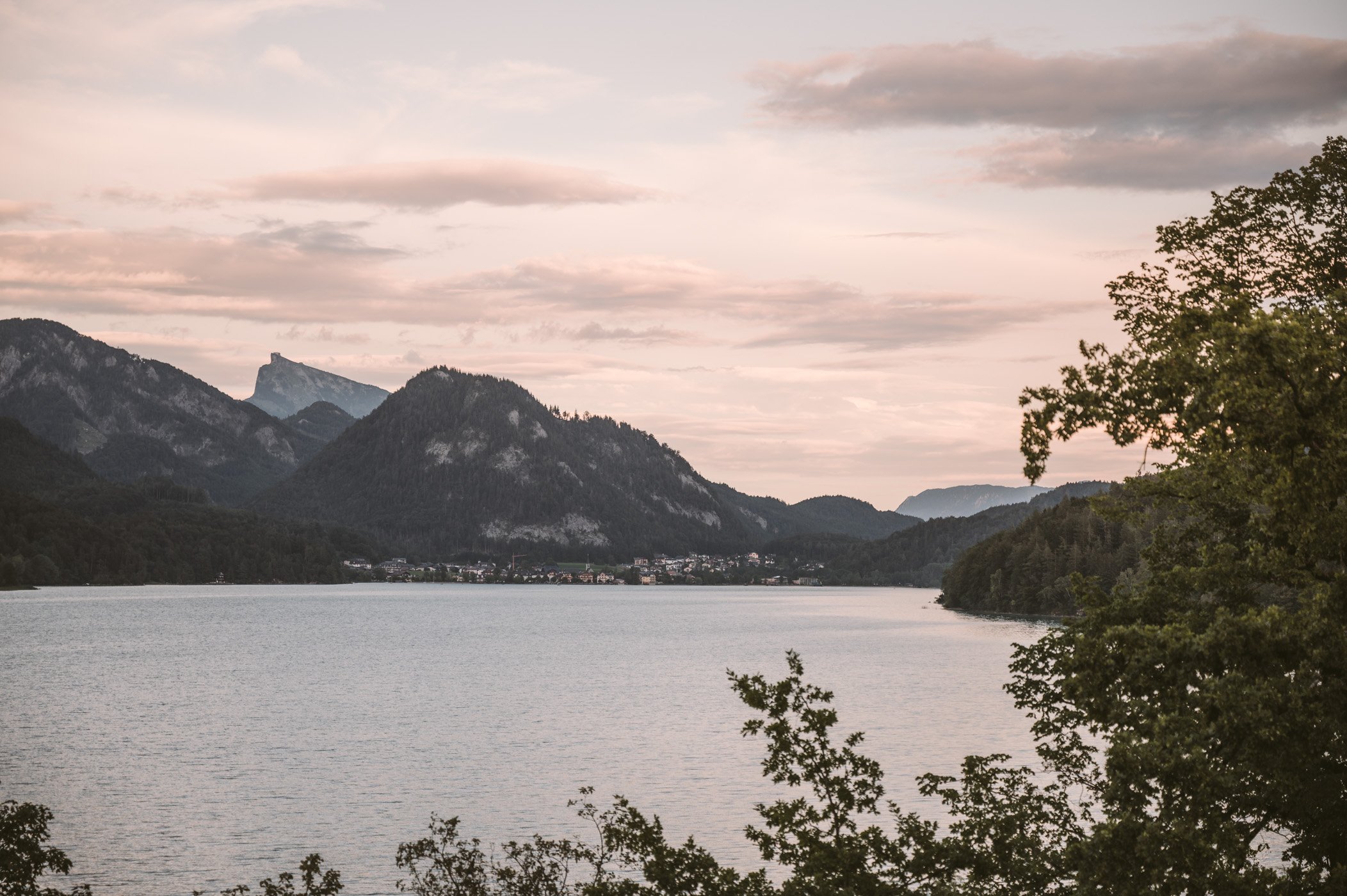 Last but not least we recommend to make reservations early on at the famous local gourmet restaurant "Brunnwirt", which comes highly regarded. Again, we didn't make it there and tested the emergency hospital of Salzburg instead (which doesn't offer good food, but I can now attest to it's fast & friendly service quality) 😉
So all in all this lakeside holiday didn't go exactly as planned, but we still enjoyed our time at this gem of a lake and plan to return (in better condition) one day sooner than later!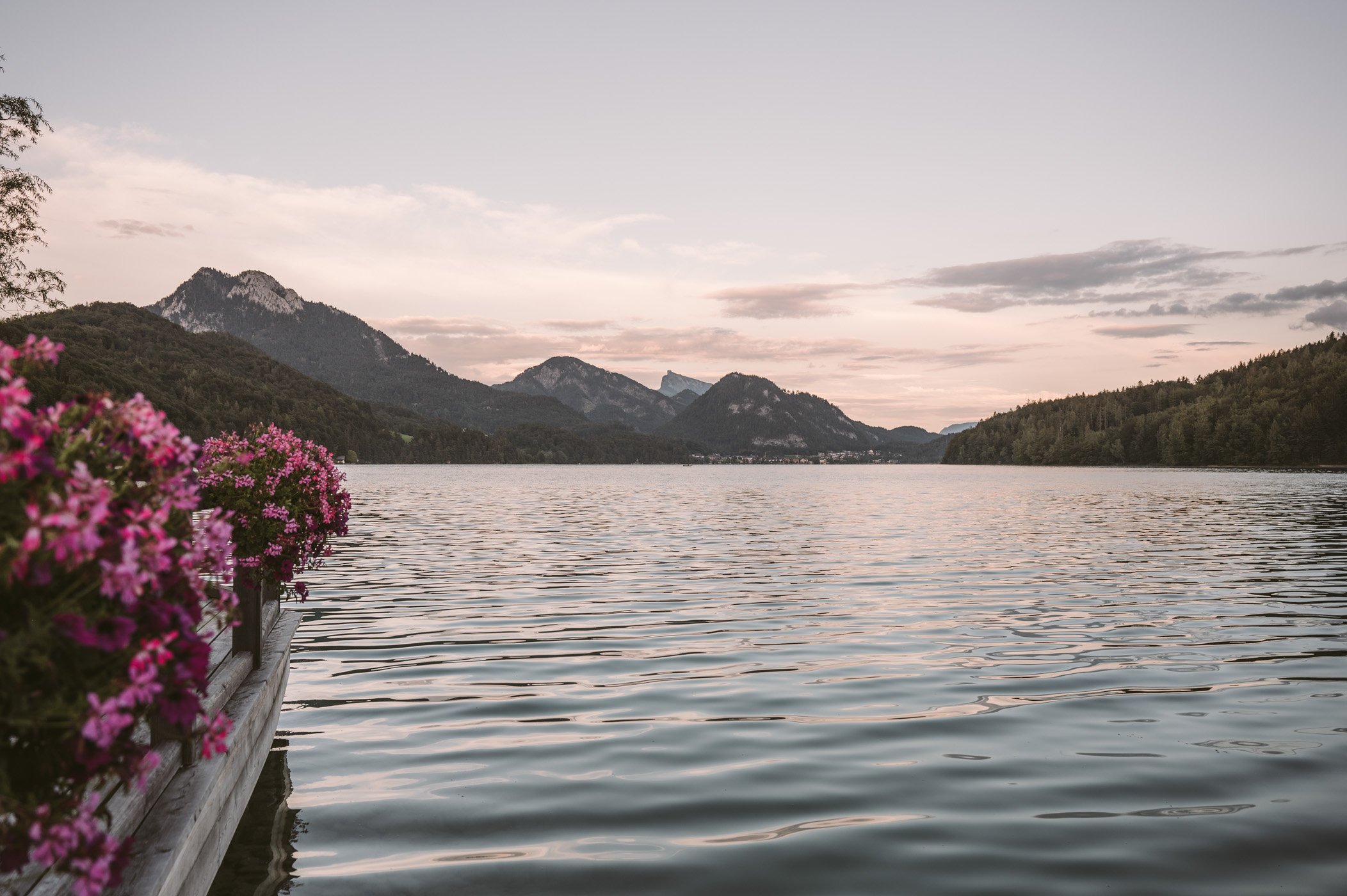 Pin and save this post for later:
You can learn more about the region of Lake Fuschl here!
Disclaimer: This is a not a sponsored post, but we were invited to stay at Hotel "Schloss Fuschl" and to the region by the local tourism board. The views in this blogpost are our own.