There's a new camp opening it's tents in 2022: Welcome to Olimba Mara camp in the Maasai Mara. Shortly after our first Kenya visit in 2021 we learned about this new project by local Maasai tourism pioneer Amos Kipeen together with Swiss export Julie Lovens and her mother Barbara.
We followed their journey from setting up the foundations for their first tents, until starting their own tree nursery project. And now they finally opened up their camp and we got a chance to be among their very first visitors!
Community involvement & empowerment
The philosophy behind Olimba Mara is all about socially conscious and ethical safaris in the Maasai Mara. If you've been in the Mara you know that this place is not only teaming with wildlife, but also properly developed in it's tourism infrastructure since decades.
But unfortunately most of the revenue that is generated in other camps, doesn't really directly benefit the local communities. There's only a handful of camps, where local Maasai people aren't only employed, but direct beneficiaries as co-owners or founders. This is where Olimba Mara is different. Amos Kipeen isn't simply any man though, he is a well-respected businessman and conservationist, that has worked on setting up the Naboisho conservancy as well as opened the very first fully Maasai owned camp in the Maasai Mara.
Find out more about the Maasai Mara – when to go, where to go and where to stay!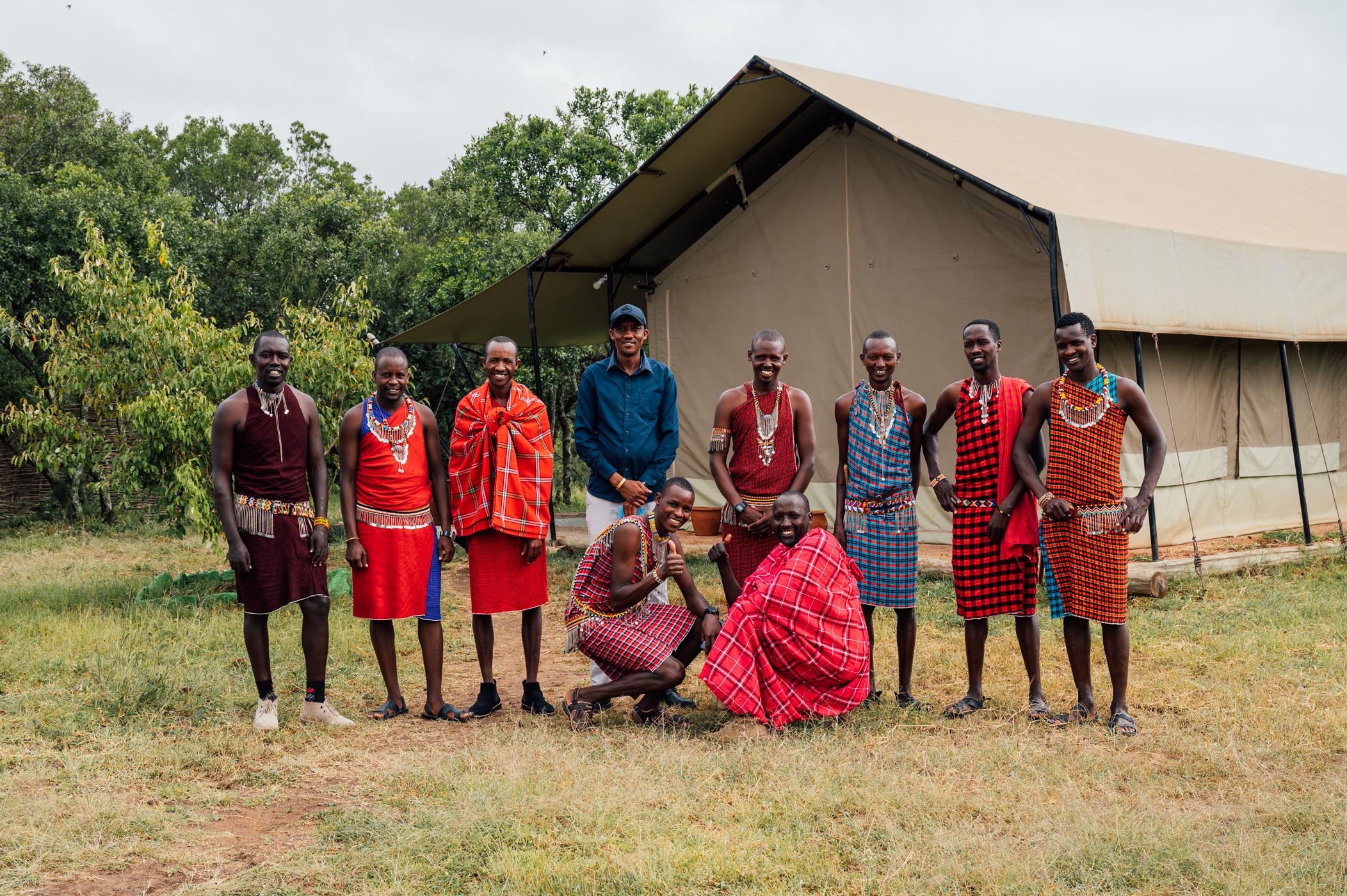 A vision for conservation & social welfare
Today he's not just the co-owner of Olimba Mara, but also runs for political office in his constituency Narok county. His vision goes beyond simply ethical tourism, he has an integrated view on how Maasai people can benefit from the land, while protecting it's ecosystems and wildlife at the same time. At Olimba Mara you'll quickly become part of the family, as Amos shares your meals with you.
So this camp feels very different to other operations in the Mara, where you are merely a guest – here you feel like you become part of the tribe almost, part of the family and part of a quest to change the tourism industry in a significant way.
This socially conscious mission doesn't mean you have to give up on comforts!
In the tents there's a proper hot water shower, a flushing toilet, a kingsize bed with nice sheets and fresh towels every day. And the most important thing: The care of a team, that couldn't be sweeter and more involved.
From adventure travellers to families
Yes, there's less luxurious amenities then in other camps (as in no pool, no spa, no air conditioning), but the camp is also tailored towards an audience that doesn't necessarily care about these things. The target group for Olimba Mara are adventurous safari guests, photographers, families with children and also experienced safari goers who are more interested in a deep dive into the intricacies between conservation and social welfare.
Tree planting & land transformation
During our visit in March 2022 the camp has been set-up in it's corner stones – there's a main tent to relax in and have dinner, and a few scattered guest tents with their own little terraces. You can see some things are still work in progress, like the tree nursery, where thousands of seedlings have been planted and are now growing their first soft little branches.
And yet the transformation is huge already. This used to be land, that was used for cattle grazing. And if you look at surrounding cattle farms you'll notice that not a blade of grass grows where the cattle are. At Olimba shrubs and grass are returning and soon the tents will stand in the shade of the new trees, that have been planted.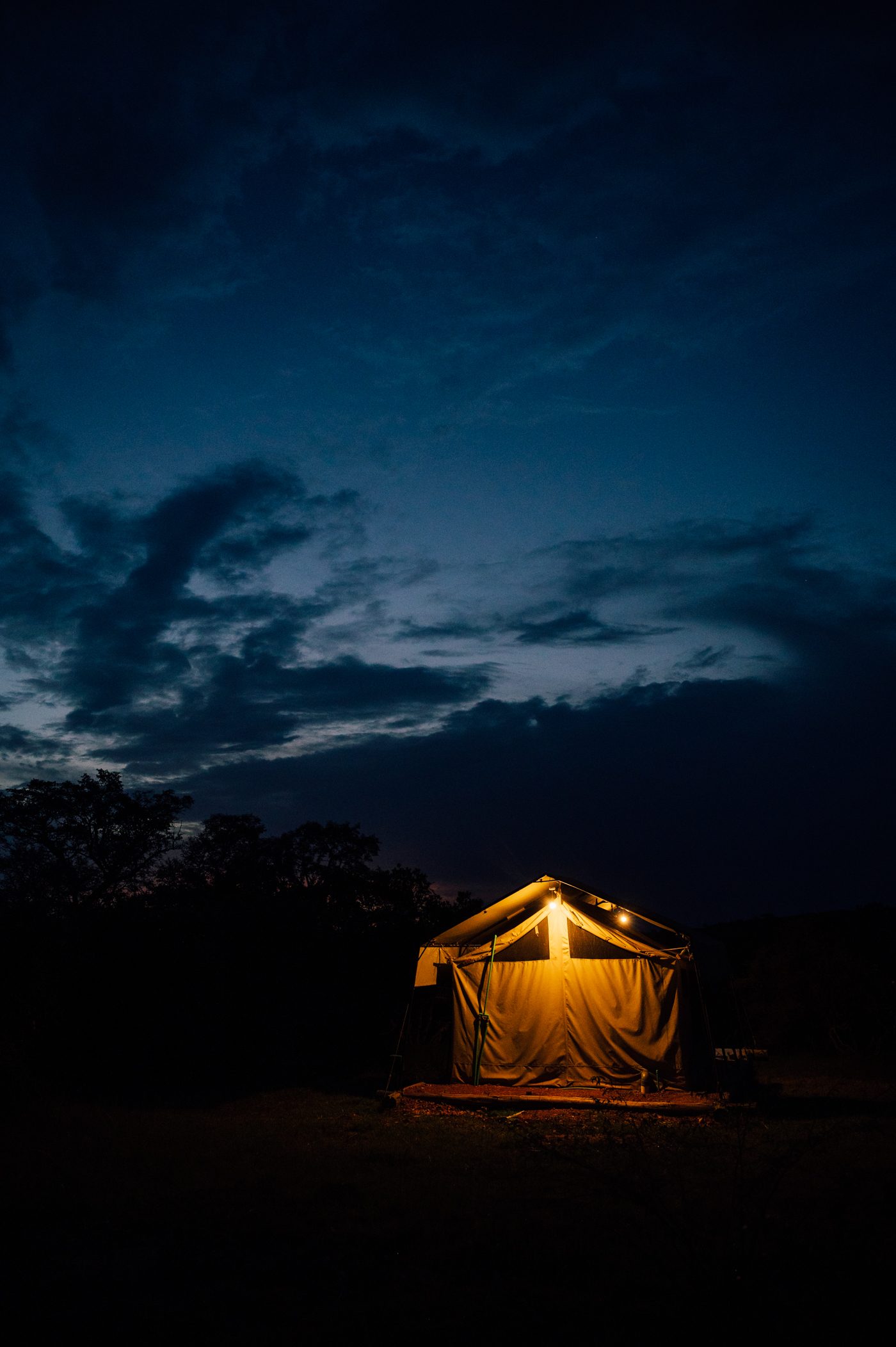 Silver-level guiding by John Saningo Naingisa
Where Olimba Mara really excels is in it's Human Resources, aka the team. You can tell that Amos created a family atmosphere here and with his spirit and vision he has assembled a group of like-minded people. At the core of the safari experience is always a guide and with silver-level medalled John at your side you'll be in very experienced hands.
Many guides are knowledgeable, but not many have the ability to tell stories in the way that John does. He will make you marvel at animals and their behaviour in a completely new way. At his side Edward is currently finishing his guiding training and will soon become the next generation of guides at Olimba Mara camp – together they form an incredible team.
They even managed to track down a leopard for me (after five days of failed attempts before that)! I'd say that's a fair reward for their incredible work (but see for yourself!).
Here are a few more impressions from our time on safari at Olimba Mara camp in the Maasai Mara in Kenya.
Pin and save this post for later:
Disclaimer: This is not a sponsored post, but we stayed at Olimba Mara Camp as part of a press trip in collaboration with Magical Kenya. The views in this blogpost are our own