Silently we glide through the savannah, the only sound that follows us is the gentle breeze of the wind and the soft rattling of the tyres on the gravel road.  And then on the horizon we see a few cars, circling around something. What do they see? Of course we have to check out what's happening up there. Upon arrival we get a few stares, glances and then someone points to us and says "Is this an electric car?" – the answer is as easy as it is surprising here in the bush: "Yes!".
Emboo River Camp is the first 100% carbon neutral camp in the Maasai Mara, and also has a full fleet of only electric safari vehicles – a game changer in all of Kenya!
Sundowner on our eco luxury safari in Kenya's Maasai Mara with Emboo River Camp and their electric safari vehicles
A mission in sustainability
But that's not all – the whole philosophy at Emboo River Camp is a constant and uncompromising dedication towards sustainability. And they take their mission seriously. Guests can join eco tours at the camp to learn how waste is disposed, solar energy is being generated and see their closed-loop water recycling system in action. Here all the grey and black dirt water from the showers and toilets gets recycled through an all natural cleaning process – with the power of aquatic plants.
Yet, throughout their ecological philosophy, there's no need to leave behind the luxuries of life.
The camp itself is equipped with all the luxuries one can ask for – from a chlorine-free pool to a spa.
Emboo River Camp offers lavish spa treatments, dips in the completely chlorine free pool and delicious & creative vegan-first cuisine. All the dishes on their menu are based on a fully vegan diet first and only upon request guests can choose vegetarian or meat dishes. The idea is simple: Reducing the foot print of each guest to the max! Offsetting carbon by planting trees is part of the mission as well as recycling paper waste to create pellets for locals to use for their ovens.
On an eco tour guests can learn about the sustainability efforts of the camp – shown here is how compost is used to create natural bio gas, that is then used in the kitchen.
Vegan delights at Emboo River Camp
As vegetarians ourselves we're used to having to ask for special meals beforehand – and also to have less options than meat eaters when travelling. But not at Emboo River Camp! Here the full menu is tailor-made for vegans – and everything else is optional.
Imagine vegan scrambled eggs made from tofu and Kala Namak for breakfast, alongside homemade vegan sausages and vegan baked beans. This continues all the way through lunch, snacks at sundowner and the 3-course dinner menu. We rarely enjoyed so many (delicious!) fully vegan options – thanks to the chef Patrick Asap, who comes up with these recipes and creative ideas!
Our tent at Emboo River Camp: The brand new river suites
There are a few different room types at Emboo River Camp and we got the chance to stay in the spacious & brand-new "River Suite 1". This tented room consists of a large bedroom with a kingsize bed with an adjacent closet space plus an absolutely stunning outdoor bathroom with a hot water shower, flush toilet and double vanity.
In case you prefer an indoor bathroom we would recommend to select the "River Suite 8", where the bathroom is located inside the tent (and it has a large wooden deck to top things off)!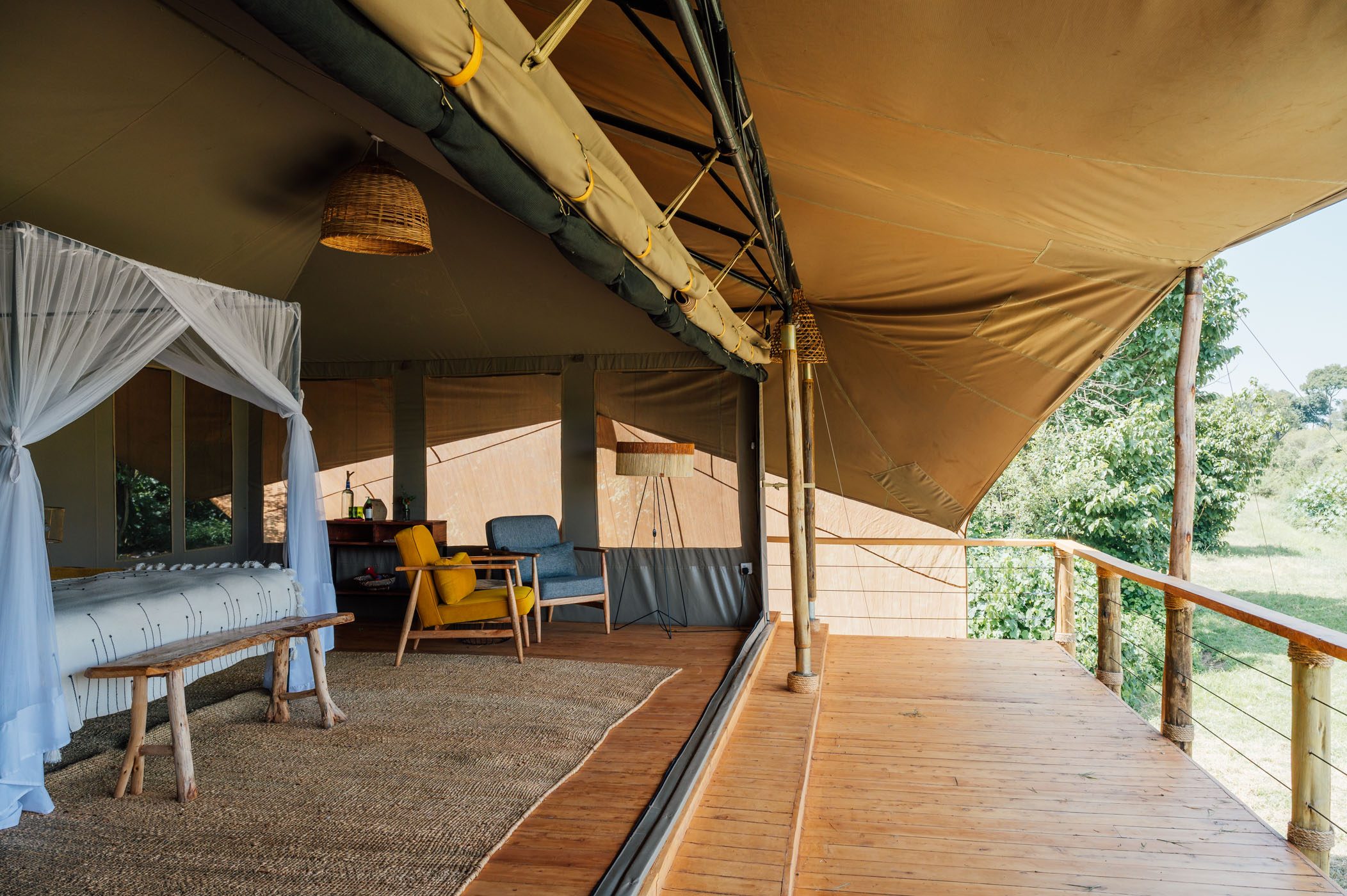 New in 2022 at Emboo River Camp: The photo studio suite
For photographers the people at Emboo River Camp just came up with a brand-new option to stay: The photo studio suite! This suite consists of a fully furnished ultra modern container (with AC!), equipped with an editing space with a large monitor and a cozy living room. It's tailor-made for photography enthusiasts and professional photographers alike and the newest addition to the 9 rooms at the camp.
Female empowerment: The philosophy at Emboo River Camp
Empowering women is another key aspect of Emboo River Camp's mission. The goal is to have female team members in each of the camp's units – from the kitchen to the guiding team. We were lucky enough to get to know both female guides, Emily and Naserian, that work at Emboo River Camp, and learn how they are trail blazers in their community. This is still quite uncommon – especially in the Maasai communities, that are still very male dominated. But with women like Emily and Naserian things will change. May many young women follow in their footsteps!
Female guides are still rare in the Maasai Mara, but things are changing!
Learn more about the Maasai Mara in Kenya
If you're interested in a trip make sure to read our blog article with all the infos about the Maasai Mara – where to stay within the vast national reserve, when to go and which camp to choose from the huge offering! We visited the Maasai Mara twice so far – and stayed in five different camps and lodges. Each has their specialty, but non is as focused on sustainability like Emboo River Camp. And frankly – one can never get enough of this wildlife wonderland anyhow – so we'll definitely return and see more of it.
Pin and save this post for later:
Disclaimer: This is not a sponsored post, but we stayed at Emboo River Camp as part of a press trip in collaboration with Magical Kenya. The views in this blogpost are our own.